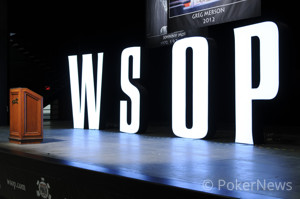 We have a $1,500 tournaments scheduled today, and it's going to be a big one! This re-entry tournaments is nicknamed the "Millionaire Maker" and not without reason. For the first time in a long time the World Series of Poker has a guaranteed prize for the winner and it's not a penny less than 1 million dollars!
At 11 a.m. local time we're starting with flight 1A and if you bust you can also sign-up for day 1B which starts at 5 p.m. It's already pretty busy in the Rio All-Suite Las Vegas Hotel and Casino this morning. On an average day some people might saunter in the hallways but today we have a whole different setting. It's crowded and everybody is excited for this big tournament to start.
How many people are going to sign up? How many people are going to battle it out for that first prize of a cool million? We'll find out in a little bit. We have 9 levels scheduled for day 1A and 1B and no dinner break.
Over 2700 already signed up for the 11am @WSOP session. Even poker players use alarm clocks when a Milly on the line. #gonnabehuge.
Follow @wsopSUITd