Event #6: $1,500 "Millionaire Maker" No-Limit Hold'em
Dias: 4
Nível 34 : 120,000-240,000, 40,000 ante
Jogador
Fichas
Oscilação

Michael Bennington

11,380,000

3,280,000

Justin Liberto

8,555,000

-3,120,000

Jonathan Gray

5,220,000

-600,000

Benny Chen

3,395,000

440,000
Nível 34 : 120,000-240,000, 40,000 ante
Hand #129: Liberto opened to 480,000 from under the gun, Bennington called on his button, and Gray defended his big blind. The flop fell
and Gray checked it over to Liberto, who bet 525,000. Bennington came along, Gray mucked, and the turn of
was checked around. After the
fell on the river, Liberto tried to push the mild mannered doctor around with a bet of 1.56 million, but Bennington looked him up with
, which proved to be good enough.
Nível 34 : 120,000-240,000, 40,000 ante
Hand #123: Liberto raised to 495,000 out of the small blind, and Bennington defended from the big. A flop of
was checked through, and on the
turn Liberto took it down with a 425,000 bet.
Hand #124: Gray won the blinds and antes with a raise to 550,000 from under the gun.
Hand #125: With his stack dwindling quickly after the dinner break, Chen open-shoved for roughly 2.6 million, claiming the dead money.
Hand #126: Holding the biggest stack at the table, Liberto received a walk in the big blind.
Hand #127: Liberto limped in on the small blind and Bennington checked his option, bringing a flop of
to the board. After checks around, the
arrived on the turn, prompting Liberto to lead out for 325,000. Bennington called this bet, and on the
river, he led again for 645,000. Bennington raised to 1.5 million, however, and his aggression earned him this sizable pot.
Hand #128: Bennington raised to 520,000 in the small blind, but folded after Chen three-bet all-in for his remaining 2.9 million chips.
Nível 34 : 120,000-240,000, 40,000 ante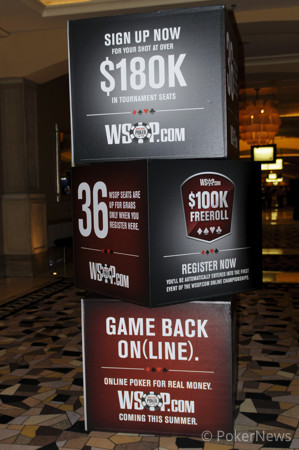 The buzz inside the walls of the Rio extends beyond just the tournaments on the 2013 World Series of Poker schedule. Online poker in Nevada is a very, very hot topic right now, and WSOP.com is making a lot of noise.
While the site has yet to launch, you can head to the Lambada Room of the Rio or look for one of the beautiful and friendly WSOP.com ladies walking the hallways to sign up for a free, personal WSOP.com online poker account. This is a great way to get a jump on the site's registration, and plenty of people have already taken this opportunity.
What's more is that the WSOP will be hosting daily raffles for everyone that has taken the time to register for WSOP.com at the Rio. What can you win? Plenty of fantastic prizes including 36 WSOP seats!
Players 21 years of age and older who sign up for a WSOP.com account will automatically be entered into the "36-Seat Giveaway" where a randomly-selected winner will win a seat into the next day's first WSOP gold bracelet event. One of the events eligible in this promotion is the $111,111 One Drop High Roller No-Limit Hold'em tournament that is expected to feature a $10,000,000 prize pool and allow you to play poker with the biggest names in the game. In total, $182,333 in WSOP seats, including a seat to the WSOP Main Event, are being given away during this one-of-a-kind WSOP.com promotion.
In addition to the 36-Seat Giveaway, a "Hot Seat" promotion will allow any player who signs up for a WSOP.com online account and wears their WSOP.com patch on their chest at the table while playing an event to be randomly selected to receive 500 bonus dollars deposited directly into their WSOP.com online account once the site has received all regulatory approvals and launches.
With 62 WSOP gold bracelet events and three winners promised for the Main Event, this promotion includes $32,000 worth of value to those participating.
Nível 34 : 120,000-240,000, 40,000 ante
Jogador
Fichas
Oscilação

Justin Liberto

11,675,000

110,000

Michael Bennington

8,100,000

610,000

Jonathan Gray

5,820,000

-160,000

Benny Chen

2,955,000

-560,000
Nível 34 : 120,000-240,000, 40,000 ante
Hand #118: Bennington opened for 500,000 from under the gun, and Liberto called from to defend his big blind. On the
both players checked it down the whole way, and Liberto opened up
for a rivered pair, which was good enough to take the pot.
Hand #119: Liberto bumped it to 525,000 from the small blind and took down a pile of ante chips.
Hand #120: Gray raised to 600,000 from under the gun, good enough to fold the table.
Hand #121: Opening for 480,000 under the gun, Liberto claimed yet another small pot.
Hand #122: Bennington raised from under the gun, making it 500,000 to play, Liberto called defending his big blind, and the flop of
was checked down. The turn card came
, Liberto led out for 390,000, and Bennington came along to see the
fall on the river. Liberto then check-called a bet of 500,000, but mucked when Bennington rolled over the
for a rivered bottom pair.
Nível 34 : 120,000-240,000, 40,000 ante
Jogador
Fichas
Oscilação

Justin Liberto

11,565,000

520,000

Michael Bennington

7,490,000

-520,000

Jonathan Gray

5,980,000

3,550,000

Benny Chen

3,515,000

-3,550,000
Nível 34 : 120,000-240,000, 40,000 ante
Hand #114: Chen limped his button, departing from typical tournament strategy during these late stages, and Gray shoved his short-stack forward. Chen must have not expected this move from Gray, depsite the latter holding only 10 big blinds, as he mucked his hand rather quickly.
Hand #115: Liberto limped from the small blind, Bennington checked his option, and by betting the
flop Liberto took it down.
Hand #116: Liberto opened to 480,000 from the button, earning the blinds and antes.
Hand #117: Chen moved all-in with
to force Gray to a decision, and with
the decision was simple. He called to put his tournament at risk, and a runout of
doubled his stack of 2.91 million.
Nível: 34
Blinds: 120,000/240,000
Ante: 40,000
Nível 33 : 100,000-200,000, 30,000 ante
The players are on a 60-minute dinner break.
Jogador
Fichas
Oscilação

Justin Liberto

11,045,000

-945,000

Michael Bennington

8,010,000

1,880,000

Benny Chen

7,065,000

-285,000

Jonathan Gray

2,430,000

-650,000