Event #51: $10,000 Ladies No-Limit Hold'em Championship
Dia 1 Concluído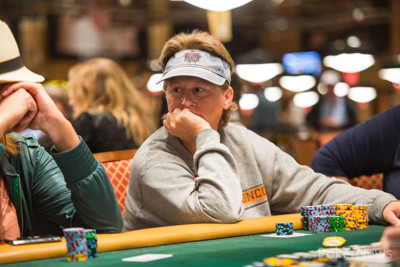 Chris Priday leads the field in the annual Ladies Event at the 2013 World Series of Poker, finishing the day with 96,200 in chips. A total of 954 players took their seats at the beginning of the day. After 10 levels of play, only 122 remain.
Several famous players and recognizable names were in the field today. Most of them didn't survive the day, including Vicky Coren, Vanessa Selbst, Vanessa Rousso, Cherish Andrews, Jennifer Tilly, Jennifer Shahade, Kara Scott, Susie Isaacs, and Cyndy Violette. A few fared better, however, and Liv Boeree, Jackie Glazier, and Danielle "dmoongirl" Andersen will all return tomorrow.
This year, the WSOP changed its policy for the Ladies Event. Officially, the event has a buy-in of $10,000 and is open to anybody, both men and women. However, female entrants receive a 90% discount. The change was brought about by male players who in past years have taken advantage of legal loopholes to disrupt the spirit of the Ladies Event. It appears the change was successful, as we were informed that nobody paid the full $10,000.
Following Priday on the leader board are Sari F. Utchen (80,500 in chips), Lauren Billings, (74,600), Vanessa Kade (71,300) and Kristen Bicknell (69,400). Exactly 117 players will make the money, so five players who return tomorrow will leave empty-handed. The rest are guaranteed a payout of at least $1,631, but every player is eyeing the $173,922 and the WSOP gold bracelet that comes with it.
Play resumes Saturday afternoon at 1 p.m. Join us here at PokerNews as we bring you live updates from Day 2 of the 2013 WSOP Ladies Event.
Christine Priday

96,200

Sari Utschen

80,500

Lauren Billings

74,600

Vanessa Kade

71,300
30,300

Kristen Bicknell

69,400
4,900

Lynne Beaumont

61,600
9,600

Susan Ear

58,700

DID NOT REPORT 1

57,100

Shana Matthews

56,800
56,800

Amanda Baker

56,200

Annie Liu

55,800
-6,200

Danielle Andersen

55,700
17,700

Uyen Phan

47,400
4,900

Liv Boeree

PokerStars Team Pro

44,600
8,600

Minseong Kim

42,400

Laura Bare

41,800

Jackie Glazier

41,000
17,500

Irina Batorevich

40,300

Eleanor Gudger

38,700

Rosalie Iacovo

38,600

Joanne Lewis

38,000

Patricia Kananda

37,400

Pui Yung

36,400
400

Tania Mcbride

34,800

Jennifer Miller

32,600
-1,400
Play has concluded for the day. We will have some chip counts and a recap for you shortly.
The ladies have just three more hands before play concludes for the day. Before the ladies bag and tag for the evening, they will be racing off the green chips. According to the tournament clock, we are approximately 7 away from the money.
Just a few minutes after doubling up, we came to the table and Kara Scott was gone. We asked what happened and her
ran into the aces of Chris Priday. Kara confirmed her bust out via twitter just a few moments later.
Busted ladies event 13 from the money with AK < KK
Follow @KaraOTR
Chris Priday

75,000
75,000

Kara Scott

888poker Ambassador

Eliminado
On the turn, with the board reading
, Kristen Bicknell checked and Debby Perkins pushed forward a bet of 10,000. Bicknell responded with an all-in check-raise. Perkins thought for a minute, then reluctantly folded her cards. After the dealer pushed the pot to Bicknell, Perkins said she folded pocket kings.
After the hand, Bicknell's stack was up to 64,500.
| | | | | | |
| --- | --- | --- | --- | --- | --- |
| Kristen Bicknell | | | | 64,500 | 20,500 |
| Debby Perkins | | | | 24,000 | -21,000 |
We came to the table as Kara Scott was counting her stack and saw her
win against her opponent's
. The double couldn't have come at a better time as Scott has been on the short stack for quite awhile after a couple of hands went bad earlier in the evening.
We arrived at the table on the flop with the board reading
. The small blind checked, and Danielle "dmoongirl" Andersen checked from the big blind position. The only other player in the hand bet out 2,900. The small blind folded. Andersen thought for a few moments and put out a check-raise to 8,000. The bettor folded, and Andersen took the pot.
| | | | | | |
| --- | --- | --- | --- | --- | --- |
| Danielle Andersen | | | | 38,000 | 15,000 |
Nível:

10
Blinds:

400/800
Ante:

100