Main Event
Dia 3 Concluído

Nível 32 : 60,000/120,000, 20,000 ante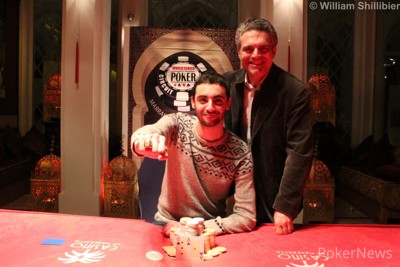 Day 3 of the World Series of Poker International Circuit Main Event at the Casino de Marrakech began with 25 players, and it took a grueling 15 hours to crown a winner. Not quite reaching the 5 a.m. mark of last year's event, but shortly before 4 a.m. Mathieu Selides finally outlasted Anthony Rodrigues to win the 975,000 dir (€95,479) first-place prize, the result of a prior heads-up deal that saw them split the prizepool and play for 50,000 dir (€4,657) and the championship ring.
Selides came into the day third in chips but soon rocketed up the leaderboard, eliminating the first player of the day
vs
, and never looking back. Coming into the final table as chip leader, the Frenchman was cheered on by a raucous crowd, and despite a topsy turvy heads-up battle with Rodrigues — with both players having chances to win the match — the pair agreed to a deal and to play for the ring.
Selides was helped in no small part by the elimination of start-of-the-day chip leader Sonny Franco midway through level 25, where he was all-in and behind holding the
against Franco's
. The board ran out
and the ace on the river vaulted Selides ever skywards.
The final table started with Selides holding double the chips of his nearest competitor, and the eliminations of Jonathan Khalifa (€15,369), Samir Beldjoudi (€24,218) and Joao Pinto Correia (€55,888) ensured that his chip stack was always healthy heading into the heads-up battle.
There were chances to win for both players, first Rodrigues'
was cracked by the
of Selides on a
board, and then Selides'
was beaten by Rodrigues, who held the
on a
board.
Eventually, after nearly four hours of heads-up play — and two hours after the players agreed a deal — it was Selides who emerged triumphant.
Final Table Results
| Place | Payer | Country | Prize |
| --- | --- | --- | --- |
| 1 | Mathieu Selides | France | $95,479 |
| 2 | Anthony Rodrigues | Belgium | $90,822 |
| 3 | Joao Pinto Correia | Portugal | $55,888 |
| 4 | Choukri Chergui | Morocco | $41,916 |
| 5 | Loic Blarez | France | $31,486 |
| 6 | Samir Beldjoudi | France | $24,218 |
| 7 | Erwann Pecheux | France | $19,095 |
| 8 | Jonathan Khalifa | France | $15,369 |
| 9 | Pedro Oliveira | Portugal | $13,133 |

Nível 32 : 60,000/120,000, 20,000 ante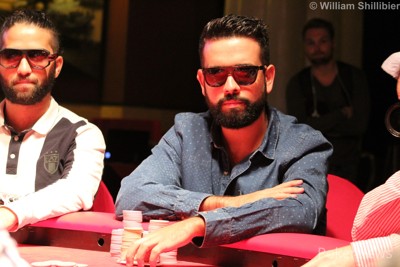 In the hand after the chop pot, Anthony Rodrigues moved all-in with
and Selides called with
The crowd was the loudest it has been considering the size of Rodrigues' stack when he moved all-in, and on a board of
they didn't give up hope. "Queen! Ten!" was the shout, and the
certainly raised a few more voices. But the
on the river meant that Rodrigues had to settle for second place and the €90,822 payday that came with it after their earlier deal
Jogador
Fichas
Oscilação

Mathieu Salides (Mathieu Selides)

13,320,000

13,320,000

Anthony Rodrigues

Eliminado

Nível 32 : 60,000/120,000, 20,000 ante
In an otherwise quiet period of the match, with Rodrigues desperately hunting spots to double up, he gets it in behind with
vs his opponent's
.
The board runs out
and after a moment or two confusion, everyone realises it is a split pot

Nível 32 : 60,000/120,000, 20,000 ante
Levels have been 75 minutes since the start of Level 26, however probably due to the fact that it is 3:30 a.m. here in Marrakech, the 32nd level of 60,000/120,000/20,000 has been reduced to just 30 minutes in length. It's practically a turbo!
Nível: 32
Blinds: 60,000/120,000
Ante: 20,000

Nível 31 : 50,000/100,000, 10,000 ante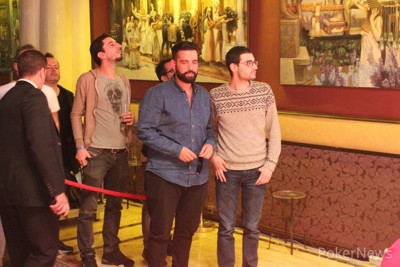 Now it was the turn of Selides to be all-in for the match. Rodrigues shoved and was looked up by Selides holding
, which was way ahead of Rodrigues'
.
The
gave Rodrigues outs, and the
on the turn even more so, and when the
was dealt on the river, the Belgian's rail burst into life celebrating his double up, and potentially offering Rodrigues a root back into this match.

Nível 31 : 50,000/100,000, 10,000 ante
Chips flew and we are one step closer to finding a winner here in Marrakech. Rodrigues raised, Selides re-raised to 850,000. Rodrigues raised to 1,500,000 and Selides shoved.
It was a decisive snap call from Rodrigues who was all-in for the win, and ahead holding
against Selides'
.
There was a King in the window however as the flop was dealt
, and the
gave the crowd something to shout about, with any Jack or Diamond giving Rodrigues the win. However, the
bricked on the turn giving Selides what might be the crucial double up in this match

Nível 31 : 50,000/100,000, 10,000 ante
There is very little in the way of action to report, with both players trading pots and each rail desperate for some action to shout about. Stacks are starting to even themselves out, with it looking increasingly likely that one hand will decide the match, as opposed to one player whittling down the other's stack
Nível: 31
Blinds: 50,000/100,000
Ante: 10,000