Main Event
Dia 1a Concluído

Nível 12 : 800-1,600, 200 ante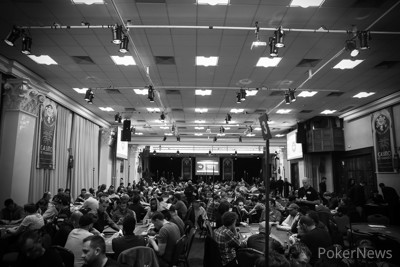 A record-breaking field of 172 players entered Day 1a of the WSOP International Circuit Main Event in the lovely Es Saadi Resort in Marrakech. 49 of them made their way to Day 2 and are still in the hunt for the coveted WSOP Circuit Ring, with Rodrigo Strong - on his birthday! - claiming the overall Day 1a chiplead with 250,000.
The day started off slowly, with dealers at many tables unable to start dealing due to an insufficient number of players. The poker enthusiasts showed up in full force not long after though, eventually setting a new Day 1a attendance record for the WSOPC in Marrakech.
Great Britain's poker legend Barny Boatman didn't have the best of starting days, as he found himself on the rail soon. It took Boatman another two bullets to finally keep hold of a stack, but the experienced pro has a lot of work ahead after bagging 31,600.
Sarah Herzali had a much better day, ending her strong run at 160,000. Herzali wasn't afraid to play pots today by three and four-betting many times. She will be joined by the likes of Gerard Carbo (204,500), EPT11 Malta winner Jean Montury (151,000) and WSOPC Circuit Ring winner Dimitry Sukhorukov (147,000), who all find themselves near the top of the standings.
The French always have a strong showing in Marrakech and this tournament proved no different, with the French players making up the majority of the field. In the end, however, it was a Brazilian topping the leaderboard. The aforementioned Rodrigo Strong barely edged out France superstar Fabrice Soulier, who bagged 241,200 and sits in second.
All remaining players will return on Saturday for Day 2 of the Main Event. At 1 p.m. local time tomorrow Day 1b will commence, which will feature twelve levels of 45 minutes and a starting stack of 30,000 as well. Check PokerNews throughout the day for updates of this exciting Main Event.

Nível 12 : 800-1,600, 200 ante
Jogador
Fichas
Oscilação

Rodrigo Strong

250,000

90,000

Fabrice Soulier

241,400

41,400

Roy Al Rineh

205,200

-14,800

Gerard Carbo

204,500

204,500

Soufiane Abbouti

191,000

-9,000

Thibault Saillard

161,500

71,500

Sarah Herzali

160,000

-20,000

Dionisio Serrano

158,600

158,600

[Removed:391]

153,500

23,500

Jean Montury

151,000

-59,000

Hakim Hadj

148,000

18,000

Dimitry Sukhorukov

147,000

17,000

Didier Obigand

143,600

-11,400

Mika Kakkonen

142,100

62,100

Tony Lefort

140,000

-100,000

Anthony Gardner

137,000

137,000

Dimitri Halliez

134,800

-10,200

Dominique Terzian

121,300

121,300

Oleksii Kuznietsov

120,000

70,000

Matthias Widmann

117,500

117,500

Chris Da Silva

113,000

-47,000

Live at the Hippodrome Pro

Mounim Kaddouri

112,700

47,700

Dimitri Motorov

109,300

109,300

Slimane Mameche

107,400

62,400

Hugo

101,000

101,000

Nível 12 : 800-1,600, 200 ante
Play for the day is done and the chips are being bagged and tagged. According to the clock, 50 players have survived the day. Rodrigo Strong is the chipleader with 250,000 chips, with Fabrice Soulier in second with 241,400.
A count of big stacks, notables and a recap will follow shortly. Full chip counts will be added later on.

Nível 12 : 800-1,600, 200 ante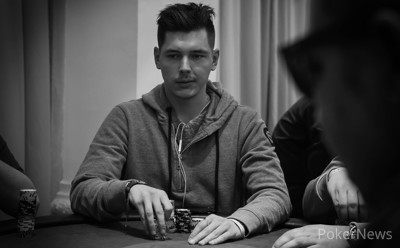 Rodrigo Strong opened to 4,000 from early position and Dimitry Sukhorukov three-bet to 11,100 in middle position. Right behind him, Sarah Herzali four-bet small to 21,000. Strong got out of the way and Sukhorukov splashed the extra chips in.
Both players stared profusely at either other, then burst out laughing. It was all smiles as the dealer dealt the
flop. Sukhorukov checked, keeping his eyes locked on Herzali. The French pro bet 13,000 and tried to keep here composure, but upon seeing Sukhorukov's stare she couldn't hold back her laugh again.
Sukhorukov folded
face-up and blew Herzali a kiss, which got received surprisingly well. The atmosphere is casual here in Marrakech as the day draws to a close.
Jogador
Fichas
Oscilação

Sarah Herzali

180,000

Dimitry Sukhorukov

130,000

-40,000

Nível 12 : 800-1,600, 200 ante
Down to his last 14,000, Samir Borji shoved from middle position. On the button, Masbah Ben Baba reshoved all in to put Borji at risk.
Samir Borji:

Masbah Ben Baba:
Borji found the miracle he was looking for with his seven-six offsuit and improved to two pair on
. Ben Baba was left crippled after the hand.
Jogador
Fichas
Oscilação

Samir Borji

35,000

-60,000

Masbah Ben Baba

9,000

-56,000

Nível 12 : 800-1,600, 200 ante
The last level of the day has started. After this level, chips will be bagged for the night. Any remaining players will return on Saturday at 1 p.m. for Day 2.
Nível: 12
Blinds: 800/1,600
Ante: 200

Nível 11 : 600-1,200, 200 ante
Mohamed Aissani raised to 2,600 and Julio Sanchez called. Soufiane Abbouti three-bet to 10,200 from the blinds, Aissani four-bet shoved for 34,000 and Sanchez folded.
Abbouti took more than a minute to call off the remaining chips with
, which prompted some remarks from his tablemates. Aissani held
and was already on his way out after the
flop. The
on the turn sealed it, making the
river meaningless.

Nível 11 : 600-1,200, 200 ante
Jogador
Fichas
Oscilação

Jean Montury

210,000

95,000

Fabrice Soulier

200,000

90,000

Dimitri Halliez

145,000

Hakim Hadj

130,000

[Removed:391]

130,000

55,000

Thierry Morel

100,000

50,000

Moustafa El Ajjouri

100,000