$10,000 Main Event
Dias: 4
$10,000 Main Event
Dia 4 Concluído
Nível 24 : 15,000/30,000, 5,000 ante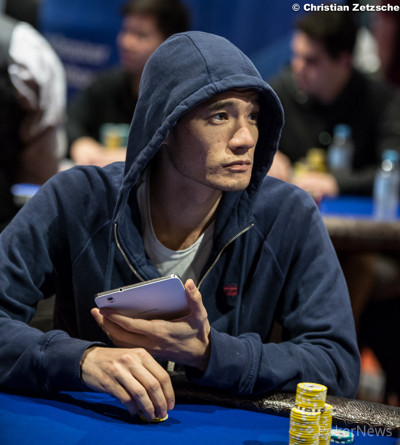 The penultimate day of the 2014 World Series of Poker Asia-Pacific Main Event from Crown Melbourne has concluded with England's Jack Salter bagging the chip lead over the final six.
Beginning the day with just 18 players remaining and a final table of six the goal, Sean Winter would exit on one of the first few hands before a stall in play wouldn't see the next elimination for a further 80 minutes. Unfortunately, that elimination was the biggest remaining storyline, as Brandon Shack-Harris, who needed a top-two finish to take the lead in the WSOP Player of the Year race, hit the rail. Shack-Harris three-bet shoved holding the
, but was undone by Frank Kassela's
.
Joachim Chia (16th), Gary Benson (15th), Alexander "AJ" Antonios (14th), JJ Liu (13th), and Jackie Glazier (12th) all exited within the hour before Baden Logan (11th) and Eiji Matsumura (10th) left the field at the unofficial final table. At this point, Day 2 chip leader Kyle Montgomery held the chip lead, but Jason Giuliano and Victor Teng were snapping at his heels.
Play began really slow as players took their time to settle into the unofficial final table. Local player Giuliano had other ideas, however, as he started accumulating chips at a monster rate to eventually build his stack to 2.4 million — 1 million more then his closest rival as players headed on dinner break.
Once back, Henry Szmelcer made a move holding the
, but it would be Scott Davies and his
that would reduce the field to just eight. Davies then found a huge double holding kings against Giuliano's ace-king before Jack Salter turned a set against Teng.
Although Giuliano began the level as chip leader, he would soon be the short stack after doubling Henry Wang and then busted just before break when he ran kings into Kassela's aces.
Needing just one more elimination before the televised final table of six was reached, Teng's rise and fall would be complete when his
couldn't outdraw Salter's
to leave us at the following half dozen with all eyes on the AU$850,136 first prize.
| Seat | Player | Country | Chips | Big Blinds |
| --- | --- | --- | --- | --- |
| 1 | Frank Kassela | USA | 1,250,000 | 42 |
| 2 | Scott Davies | USA | 2,210,000 | 74 |
| 3 | Kyle Montgomery | USA | 950,000 | 32 |
| 4 | Henry Wang | Taiwan | 1,700,000 | 57 |
| 5 | Ang Italiano | Australia | 510,000 | 17 |
| 6 | Jack Salter | England | 3,255,000 | 109 |
With an Aussie Millions side event victory and European Poker Tour Grand Final runner-up finish this year, Salter will be looking to ride this wave of momentum into another victory here at Crown Melbourne. Holding the chip lead with 3,255,000, Salter is 35 big blinds ahead of Scott Davies, who sits in second with 2,210,000. Davies is registering his ninth WSOP cash for the year — second of the Asia-Pacific series — and will be looking to turn his second final table appearance into a victory.
Macau and Melbourne regular Henry Wang played an exciting brand of poker and sits in third place, whereas 2010 WSOP Player of the Year and two-time bracelet winner Kassela sits in fourth overall. Kyle Montgomery and local Ang Italiano round up the rear with Italiano having won her seat into this event for just AU$130. Italiano played two "Phase One" $65 satellites and won her second to earn entry into an AU$250 "Phase Two." She won that before winning a AU$1,100 "Phase Three" to win her seat in this Main Event.
With the final table combatants having a day off to conduct interviews with ESPN, the final table will resume at 3:30 p.m. local time on Saturday afternoon in Crown Melbourne's Studio 3. The PokerNews Live Reporting team will be on hand to provide extensive live coverage, including hand-for-hand updates, as the event plays down to crown the 2014 WSOP Asia-Pacific Main Event Champion.
Nível 24 : 15,000/30,000, 5,000 ante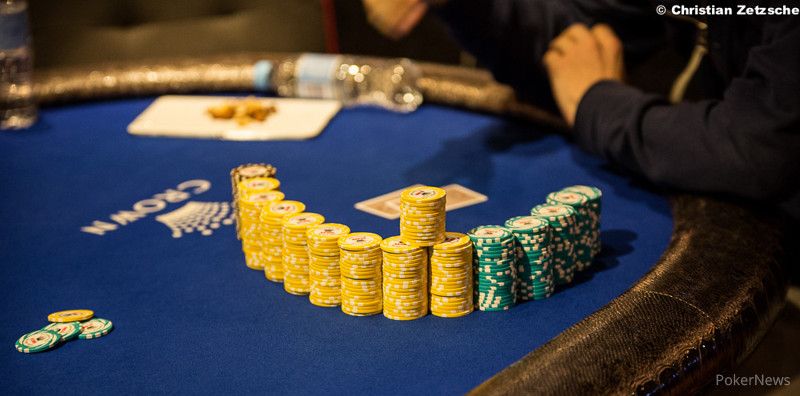 Jogador
Fichas
Oscilação

Jack Salter

3,255,000

1,415,000

Scott Davies

2,210,000

-100,000

Henry Wang

1,700,000

-40,000

Frank Kassela

1,250,000

-10,000

Kyle Montgomery

950,000

-55,000

Ang Italiano

510,000

-10,000
Nível 24 : 15,000/30,000, 5,000 ante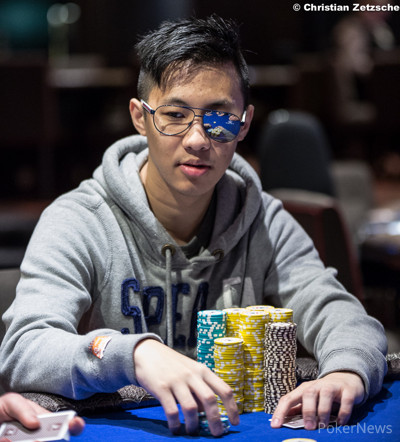 From early position, Jack Salter opened to 65,000 and Scott Davies called in the cutoff before Victor Teng three-bet to 210,000 from the button. When the action folded back to Salter, he four-bet to 375,000 as Davies quickly mucked. Teng responded by moving all in for roughly 1.1 million and Salter quickly called.
Teng:

Salter:
With Teng in bad shape with his lower pair, the
flop changed little apart from giving each player backdoor straight draws.
The turn of the
would leave Teng drawing to just a jack, and when the river landed the
, Teng hit the rail in 7th place for an AU$87,514 payday.
Nível 24 : 15,000/30,000, 5,000 ante
Jogador
Fichas
Oscilação

Scott Davies

2,310,000

440,000

Jack Salter

1,840,000

44,000

Henry Wang

1,740,000

40,000

Frank Kassela

1,260,000

452,000

Victor Teng

1,225,000

25,000

Kyle Montgomery

1,005,000

-95,000

Ang Italiano

520,000

-130,000
Nível 24 : 15,000/30,000, 5,000 ante
The cards are back in the air.
Nível: 24
Blinds: 15,000/30,000
Ante: 5,000
Nível 23 : 12,000/24,000, 4,000 ante
The remaining seven players are heading on a 15-minute break.
Nível 23 : 12,000/24,000, 4,000 ante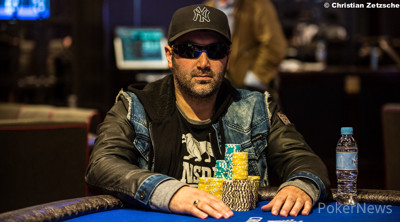 From middle position, Jason Giuliano moved all in for roughly 430,000 and Frank Kassela called on the button.
Giuliano:

Kassela:
The dinner break chip leader - who had over 2.3 million just 90-minutes ago - was dealt a monster cooler, and when the flop fell
he would still be searching for that third king.
The turn of the
changed little, and when the river landed the
, Giuliano headed to the rail in 8th place for an AU$67,198 payday.
Nível 23 : 12,000/24,000, 4,000 ante
Victor Teng raised to 56,000 from under the gun and was called by Henry Wang in late position. Scott Davies was in the big blind and raised it up to 175,000 which got rid of Teng. Wang thought about his decision for a minute before making the call.
The flop came down
and Davies slid out a bet of 175,000 in chips. Wang made the call befre the
dropped on the turn. Davies tanked for a minute before betting out 240,000 in chips.
"So you have pocket kings!" stated Wang. He contemplated over his decision for a short moment before opting to muck his hand relinquishing the pot to Davies.
Jogador
Fichas
Oscilação

Henry Wang

1,700,000

-390,000