Main Event
Dia 3 Concluído
Nível 30 : 80,000/160,000, 160,000 ante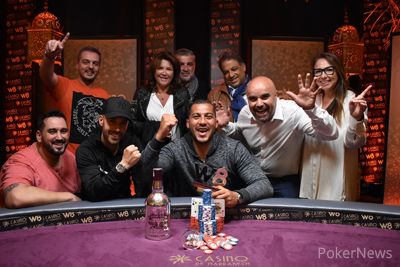 Anas Tadini has become the winner of the 2019 Wonder8 Main Event in Casino de Marrakech! It's the first year the Wonder8 took place with Casino de Marrakech and the second time the series was organized. Tadini defeated a field of 211 players to collect the first place prize of 298,000 Moroccan dirhams (appr. €27,470) and the trophy in his hometown.
Start-of-the-day chip leader Youssef Aananouche ended up in sixth place for MAD 77,000, while the other Moroccan player of the final table, Najib Bennis, was eliminated in fifth place for MAD 97,000 by Tadini. Anthony Monin wasn't very fortunate today and ended up in seventh place for MAD 63,000 after his pocket aces were cracked by Bennis with pocket nines.
2019 Wonder8 Marrakech Main Event Official Results
| Place | Player | Country | Prize (in MAD) | Prize (in EUR) | Prize (in USD) |
| --- | --- | --- | --- | --- | --- |
| 1 | Anas Tadini | Morocco | MAD 298,000 | €27,470 | $30,863* |
| 2 | "Azapl" (Jose Luis) | Spain | MAD 204,000 | €18,806 | $21,128* |
| 3 | "GRJ" (Julian Galan) | Spain | MAD 222,000 | €20,565 | $22,992* |
| 4 | Simon Abou Zaki | England | MAD 126,000 | €11,615 | $13,051 |
| 5 | Najib Bennis | Morocco | MAD 97,000 | €8,942 | $10,047 |
| 6 | Youssef Aananouche | France | MAD 77,000 | €7,098 | $7,976 |
| 7 | Anthony Monin | France | MAD 63,000 | €5,807 | $6,525 |
| 8 | Emile Carette | France | MAD 52,000 | €4,794 | $5,386 |
* denotes deal of the last three players
The victory came rather quickly for the Moroccan professional, who had managed to keep a comfortable stack throughout the majority of the tournament, and after seven hours of play today. Tadini is quite used to victories and deep runs here in Marrakech, with, amongst others, a victory in the WSOPC High Roller last January, the FPS Main Event in Mazagan in 2011 or the Fariss Suet Poker Main Event in 2015. By putting constant pressure on his opponents on the final table, he managed to clinch the victory.
"Let's all go to the Theatro," Tadini said afterward, willing to celebrate his victory in the nightclub of the casino.
Tadini followed in the footsteps of the French player France Souhayl Fjer, who won the previous edition last year for €65,000 in the Cercle Clichy Montmartre in Paris. After a deal between the three remaining players and the eliminations of GRJ (Julian Galan) in third, it took only three hands to Tadini to achieve the victory. He called "Azapl" (Jose Luis) all in on the flop with a pair of queens, while "Azapl" had a flush draw. Tadini let his joy explode after the river fell and invited all the rail to join the party.
"My mom always taught me we have to give to receive, so I gave a lot and today I feel it's my time to receive!" Tadini said when asked about his impressions.
2019 Wonder8 Marrakech Main Event Final Day Action
At 3 p.m., 9 out of 211 players returned to Casino de Marrakech with each of them already guaranteed 43,000 MAD (€3,900) for surviving two days. Most eyes were on Aananouche and Tadini from the start, who were fighting for the chip lead, as well as GRJ (Julian Galan) and Simon Abou Zaki, who started in third and fourth place respectively.
Samir Tazi Mokha, an American player and regular in the Casino de Marrakech, busted only after a few minutes after the day started, losing his last 12 blinds with
against Aananouche with
and earning MAD 43,000 (€3,964) on the way. He was followed shortly after by Emile Carette who pushed his stack with
while Abou Zaki had Aces and was left with crumbs after that hand.
After the eliminations of Aananouche and Bennis, Tadini and GRJ battled a lot in huge pots, chips flying from one side to the other. During a setup, Tadini took big from GRJ with a set of kings while the Spanish had a pair and the flush draw, and one hour later the latter doubled up on Tadini. The Moroccan pro three-bet all-in GRJ on a flop
with
in his hands while GRH held
and the rest of the board bricked.
Before the dinner break, GRJ doubled once more against Tadini thanks to another setup. Both players had two pairs on the turn, Tadini with jacks and sevens and GRJ with jacks and fours and all the chips went the in middle but a miracle
fell on the river for GRJ to earn the pot.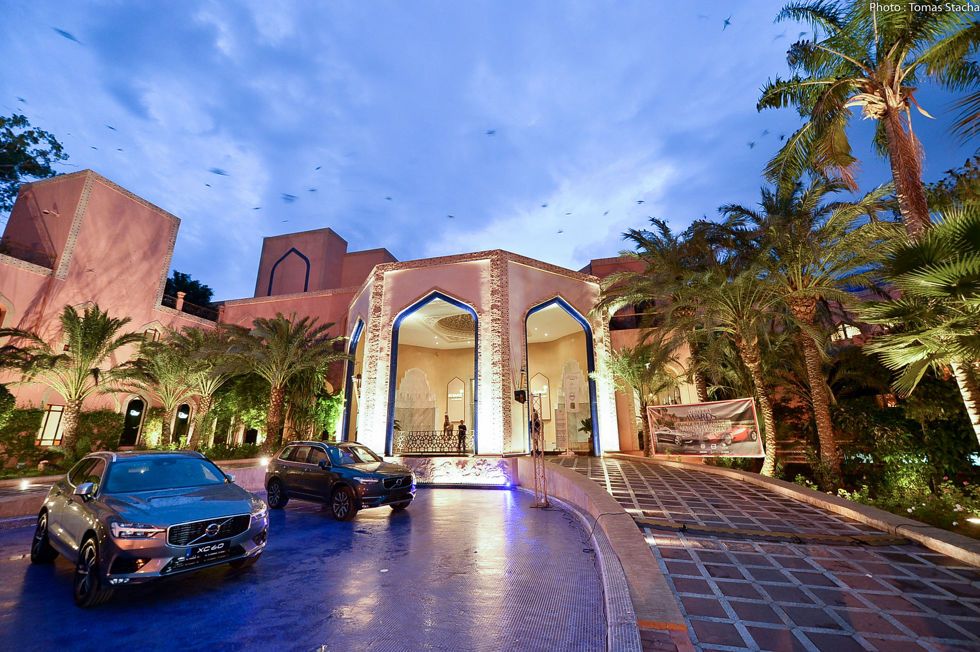 The players agreed on a deal and Tadini eventually succeeded to eliminate his opponent in a blind versus blind confrontation, GRJ holding
and Tadini
. With Tadini having a substantial lead, the heads up with Azapl (Jose Luis) not even lasted five minutes after that and Tadini went to celebrate with his rail.
That fully wraps up PokerNews coverage from Casino de Marrakech, part of the stunning five stars Es Saadi Resort in Marrakech in Morocco. In two months, action will heat up again as the World Series of Poker will host its circuit event for the Marrakech Summer Event from June 15 to 23. Au revoir from the sunny and colorful city of Marrakech!
Nível 30 : 80,000/160,000, 160,000 ante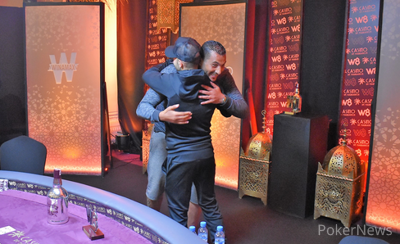 It took only three hands for this head's up to be over.
Situated on the button, Anas Tadini completed with
. Azapl, holding
, checked his option with 1,865,000 chips left.
The flop came
and Azapl first checked, before announcing all-in after Tadini made a bet for 300,000. Tadini snap-called and the players tabled their cards.
Tadini, very confident, already started to say goodbye to his opponent, sure about his victory. The rest of the board fell
and
and Tadini exulted of joy. Azapl (Jose Luis), finished second for MAD 204,000.
A full recap of the day will follow shortly.
Nível 30 : 80,000/160,000, 160,000 ante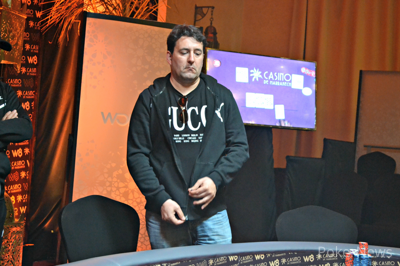 Anas Tadini shoved all-in from the small blind position, putting GRJ at risk for his tournament with only 1,345,000 chips left. The latter snap-called and both players tabled their cards:
GRJ:

Anas Tadini:
GRJ (Julian Galan) had some hopes for a double up, but the board ran
, eliminating him from the tournament at the third place for MAD 220,000.
Jogador
Fichas
Oscilação

Anas Tadini

7,135,000

2,415,000

GRJ

Eliminado
Nível 30 : 80,000/160,000, 160,000 ante
The two players went all-in preflop, Anas Tadini holding
and Azapl
for a typical flip situation.
The board came
, giving Azapl a pair of queens for the double up.
Jogador
Fichas
Oscilação

Anas Tadini

4,720,000

-1,005,000

Azapl

3,270,000

1,195,000
Nível 30 : 80,000/160,000, 160,000 ante
Anas Tadini saw
in the small blind and completed. GRJ, with
, checked his option.
The flop was
, giving top set to Tadini, and both players checked. The same action happened on the turn
.
The river brought a
and Anas bet 300,000, followed by a raise from GRJ for 795,000. Tadini called and earned the pot.
Jogador
Fichas
Oscilação

Anas Tadini

5,725,000

1,195,000

GRJ

2,095,000

-1,195,000
Nível 30 : 80,000/160,000, 160,000 ante
On a raised pot, the flop showed
when Anas Tadini bet 310,000 with
in his hand. GRJ called with
.
The turn brought the
and this time Tdaini bet 420,000. GRJ thought about it for a minute and let it go.
Jogador
Fichas
Oscilação

Anas Tadini

4,530,000

500,000

GRJ

3,290,000

-100,000
Nível 30 : 80,000/160,000, 160,000 ante
The three remaing players agreed on a deal according to the ICM during the dinner break.
Anas Tadini takes MAD 228,000, GRJ MAD 222,000 and Azapl 204,000. The winner will receive the trophy and MAD 70,000 more.
Nível: 30
Blinds: 80,000/160,000
Ante: 160,000
Nível 29 : 60,000/120,000, 12,000 ante
The remaining three players are now on their one-hour dinner break, before returning at blinds 80,000/ 160,000 ante 160,000.