USPO #3 - $10,000 NLH
Dias: 2
USPO #3 - $10,000 NLH
Dia 2 Concluído
Nível 26 : 100,000/200,000, 200,000 ante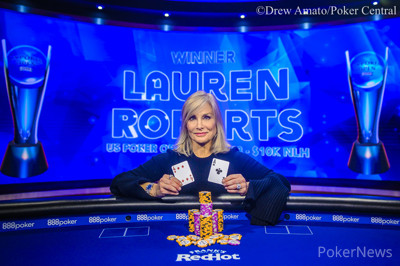 Lauren Roberts became the first female champion in the U.S. Poker Open's brief history, making a large comeback heads up to beat Koray Aldemir and get through a 91-entry field in Event #3: $10,000 No-Limit Hold'em.
It's the first live victory in poker for Roberts, and the $218,400 she won represents the high roller vet's biggest cash.
"I love the game, I'm passionate about it," she said afterwards in an interview with Poker Central's Maria Ho. "I hope to compete, and I was fortunate today."
She continued: "It's huge for me. I mean I've never won anything before. And so especially for women or old people and for amateurs. I love this game, I played with some phenomenal players and I learn every time I play a tournament. I happened to run good in some of these coin flips and they can make or break a tournament."
About her play and ambitions this week, Roberts told USPO officials, "I probably will play the $25k higher rollers, and I'll play tomorrow depending on how I feel. There are some amazing players in here and I have no clue how to play the short deck I don't have any illusions that I could win the overall championship. I feel like I have the capability to play well against these guys. I don't always live up to it but I always believe that I can do it and sometimes it actually works out."
Official Final Table Results
| Place | Player | Home Country | Prize |
| --- | --- | --- | --- |
| 1 | Lauren Roberts | USA | $218,400 |
| 2 | Koray Aldemir | Germany | $159,250 |
| 3 | Stephen Chidwick | UK | $113,750 |
| 4 | Brandon Adams | USA | $91,000 |
| 5 | Sean Winter | USA | $72,800 |
| 6 | Ralph Wong | USA | $54,600 |
| 7 | Rodger Johnson | USA | $45,500 |
Roberts spent much of Day 2 as one of the shorter stacks, while Sean Winter and Stephen Chidwick dominated play early on. Meanwhile, short stacks Rodger Johnson and Ralph Wong were the first two to bust at the official final table.
Aldemir changed the course of the tournament with a huge double when Winter ripped over his open with ace-jack suited only to run into two aces held by the German. Winter would then finish in fifth, allowing Brandon Adams to limp up a ladder with less than a big blind, when ace-king couldn't hold against Aldemir's eight-three offsuit.
Aldemir and Chidwick then played a huge flip that looked likely to decide the tournament, which was won by Aldemir when he flopped a set of fours.
Roberts was down 8.5 million to 3 million at 75,000/150,000/150,000 against her vastly more experienced foe, but she went from nine big blinds to tournament winner in a shockingly fast turnaround after blinds went up.
First, Roberts doubled king-queen against queen-jack, fading a flopped open-ended straight draw. Then, she checked top pair and turned aces up. Aldemir called a turn bet and then shoved over a river bet with just queen-high after missing a straight draw and a non-live flush draw. Roberts called right away and suddenly had a huge lead.
Aldemir busted moments later, and Roberts seemed as surprised as she was happy.
"I was ready to just concede," she said with a breathless laugh.
"I was up against the best players in the world," she said to Ho a few minutes later. "So, I'm amazed that it's actually happening."
PokerNews coverage of the 2019 USPO continues now with live updates from Event #4: $10,000 Short Deck, which you can follow here.
Remember, you can watch all USPO final tables exclusively on PokerGO. Subscribe to PokerGO for just $10 a month or $99 a year to watch nine straight days of U.S. Poker Open final table action plus PokerGO's full catalog of programming.
Nível 26 : 100,000/200,000, 200,000 ante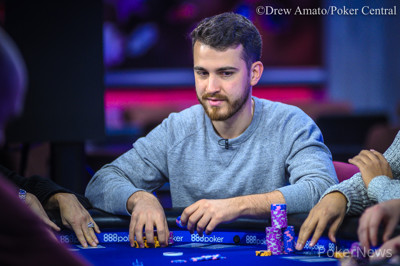 Koray Aldemir shoved with
for about 2 million and Lauren Roberts flipped over
as she announced a call.
The
flop paired Roberts and gave her the nut flush draw. The
turn was a brick, and the river was an
, ending the tournament.
Nível 26 : 100,000/200,000, 200,000 ante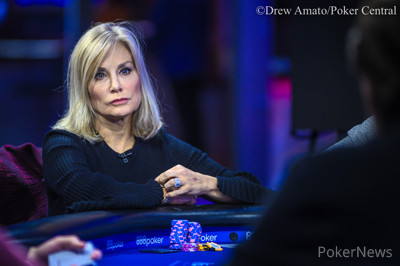 Koray Aldemir completed with
and Lauren Roberts made it 500,000 with
.
Roberts checked the
and Aldemir checked it back. The turn was an
and Roberts bet 500,000. Aldemir called and the river was the
. Roberts bet 800,000 and Aldemir shoved. Roberts quickly called for what looked like about 3.6 million and Aldemir had to ship over a huge double.
Nível 26 : 100,000/200,000, 200,000 ante
Koray Aldemir completed the blind and then called all in for 2,025,000 with
. Lauren Roberts had a dominating
.
The board ran out
, so Roberts faded a flopped open-ender to double.
Nível: 26
Blinds: 100,000/200,000
Ante: 200,000
Nível 25 : 75,000/150,000, 150,000 ante
Koray Aldemir raised to 375,000 with
and Lauren Roberts called with
.
Roberts check-called 225,000 on
. The turn was a
, which checked through, and the river was the
. Roberts checked and snap-folded to 1.3 million.
Nível 25 : 75,000/150,000, 150,000 ante
Koray Aldemir and Lauren Roberts saw a
flop for the minimum. Roberts checked with
and Aldemir bet 150,000 with
. Both checked the
and the river was a
. Roberts bet 325,000 and Aldemir called and mucked.
Nível 26 : 100,000/200,000, 200,000 ante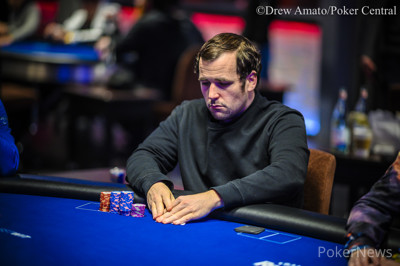 Poker Central's Remko Rinkema spoke to Jordan Cristos about his win in Event #2: $10,000 Pot-Limit Omaha and his jump into some of the high roller events at the U.S. Poker Open.
Nível 25 : 75,000/150,000, 150,000 ante
Koray Aldemir completed with
and Lauren Roberts checked with
.
Roberts checked and called 150,000 on the
flop, bringing a
. Roberts folded to a barrel of 575,000.