Nível: 23
Blinds: 12,000/24,000
Ante: 3,000
Main Event
Dia 3 Concluído
Nível 23 : 12,000-24,000, 3,000 ante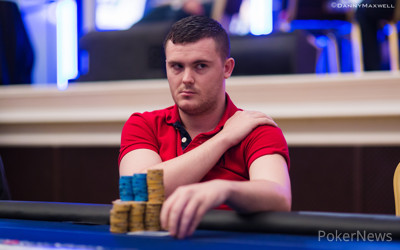 Jamie O'Connor is top of the leader board at the end of Day 3 at the UKIPT Isle of Man with 1,243,000 chips. In second place is Duncan McLellan with 1,161,000 followed by Daniel Stacey on 1,087,000.
The early action was fast and furious with Fabio Espositio the first player to be eliminated when he cold four-bet shoved with
and was called by the three-bettor Rational Group Staff member Christopher Jonat who held
. The board ran out
and the importance of winning your flips was established early.
More eliminations quickly followed during the same level. Steve Russell, Jonathan Barr, Full Tilt Poker Tour Ambassador Ben Jenkins, Owen Fenwick and Peter Warfvinge all headed for the exit.
The next level saw a number of double ups including Sam Razavi who took a big pot off Christopher Jonat in a cooler situation when he had set over set before we saw further exits in Tomasz Chmiel, Mark Handley and Lewis Cheetham.
By the end of the second level of the day Duncan McLellan was still in the lead, wielding his stack to good effect. With the ability to eliminate any of his opponents and he used that knowledge to superb effect time and time again. He was still closely being trailed by PokerStars SportStars Pro Fatima De Mello.
The next level would see another flurry of eliminations, with Sam Razavi riding his luck before he too was felted when he three-bet shoved with
and ran in to the
of Richard Milne. With Razavi and Mate Mecs also knocked out, the tournament was down to 15 players and there was a table redraw.
Barry Greenstein picked up a lot of small pots by attacking Rational Group Staff Member Chris Straghalis and three-betting Alexander Schilt's opens. Straghalis eventually shoved but Greenstein had the best of it to double up and put the hurt on Straghalis. Greenstein was eventually eliminated in 11th place when he squeezed with
, but Harry Lodge had expertly set the trap by flatting the opener and called the all-in with
. A final board of
meant Greenstein's run was at an end.
Other players eliminated in that level included Matthijs Rebel (15th), James Browning (14th), Paul Coughlan (13th) and Colin Marks (12th).
There was a double up for Fatima Moreira de Melo who had been in the danger zone for a while. Elsewhere Dahe Liu lost a race with
against Duncan McLellan's
, the cards running out
to bust Liu in 10th.
The unofficial final table of nine was set, with one more player to fall before play finished for the day; before that happened there was just time for McLellan to show an audacious bluff.
Jamie O'Connor opened to 40,000 from UTG+1 and Duncan McLellan three-bet to 85,000 on the button. O'Connor four-bet to 160,000 and McLellan called. The flop came
and McLellan called an 80,000 bet. The
fell on the turn, and when O'Connor checked, McLellan moved all in. O'Connor folded and McLellan showed
.
It fell to Alexander Schilt to be the bubble boy when Christopher Jonat opened and called Schilt's three-bet shove. Jonat had
crushing the
of Schilt. The board was
and the final table was set.
Be sure to come back tomorrow when the action restarts at 12pm local time where the final 8 players will battle it out for the first prize of £94,090 and the UKIPT Isle of Man title.
| Seat | Name | Chip Count |
| --- | --- | --- |
| Seat 1 | Adam Topping | 676,000 |
| Seat 2 | Christopher Jonat | 952,000 |
| Seat 3 | Duncan McLellan | 1,161,000 |
| Seat 4 | Harry Lodge | 569,000 |
| Seat 5 | Daniel Stacey | 1,087,000 |
| Seat 6 | Jamie O'Connor | 1,243,000 |
| Seat 7 | Richard Milne | 956,000 |
| Seat 8 | Fatima Moreira de Melo | 524,000 |
Nível 22 : 10,000-20,000, 3,000 ante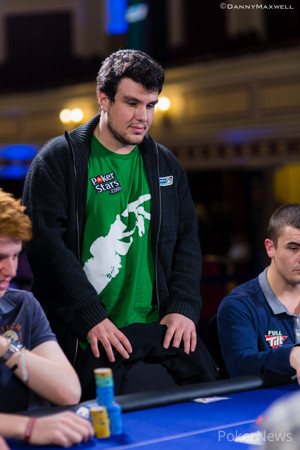 Christopher Jonat opened for 50,000 and Alexander Schilt moved all-in for 331,000. Jonat had him covered and called with
. Schilt needed to come from behind with
. The board ran out
and they have a final table of eight.
Nível: 23
Blinds: 12,000/24,000
Ante: 3,000
Nível 22 : 10,000-20,000, 3,000 ante
Jogador
Fichas
Oscilação

Jamie O'Connor

1,291,000

Duncan McLellan

1,200,000

Daniel Stacey

1,100,000

Richard Milne

871,000

-71,000

Adam Topping

660,000

-200,000

Christopher Jonat

570,000

-156,000

Staff Member

Fatima Moreira de Melo

531,000

-50,000

SportStar

Harry Lodge

482,000

-52,000

Alexander Schilt

372,000

-228,000
Nível 22 : 10,000-20,000, 3,000 ante
We're on a short break.
Nível 22 : 10,000-20,000, 3,000 ante
Daniel Stacey raised 40,000 preflop and Duncan McLellan reraised to 106,000 on the button.
Passed back to Stacey, he slid out enough chips to put McLellan all in and the latter called.
Stacey:

McLellan:
The board ran out
and McLellan doubled up to 1.2 million, Stacey was left with 1.1 million chips.
Nível 22 : 10,000-20,000, 3,000 ante
Jamie O'Connor raised to 40,000 preflop and Duncan McLellan called in the big blind. The flop was
and McLellan led for 68,000 before O'Connor made it 150,000. McLellan moved all in and O'Connor called instantly.
McLellan:

O'Connor:
The turn was the
and O'Connor became an 89% favourite for the hand, the
came on the river and O'Connor doubled up to nearly 1.3 million while McLellan dropped below to 600,000.
Nível 22 : 10,000-20,000, 3,000 ante
Alexander Schilt raised to 50,000 from the button and Daniel Stacey made it 95,000 in the small blind. Schilt took nearly four minutes before opting to fold to the chip leader.