$10,000,000 Guarantee Championship
Dias: 1b
$10,000,000 Guarantee Championship
Dia 1b Iniciado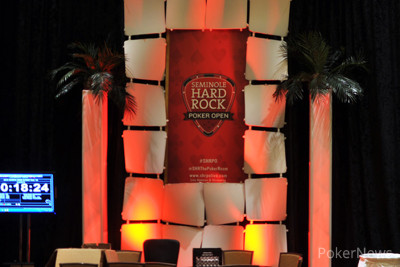 Welcome back to Hollywood, Florida for Day 1b of the Seminole Hard Rock Poker Open Championship Event. On Thursday, 194 of the original 634 runners survived to make Day 2, and today's flight should be just as large. Leading the Day 1a survivors was Aaron Schaff, who bagged 326,600 chips. Joining Schaff atop the leader board are Tony Sinishtaj (267,700), legendary music producer Irving "Irv Gotti" Lorenzo (238,700), and Giuseppe Pantaleo (223,000).
While PokerNews is not offering live updates from this event, the participating players will be able to utilize the MyStack App. You can download the app for iPhone or Android now to get started. Then, create a new PokerNews account or update your current one to start updating your status immediately. Your followers can see all the live action that you're involved in.
Along with the player updates, PokerNews will be providing you with feature pieces and interviews straight from the tournament floor.
The cards will be in the air shortly, so be sure to check out the Player Updates tab above.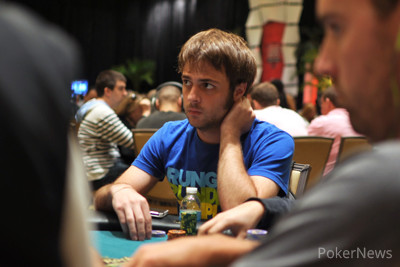 Fresh off of winning a World Series of Poker bracelet this summer in Event #33: $2,500 Seven Card Razz and finishing fifth in the Seminole Hard Rock Poker Open $1 Million Guarantee, young Bryan Campanello sits down to talk with PokerNews about his recent success, "circuit grinders," the post-Black Friday poker players, and more.
PokerNews: You just finished fifth in the million-dollar guarantee. Can you talk about that tournament?
Bryan Campanello: It's really nice whenever you're about to play a re-entry $5,000, the WinStar $5,000 tournament, and the WinStar $2,500 re-entry tournament to get a good score and feel confident. I'll have a ton – something like $30,000 in tournament buy-ins – this month, so it's really nice to play a small buy-in, go deep, get a big score, and feel confident and prepared going forward.
Can you explain how, despite starting the final day as the chip leader, it's really hard to get fifth in a tournament of that size?
I started the final day with only like 97 big blinds. I didn't have 300 bigs (sic). It's still tournament poker, the shortest stack had 14 big blinds, he can still run it up. I lost one 135-big blind flip, and after that I was right around everybody else. You're still deep enough to play pots and get to rivers and do a bunch of stuff, but it's not deep enough to decrease variance by any means.
There were also a bunch of really good players remaining, like puffinmypurp [Ty Reiman] and Darren Rabinowitz. I was happy to get fifth for $85,000 – you're not going to upset when you get an $85,000 score. You're going to go, "alright, cool, I'll take it."
Does it take time to learn that kind of patience? To appreciate non-wins that produce big scores?
You get used to it. You get used to being like, "Alright, well I got fifth, this sucks" for 30 minutes and then you realize you have a check for $85,000 in your backpack. "Never mind, I'm going to be OK."
I got lucky in that I started playing live a lot more than I played online, so I used to live variance more than online players did. This is gonna happen. You're going to have s****y years, you're going to have good years. When you're having a good year, feel good about getting a good score. When you're busting tournaments in four levels, you're busting tournaments in four levels. Sometimes you win, sometimes you get fifth, and sometimes you bust before the antes. It happens.
How old were you when Black Friday happened?
Nineteen.
So you're a part of the young, post-Black Friday poker generation?
I'm the post-Black Friday 21-year old live pro. There's a bunch of us from Texas and Florida that had casinos – ours were in Oklahoma – to go play at when we were 18. So we started playing live cash and live tournaments almost before we started playing online. Then we deposited money online that we won playing live cash and tournaments. Black Friday happened six-to-10 months after I started playing online, so I had very few hands and very few tournaments played. I learned how to play live and I feel a lot more comfortable live than I do online.
I'm going to go down [to Mexico] for WCOOP in September, and I'm missing Borgata for that. It's really weird for me to skip a live tournament to go play online.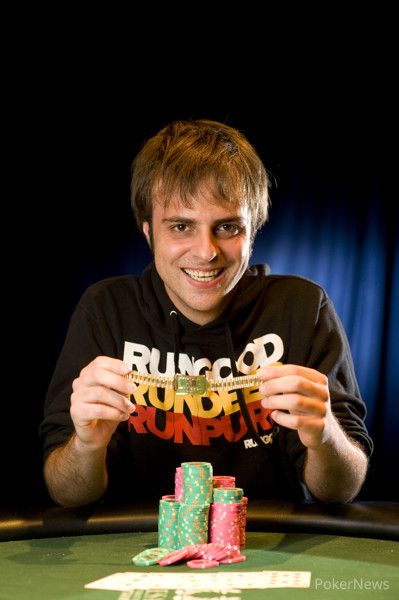 What do you make of the success of World Series of Poker Circuit grinders, like yourself, recently?
"Circuit grinders" used to stand for "kids that are bad so they play $365 tournaments." Well, four "circuit grinders" won bracelets this summer. We can play. We play more live tournaments then y'all probably. We're used to a live setting and playing against people who play $365 buy-ins, so when we go to $1,000 and $1,500 buy-in events, we're used to that skillset – the weekend warriors. We get used them a lot quicker and we can adjust and play against those players. That's why you see so many people going deep in these $560 buy-in million-dollar guarantees, the $125's – Pete Rios had a ton of chips in one of them here – I don't know.
"Circuit grinder." It's not really a term anymore. We're just poker players. Everyone knows how to play, and everyone is good. We sit around at talk hand histories, we room together, we share expenses, and all of that. That's the best way to improve your game. We sit around and play open-face [Chinese poker] for a dollar a point and talk about hands from the day.
On a scale from one to 10, how funny/ridiculous is it that you won your bracelet in Razz?
It's probably like a 275. I was just on tilt. I went f*** it, let's play stud. Then I got some chips on Day 2, so I figured I should start learning how to play this game. I went and talked with oerockets [Owais Ahmed] and said, "This is what I'm doing, is it right?" He told me that it was a good strategy, then showed me a few things. Then later, I was talking with George Danzer, asking him a few questions, and he told me I was fine. "You're playing OK."
By the time Day 3 came along, I thought I picked up some of the game. I knew some of the math. Let's just hope we run good enough to get into the top three and get a six-figure score. Then I got heads up with a three-to-one chip lead against gunslinger [David Bach], where I was the bring in twice. One time I had a deuce and he had an ace. When you're running that good, you're going to win a bracelet.
I may never play another razz tournament again in my life. I'm just going to one-and-done it. I'm just going to take that money out of the limit community and donate it back to the no-limit.
While live reporting, we've noticed that you've talked about film projects you're involved with. Are you doing anything now?
I like investing money in cool projects. Nick Bateman, a buddy of mine, produces small independent films, and we're working on one right now that we're hoping to get into Sundance by the end of next year. We just started shooting the short for it and then the full-length will start shooting at the end of September, if I'm not mistaken. It's fun. He's a really talented kid, and anytime you get to work with really talented people – like whenever you're playing poker and you get to talk hands with the best, that's really awesome. This kid is really talented at writing, directing, and acting, and I get to see him do his work. Even if I don't get to make any money off of the project it's awesome to get to see people really good at what they do, do what they do. It's a great feeling.
Get all the latest PokerNews updates on your social media outlets. Follow us on Twitter and find us on both Facebook and Google+!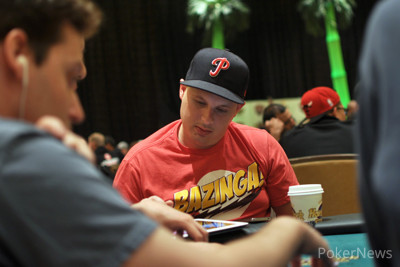 On one of the first hands of the day on Friday in the Seminole Hard Rock Poker Open $10 Million Guarantee Championship Event, Randy Ohel was standing up and talking with a tournament director. When he returned to the table, the dealer was mid-pitch, and when she was finished dealing the cards she went to muck Ohel's hand.
"I was standing right there," he said, pointing in the direction of the tournament director.
Begrudgingly, the tournament director ruled that the hand was dead because Ohel wasn't at his seat when the first card came off of the deck.
This summer, the Tournament Director Association held their sixth summit in Las Vegas, Nevada, where they added nine new rules and gave clarifications to 25 others. Among the new rules was No. 29: At Your Seat.
A player must be at his seat when the first card is dealt on the initial deal or he will have a dead hand. A player not then at his seat is dealt in, he may not look at his cards, and the hand is immediately killed after the initial deal. His blinds and antes are posted and if dealt the bring-in card in a stud-type game he will post the bring-in*. A player must be at his seat to call time. "At your seat" means within reach of your chair. This rule is not intended to condone players being out of their seats while involved in a hand. [*Note: In stud, house rules may require additional card(s) be dealt to the killed hand in certain situations.]
The TDA handbook is used to govern several tournament stops across the globe and this rule change sparked some debate within the community.
PokerStars-sponsored events, most notably the European Poker Tour, are governed by their own rules and have enforced the "first card off the deck" rule for two years. Neil Johnson, the Live Poker Specialist for PokerStars and a new member of the Board of the TDA, offered his opinion regarding the rule on the PokerStars Blog.
Johnson argues for the rule because it protects the integrity of the game, keeps players in their seats during the bubble, clears out spaces within the tournament room, and prevents players from sprinting back to the table mid-pitch.
Team PokerStars Pro Daniel Negreanu disagrees with the rule, and he promptly ranted about it after the TDA adjusted their handbook.
Fellow Team Pro Jason Mercier echoes Negreanu's sentiments.
"Are you ready for me to rip on it?" asks Mercier. "It's terrible."
Mercier is one of the more sociable players in tournament poker, and can usually be found wandering around the room, talking with friends. For new tournament reporters, a great way to find Mercier is to simply listen. At some point, his loud, distinct, jolly laughter will fill the air, and will soon be followed by him scurrying back to his table to catch the next hand.
Another chronic Can't Sit Down and Play Poker For More Than 10 Seconds guy is 2013 Global Poker Index Player of the Year leader Paul Volpe. When he's not engaged in a conversation or a game of open-face Chinese poker with a neighbor, Volpe tends to make the rounds, talking to anybody and everybody. Even when he's sitting at the table, Volpe frequently sits on one leg so he can quickly pop up and move away from the table after he tosses his cards into the muck.
When we asked him about the new rule, he frowned.
"It's unbearable," Volpe said without thought.
Un-bear-a-ble,

adjective

1. Not able to be endured or tolerated.
That's a strong word choice, so we followed up to make sure Volpe wasn't be overdramatic.
"Unbearable," he echoed. "That's the right word. I can't sit still."
Naturally, any search for an opinion regarding poker rules leads you to Allen Kessler. While Volpe and Mercier were upset with the negative affects the rule has on the sociality of the game, Kessler understands the importance of guarding the integrity.
"It's alright," Kessler said of rule 29. "If you're standing, you could potentially see other people's cards. As long as everybody knows the rule and every dealer is enforcing it the same, it's fine."
Terrence Chan had one of his hands killed on Day 1a, and tweeted that he was going to enforce it from there on out.
Got my hand killed due to the new "first card off the deck" rule. So now I have to be the jerk that enforces it on everyone else.
Follow @tchanpoker
It's a dark day in poker for the habitual wanderers who struggle to get through the countless dead periods during a live tournament, but it is something that players will just have to get used to. With both the TDA and PokerStars enforcing the rule, there are very few tournaments outside of the World Series of Poker where players will be free to float until the last card comes off of the deck.
The wanderlust-stricken grinders will simply have to keep a closer eye on their dealer, and quick feet to take them home.
Get all the latest PokerNews updates on your social media outlets. Follow us on Twitter and find us on both Facebook and Google+!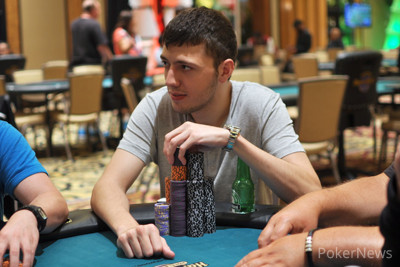 On Friday, the Seminole Hard Rock Poker Open continued with Day 1b of the $10 Million Guarantee Championship Event. The second starting flight attracted 690 entries, and leading the approximately 220 survivors with 376,000 chips is Gjergj Sinishtaj.
Sinishtaj, 21, finished sixth in Event #61: $10,000 Pot-Limit Omaha at the 2013 World Series of Poker for $153,372. It was only his third career score in a live tournament, and when Sinishtaj was eliminated, Jared Bleznick spoke very highly of the young grinder.
"He's got a bright future," Bleznick said. "He's going to win the Main Event before he's 25. I'll bet it."
Raj Vohra finished Day 1b second in chips with 322,000. The Florida native surged during the final level of the evening, taking some chips off of Steve Barkshak in this hand, and will be looking to earn his first six-figure score since he made the final table of a $5,000 event at the 2008 WSOP.
Several notable players survived the day, including Justin Young, Allen Bari, Randy Ohel, Allen Kessler, Kyle Julius, Matt Sout, Jared Hamby, David Benyamine, Mike Matusow, and Dan Shak.
Matusow, who won his fourth bracelet at the 2013 WSOP, eliminated fellow '13 bracelet winner Cliff "Johnny Bax" Josephy in the 400/800/100 level. Matusow four-bet shoved with two kings, Josephy, the three-bettor, called with two nines, and the kings held.
Kessler also climbed the leaderboard thanks to a few knockouts of his own. Faced with an all-in bet of 5,275 with the blinds at 300/600/100, The Chainsaw called in the big blind with
. His opponent showed
, and Kessler's fours held up.
Later on in the day, Kessler, a member of Team Ivey, eliminated his boss Phil Ivey to push his stack above six figures.
Wow up to over 100k @SHRPOlive just knocked out @philivey my 1010 v his ak. #teamivey #shrpo
Follow @AllenKessler
Like Ivey and Josephy, several players fell short of making Day 2 on Friday. Jason Mercier, Dan Kelly, Justin Bonomo, Daniel Buzgon, Terrence Chan, and Jason Koon are among the players who will need to return for the third and final starting flight on Saturday if they wish to receive a piece of the $10 million guarantee prize pool.
Chan lost a three-way all-in pot to the aforementioned Justin Young, who flopped a set of nines on a board of
. Chan had an over pair of kings, Mike Linster, the third player, had top pair, and Young held, improving to a full house on the river. Chan was later eliminated.
Bonomo and Koon will be firing bullets four and five respectively on Saturday.
Also exiting on Day 1b was 2013 WSOP bracelet winner and PokerNews Senior Editor Chad Holloway.
Out of the @SHRHollywood #SHRPO Main Event I'm afraid. Tough day getting beat by Sam Soverel over and over. Thankful for chance to play. GG
Follow @ChadAHolloway
PokerNews will return on Saturday for Day 1c coverage of this massive Championship Event. Players will once again be able to update their status immediately using the PokerNews MyStack App, and you can expect more features and interviews as well.
Get all the latest PokerNews updates on your social media outlets. Follow us on Twitter and find us on both Facebook and Google+!
$10,000,000 Guarantee Championship
Dia 1b Concluído