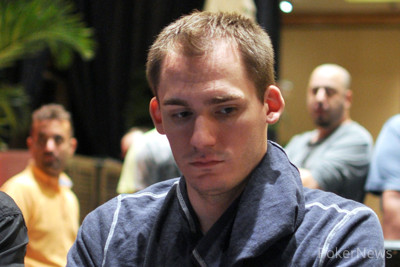 Justin Bonomo is second in chips heading into the final table of the Seminole Hard Rock Poker Open $10 Million Guarantee Championship Event on Wednesday. On Tuesday, after bagging his chips, Bonomo was kind enough to spend a few minutes with PokerNews talking about poker in Florida, making the final table, having Blair Hinkle on his left, and the importance of this event for his résumé.
PokerNews: Let's start with you firing five bullets. You tweeted that you needed to get 63rd or better to profit, but we know you were shooting for better than that. After your fifth bullet, what's your mentality like?
Justin Bonomo: I mean, I'm a poker player. I understand that I ran bad. In fact, it wasn't like it was some complicated situation. I ran kings into ace-queen, aces into kings – losing that for a ton of chips – and ace-king against aces. So I wasn't spewing it off or playing badly, it was just unfortunate situations. I've played millions of hands of poker, so I understand that happens. It felt like a whole new tournament for me.
You obviously thought there was great value in the tournament as well, right?
Yeah. Some people have told me that poker in Florida is usually softer than this, but from my perspective – it's my first time ever playing in Florida – I see 2,300 people entering this tournament, so there's insane value. I would've paid a premium to reenter again for the fifth time. I think this is an excellent tournament.
Do you think that Florida can sustain an event like this every year?
Yeah, I think they can sustain it for once a year. Maybe once every two years. I think for some time to come they can sustain this.
You got a little bit of a tough draw with Blair Hinkle on your direct left at the final table. What do you think about your spot at the table?
I can't give out too many secrets because we still have to play this final table [laughs], but it was definitely annoying having Blair on my left, especially when I didn't have so many chips. I was at about an average stack, so he could push me around. Now that I have 18 million, that's a huge chunk of his stack, so he has to be careful against me too now. Now that I have chips I don't mind him to my left nearly as much as I did before.
While Blair has over a million dollars in earnings, you're the only player with a seven-figure score. What would a big score like this do for your already impressive résumé?
Technically my biggest score is about two million, but that was a $100,000 buy-in tournament and I'm not rich enough to just put up the full $100,000 myself. So I had investors for the vast majority of that buy-in. I don't need first place – or even second place – for this to be the biggest actual tournament score of my life. This is very meaningful to me.
How important is winning? Is it as important as the money itself?
There's so much money on the line that it far outweighs the prestige that comes with winning this event. Obviously this is a great, prestigious event, but $1.7 million? I'm not rich enough to not care about that.
Get all the latest PokerNews updates on your social media outlets. Follow us on Twitter and find us on both Facebook and Google+!