Adam "Adamyid" Owen Leads the Remaining 18 Players Into Day 3 For $1,050 PLO 6-Max Main Event
Nível 34 : 70,000-140,000, 0 ante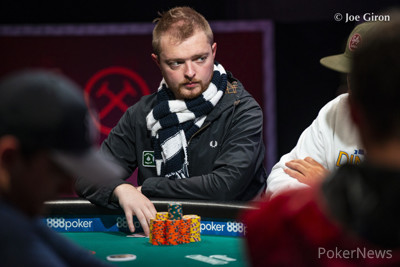 After just over seven hours of play, Day 2 of the PokerStars 2020 Spring Championship of Online Poker-75-M: $1,050 PLO 6-Max Main Event has reached it's conclusion as only 18 players remain.
Leading the way is Adam "Adamyid" Owen with a whopping 19,533,458 which is almost double the stack of "BomPang" who sits second in chips with 10,210,354.
Both players coasted around 3 million in chips up until the last three levels of play where they would have been almost even in chips if it wasn't for the last elimination of the night that sent an additional 6 million over to the chip leader.
Coming in hot behind "BomPang" is Ignat "0Human0" Liviu sitting with 9,612,097 in chips. Liviu had a slew of eliminations throughout the day and even sat on top of the leader board late in level 32 with over 11 million in chips. He ended giving "hotmark777" a double-up in the last hand of the night costing him over 3 million in chips which dropped him into the number three spot.
Just like Liviu, Max "goodeh99" Silver had an outstanding Day 2 and was the chip leader heading into Level 30. Silver lost a few big hands at the end of the night but got enough back to sit in fourth place with 7,587,217.
Rounding out the top fives stacks is "Sira Al Aziz" who started making a push in the later levels of the evening to end the night with 7,152,943.
Day 2 Action
A total of 253 players were able to make it through Day 1 but added 117 players before the cards got in the air at 1:05 p.m. ET. The additional players brought the total to 370 runners taking their shot at the 1,112,000 prize pool but only the top 143 players were going to be getting a piece of the pie.
After action began it took only a matter of moments before players started dropping like wildfire as last years champion "PeiMaiPano93', Dimitri "MITS 304" Michaelides and Francisco "Tomatee" Benitez fell well sort of the money while Alex "rumnchess" Livingston and Fahredin "FeriBo" Mustafov came up just shy falling in 151st and 149th place respectively.
Once the hand-for-hand process started, it wasn't long before "srki78" burst the money bubble just a few levels after being on top of the leaderboard holding over 1 million in chips.
After the money was reached, notable players started making moves to try and build a stack but Andrew "ClockWyze" Pantling (113th - $2,188), Christopher "Apotheosis92" Kruk (85th - $2,776), Carlo "Ravenswood13" van Ravenswoud (44th - $4,469), Ludovic "ludovi333" Geilich (42nd - $3,3469), Elior "Crazy Elior" Sion (40th - $4,469), and Noah "Exclusive" Boeken (36th - $4,469) all fell short in reaching the final day.
The remaining 18 players will come back Tuesday at 1:05 p.m. (ET), with action picking up in Level 34 where blinds will be 70,000/140,000. Twenty-minute levels will remain the norm for the rest of the tournament until an eventual champion is crowned.
Make sure to come back toPokerNews to follow along with all of the live updates.