$10,300 High Roller
Dias: 2
Nível: 9
Blinds: 10,000/20,000
Ante: 20,000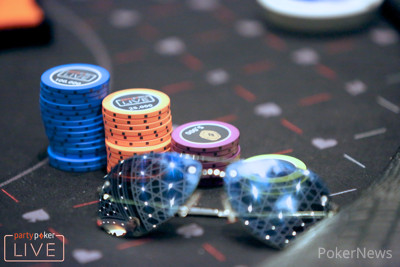 The story of the 2018 Caribbean Poker Party thus far has been the quality of players taking a seat in each of the tournaments. Things haven't changed for the $10,000 High Roller as the field is packed with notables looking for one big score before their trip comes to an end.
Coming into Day 2, there are plenty of familiar names at the top of the leaderboard including Adrian Mateos who bagged the lead with 4,015,000 chips. Mateos plays all of the big buy-in events and already has quite the poker resume with over $16 million in career earnings at the ripe age of 24. Some other familiar names with big stacks include Guillaume Diaz (3,825,000), Joseph Cheong (3,730,000), Dominik Nitsche (3,220,000), and Laszlo Bujtas (3,010,000) as the only players over 3,000,000 chips.
There are also a few partypoker pros still in the mix with Isaac Haxton once again leading the way. Haxton is trying to recover from narrowly missing out on the money in the $250,000 Super High Roller and he did so by running up a stack of 2,725,000. Kristen Bicknell joined the field late on Day 1 but managed to win a flip against Niall Farrell which helped her put 1,535,000 in the bag. Roberto Romanello (1,300,000) and Anatoly Filatov (855,000) will also be returning for Day 2.
The action is scheduled to get underway at 1 p.m. local time with 10 levels on the docket for the day. Late registration will remain open for the first four levels which should be plenty of time to reach the $1,000,000 guaranteed prizepool. The players will return to the blinds at 10,000/25,000 with a 25,000 big blind ante. Follow along with the PokerNews live reporting team as we bring you the partypoker specific coverage throughout the event.
| Table | Seat | Player | Country | Chip Count |
| --- | --- | --- | --- | --- |
| 35 | 2 | Lauren Roberts | United States | 1,545,000 |
| 35 | 3 | Matt Berkey | United States | 1,090,000 |
| 35 | 5 | Roman Korenev | Russia | 2,550,000 |
| 35 | 7 | Joseph Cheong | United States | 3,130,000 |
| | | | | |
| 36 | 2 | Adrian Mateos | Spain | 4,015,000 |
| 36 | 5 | Tomas Jozonis | Lithuania | 1,600,000 |
| 36 | 6 | Steve Sung | United States | 810,000 |
| 36 | 7 | Isaac Haxton | United States | 2,725,000 |
| | | | | |
| 37 | 1 | Andras Nemeth | Hungary | 1,490,000 |
| 37 | 2 | Roberto Romanello | United Kingdom | 1,300,000 |
| 37 | 5 | Johnathan Concepcion | Spain | 1,010,000 |
| 37 | 7 | Daniel Monosson | United States | 1,750,000 |
| | | | | |
| 45 | 2 | Sosia Jiang | New Zealand | 1,170,000 |
| 45 | 5 | Joao Vieira | Portugal | 980,000 |
| 45 | 7 | Mark Fisher | United States | 1,590,000 |
| 45 | 8 | Alex Foxen | United States | 300,000 |
| | | | | |
| 46 | 1 | Damian Salas | Argentina | 1,440,000 |
| 46 | 2 | Simon Higgins | United Kingdom | 1,160,000 |
| 46 | 5 | Lauren Monosson | United States | 1,005,000 |
| 46 | 7 | Gregory Pepin | United States | 795,000 |
| | | | | |
| 47 | 2 | Michael Watson | Canada | 1,035,000 |
| 47 | 4 | Peter Jetten | Canada | 1,310,000 |
| 47 | 5 | Matthias Eibinger | Austria | 865,000 |
| 47 | 7 | James Romero | United States | 1,505,000 |
| | | | | |
| 48 | 2 | Brandon Mueller | United States | 2,960,000 |
| 48 | 3 | Javier Zapatero | Spain | 725,000 |
| 48 | 5 | Jiushuang Wang | United Kingdom | 885,000 |
| 48 | 7 | Justin Bonomo | United States | 2,405,000 |
| | | | | |
| 55 | 2 | Timothy Adams | Canada | 2,450,000 |
| 55 | 5 | Jonathan Little | United States | 1,075,000 |
| 55 | 6 | Dylan Linde | Canada | 1,380,000 |
| 55 | 7 | Ali Imsirovic | United States | 2,005,000 |
| | | | | |
| 56 | 1 | Sylvain Loosli | United Kingdom | 435,000 |
| 56 | 2 | Hannes Speiser | Austria | 855,000 |
| 56 | 5 | Guillaume Diaz | France | 3,825,000 |
| 56 | 7 | Paul Newey | England | 1,055,000 |
| | | | | |
| 57 | 2 | Igor Yaroshevskyy | Ukraine | 2,280,000 |
| 57 | 5 | Davidi Kitai | Belgium | 1,605,000 |
| 57 | 6 | Richard Kirsch | United States | 1,400,000 |
| 57 | 7 | Ivan Deyra | France | 1,145,000 |
| | | | | |
| 58 | 2 | Dominik Nitsche | Germany | 3,220,000 |
| 58 | 5 | Anatoly Filatov | Russia | 855,000 |
| 58 | 7 | Sorel Mizzi | Malta | 1,215,000 |
| 58 | 8 | Kristen Bicknell | Canada | 1,535,000 |
| | | | | |
| 65 | 2 | Steve O'Dwyer | Ireland | 680,000 |
| 65 | 4 | Jake Schindler | United States | 405,000 |
| 65 | 5 | Laszlo Bujtas | Hungary | 3,010,000 |
| 65 | 7 | Seth Davies | United States | 1,090,000 |
| | | | | |
| 66 | 2 | Neill Reeves | United Kingdom | 1,660,000 |
| 66 | 3 | Sam Soverel | United States | 2,750,000 |
| 66 | 5 | Orpen Kisacikoglu | Turkey | 2,085,000 |
| 66 | 7 | Brock Wilson | United States | 2,275,000 |
$10,300 High Roller
Dia 2 Iniciado