Main Event
Dia 1d Concluído
Nível 26 : 10,000/20,000, 2,000 ante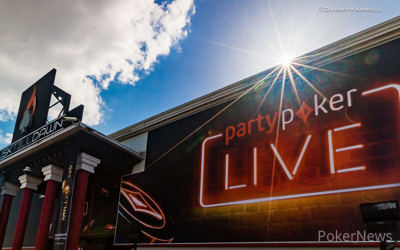 The partypokerLIVE MILLIONS festival at the Dusk Till Dawn in Nottingham is unlike most other poker festivals, and not just because of the stunning guaranteed prize pool of £6m and £1m first-place payout for its flagship event, the £5,300 Main Event. Widely considered as the home of poker in the United Kingdom and one of the biggest cardrooms in Europe, the Dusk Till Dawn and online poker operator partypoker created a unique hybrid between online and live poker.
Players had already qualified for the Main Event through a £500+50 Online Phase 1 on the partypoker platform, as well as via one of their live partners. This includes Dusk Till Dawn, but also other venues across Europe such as San Remo, Vienna and St. Vincent. All qualifiers carried over their accumulated chips into a £5,300 Live Day 1 at the same venue, in which players could also buy in directly in order to receive 1,000,000 chips with an initial blind level of 2,500-5,000 and a running ante of 500.
Each Live Day 1 played a total of ten hour-long levels, with the remaining players bagging up their chips into their respective Live Day 2. Registration remains open for another two levels into Day 2 until approximately 3.50 p.m. local time on Thursday, April 20th at Dusk Till Dawn. There have, however, already been qualifiers for Day 3 in St. Vincent, Vienna and San Remo, and those players will join the action at Dusk Till Dawn on Friday, April 21st at 1pm local time when the entire remaining field plays to a finish across the weekend.
While players such as Neel Murthy, Kelly Hallaert, Jonty Willis, Paul Tedeschi and more excelled and ended the day with more than double the tournament average, others weren't so fortunate. partypoker ambassador Natalia Breviglieri lasted until she busted just before the midnight hour and will try again on Day 1e. Also left with that option are Adrian Mateos, Martin Kabrhel, Paul Nunes, Seth Webber, Steve Warburton and Dermot Blain.
After that plethora of action, yesterday saw a total of 197 players enter the mix live. A total of 97 players remained after playing 10 levels. Neel Murphy leads with a staggering 7,630,500 in chips. Another live day, Day 1e, awaits and PokerNews will again be on the floor to cover it all.
Jogador
Fichas
Oscilação

Neel Murthy

7,630,500

7,630,500

Koray Aldemir

5,373,000

5,373,000

Paul Siddle

5,321,000

1,471,000

Kenny Hallaert

4,907,500

707,500

Lawrence Gosney

4,439,000

3,239,000

Andreas Hoivold

4,420,000

2,520,000

Antti Halme

4,373,000

4,373,000

Mihaita Croitoru

4,230,500

4,230,500

Paul-françois Tedeschi

4,224,500

4,224,500

Jonty Willis

4,171,500

1,771,500

Richard Gryko

3,963,500

3,963,500

Jerry Odeen

3,838,000

3,838,000

Pierrick Le Goff

3,707,500

3,707,500

[Removed:17]

3,670,000

670,000

Breixo Gonzalez Pena

3,532,500

3,532,500

Michael Bailey

3,523,000

3,523,000

David Wells

3,220,500

-429,500

Raul Martinez

3,161,000

3,161,000

Daniel Erlandsson

3,110,000

3,110,000

Du Wang

3,074,000

3,074,000

Dean Lyall

2,944,500

2,944,500

Jonathan Lemon

2,906,000

2,906,000

Yucel Eminoglu

2,810,500

-1,489,500

Niko Pakalen

2,732,500

392,500

Jost Beifuhs

2,645,000

2,645,000
Nível 26 : 10,000/20,000, 2,000 ante
Sergio Cabrera moved all-in with
and was called by Niko Pakalen with a big stack. Cabrera needed help, with Pakalen holding
, but he got it on the helpful but sweaty flop of
.The turn
and river
went his way too, and he doubled up to 680,000. Pakalen is still more than healthy, chip-wise.
Nível 26 : 10,000/20,000, 2,000 ante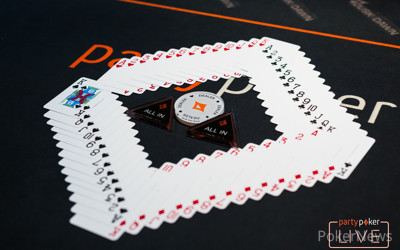 An epic battle occurred in one hand which took a quarter of a blind level and involved both the chip leader and one of the most successful tournament players this year.
Luc Greenwood and Neal Murphy did battle across a hand we joined on the river but were reliably informed by tablemate Jonty Willis that both the turn and river were checked. The pot was already at 780,000 and the board showed
when Greenwood bet 350,000 from early position. That was when Neal Murphy moved all-in for over 5 million chips and sat back, waiting for Greenwood to make a decision which looked painful.
Eventually, well into the final break of the day, Greenwood folded, leaving himself a playable stack with which to attack the final level. Murphy raked in a huge pot and to put it into context now has nearly two million more chips that Giovani Rizzo has taken through to Day 3 from the Vienna MILLIONS Day 2 just the other day. Incredible.
Jogador
Fichas
Oscilação

Neal Murphy

6,800,000

1,100,000

Lucas Greenwood

780,000

-970,000
Nível 26 : 10,000/20,000, 2,000 ante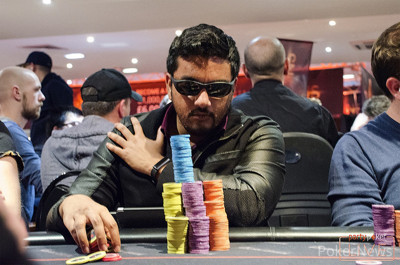 Neel Murphy leads the pack with an hour or so remaining of the #partypokerLIVE MILLIONS Main Event.
WSOP final table player Kenny Hallaert is closing in on second place at present, although Yucel Eminoglu has increased his stack marginally to 4.3m
Jogador
Fichas
Oscilação

Neal Murphy

5,700,000

5,700,000

Yucel Eminoglu

4,300,000

300,000

Kenny Hallaert

4,200,000

1,900,000

Daniel Wilson

4,000,000

400,000

Robin Ylitalo

2,740,000

2,740,000

Ben Jackson

2,000,000

800,000

Andreas Hoivold

1,900,000

1,900,000

Lucas Greenwood

1,750,000

1,750,000
Nível 26 : 10,000/20,000, 2,000 ante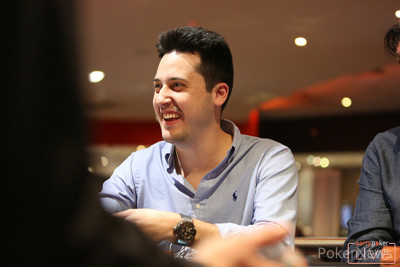 Paul Siddle raised and called off Spanish pro Adrian Mateos's shove for exactly 20 big blinds, 480,000.
Paul Siddle:

Adrian Mateos:
The board of
flirted with hope for Mateos but sent him home to try again tomorrow. Siddle goes from strength to strength.
Nível 26 : 10,000/20,000, 2,000 ante
Daniel Wilson has eliminated Jonathan Concepcion in a 15-minute hand that took place during the players' break.
On a board reading
, Concepcion had moved all-in for his final 656,000 on the river. Wilson had a huge decision and tanked for 12 of the 15 minutes it took to complete the hand. He eventually made a stunning call with
against Concepcion's
to take the hand with ace high and move to a whopping 3600000.
That hand could be pivotal come Sunday, and Daniel Wilson may well look back on it with pride.
Nível: 26
Blinds: 10,000/20,000
Ante: 2,000
Nível 25 : 8,000/16,000, 1,500 ante
While some players are thriving, other are surviving... or not.
Spanish professional Javier Gomez will be back to try again tomorrow after busting this evening on Day 1d. Day 1e beckons for Gomez, but doesn't quite yet for Natalia Breviglieri, although the partypoker ambassador hasn't really got going so far today, off to a slow start and having struggled to parity with her starting stack at the beginning of the day (720,000)
Others are showing a little more momentum, and although his dad Paul Jackson busted earlier, it hasn;t affected son Ben at all. He's up to 1.2 million and building steadily.
Nível 25 : 8,000/16,000, 1,500 ante
Yucel Eminoglu has the chip lead in the Day 1d field here at Dusk Till Dawn in the #partypokerLIVE MILLIONS Main Event and he could easily have had even more chips with a little rungood.
"I called an all-in in a 1.5 million-chip pot with Ace-Queen and he had King-Queen but hit a king on the river. If I won that pot, I'd have 5.5 million, but four is good for now." Eminoglu told us.
The Turkish player, well known in Britain for his entertaining table chat, has over $594,000 in live tournament cashes. He'll be after that £1m guaranteed top prize.