€3,000 EPT Mystery Bounty
Dias: 3
€3,000 EPT Mystery Bounty
Dia 3 Concluído
Nível 37 : Blinds 300,000/600,000, 600,000 ante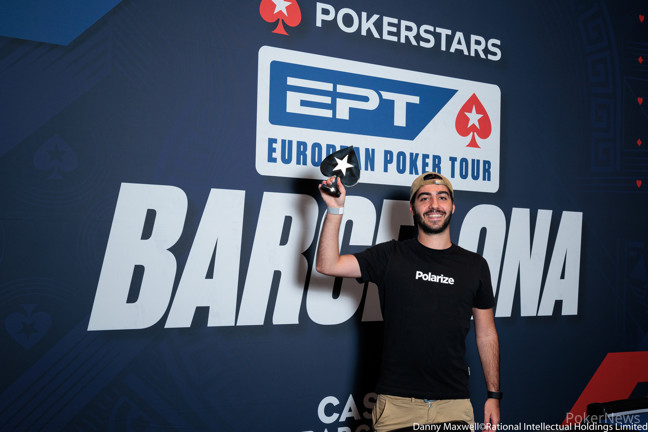 The PokerStars European Poker Tour €3,000 Mystery Bounty event, running at Casino Barcelona, has now wrapped up. There were a total of 1,339 entries to the event, which created a prize pool of €2,297,724. After three days of action, a champion has been crowned.
Ricardo De Andrade of Portugal emerged as the outright winner, locking up a top prize of €374,064, which along with €21,000 in bounties, made for a total of €395,064. He beat Armin Rezaei heads-up to win the tournament. Rezaei, who had been the big stack for much of the final table, had to settle for second place and €233,890.
Jan Bronkhorst made the final table and finished in seventh place for €58,480. He also pulled one of the €200,000 bounties, so came out as one of the top winners in terms of overall prize money.
Final Table Payouts
| Place | Player | Country | Prize |
| --- | --- | --- | --- |
| 1 | Ricardo De Andrade | Portugal | €374,064 |
| 2 | Armin Rezaei | Austria | €233,890 |
| 3 | Yaman Nakdali | Spain | €167,040 |
| 4 | Marcos Kenne | Brazil | €128,510 |
| 5 | Frederic Breton | Canada | €98,850 |
| 6 | Mikel Unanue | Mexico | €76,030 |
| 7 | Jan Bronkhorst | Netherlands | €58,480 |
| 8 | Vladislav Solovev | Russia | €44,990 |
| 9 | Ismet Oral | Turkey | €34,600 |
Epic Bounty Prizes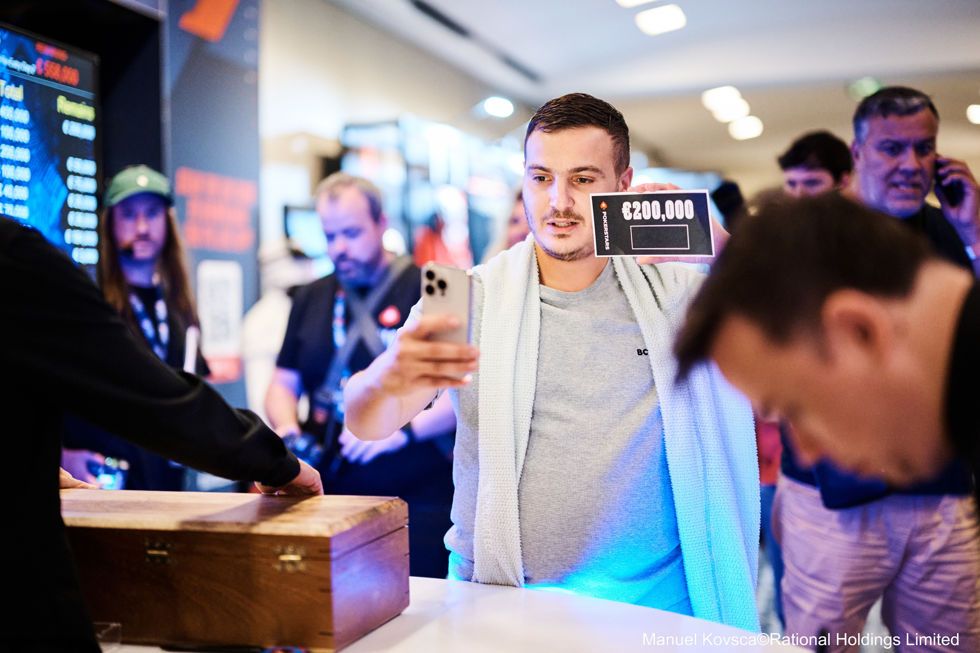 Bounties came into play at the start of Day 2, with €1,000 of the entry fee going into the bounty pool. Incredible mystery prizes were up for grabs, including one €100,000 prize and two top prizes of €200,000.
Along with Bronkhorst, Samy Boujmala was the other player to draw a €200,000 prize.
Klas Lofberg won the €100,000 prize early in Day 2. Ahmed Ibrahimi, Anthony Michel Cruz, Zlatin Penev and Michel Dattani each claimed €50,000 bounty prizes.
By the time action reached the final table, only one €5,000 ticket remained in the box, along with the €1,000 tickets. This meant the tournament reverted to more of a regular format, with players aiming to increase their position for the maximum prize money rather than bust opponents.
Day 3 and Final Table
There were 22 players who returned for the final day, with Ismet Oral the chip leader and Razvan Belea second in chips. Stacks were fairly even between second and fifth place, so it was still anyone's game.
Dan Heimiller was the first to bust on Day 3, but he was seen pulling seven bounty tickets out of the box, including one of the remaining €5,000 prizes.
A double bust soon followed, with De Andrade knocking out both Peter Tordai and Belea in one hand, the start of a run that would see him go all the way. The bustouts came thick and fast until the final table was reached around three-and-a-half hours into the day's play.
By the time action went four handed, Rezaei had gained a massive chip lead. He then knocked out Kenne in fourth and accumulated 26,500,000 chips as the game went three-handed. He then eliminated Nakdali in third and went into heads-up with a near 8:1 chip advantage over his opponent.
That all changed when play resumed. De Andrade doubled up, won a few pots, and then doubled up again to take the chip lead. After less than one hour of heads-up action, De Andrade called Rezaei's river bluff in the final pot of the night, winning the tournament and earning himself an EPT trophy.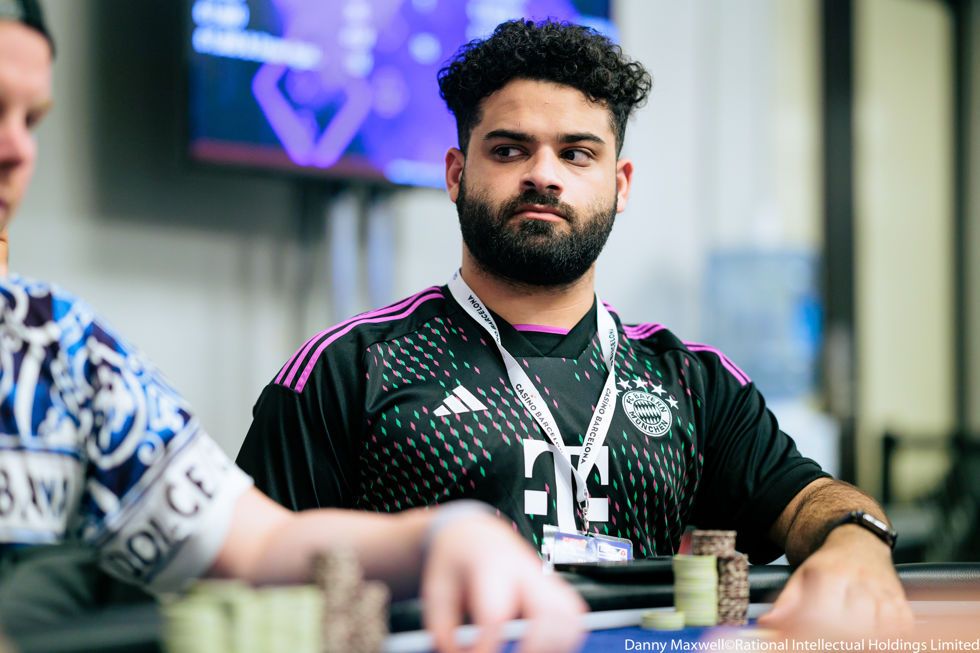 Winner's Reaction
"Yesterday, around the bubble, I was running really, really good. I was chip leading on the bubble. I couldn't lose a pot, it was insane. Today things started quiet, nothing too important. I lost a huge pot at the final table against the guy who went heads-up with me."
"Heads-up started with an almost ten-to-one disadvantage, but I regained my focus. I got lucky also, but first I doubled up and next I won two pots, three pots. When that happened, I felt like I'm going to take this down. The momentum was there and I was confident."
"I mostly play online. Live, this is my second event. My first one was in March at Estrellas Madrid. This is my first time coming to an EPT and yeah, huge score."
"My hands are shaking man, I don't even know how to express it. Just to play an EPT is a dream come true, but to win an event is crazy. It's crazy."
"The money is important obviously, but I think the most important thing is the trophy and winning an EPT event."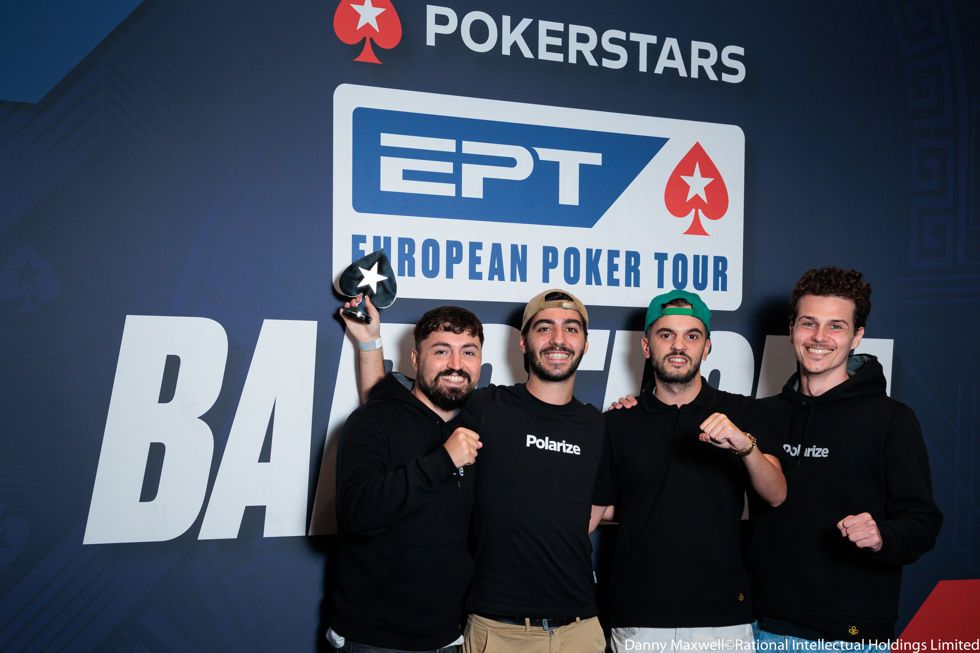 That wraps up the PokerNews coverage of the €3,000 Mystery Bounty. Stay tuned as live reporters follow the Main Event and others as the series concludes this weekend.
Nível 37 : Blinds 300,000/600,000, 600,000 ante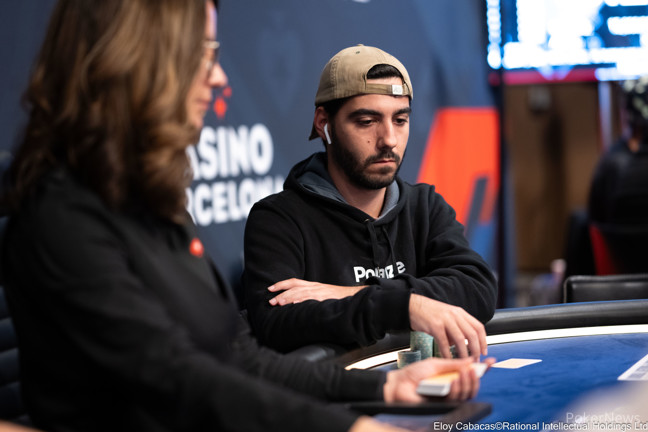 Ricardo De Andrade has emerged as the winner of the €3,000 Mystery Bounty (€374,064). Standby for the recap on PokerNews.
Nível 37 : Blinds 300,000/600,000, 600,000 ante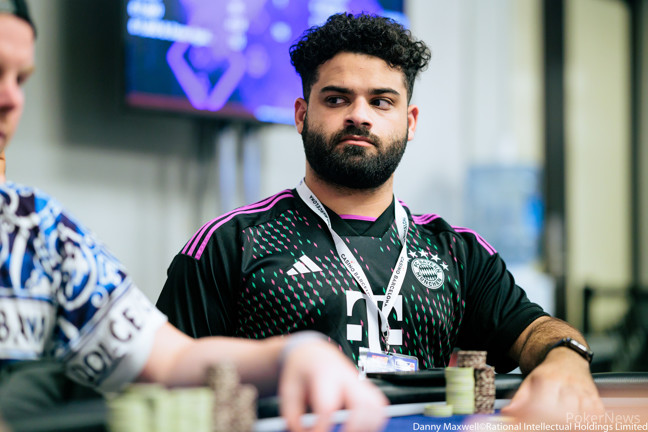 Ricardo De Andrade completed the small blind and Armin Rezaei checked.
The flop came 5♣4♦9♠. Rezaei checked and De Andrade bet 500,000. Rezaei raised to 1,500,000 and De Andrade called.
The turn came the 6♥. Rezaei bet out for 1,500,000 and De Andrade called.
The river was the K♠ and Rezaei moved all in. De Andrade smiled and nodded and then made the call. Players flipped their cards.
Rezaei showed 10♠7♣ for a bluff and De Andrade showed 6♦6♠ for a set of sixes. He won the pot and let out a yell of joy. With that, De Andrade took down the tournament
Rezaei was eliminated from the tournament in second place for €233,890.
Nível: 37
Blinds: 300,000/600,000
Ante: 600,000
Nível 36 : Blinds 200,000/400,000, 400,000 ante
Ricardo De Andrade raised to 800,000 on the button and Armin Rezaei called in the big blind.
Rezaei check-called a bet of 650,000 from De Andrade on a flop of 9♠K♦Q♦.
The J♦ turn checked through to the A♣ on the river. Rezaei took the lead for 5,000,000 and De Andrade snap-called. Rezaei's 9♣8♠ was way out behind the 10♠5♠ of De Andrade.
Nível 36 : Blinds 200,000/400,000, 400,000 ante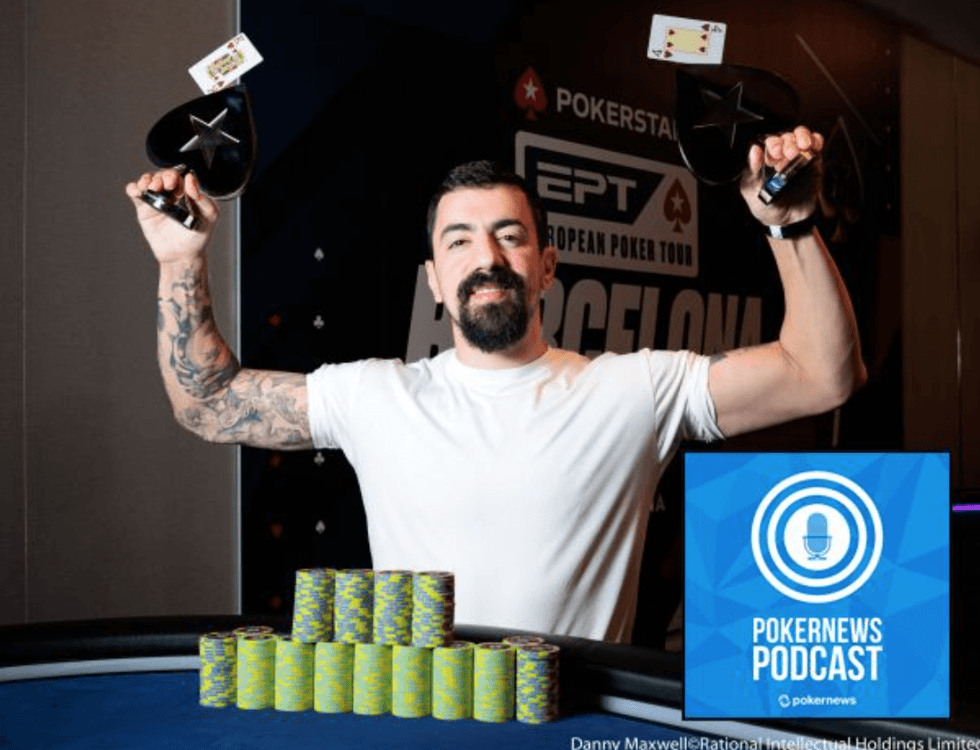 On the latest PokerNews Podcast, Chad Holloway, Connor Richards, and Matt Hansen catch you up to speed on what's been happening at EPT Barcelona, Daniel Negreanu defeating Doug Polk on High Stakes Duel, and the return of PokerStars' North American Poker Tour (NAPT).
They also delve into the Global Poker US Poker Open (USPO), tell you about the first winner from the the PokerStars Summer Series, cover two big hands involving pocket queens from the past week, and debate arguably the hottest topic of the week — would you pay back $20K after a player grossly misread his hand and called off on the river (which actually happened on Hustler Casino Live)?
As for a guest, Connor and Matt were at EPT Barcelona and caught up with Tom Orpaz, a high-stakes real estate entrepreneur who in his spare time can be found grinding the EPT High Roller circuit. Orpaz, who made headlines in 2020 for purchasing the most expensive apartment in the world, went on a tear at EPT Barcelona that saw him winning €25,000 No-Limit Hold'em and €50,000 Super High Roller Second Chance for two trophies and over $1 million in winnings, proving he can hold his own among the top pros. PokerNews caught up with Orpaz, who has proven to be one of the most entertaining and talkative players on typically reserved High Roller Circuit.
Nível 36 : Blinds 200,000/400,000, 400,000 ante
Ricardo De Andrade completed from the button and Armin Rezaei checked his option.
The flop came 6♣5♦3♣ and both players checked. The turn was the 3♠. Rezaei led with a bet and De Andrade called.
The river came the 7♣. Rezaei bet out again, this time for 3,000,000. De Andrade then moved all in for 9,250,000. Rezaei thought for a few minutes before flicking in a chip to signify the call.
Rezaei flipped over 10♣3♦ for trip threes. De Andrade showed A♣J♣ for the ace high flush. He doubled up his stack and with that took the chip lead.
Nível 36 : 200,000/400,000, 400,000 ante
Ricardo De Andrade limped in on the button and Armin Rezaei moved all in from the big blind. De Andrade snap-called for his remaining 3,650,000.
Ricardo De Andrade: A♣9♣
Armin Rezaei: A♦2♠
The board ran out 6♣7♠8♥6♦3♦. De Andrade found a full double-up.
Nível 36 : 200,000/400,000, 400,000 ante
The remaining two players have just gone on a short break before heads-up play begins.