€10,300 EPT High Roller
Dias: 3
€10,300 EPT High Roller
Dia 3 Concluído

Nível 32 : Blinds 100,000/200,000, 200,000 ante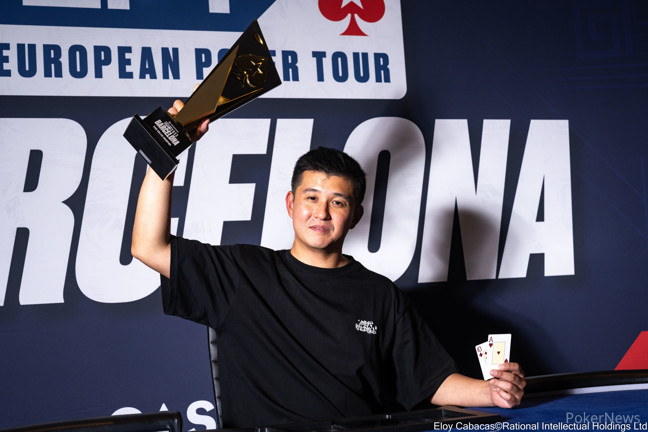 It was a long final day and night for the last players of the €10,000 EPT High Roller at the 2023 PokerStars European Poker Tour (EPT) at Casino Barcelona. But around 2 a.m., the tournament came to an end. And it was Ka Kwan Lau who was the most endurant and patient player of them all as he was the one who raised the trophy and won the first-place prize of €910,400.
Chip leader all along the final table, he managed to eliminate the last six players. So with almost all the chips, he dominated his opponent in a short heads-up battle and beat a total field of 475 entrants.
Vladas Tamasauskas completed the podium, ahead of two French players, Eric Sfez who finished fourth and Alexandre Reard in sixth, with Maher Nouira taking fifth place between the two players.
€10,000 EPT High Roller Final Table Results
| Rank | Player | Country | Prize |
| --- | --- | --- | --- |
| 1 | Ka Kwan Lau | Hong Kong | €910,400 |
| 2 | NC | France | €568,750 |
| 3 | Vladas Tamasauskas | Lithuania | €406,250 |
| 4 | Eric Sfez | France | €312,550 |
| 5 | Maher Nouira | Tunisia | €240,400 |
| 6 | Alexandre Reard | France | €184,950 |
| 7 | Aleksandr Shevliakov | Russia | €142,300 |
| 8 | Toby Joyce | Ireland | €109,450 |
| 9 | Francesco Pilato | Italy | €85,250 |
"It was insanely long"
"This last day was insanely long," Lau said a few minutes after he won. "We returned with 40 players left on Day 3, which is a lot. So we knew it would be long if we were on the final table. But I didn't expect it to be that long."
After 13 hours from the first hand dealt to the final one and a final table that lasted more than five hours, he managed to win the tournament.
But even though he was proud of this title, Lau stayed humble: "I know it would be hard to reach the first place, as No-Limit Hold'em is not my main game. So I was not very confident when I played. But from the start of Day 1, everything was going very well. I had good situations, and I ran very well during the whole tournament."
To illustrate this good run, he took as an example one of the last hands when he hit two pairs with fours and treys to eliminate Sfez.
This first-place finish closed a very good festival for Lau, as he finished 31st in the €5,300 EPT Main Event for €36,100. Eliminated on Day 5, he was one of the chip leaders on Day 3. "But on Day 4, I played one hand badly. Then I ran with ace-king into aces, and I lost two flips. So this win compensates for the disappointment of the Main Event."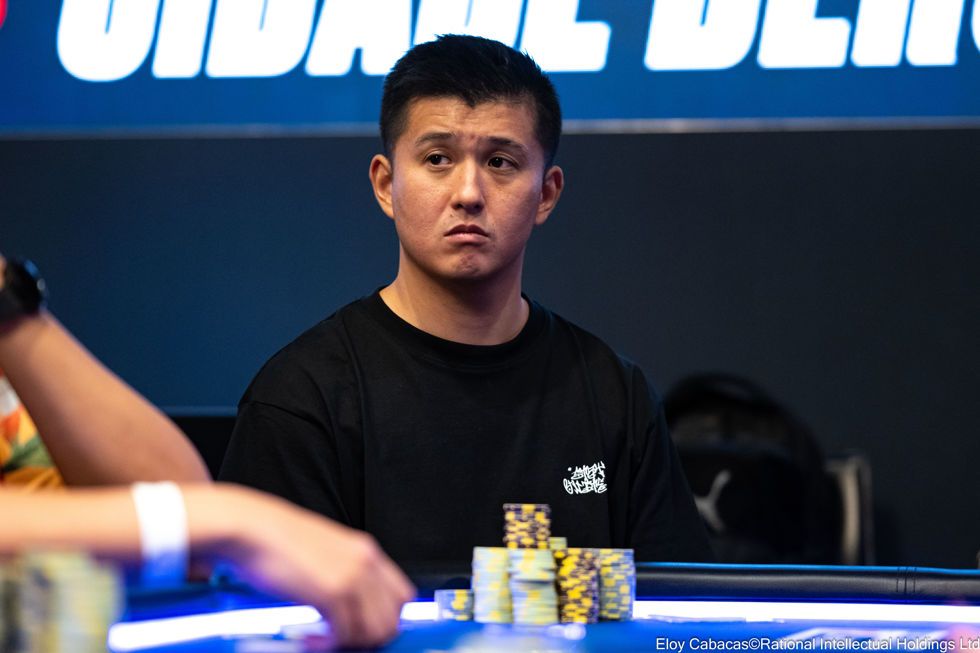 Day 3 Action
Forty players out of 475 entrants successfully qualified for Day 3 of the €10,300 EPT High Roller with only one goal: take the first-place prize of €910,400. But this dream quickly didn't come true for Song Xue, Edilson Marques, or PokerStars ambassador Rafael Moraes, who were the first players eliminated of the day.
After Lau showed a crazy bluff with seven-four in a four-bet pot, the second level was a nightmare for the three Romanian players remaining because all of them were eliminated during that period. Adrian Chiforescu and Adrian Cretu went to the cashier almost at the same time. And they were followed by Razvan Belea, who couldn't win his last flip to take another prestigious EPT tournament this year, after he won EPT Paris in February.
The two other EPT champions in the field didn't go much further, as Patrik Antonius ran into a set to finish 28th (€25,550), and Dominik Panka (23rd, €33,800) was eliminated shortly after the three tables redraw.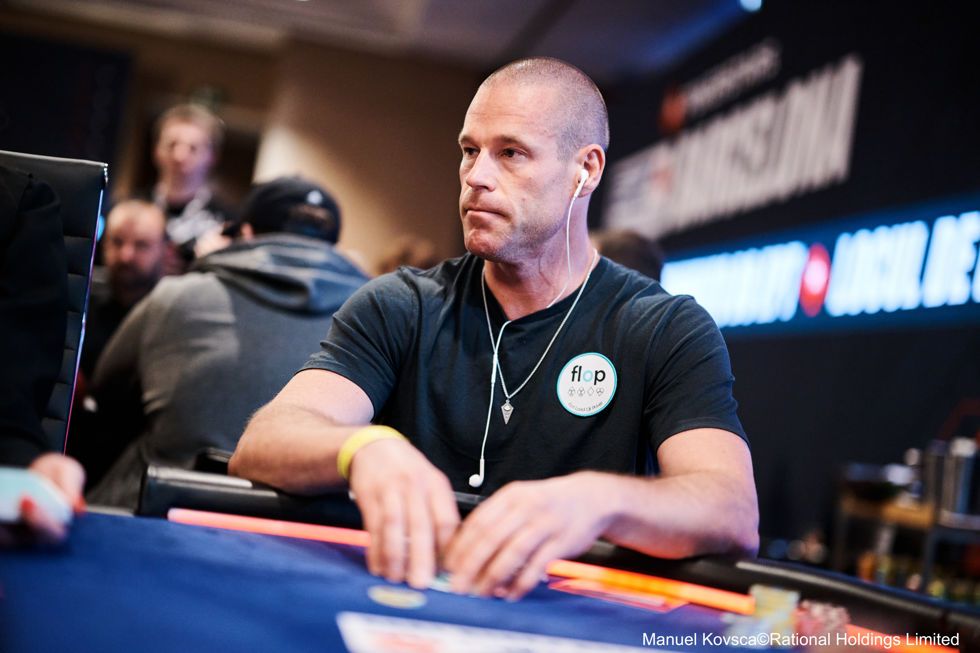 Next ones on the elimination list, Andras Nemeth, Hwany Lee, and Francisco Benitez were, of course, disappointed, but maybe not as much as Patrick Bruel. The French singer saw his tens getting cracked on the turn by trip nines for Aleksandr Shevliakov. Steaming, Bruel walked away in 19th position for €38,900.
Pakinai Lisawad was the last player eliminated before the redraw on two tables. Then, two more levels were needed to reach the final table bubble shortly before the dinner break. On the way, Ren Lin (16th, €44,750), Thomas Groven (15th, €51,450), Vlad Darie (14th, €51,450), Huang Wei (13th, €59,200), Igor Yaroshevskyy (12th, €59,200), and Vinicius Pinheiro (11th, €71,050) were left on the side of the road.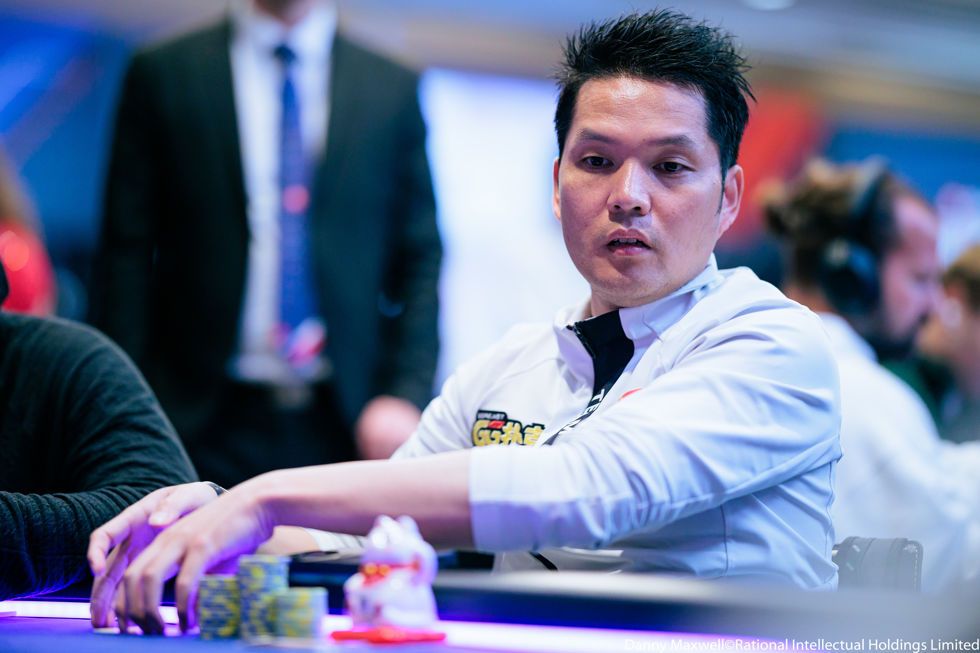 Back in a new room, the ten last players needed to kick one of them out to reach the final table. And it was one of the shortest stacks, Nicholas Palma, who didn't make it, losing a flip to finish 10th for €71,050.
Then… not much, or almost nothing as more than two hours were needed to see the first elimination of the final table. Short stack for a long moment, Francesco Pilato's tournament finally ended in 9th place (€85,250). Minutes later, Toby Joyce was out of the tournament too (8th, €109,450).
After that, there was a bit more of action, but only double-ups until the levels were shortened to 45 minutes. But that is after another break that things started to change, with Reard (6th, €184,950) being eliminated by Lau after he lost a big pot against Eric Sfez a few minutes before.
Moments later, Maher Nouira left the table too (5th, €240,400), even if he doubled up in the previous hands.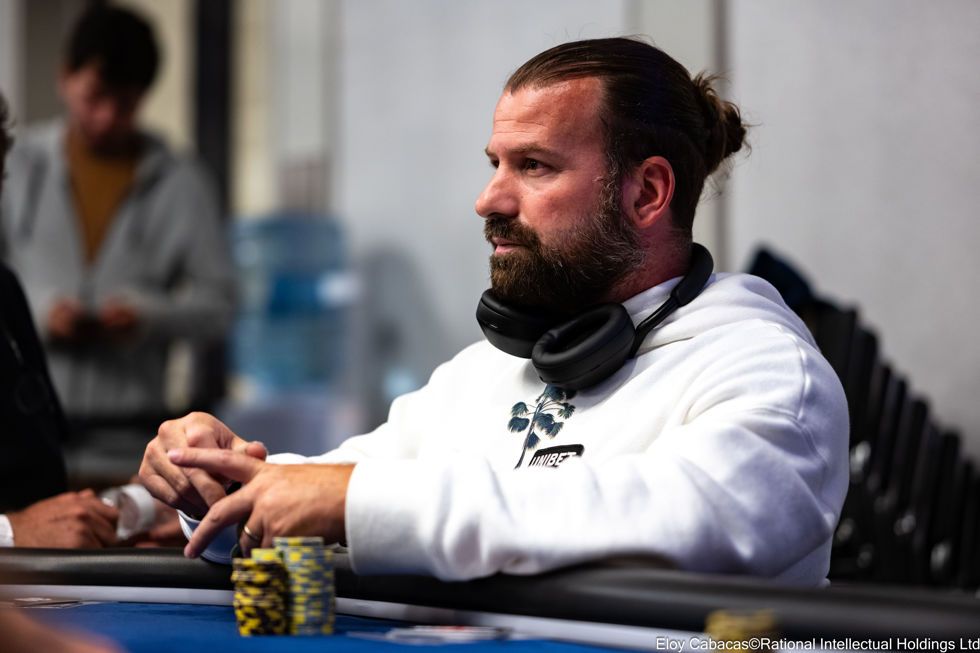 After Nouira's elimination, (NC) doubled through Vladas Tamasauskas. So the situation was one chipleader, Lau, and three even stacks behind. Tamasauskas dropped in the last place after NC doubled up again. But he managed to find a seat on the podium as Sfez's nines were cracked by Lau's double pair with treys and fours.
Lau then quickly took Tamasauskas' last two blinds (3rd, €406,250) to face NC in heads up. But the gap between the two stacks was too big, with Lau having five times more chips than his opponent. So after the first all-in and call situation, Lau won the €10,000 EPT High Roller.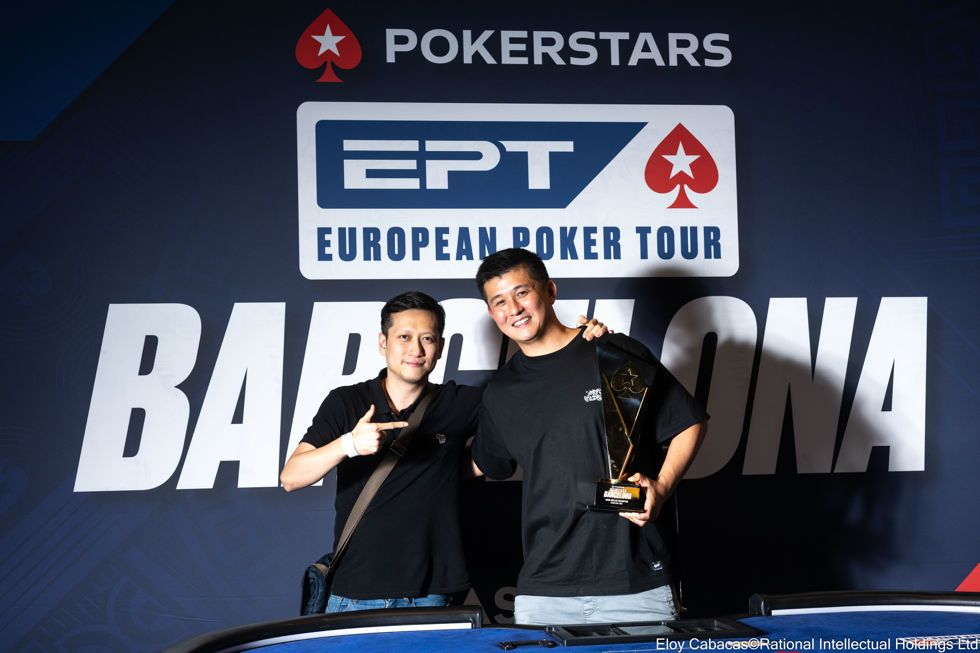 Nível 32 : Blinds 100,000/200,000, 200,000 ante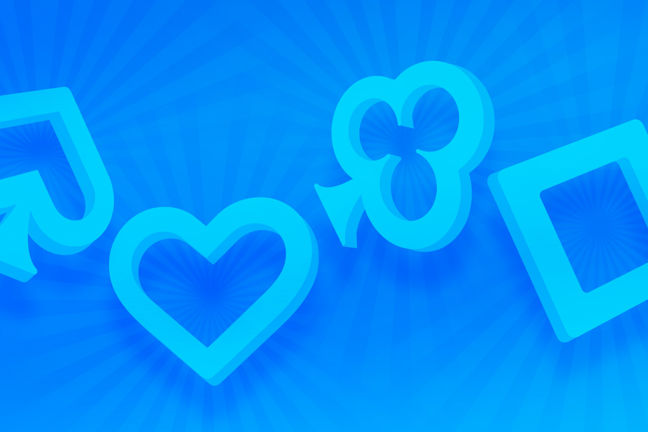 On the second hand of the heads up, NC limped on the button, then Ka Kwan Lau raised to 1,000,000 from the big blind. "Let's go, all in," said his opponent, pushing his 3,025,000 chips. Lau snap called.
NC: K♣8♣
Ka Kwan Lau: A♦10♥
NC's rail asked for a king or a "big fat eight", but an ace landed on the flop A♥6♥J♠ to give the winning top pair to Lau. The 3♣ came on the turn and the 10♠ on the river to complete the board.
Finishing second of this €10,300 EPT High Roller, NC won €568,750, while Lau was crowned champion.
Stay tuned for the full recap of the tournament!
Nível 32 : Blinds 100,000/200,000, 200,000 ante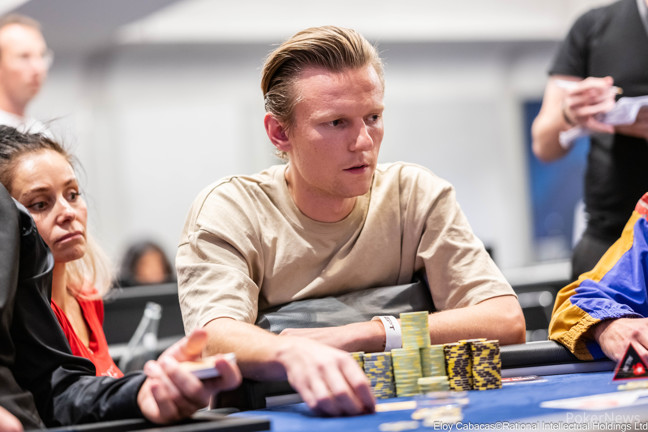 Ka Kwan Lau opened to 400,000 from the button and Vladas Tamasauskas called off his last 350,000 to put himself at risk.
Vladas Tamasauskas: 8♥6♦
Ka Kwan Lau: J♣10♣
The board ran out 6♥J♠9♣4♣3♠. Lau had the best hand with a pair of jacks and Tamasauskas was sent to the rail in third place.
Nível 32 : Blinds 100,000/200,000, 200,000 ante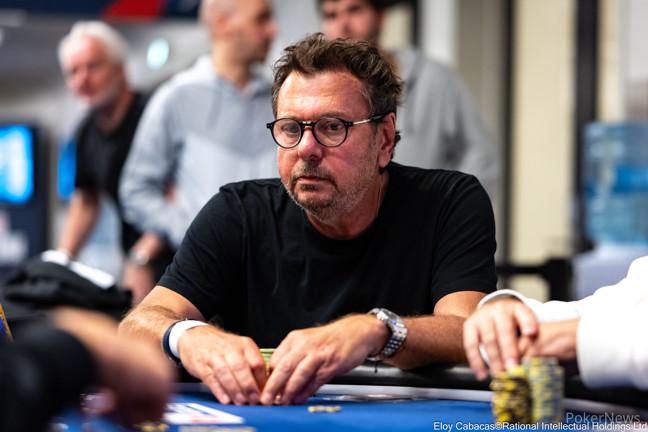 Eric Sfez limped the small blind and Ka Kwan Lau moved all-in. Sfez went deep into the tank, using three time banks before calling off his stack of about 3,000,000.
Eric Sfez: 9♠9♣
Ka Kwan Lau: 4♣3♠
The K♣6♦4♥ flop was still safe for Sfez but the 3♣ turn gave Lau two pair to take the lead. The 10♦ river was no help for Sfez though as he was sent to the payout desk in 4th place.
Nível 32 : Blinds 100,000/200,000, 200,000 ante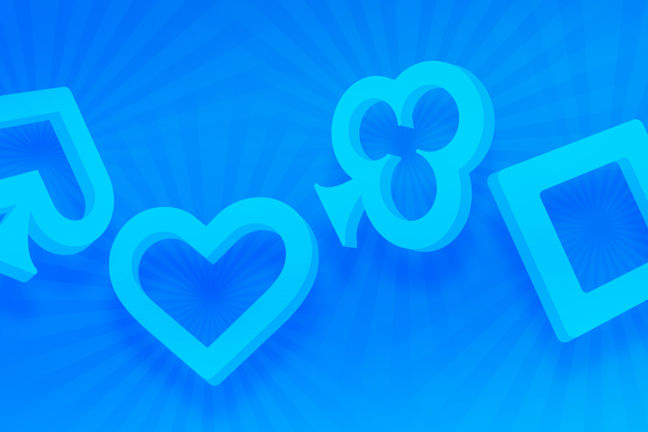 Ouassini Mansouri jammed in the small blind for 2,025,000 and Vladas Tamasauskas snap-called in the big blind.
Ouassini Mansouri: 2♥2♦
Vladas Tamasauskas: A♣J♠
It was a classic race and the flop came 10♥10♣5♣. The 3♣ hit the turn, giving Tamasauskas a flush draw for extra outs but the Q♦ river was a brick, sending another double to Mansouri.
Nível 32 : Blinds 100,000/200,000, 200,000 ante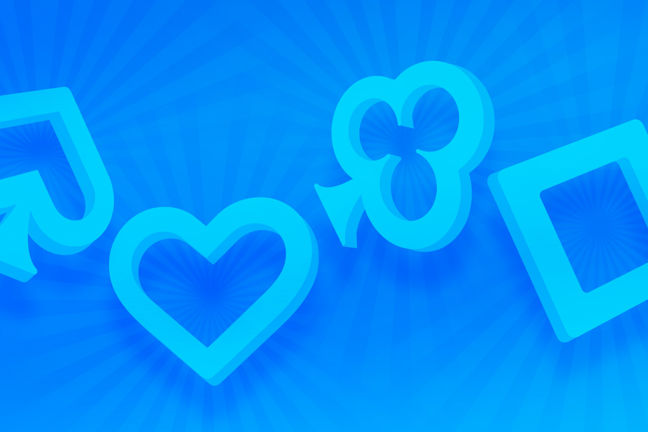 Ouassini Mansouri moved all-in for 675,000 and both Vladas Tamasauskas on the button and Eric Sfez in the big blind made the call.
Sfez checked dark before the 5♦4♠2♦ flop hit the board. Tamasauskas bet 1,000,000 and Sfez folded.
Ouassini Mansouri: K♠9♥
Vladas Tamasauskas: Q♥Q♣
Tamasauskas was way ahead but the K♣ turn gave Mansouri the lead with a pair of kings. The J♦ completed the board and Mansouri locked the triple-up.
Jogador
Fichas
Oscilação

Eric Sfez

3,575,000

-1,325,000

Vladas Tamasauskas

2,850,000

-2,050,000

Ouassini Mansouri

2,025,000

800,000
Nível: 32
Blinds: 100,000/200,000
Ante: 200,000
Nível 31 : Blinds 100,000/150,000, 150,000 ante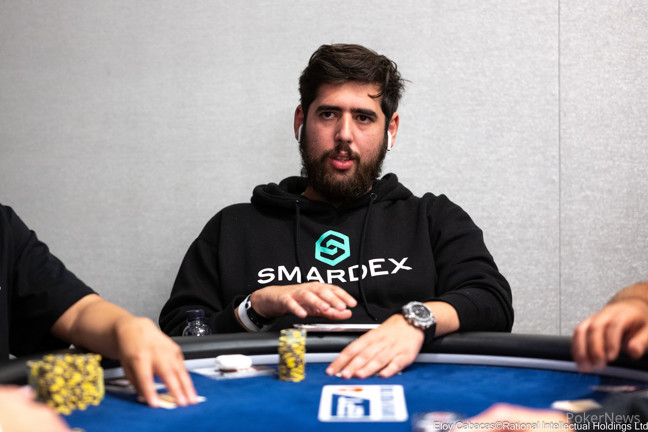 Ka Kwan Lau moved all in from the button, covering both players in the blinds. Maher Nouira, who had just doubled up off of Lau the hand before, made the call from the small blind to put himself at risk.
Maher Nouira: Q♦Q♥
Ka Kwan Lau: 3♣3♦
Nouira was in great shape to double up again through Lau and remained ahead on the 8♠10♠K♠ flop. That all changed on the 3♠ turn, giving Lau a set and leaving Nouira drawing to just two outs to win the pot outright (while any spade would chop the pot). The 10♦ river changed nothing and Nouira's deep run came to an end while Lau continued to pull away from the rest of his competitors.
Nível 31 : Blinds 100,000/150,000, 150,000 ante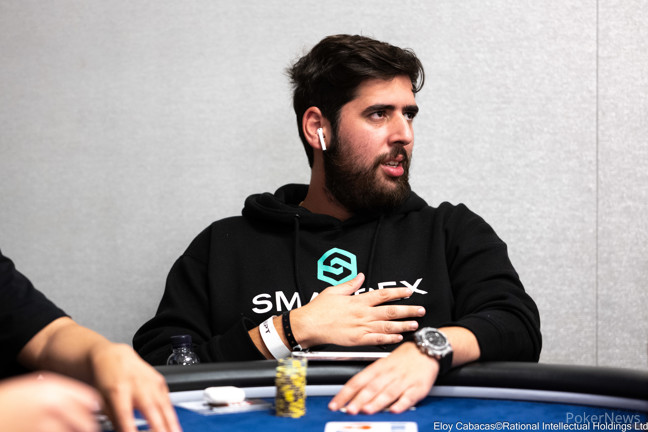 The action folded to Ka Kwan Lau in the small blind and he ripped all-in. Maher Nouira called off his 925,000 in the big blind and both hands were tabled.
Maher Nouira: K♠J♣
Ka Kwan Lau: K♦Q♣
Nouira was dominated and the 5♠3♣2♣ flop wasn't looking promising but the J♥ turn gave him the lead and he was able to fade the queen as the 3♠ landed on the river.