€2,200 EPT National High Roller
Event Info
| | |
| --- | --- |
| Buy-in | €2,200 |
| Players | 954 |
Informações sobre o nível
| | |
| --- | --- |
| Nível | 35 |
| Blinds | 200,000 / 400,000 |
| Ante | 400,000 |
€2,200 EPT National High Roller
Dia 2 Concluído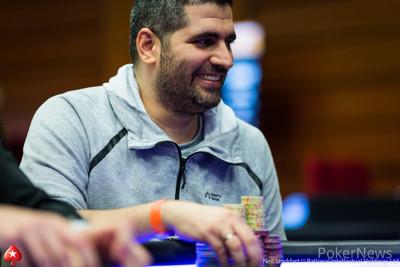 After another long day, Yaniv Peretz from Latvia has won the €2,200 EPT National High Roller for €253,965 here at the PokerStars European Poker Tour Prague in the Hilton Prague after a heads-up deal. The two-day event attracted 954 entries in total which included 189 reentries. Peretz beat Sonny Franco after a bit more than 80 minutes of heads-up play.
PokerNews asked Peretz how he felt about the win and the trophy that seemed the most important for him: "This is a good one to show to my horses - my stable. I lost online once for a trophy and I got second in Vegas once for a trophy. This is my first big trophy and I'm happy about it. I was short all day yesterday and started the day with just 100,000. As soon as I doubled up, I started going, and I made the final table with a decent stack. I let the big stacks do the work and then I won a big flip."
Peretz about Franco: "At some point, I knew I was going to play Sonny heads-up. He's an amazing player, he played amazing. I gave my best. I really wanted to win the trophy. It went back and forth but I never gave up."
The number of entries beat last year's number by more than 50% as the event attracted 627 entries in 2017. Other notables making the official final table include Evangelos Bechrakis, Ad Schaap, and Dong Guo.
EPT National High Roller Final Table Results
| Position | Player | Country | Prize (in EUR) | Prize (in USD) |
| --- | --- | --- | --- | --- |
| 1 | Yaniv Peretz | Latvia | €253,965* | $288,977* |
| 2 | Sonny Franco | France | €293,275* | $333,718* |
| 3 | Evangelos Bechrakis | Greece | €144,900 | $164,767 |
| 4 | Marc Klausen | Denmark | €108,820 | $123,740 |
| 5 | Emmanouil Chrysovergis | Greece | €84,210 | $95,756 |
| 6 | Ad Schaap | Netherlands | €62,000 | $70,501 |
| 7 | Masatoshi Tanaka | Japan | €45,060 | $51,238 |
| 8 | Dong Guo | China | €32,180 | $36,592 |
* Denotes a heads-up deal
Today's action
Day 2 started at noon with 143 players returning after a late night and long day on Day 1. All players were guaranteed to take at least €3,440 home with them for their efforts. The action was fast and furious during the first few 40-minute levels. The tournament lost almost 40 players in the first of seventeen levels that were played today. By the time the first break started, only 64 players were left.
Pasi Sormunen looked to be the man to beat when he dominated the top of the chip counts. He eliminated Thorben Vellrath, Artem Kobylynskyi, Imed Mahmoud, and Jonathan Therme to claim the chip lead. But Sormunen first doubled Peretz up, and then Klausen, and then ended up paying Serdar Demircan in a three-way pot. Finally, Sormunen lost it all against Guo when he tried bluffing him with ten-nine on the four-six-trey flop. Guo snap-called the check-shove with pocket eights.
Some of the well-known players that made the money but not the final table include PokerStars Team Pro Fatima Moreira De Melo, Ben Jones, Phachara Wongwichit, Colin Lovelock, Mykhailo Gutyi, Alexandru Papazian, Julien Sitbon, Ryan Riess, Davidi Kitai, Ben Dobson, Kenny Hallaert, Jeff Hakim, Anton Wigg, and Ludovic Geilich.
Bryan Paris might have been one of the biggest names left in the field when the tournament was down to the last two tables but he fell victim to Schaap when he ran his ace-king into Schaap's pocket kings. Paris finished in 10th place for €20,950. The nine remaining players were then redrawn onto the unofficial final table with Bechrakis in the lead.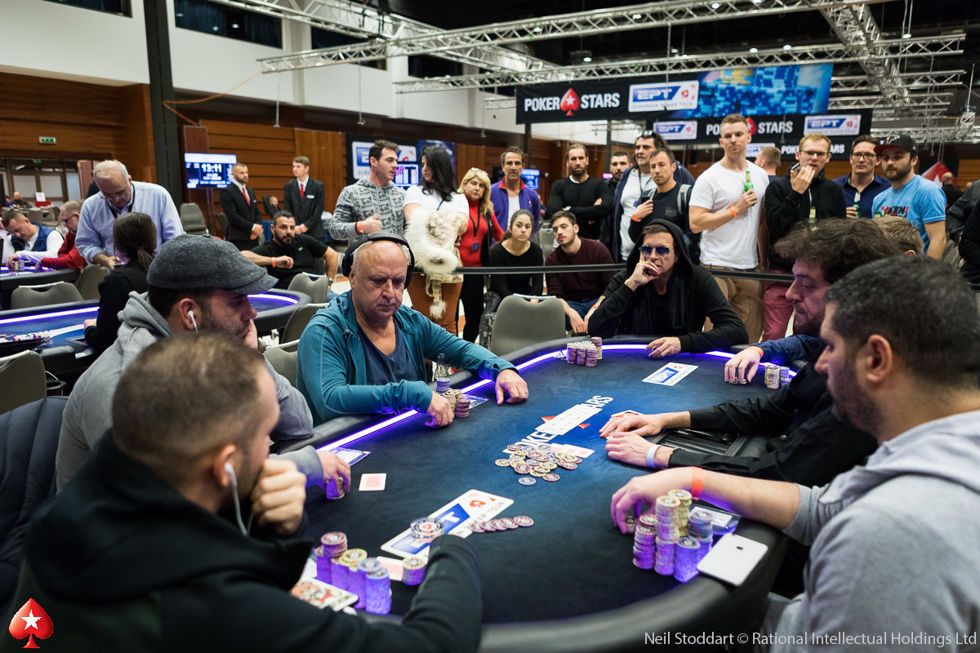 Gergely Bartos became the official final table bubble when he shoved his last chips, after having doubled Schaap up earlier, with eight-seven and was called by Peretz who held queen-trey. Even though Bartos rivered a straight, it also gave Peretz the flush to deal him the final blow.
Only ten minutes later, Guo busted in eighth place when he ran his pocket jacks into the ace-king of Peretz who managed to flop a pair of kings.
Japan's Masatoshi Tanaka also had to bow out thanks to Peretz when he shoved king-jack and was called with ace-nine. Peretz hit another flush to take Tanaka out.
Next, it was Franco to take over the chip lead from Bechrakis in a huge pot. Franco talked Bechrakis into a call when the board read seven-queen-ten-trey-deuce when Franco held the pocket aces and made Bechrakis muck. Schaap was sent back to his hotel room in sixth place when he shoved with ace-deuce and was called by both Peretz and Franco with Peretz claiming the pot.
Fifteen minutes later it was Emmanouil Chrysovergis' shove to be called by Bechrakis and Franco with Franco adding a notch to his elimination list. The Dane Marc Klausen had one of the loudest rails of the bunch and failed to win his last all-in when he ran his ace-five into the pocket kings of Franco. Five minutes later, Bechrakis busted when he lost a flip with king-jack against the eights of Franco. They played a few more hands before they were sent on a break.
Franco came back from the break with almost 70% of all chips in play. They agreed on a deal right before they started playing. Franco secured €293,275 while Peretz was sure of €239,965. They left €14,000 and the trophy up for grabs. During heads-up, things went back and forth for a while, Peretz first cracked Franco's aces with pocket fives and managed to river a straight. Soon after it was Franco's turn to double with pocket fives. He doubled up again after that, then Peretz doubled, and so on for a bit more than two levels. After five double-ups, the curtains finally fell for Franco when he shoved with jack-trey and was called by Peretz with king-jack. Peretz stayed ahead throughout the whole board while the legion of French supporters was shouting for a trey which never came.
Peretz and Franco shook hands, Franco walked over to his rail to be consoled while Peretz got a firm hug and pats on his back from his. Peretz made his way out of the tournament area to return tomorrow, Thursday, December 13 to play Day 1b of the Main Event which will commence at noon. The PokerNews live reporting team will be on hand to bring you all the action so make sure to return!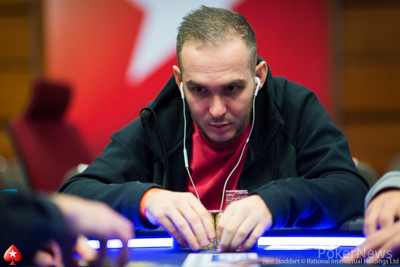 Sonny Franco just got eliminated and he ended as the runner-up in the €2,200 EPT National High Roller.
He moved all in with his last 5,500,000 holding
and he was dominated by Yaniv Peretz with
. The board ran out
and both players hit two pair, but the kicker of Peretz was playing.
Franco gets to take home €293,275 as the runner-up of the tournament after the heads-up deal, while Peretz wins €253,965 and the trophy.
| | | | | | |
| --- | --- | --- | --- | --- | --- |
| Yaniv Peretz | | | | 28,620,000 | 7,000,000 |
| Sonny Franco | | | | Eliminado | |
Nível:

35
Blinds:

200,000/400,000
Ante:

400,000
Sonny Franco checked his option when Yaniv Peretz called from the button/small blind. The flop was
and Franco checked. Peretz bet 450,000 and Franco raised to 950,000. But as soon as Peretz announced all in Franco mucked his hand.
Franco now has just seven million chips.
| | | | | | |
| --- | --- | --- | --- | --- | --- |
| Yaniv Peretz | | | | 21,000,000 | 5,500,000 |
| Sonny Franco | | | | 7,000,000 | -5,500,000 |
Yaniv Peretz raised to 600,00 from the button and Sonny Franco called.
They both checked through the
flop to the
on the turn. Franco check-raised to 2,000,000 when Peretz bet 850,000 and Peretz called.
The river completed the board with the
, Franco checked for the last time. Peretz now bet 4,000,000. Franco smiled, looked at his cards once more, made the call but then mucked when Peretz tabled
for the turned top pair.
| | | | | | |
| --- | --- | --- | --- | --- | --- |
| Yaniv Peretz | | | | 15,500,000 | 5,500,000 |
| Sonny Franco | | | | 12,500,000 | -5,500,000 |
The flop was
and was already out there. Sonny Franco checked his option and Yaniv Peretz bet 425,000. Franco called the bet to see the
turn card. This time Franco check-called a bet of 1,400,000.
The river was the
and both players checked. Franco took it down with
for queen high.
| | | | | | |
| --- | --- | --- | --- | --- | --- |
| Sonny Franco | | | | 18,000,000 | 1,400,000 |
| Yaniv Peretz | | | | 10,000,000 | -1,400,000 |
Yaniv Peretz was down to 5,700,000 when he moved all in on the
flop after a bet of 1,000,000 from Sonny Franco. Franco called and they opened up.
Yaniv Peretz:

Sonny Franco:
The board ran out with the
turn to give Peretz a straight and the
river to double him up.
| | | | | | |
| --- | --- | --- | --- | --- | --- |
| Sonny Franco | | | | 16,600,000 | -2,400,000 |
| Yaniv Peretz | | | | 11,400,000 | 2,400,000 |
Yaniv Peretz got his last 4,500,000 in the middle with
and he had to win against the
of Sonny Franco.
The board ran out
and Peretz managed to secure a double up.
| | | | | | |
| --- | --- | --- | --- | --- | --- |
| Sonny Franco | | | | 19,000,000 | -2,600,000 |
| Yaniv Peretz | | | | 9,000,000 | 2,600,000 |
Nível:

34
Blinds:

150,000/300,000
Ante:

300,000