Tyler Groth Takes Down Event #25: $1,000 Pot-Limit Omaha for $179,126
Nível 29 : 40,000-80,000, 0 ante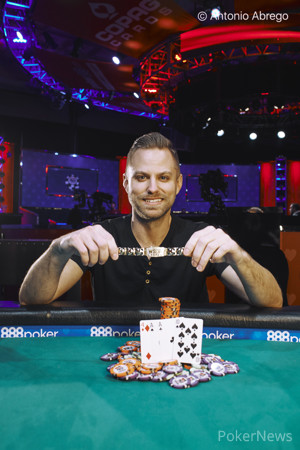 Iowa's Tyler Groth triumphed in the Event #25: $1,000 Pot-Limit Omaha after edging out a 1,058-player field to take home the $179,126 first prize along with his first WSOP bracelet. "I am an O8 [Omaha Hi-Lo] player and took on a lot of great PLO players. I am in shock, I am really shaking," he said.
The 32-year-old came back for the final day third in chips with 11 players remaining. Nobody had a better start to the finale than Groth, who hit a full house twice and got paid for both of them, finding himself atop the leaderboard soon.
Ultimately, Groth had also the strongest finish, but his journey towards the title wasn't all smooth for him as the former broker and now-professional player experienced some tough moments on his way to victory.
The remaining players merged to a single table when Darren Taylor knocked out Jesse Chinni. Ten-handed play carried on for quite some time, with several doubles delaying further eliminations. In the end, it was former November Niner Bruno Politano who bubbled the official final table. Representing Brazil, the 888 Ambassador came back as the shortest stack and fought bravely, but he eventually parked in tenth place. Politano's aces were cracked by Allan Le, who flopped a diamond flush to send Politano to the rail.
At that time, Groth was already downed to a short stack. Groth lost the vast majority of his chips in a collision to Darren Taylor when he flopped the bottom set of sixes against a set of kings, only to see the fourth six in Taylor's hand, preventing him from improving to quads.
But Groth bounced back, sending Casey Carroll to the payouts in ninth place. The cards were turned face up preflop, with Carroll ahead with aces against kings. Groth, however, spiked another king on the flop.
Mark Zullo was a third victim in a row to exit with aces in their hands. Zullo's elimination was a sour one. He was all in on the flop with the top set but Igor Sharaskin had flopped a flush draw and he hit a third club on the turn to bust Zullo in eighth place.
After laddering up three positions on the last table, short stacked Daniel Spencer finally left the tournament in seventh. Spencer's double suited one-gapper airballed the board, leaving the pot to Taylor's ace-high.
Sitting next to each other, Groth and Taylor were setting the pace of the final table, both maneuvering big stacks. But it was the start-of-day chip leader Sharaskin took care of Adam Brown who walked away in sixth.
Fresh on the back of his third place in the $565 Pot-Limit Omaha Event, Sharaskin wasn't meant to top his previous result. He ended up all-in on the turn with a huge draw only to find himself drawing dead, running into Groth's full house.
Groth's already huge stack was boosted massively as he controlled more than a half of the chips in play with four players remaining. Next to leave the table was Darren Taylor, who suffered in a set-under-set cooler, with Allan Le holding the best hand and also blocking Taylor's chances for quads.
Le was the only player on the final table who previously reached the pinnacle of the WSOP, with the 2016 $1,500 Mixed PLO/8; Omaha/8; and Big O title under his belt. Le was second in chips, trailing to Groth's monster stack while Jonathan Zarin handled the smallest stack.
Zarin, however, had already doubled several times during the day, and the key confrontations kept going his way. Zarin doubled through both Groth and Le, and his tenacity eventually cost Le a heads-up chair. Le ran kings into a flopped two pair of Groth and couldn't recover on either turn or river.
"Well, you know, you got an ace-deuce double-suited hand. I was just going to play position. I knew he was gonna push, so all I needed to do was nail a flop ... and I hit the flop. That was when I probably felt I gonna win. I hope my name gets known after this," Groth analyzed the hand in hindsight.
Groth was on his way for the bracelet, coming to the final duel with more than a five-to-one chip lead. Zarin, however, remained relentless. He scored a double and then won another major pot to reduce the gap, but Groth never gave up the lead and soon regained the ground when he rivered a straight. Soon after the Level 29 started, it was all over. Zarin met with another unlucky river card, when he triple barreled for all of his chips with a full house. Groth, however, held aces and an ace on the river brought him a bigger full house to help him finally deny Zarin's resistance.
"You played great, take it easy," Zarin added before heading to the payout desk. He received $110,655 for his efforts but the spotlight was on Groth who became the newest WSOP first-time winner.
Originally from Stone Lake, Iowa, Groth now lives here in Las Vegas, pursuing his poker career. "I moved here to finally give live pro a go. I had an online career, and in 2011..." he said, pointing at the Black Friday events. "I literally quit my job and I was like, you know what, no more bosses, I am going back to poker. This is my first real run, that was probably my eighth or ninth World Series Event."
While Groth had previously notched only one cash worth $2,906 at the WSOP Circuit, his first reward from the major series is much thicker as the champion collected $179,129 for his fine performance. "The only time I felt pressure was when we first sat down at that table and there was lights, and it took a while to get into the zone," Groth added.
Event #25 Final Table Results
| Place | Player | Country | Prize |
| --- | --- | --- | --- |
| 1 | Tyler Groth | United States | $179,126 |
| 2 | Jonathan Zarin | United States | $110,655 |
| 3 | Allan Le | United States | $78,372 |
| 4 | Darren Taylor | United Kingdom | $56,224 |
| 5 | Igor Sharaskin | Russia | $40,862 |
| 6 | Adam Brown | United States | $30,090 |
| 7 | Daniel Spencer | United States | $22,456 |
| 8 | Mark Zullo | United States | $16,986 |
| 9 | Casey Carroll | United States | $13,026 |