Event #61: COLOSSUS - $400 No-Limit Hold'em
Dias: 1a
Event #61: COLOSSUS - $400 No-Limit Hold'em
Dia 1a Iniciado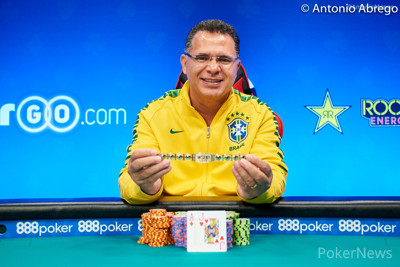 One of the larger events of the 2019 World Series of Poker (WSOP) will fill the Rio All-Suite Hotel & Casino Wednesday morning with the fifth installment of The Colossus set to kick off at 10 a.m. local time in Las Vegas, Nevada.
Event #61: $400 COLOSSUS No-Limit Hold'em has become one of the signature tournaments of the WSOP for the past four years with the field reaching as much as 22,374 back in its inaugural event in 2015.
A few changes have been made to The Colossus this year, aside from the buy-in. This year, there will be only two starting days, with the first kicking off at 10:00 a.m. local time today. Day 1's will play 16 levels, each lasting 40 minutes, with 20-minute breaks every three levels. Late registration will be open until the start of Level 13, allowing one re-entry per player, per flight. Players will receive a 75-minute dinner break after the ninth level which will be approximately 4:40 p.m. local time.
Another change to The Colossus involves players' starting stacks. Players will begin with 40,000 in chips compared to the 5,000 in previous years. Blinds will start at 100/100 and will end when they are 3,000/5,000 with a 5,000 big blind ante. Anyone able to survive the first 16 levels of The Colossus and bag a stack will return for Day 2 action slated for 11 a.m. Friday, June 28th.
Last year, a top prize of $1,000,000 was guaranteed to its victor Roberly Felicio who bested a field of 13,070 hopefuls to join the prestigious club that includes; 2017 winner,Thomas Pomponio, 2016 winner, Ben Keeline, and the inaugural title-holder, Cord Garcia, in 2015. The size of the field has shrunk since its inception but the top-prize has grown. Felicio, Pomponio, and Keeline were benefactors of the guaranteed first-place prize while Garcia's cut of the debut year's prizepool was $638,880.
Past Results:
| Year | Winner | Entries | First-Place Prize |
| --- | --- | --- | --- |
| 2015 | Cord Garcia | 22,374 | $638,880 |
| 2016 | Ben Keeline | 21,613 | $1,000,000 |
| 2017 | Thomas Pomponio | 18,054 | $1,000,000 |
| 2018 | Roberly Felicio | 13,070 | $1,000,000 |
PokerNews has activated the MyStack App for this event, allowing you to directly adjust your chip counts in our live reporting blog using your iPhone or Android phone.
You can download the app for iPhone or Android now to get started. Then, create a new PokerNews account or update your current one to start updating your status immediately. Your followers can see all the live action that you're involved in.
Click here to download the My Stack app for iPhone, or click here to download the My Stack app for Android.
Stay locked the PokerNews updates all event long as we bring you all the drama from what is sure to be one of the most colossal events of the summer.
Nível: 1
Blinds: 100/100
Ante: 0
Nível 1 : 100/100, 0 ante
Event #61: $400 COLOSSUS No-Limit Hold'em is officially underway.

Nível 1 : 100/100, 0 ante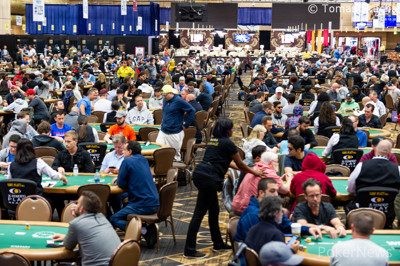 The tournament clock shows 2,623 entries, with players spread across both the Brasilia and Pavilion rooms.
There are also players seated further towards the main casino, with a big field expected for the fifth-ever Colossus!
A reminder that late registration and a single re-entry is available for the first 12 levels today.
Nível 1 : 100/100, 0 ante
Jogador
Fichas
Oscilação

Konstantin Puchkov

40,000

40,000

Maurice Hawkins

40,000

40,000

Pok Kim

40,000

40,000

Ken Aldridge

40,000

40,000

Ylon Schwartz

40,000

40,000

Marcia Godinez

40,000

40,000

Fernando Brito

40,000

40,000

Minissha Lamba

40,000

40,000

Nível 1 : 100/100, 0 ante
Andrei Loghin opened from under the gun and Ricardo Lima three-bet from late position. Loghin called and subsequently checked the paired board of
to his opponent.
Lima continued for 1,400 and Loghin called. French player Loghin then checked the
turn and Lima bet 3,000.
Loghin thought for a moment before check-raising to 8,000. Lima called.
The river was the
, bringing four to a straight on the board. Both players checked. Loghin turned over
for a rivered straight and Lima inspected the board before ultimately relinquishing his hand.
Jogador
Fichas
Oscilação

Andrei Loghin

55,000

55,000

Ricardo Lima

28,000

28,000
Nível: 2
Blinds: 100/200
Ante: 0

Nível 2 : 100/200, 0 ante
After the player in the cutoff opened to 500, Francisco Trujillo raised to 1,700 on the button and his opponent called.
The pair saw the
flop and Trujillo's continuation bet was check-called by his opponent.
The turn was the
. It checked to Trujillo who bet 2,400 and that was enough to take down the pot. He flashed
to the rail for a flopped top pair and turned flush.
A short while later at a different table there was a
board spread between two players. With around 3,000 in the middle, the first player bet 2,500 before Jon Gunter raised in position to 7,000.
His opponent thought, shuffled his chips and thought some more before calling. Gunter turned over
for the nut flush and took down the pot.
Nível 2 : 100/200, 0 ante
Robert Nadolny opened for 400 from middle position, the button player called and action folded to the big blind player who three-bet to 1,200, both Nadolny and the button player called.
The big blind player fired out 1,500 after the flop of
and was called by Nadolny.
The
turn was checked to Nadolny who bet 2,500, his opponent called.
Nadolny's opponent check-called the 7,000 bet after the
fell on the winner and Nadolny tabled
for a turned set of ladies and he raked in the pot.