Nível 38 : 300,000/600,000, 100,000 ante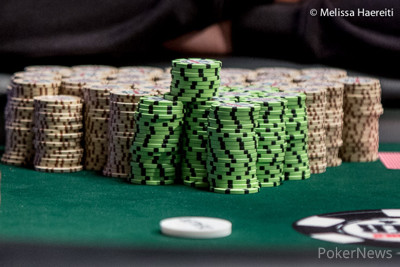 With each player sitting behind a mountain of chips, the tournament directors have considered introducing a bigger denomination chip from an entirely different set of WSOP chips.
Recently WSOP Tournament Director Jack Effel came over to the Monster Stack final table, and when a hand finished, he grabbed some of Claas Segebrecht's oreo-colored 50,000-denomination chips and mixed them up with a few yellowy-beige 250,000-denomination chips to see if they could be told apart.
Tournament Director Charlie Ciresi stood at the far end of the table and shook his head from left to right to indicate that they looked virtually the same from a distance.
Effel took back the 250,000-denomination chips and stated, "they're just going to have to play with big stacks!"
Ciresi then added, "that's why it's called the Monster Stack!"