Final Table Interview: Layne "Back to Back" Flack
Nível 25 : 12,000-24,000, 4,000 ante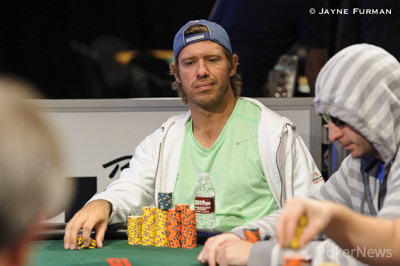 On August 10th of 1999, a 31-year old gunslinger by the name of Layne Flack won the $330 Seven Card Stud event at the Legends of Poker series at the Bicycle Casino in Los Angeles. The very next day, Flack returned to the winner's circle as the champion of the $330 Limit Hold'em Shootout, and with that "Back to Back" Flack was born.
Flack was no stranger to success on the felt when he earned the fitting moniker, as he had already captured his first World Series of Poker bracelet earlier that year in $3,000 Pot-Limit Hold'em. A few years later the WSOP would see Flack return to his winning ways, and once again he managed to turn in two first place finishes in close proximity. Flack took down the gold in a $2,000 No-Limit Hold'em event in 2002, and within two weeks time he added his third bracelet to the trophy case in $1,500 No-Limit Hold'em, going back-to-back once more while making his only two cashes of the series count.
The following year saw Flack turn in another economic, yet extremely impressive, summer series. He won the $2,500 Omaha Hi-Lo Split event for his fourth career bracelet, and in just a week's time he lived up to his nickname in spectacular fashion, winning his fifth career bracelet in $1,500 Limit Hold'em Shootout. Over the span of 2002 and 2003, Flack cashed four times at the WSOP, with each producing a first place finish, a six-figure score, and of course, a shiny keepsake to call his own.
Today Flack stands at six on the all-time bracelet leaderboard, an honor he shares with fellow pros Daniel Negreanu, Ted Forrest, and T.J. Cloutier. But that total could very will be higher by now, as Flack's last WSOP win came back in 2008, with a string of deep runs and final table appearances sprinkled through his résumé in the years since.
Flack just made another deep run this week, placing 13th in Event #32: $10,000 Six-Handed No-Limit Hold'em Championship for his fourth cash of the series. That makes it at least four cashes at the WSOP for Flack each year since 2011, with most of them coming in the form of top-15 finishes. Despite curtailing his tournament schedule during recent years, with the WSOP essentially the lone stop on his personal circuit, Flack has continued to display the skill which saw him win five bracelets in a five-year span.
The man they still call "Back-to-Back" Flack is back at it again here today, after reaching his fourth WSOP final table since 2012 in Event #39: $3,000 No-Limit Hold'em. We caught up with Flack during a recent break for a brief chat, hoping to find out how he feels after giving himself yet another shot at that elusive seventh bracelet.
PokerNews: You've made another deep run in WSOP competition Layne, so describe your mindset as a six-time bracelet winner. Is this still a thrill for you after all of the success you enjoyed in those early days?
Layne Flack: It's a thrill because as you get older the younger generation kind of comes up and takes over. So it's almost like, when I was younger I just believed it was supposed to happen. Now as I get older, I know how tough it is. You know, because you've played so many tournaments, and you can see defeat more, as opposed to only being out here because you succeed, you boom, you boom, you're running around thinking everybody don't get it, you get it.
And so, I had a rough first half of the series, and it took some adjusting because I don't play a lot of tournaments anymore, and I was like 'ah, something's gotta change,' and I couldn't quite figure it out. Then the last four tournaments I made deep runs. I mean, I took 64th [$1,500 Pot Limit Omaha), 13th [$10,000 No-Limit Hold'em - Six Handed], and now this one.
PokerNews: You've cashed at least four times every summer since 2011, with six of those coming as top-15 finishes. With today's poker landscape so different from the one you came up in, how does it feel to prove yourself against the young guns, especially after being known as one of the original young guns during the pre-Moneymaker era?
Well, I'm not that old (laughing). But you know, there's a lot of things that can happen for a fast action player, I mean, there's going to be a lot of mishaps. Just with experience I'm able to notice mishaps and pick off on them. So like, I can tell when they're getting out of line, because I paved that road. So I can capitalize on a lot of areas.
PokerNews: You mentioned that you don't really play tournaments anymore, at least not in the sense of putting in the heavy volume that you did in your glory days. A scan of your records confirms this, with 18 of your 20 live cashes since 2011 coming at the WSOP. So what are you up to the other 10 months out of the year?
I golf. All I do is golf (laughing). If poker gets in the way of my golf schedule...
And this isn't just for fun I take it? You've got a little skin in the game?
Oh yeah. I play with Mike Sexton all the time, I play with a few of the other poker players. I mean, there's a lot of poker players, and I've got some guys out in California who I play a lot with, and you got all the sports bettor guys. But back to... you're right, from '99 to 2003, I had like 25 major wins. I mean, I was averaging five major wins a year.
PokerNews: And what caused you to shift away from that kind of success on the felt, and into a more leisurely lifestyle on the fairway?
Lifestyle adjustments really, no more drinking, no anything. And finding that peace out on the golf course was a balance that I needed, so now, from the outside looking in, I see all these poker players and for them it's their whole life. I almost feel sorry for them, you know, it's the same clothes, they don't take care of themselves. And it's so bad that when you walk in the door a guy's bragging about the fact that he's actually taking care of himself. You know, in the real world this isn't something that you brag about, taking care of yourself, but here it's 'good job, you took care of yourself! (laughing).'
PokerNews: Your last bracelet win came back in 2008, and despite all the deep runs you've made since then, winning your seventh has proven to be more difficult than you made it look during the "Back-to-Back" days. How do you feel at the moment, with another shot at number seven here in front of you?
This is going to be an uphill battle, I mean... late in yesterday's tournament I was down to 30,000, and by the end of the break I had 300,000. I took a pretty big hit today and was down to 250,000, but ran it back up to 800,000, now I'm sitting with six-something. It's just so big, it's so fast, so deep that anything can happen. I know that.
I think seven would be a big accomplishment though, there's a lot of people with six now. You walk up the hallway, and you see [Phil] Hellmuth, 13 bracelets, [Johnny] Chan, 10 bracelets. And then it stops... at seven!. They don't put six on the wall! There's too many with six! They cut us off, so I gotta get seven.