Nível 35 : 150,000-300,000, 50,000 ante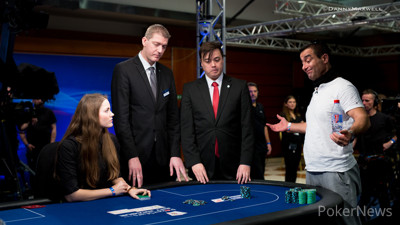 Hand #167: Gleb Tremzin limped on the button and the flop brought out
on which both players checked.
The turn was the
and Ensan check-called 400,000. The river brought the
and Ensan bet 400,000 with
.
Tremzin's cards were unknown to us expect for the
, but he raised to 2,300,000. Ensan came right back over the top to 4.8 million by quietly pushing two big stacks forward.
"Good call," Tremzin said, and Ensan showed his pair of fives.
Ensan thought Tremzin had called his raise to 4.8 million, and he demanded for the full amount to be awarded to him.
Tremzin explained how he would never call with eight-high, holding
, but Ensan insisted that his opponent had called his raise to 4.8 million.
Four members of the tournament staff discussed the situation, after which Ensan eventually said, "It's okay guys, I don't want the chips. He would never call with eight-high."
Ensan didn't announce raise verbally, and this is where Tremzin's confusion came from.
"Next time, just don't bluff," Ensan said.
"You don't bluff also," Tremzin responded with a big smile.
"I have five, I don't bluff," Ensan laughed, and the entire rail laughed with him.
"The next time, when I make an all in on the river and you fold, you can ask to show me," Tremzin offered Ensan as an apology for the situation he caused.
The two gentleman continued this friendly, but entertaining heads up battle and there's no end in sight yet.