Nível 10 : 500/1,000, 100 ante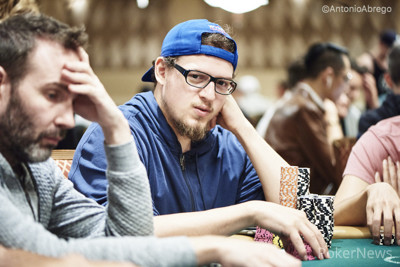 While today represents the worst day of the year for many poker players, specifically those who busted the Main Event, Event #74: $1,111 The Little One for One Drop provides many a chance to unwind and play one more World Series of Poker Event all while donating to a great cause, the One Drop Foundation. That was the case here today as Day 1c was full of poker, laughter, and just all around fun.
Take Daniel Negreanu for example who shoved all in blind for his first six buy-ins, only to finally find some stability late into the tournament. Or Cory 'BiNks' Waaland, who earlier in the summer preached to many the importance of making poker fun for everyone. Waaland was able to amass a huge stack today (96,700), admitting that he was "in the zone." Of course, there was also the table of JC Tran, Joseph Cheong and Danny Wong who drank late into the night, shouting, laughing, and at one point accruing a penalty for Wong for shouting and swearing.
Event #74 represents a last chance for many players, or a summer saver as some may call it. Several players took the event very seriously. Chris Ferguson, for example, grinded out the day creating a large stack of 93,400 by the end of it, and despite his earlier shenanigans, Daniel Negreanu managed to bag as well, bringing 56,500 to Day 2. Phil Hellmuth late registered as well but wasn't able to find a bag at the end of the night. At the end of the day, Guiseppe Pantaleo was the chip leader in the Miranda room, bagging up a stack of 335,800.
Some others returning Friday include Eric Wasserson (150,000), JC Tran (25,400), Joseph Cheong (80,600), Jean Gaspard (169,300), Tony Dunst (102,600), as well as former Main Event Champ Martin Jacobson (64,500).
All in all a total of 470 players made it through the day of the 2,484 who began, bringing the total field to 4,391 players with 784 surviving. All of them will return Friday at 2 p.m. to play ten more levels. Players should approach the money bubble on Friday as only 784 remain and 659 will make the money. All of those who squeak their way in will earn at least $1,500 while the eventual winner of this event will take home $528,316.
Be sure not to miss any of the action as PokerNews will be here to cover it all.