Nível 20 : 5,000/10,000, 1,000 ante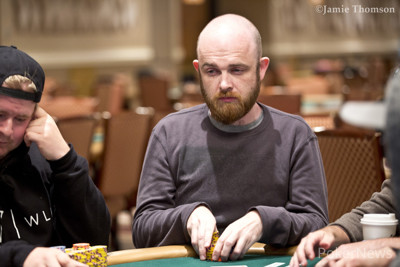 It was a case of blink and you'll miss them as players turned out for Day 1 of Event #65: No-Limit Hold'em (30 minute levels). After 20 levels of play, only 27 of the starting 1,413 remain in contention for the title.
Dylan Linde leads the way with over 100 starting stacks in this turbo format, and he is joined by Anton Bertilsson (432,000), Toro Istvan (413,000) and Aaron Hirst (459,000), amongst others who bagged above average stacks.
Some of the early players in their seats were Kenny Hallaert, Barry Greenstein, Jonathan Little, Jared Hamby, Cate Hall, Ismael Bojang, Rocco Palumbo, Fabrice Soulier, 2004 Main Event winner Greg Raymer, 2017 bracelet-winner Mohsin Charania and many more.
The event is scheduled for two days, and the money bubble burst shortly before players went on their dinner break. Some of the players to narrowly miss out on a $1,503 min-cash included Josh Beckley, Tony Cousineau, Ari Engel, Chris Ferguson and Bernard Lee.
The money bubble burst when two players, including Bertrand "ElkY" Grospellier, bust on separate tables. Grospellier's bust was the uglier of the two; getting Kings in against Aces. There was a king on the flop, but also an Ace, and Grospellier had to settle with a min-cash, albeit half of one.
Players who cashed for the minimum $1,503 included Andrew Barber (200th), Scott Davies (199th), Natasha Mercier (198th) and Antoine Saout (186th).
The jump to $1,573 saw the likes of Jean Montury (165th), 888poker Ambassador Bruno Politano (163rd), William Kassouf (161st) and Mike Leah (158th) exit the tournament.
As the day drew on there was no let up in the bust outs, with Maxim Lykov (86th) and Tobias Peters (87th) busting, and Nacho Barbero exiting in 72nd ($2,821).
By the end of the night, players were redrawing around three tables and will return with just 27 players remaining.
Play resumes on Wednesday, 5th July at 12 p.m. local time. Keep it right here on PokerNews for live updates from the field.
| Table | Seat | Player | Country | Chip Count | Big Blinds |
| --- | --- | --- | --- | --- | --- |
| 17 | 1 | Bryan Berryman | United States | 101,000 | 8 |
| 17 | 2 | Nicholas Rampone | United States | 334,000 | 28 |
| 17 | 3 | Thomas Taylor | Canada | 169,000 | 14 |
| 17 | 4 | Anton Bertilsson | Sweden | 432,000 | 36 |
| 17 | 5 | John Brown | United States | 253,000 | 21 |
| 17 | 6 | Asi Moshe | Israel | 195,000 | 16 |
| 17 | 7 | Andrew Teng | United Kingdom | 105,000 | 9 |
| 17 | 8 | Devin Robinson | Canada | 104,000 | 9 |
| 17 | 9 | William Foxen | United States | 402,000 | 34 |
| | | | | | |
| 18 | 1 | Toro Istvan | Hungary | 413,000 | 34 |
| 18 | 2 | David Valcourt | Canada | 149,000 | 12 |
| 18 | 3 | Shai Zurr | Israel | 207,000 | 17 |
| 18 | 4 | Chris Atkinson | United States | 340,000 | 28 |
| 18 | 5 | Gerean Sowa | Austria | 118,000 | 10 |
| 18 | 6 | Ian Modder | Canada | 273,000 | 23 |
| 18 | 7 | Mark Bansemer | United States | 235,000 | 20 |
| 18 | 8 | Dylan Linde | United States | 562,000 | 47 |
| 18 | 9 | Jonathan McCann | United Kingdom | 165,000 | 14 |
| | | | | | |
| 19 | 1 | Yiannis Liperis | Cyprus | 329,000 | 27 |
| 19 | 2 | Joseph Liberta | United States | 363,000 | 30 |
| 19 | 3 | Cristiano Guerra | Italy | 144,000 | 12 |
| 19 | 4 | Joao Simao | Brazil | 111,000 | 9 |
| 19 | 5 | Ognien Sekularac | Serbia | 395,000 | 33 |
| 19 | 6 | Aaron Hirst | United States | 459,000 | 38 |
| 19 | 7 | Erick But | United States | 275,000 | 23 |
| 19 | 8 | Phong Nguyen | United States | 222,000 | 19 |
| 19 | 9 | Lawrence Whyte | United States | 178,000 | 15 |