Nível 10 : 800/1,600, 0 ante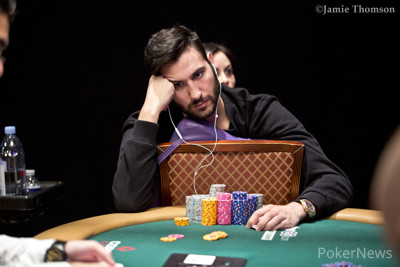 Dario Sammartino didn't let a bit of a late entrance slow him down in Event #51: $10,000 Pot-Limit Omaha Hi-Lo 8 or Better Championship. Sammartino arrived a little more than halfway through the 10-level day, and he accumulated chips in fast and furious fashion, turning his 50,000 starting stack into 294,300 by day's end.
The young Italian has had a monstrously successful live tournament career, piling up over $6.5 million in cashes, but he has yet to capture World Series of Poker gold. He came close already this year when he finished third in the $111,111 High Roller for One Drop, and he's shaping up as a strong contender here in the first running of this PLO8 event.
Current WSOP Player of the Year leader Ray Henson also put a big stack in a bag, finishing with 169,200. He's having a fantastic WSOP thus far with a trio of final table finishes, including third place in the $1,500 PLO8.
Others bagging north of 200,000 included Ryan Miller (228,700), Sean Remz (224,700), Josh Arieh (212,500), and Tommy Chen (209,200) and Joe Tehan (200,300).
Overall, 116 players of the 207 total entrants made it through. Payout information was released by the WSOP after the close of registration when Level 9 began, and the impressive turnout resulted in a first-place prize of $511,147.
Some players who are no longer in contention for that half-a-million include Brandon Shack-Harris, Daniel Negreanu, Mike Gorodinsky, Stephen Chidwick, Mike Matusow and Nathan Gamble, who won the $1,500 PLO8 event just days ago.
Those who remain will come back to 1,000/2,000 blinds on Day 2, which gets going at 2 p.m. Tuesday. Come back to PokerNews then for more coverage of this new championship event.
| Room | Tale | Seat | Player | Country | Chip Count |
| --- | --- | --- | --- | --- | --- |
| Brasilia | 715 | 1 | Joe Tehan | United States | 200,300 |
| Brasilia | 715 | 2 | Stephen Ladowsky | Canada | 19,600 |
| Brasilia | 715 | 3 | Jeremy Joseph | United States | 183,400 |
| Brasilia | 715 | 4 | Marco Johnson | United States | 140,700 |
| Brasilia | 715 | 5 | Chris Ferguson | United States | 57,100 |
| Brasilia | 715 | 6 | Mike Wattel | United States | 20,200 |
| Brasilia | 715 | 8 | Shaun Deeb | United States | 97,400 |
| | | | | | |
| Brasilia | 716 | 1 | Joshua Mammon | Canada | 33,700 |
| Brasilia | 716 | 2 | James Burns | United States | 161,200 |
| Brasilia | 716 | 3 | Trevor Reader | United States | 58,500 |
| Brasilia | 716 | 5 | David Benyamine | United States | 86,200 |
| Brasilia | 716 | 6 | Igor Sharaskin | Russia | 73,200 |
| Brasilia | 716 | 7 | Josh Arieh | United States | 212,500 |
| Brasilia | 716 | 8 | Andrew Kelsall | United States | 29,400 |
| | | | | | |
| Brasilia | 717 | 1 | James Daniloff | United States | 58,100 |
| Brasilia | 717 | 4 | Fabrice Soulier | France | 159,800 |
| Brasilia | 717 | 3 | Alex Miningham | United States | 96,800 |
| Brasilia | 717 | 5 | David Hunt | United States | DNR |
| Brasilia | 717 | 6 | Shane Douglas | United States | 166,000 |
| Brasilia | 717 | 7 | Edward Han | United States | 151,400 |
| Brasilia | 717 | 8 | Joel Ettedgi | United Kingdom | 71,000 |
| | | | | | |
| Brasilia | 718 | 1 | Dario Sammartino | Italy | 294,300 |
| Brasilia | 718 | 2 | Robert Campbell | Australia | 148,000 |
| Brasilia | 718 | 3 | Ryan Lenaghan | United States | 116,200 |
| Brasilia | 718 | 4 | Calvin Anderson | United States | 141,200 |
| Brasilia | 718 | 5 | Benjamin Eilers | United States | 20,900 |
| Brasilia | 718 | 6 | Bryce Yockey | United States | 147,900 |
| Brasilia | 718 | 7 | Robert Cowen | United Kingdom | 88,000 |
| Brasilia | 718 | 8 | Joshua Tieman | United States | 149,200 |
| | | | | | |
| Brasilia | 719 | 1 | Christopher King | United States | 124,800 |
| Brasilia | 719 | 2 | Tim Seidensticker | United States | 46,200 |
| Brasilia | 719 | 3 | Robert Daniel | United States | 22,800 |
| Brasilia | 719 | 4 | Scott Bohlman | United States | 26,200 |
| Brasilia | 719 | 5 | Jose Vaughan | Brazil | 29,900 |
| Brasilia | 719 | 6 | Randen Honigman | United States | 62,900 |
| Brasilia | 719 | 7 | David Bach | United States | 60,300 |
| Brasilia | 719 | 8 | Christopher Roth | United States | 94,000 |
| | | | | | |
| Brasilia | 720 | 1 | Kate Hoang | United States | 55,400 |
| Brasilia | 720 | 2 | Cody Crouch | United States | 43,600 |
| Brasilia | 720 | 3 | Gregory Wry | United States | 90,900 |
| Brasilia | 720 | 4 | Tommy Chen | United States | 209,200 |
| Brasilia | 720 | 5 | James Obst | Australia | 49,900 |
| Brasilia | 720 | 6 | Richard Ashby | United Kingdom | 15,300 |
| Brasilia | 720 | 7 | Viacheslav Zhukov | Russia | 101,100 |
| Brasilia | 720 | 8 | Timothy Vukson | Canada | 20,400 |
| | | | | | |
| Brasilia | 721 | 1 | Ari Engel | United States | 50,500 |
| Brasilia | 721 | 2 | Paul Janiak | United States | 42,900 |
| Brasilia | 721 | 3 | Ryan Miller | United States | 228,700 |
| Brasilia | 721 | 4 | Bart Hanson | United States | 40,600 |
| Brasilia | 721 | 5 | Yuval Bronshtein | Israel | 75,000 |
| Brasilia | 721 | 6 | Magnus Edengren | Sweden | 53,800 |
| Brasilia | 721 | 7 | Kyle Bowker | United States | 83,000 |
| Brasilia | 721 | 8 | John Monnette | United States | 160,100 |
| | | | | | |
| Brasilia | 722 | 1 | Dylan Wilkerson | United States | 30,100 |
| Brasilia | 722 | 2 | Mike Sexton | United States | 50,000 |
| Brasilia | 722 | 3 | Gary Benson | Australia | 66,200 |
| Brasilia | 722 | 4 | Warren Sheaves | United States | 51,700 |
| Brasilia | 722 | 5 | Roland Israelashvili | United States | 25,700 |
| Brasilia | 722 | 6 | David "ODB" Baker | United States | 167,500 |
| Brasilia | 722 | 7 | Court Harrington | United States | 45,200 |
| Brasilia | 722 | 8 | Cary Katz | United States | 39,400 |
| | | | | | |
| Brasilia | 723 | 1 | Gary Bolden | United States | 103,200 |
| Brasilia | 723 | 2 | Steve Jelinek | United Kingdom | 108,200 |
| Brasilia | 723 | 3 | John Racener | United States | 31,900 |
| Brasilia | 723 | 4 | Jarred Graham | Australia | 143,000 |
| Brasilia | 723 | 5 | Damjan Radanov | United States | 119,500 |
| Brasilia | 723 | 6 | Joe Hachem | Australia | 43,000 |
| Brasilia | 723 | 7 | Tony Cousineau | United States | 51,000 |
| Brasilia | 723 | 8 | Michael Kong | United States | 49,000 |
| | | | | | |
| Brasilia | 724 | 1 | Ben Lamb | United States | 68,700 |
| Brasilia | 724 | 2 | Raymond Henson | United States | 169,200 |
| Brasilia | 724 | 3 | Noah Bronstein | United States | 88,300 |
| Brasilia | 724 | 4 | Nisim Cohen | United States | 50,500 |
| Brasilia | 724 | 5 | Victor Chang | United States | 89,200 |
| Brasilia | 724 | 6 | Ben Yu | United States | 65,000 |
| Brasilia | 724 | 7 | David Mcnally | United States | 94,700 |
| Brasilia | 724 | 8 | Alan Emerson | United States | 34,100 |
| | | | | | |
| Brasilia | 725 | 1 | Sean Remz | United States | 224,700 |
| Brasilia | 725 | 2 | Bruce Yamron | United States | 67,500 |
| Brasilia | 725 | 3 | Joshua Pender | United States | 40,000 |
| Brasilia | 725 | 4 | Timothy Flanders | United Kingdom | 50,200 |
| Brasilia | 725 | 5 | Felipe Ramos | Brasil | 74,700 |
| Brasilia | 725 | 6 | Andreas Klatt | United States | 130,800 |
| Brasilia | 725 | 7 | Tyler Groth | United States | 105,000 |
| Brasilia | 725 | 8 | Cai Zhen | United States | 110,600 |
| | | | | | |
| Brasilia | 726 | 1 | Brett Maistri | United States | 62,700 |
| Brasilia | 726 | 2 | Quentin Krueger | Canada | 143,200 |
| Brasilia | 726 | 3 | James Chen | Taichung, TW | 62,100 |
| Brasilia | 726 | 4 | Daniel Zack | United States | 34,900 |
| Brasilia | 726 | 5 | S Ortynskiy | Russia | 152,700 |
| Brasilia | 726 | 6 | Phillip Hui | United States | 157,700 |
| Brasilia | 726 | 7 | Darryll Fish | United States | 61,400 |
| Brasilia | 726 | 8 | Mike Leah | Canada | 119,700 |
| | | | | | |
| Brasilia | 727 | 1 | Dylan Linde | United States | 82,900 |
| Brasilia | 727 | 2 | Bernardo Da Silveira Dias | Brasil | 32,000 |
| Brasilia | 727 | 3 | Andrey Zaichenko | Russia | 98,700 |
| Brasilia | 727 | 4 | Michael Ross | United States | 104,500 |
| Brasilia | 727 | 5 | Chase Steely | United States | 127,100 |
| Brasilia | 727 | 7 | Marc Perlman | United States | 73,000 |
| Brasilia | 727 | 8 | Ryan Hughes | United States | 141,900 |
| | | | | | |
| Brasilia | 728 | 1 | Abdel Hamid | United States | 22,800 |
| Brasilia | 728 | 2 | Chris Bell | United States | 12,800 |
| Brasilia | 728 | 3 | David Nowakowski | United States | 94,900 |
| Brasilia | 728 | 4 | Karen Longfellow | United States | 65,300 |
| Brasilia | 728 | 5 | Lawrence Berg | United States | 84,800 |
| Brasilia | 728 | 6 | Owais Ahmed | United States | 52,500 |
| Brasilia | 728 | 7 | Jason Mercier | United States | 67,300 |
| Brasilia | 728 | 8 | Millard Hale | United States | 44,100 |
| | | | | | |
| Brasilia | 729 | 1 | Jason Gooch | United States | 136,300 |
| Brasilia | 729 | 2 | Mark Herm | United States | 44,500 |
| Brasilia | 729 | 3 | Michel Abecassis | France | 70,100 |
| Brasilia | 729 | 4 | Ben Tang | United States | 118,900 |
| Brasilia | 729 | 5 | Eric Dawson | United States | 47,500 |
| Brasilia | 729 | 6 | Scott Clements | United States | 193,600 |
| Brasilia | 729 | 7 | Jonathan Duhamel | Canada | 132,600 |
| Brasilia | 729 | 8 | Dominik Baud | Switzerland | 39,600 |