Event #47: $1,500 No-Limit Hold'em MONSTER STACK
Dias: 4
Event #47: $1,500 No-Limit Hold'em MONSTER STACK
Dia 4 Iniciado
| Room | Table | Seat | Player | Country | Chip Count | Big Blinds |
| --- | --- | --- | --- | --- | --- | --- |
| Brasilia | 1 | 2 | Salvatore DiCarlo | United States | 6,460,000 | 54 |
| Brasilia | 1 | 3 | Scott Baumstein | United States | 1,955,000 | 16 |
| Brasilia | 1 | 4 | Maurice Hawkins | United States | 3,500,000 | 29 |
| Brasilia | 1 | 5 | Thomas Ryan | United States | 5,900,000 | 49 |
| Brasilia | 1 | 6 | Ihar Soika | Belarus | 3,525,000 | 29 |
| Brasilia | 1 | 7 | David Brent | United States | 1,370,000 | 11 |
| Brasilia | 1 | 8 | Gregory Milliron | United States | 6,550,000 | 55 |
| | | | | | | |
| Brasilia | 2 | 1 | Scott Montgomery | Canada | 7,335,000 | 61 |
| Brasilia | 2 | 2 | Yuliyan Kolev | Bulgaria | 4,195,000 | 35 |
| Brasilia | 2 | 3 | Richard Ma | United States | 1,485,000 | 12 |
| Brasilia | 2 | 4 | Stoyan Obreshkov | Bulgaria | 11,300,000 | 94 |
| Brasilia | 2 | 5 | Daniel Eichhorn | United States | 4,245,000 | 35 |
| Brasilia | 2 | 6 | Joldis Cosmin | Romania | 7,935,000 | 66 |
| Brasilia | 2 | 7 | William Gibbons | United States | 5,580,000 | 47 |
| | | | | | | |
| Brasilia | 3 | 1 | Pfizer Jordan | United States | 7,825,000 | 65 |
| Brasilia | 3 | 3 | Donald Maloney | United States | 2,300,000 | 19 |
| Brasilia | 3 | 5 | Ryan Mcknight | United States | 1,310,000 | 11 |
| Brasilia | 3 | 7 | Brian Yoon | United States | 3,900,000 | 33 |
| Brasilia | 3 | 8 | Will Failla | United States | 5,400,000 | 45 |
| Brasilia | 3 | 9 | Stanley Lee | United States | 8,980,000 | 75 |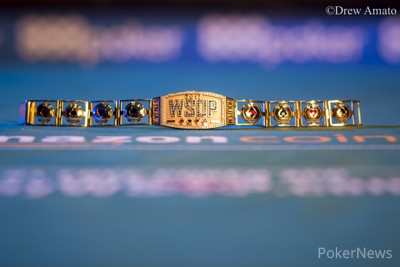 The final day of Event #47: $1,500 No-Limit Hold'em MONSTER STACK is set to begin at 11:00 a.m. Just 20 players are left to return to battle it out for a massive first-place prize worth $1,094,349.
The chip leader coming into the day is Stoyan Obreshkov, sitting on a stack of 11,300,000. Close behind him is Stanley Lee with 8,980,000, and Joldis Cosmin rounds out the top three with 7,935,000.
These 20 players survived a huge field of 6,717 unique entries. Day 2 started with 1,944 players on Monday morning, and of those remaining, 234 players made it to Day 3. The surviving players coming back today are each guaranteed a payout of $37,831, but all are focused on pocketing over a million dollars for first place along with the gold WSOP bracelet.
Other notables still in contention are Scott Montgomery (7,335,000), Will "The Thrill" Failla (5,400,000), Yuliyan Kolev (4,195,000), two-time WSOP bracelet winner Brian Yoon (3,900,000), Ihar Soika (3,525,000), Maurice Hawkins (3,500,000) and Scott Baumstein (1,955,000).
Day 4 will play out with 60-minute levels. There will be a 15-minute break every two levels, plus a scheduled 60-minute dinner break after the sixth level at approximately 5:30 p.m. Players will play until only one remains and a champion has been crowned.
Keep following along as the PokerNews live reporting team continues to bring you all of the action throughout this event and the 2017 WSOP.
Nível: 31
Blinds: 60,000/120,000
Ante: 20,000
Nível 31 : 60,000/120,000, 20,000 ante
Cards are in the air on Day 4 of the Monster Stack. Good luck, players!
Nível 31 : 60,000/120,000, 20,000 ante
Pfizer Jordan raised to 240,000 from the hijack and got calls from both Brian Yoon in the small blind and Will Failla in the big blind.
The flop came
and all three players checked to the
on the turn. Yoon checked and Failla bet 350,000. Jordan called and Yoon folded.
The river was the
. Failla led out for 700,000 and Jordan thought for a moment before folding. Failla flashed
for a flush and raked in the pot.
Nível 31 : 60,000/120,000, 20,000 ante
Richard Ma was in the hijack and raised to 280,000. William Gibbons defended his big blind. The flop was
and Gibbons checked. Ma bet 335,000 and Gibbons called.
The turn was the
and Gibbons checked again. Ma reached back and fired out a bet of 700,000 and Gibbons went into the tank for about a minute before electing to fold.
Jogador
Fichas
Oscilação

Paul Gibbons

5,175,000

5,175,000

Richard Ma

3,150,000

1,665,000
Nível 31 : 60,000/120,000, 20,000 ante
David Brent moved all in for about 1,350,000 from middle position and Maurice Hawkins moved all in over the top from the small blind. Brent was at risk and well behind with
, while Hawkins held
.
The flop came
and Hawkins remained well ahead. The turn was the
, giving Brent some outs to chop, plus he had the ace of diamonds for the possibility of making a flush. The river was the
and the dealer yelled, "Payout!" He then realized the board was double-paired and announced it was a chop.
"Oh... it's a chop. Oh my God!" exclaimed Brent, who survived to see another hand.
Nível 31 : 60,000/120,000, 20,000 ante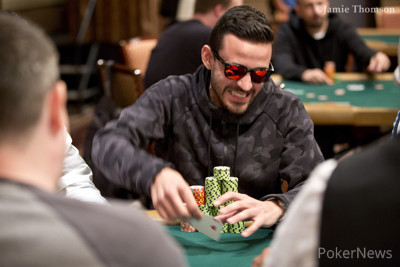 Jogador
Fichas
Oscilação

Stoyan Obreshkov

11,150,000

-150,000

Joldis Cosmin

8,100,000

165,000

Scott Montgomery

6,365,000

-970,000

Paul Gibbons

5,040,000

-135,000

Yuliyan Kolev

4,090,000

-105,000

Daniel Eichhorn

3,460,000

-785,000

Richard Ma

3,335,000

185,000
Nível 31 : 60,000/120,000, 20,000 ante
Jogador
Fichas
Oscilação

Pfizer Jordan

6,600,000

-630,000

Stanley Lee

6,500,000

-2,480,000

Brian Yoon

5,600,000

1,700,000

Will Failla

5,350,000

-950,000

Ryan Mcknight

2,715,000

1,405,000

Donald Maloney

1,970,000

-330,000