Nível 10 : 400/800, 200 ante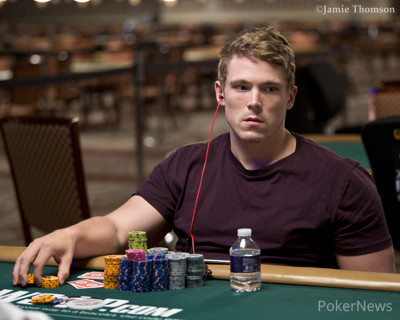 Event 13: $1,500 No-Limit 2-7 Lowball Draw attracted a total of 266 entries and at the end of ten levels it is Alex Foxen leading the remaining 50 players ahead of Day 2 which kicks off at 2 p.m. Wednesday.
A star-studded field was expected, and the railbirds were not left disappointed, with James Obst, Jared Bleznick, Daniel Hiraman and Chris Bjorin returning from their Mixed Triple Draw final tables yesterday, along with some major names from the world of mixed games including Benny Glaser, Paul Volpe, Shaun Deeb, Jason Mercier, and Randy Ohel.
Bleznick, Naoya Kihara and Tom Schneider all held the chip lead, before Foxen muscled his way to the top of the leaderboard, and bagged up a stack of 147,850 to take into Day 2.
Big names such as Billy Baxter Barry Greenstein both bust shortly before the end of the day, but there is still a whole host of big names left in the field including Phil Hellmuth (46,000), Anthony Zinno (51,450), Benny Glaser (56,000), Frank Kassela (35,500) and James Obst (25,575).
With 40 players making the money, the bubble is expected to bust fairly quickly on Wednesday, ensuring all players a min-cash worth $2,271. However, all 50 will be setting their sights a little further at the $89,151 and a WSOP gold bracelet that awaits them up top.
| Room | Table | Seat | Player | Country | Chip Count |
| --- | --- | --- | --- | --- | --- |
| Brasilia | 704 | 1 | Steven Tabb | United States | 48,150 |
| Brasilia | 704 | 2 | Ty Stafford | United States | 30,700 |
| Brasilia | 704 | 4 | Gerald Tejada | United States | 46,550 |
| Brasilia | 704 | 5 | James Obst | Australia | 25,575 |
| Brasilia | 704 | 6 | Matt Waxman | United States | 5,725 |
| Brasilia | 704 | 7 | Samuel Rubin | United States | 32,275 |
| | | | | | |
| Brasilia | 708 | 1 | David "ODB" Baker | United States | 33,425 |
| Brasilia | 708 | 2 | Stuart Rutter | United Kingdom | 51,000 |
| Brasilia | 708 | 3 | JC Tran | United States | 46,050 |
| Brasilia | 708 | 4 | Vincent Dungan | United States | 31,925 |
| Brasilia | 708 | 5 | Samuel Spiwak | United States | 15,425 |
| Brasilia | 708 | 6 | Ming Zhu | United States | 19,825 |
| Brasilia | 708 | 7 | Craig Chait | United States | 78,125 |
| | | | | | |
| Brasilia | 709 | 2 | Jared Bleznick | United States | 71,000 |
| Brasilia | 709 | 3 | Bradley Helm | United States | 40,000 |
| Brasilia | 709 | 4 | James Woods | United States | 37,900 |
| Brasilia | 709 | 5 | Xavier Kyablue | United States | 23,600 |
| Brasilia | 709 | 6 | Marco Johnson | United States | 9,825 |
| Brasilia | 709 | 7 | Daniel Hirleman | United States | 28,000 |
| | | | | | |
| Brasilia | 710 | 1 | Steven Wolansky | United States | 32,000 |
| Brasilia | 710 | 2 | Benjamin Parker | United States | 10,305 |
| Brasilia | 710 | 3 | Bernard Lee | United States | 25,800 |
| Brasilia | 710 | 4 | Anthony Zinno | United States | 51,450 |
| Brasilia | 710 | 5 | Benny Glaser | United Kingdom | 56,000 |
| Brasilia | 710 | 7 | Daniel Harmetz | United States | 50,000 |
| | | | | | |
| Brasilia | 711 | 1 | Max Kruse | Germany | 53,050 |
| Brasilia | 711 | 2 | Georgii Belianin | United States | 91,050 |
| Brasilia | 711 | 4 | Rep Porter | United States | 52,625 |
| Brasilia | 711 | 5 | Phil Hellmuth | United States | 46,225 |
| Brasilia | 711 | 6 | Adam Crawford | Canada | 39,300 |
| Brasilia | 711 | 7 | Phillip Hui | United States | 35,700 |
| | | | | | |
| Brasilia | 712 | 1 | Ben Ponzio | United States | 54,500 |
| Brasilia | 712 | 2 | Michael Gathy | Belgium | 55,500 |
| Brasilia | 712 | 3 | Jeff Lisandro | Australia | 26,650 |
| Brasilia | 712 | 5 | Marvin Karlins | United States | 38,875 |
| Brasilia | 712 | 6 | Tom Schneider | United States | 78,400 |
| Brasilia | 712 | 7 | Andrey Zaichenko | Russia | 16,650 |
| Brasilia | 713 | 2 | Majid Yahyaei | United States | 55,300 |
| | | | | | |
| Brasilia | 713 | 3 | Steve Rassi | United States | 13,975 |
| Brasilia | 713 | 4 | Stanislav Komsky | United States | 14,050 |
| Brasilia | 713 | 5 | Alex Foxen | United States | 147,850 |
| Brasilia | 713 | 6 | Robin Rightmire | United States | 20,375 |
| Brasilia | 713 | 7 | Ryan Lenaghan | United States | 27,525 |
| | | | | | |
| Brasilia | 714 | 1 | Grant Oen | United States | 17,750 |
| Brasilia | 714 | 2 | Frederick Li | United States | 39,575 |
| Brasilia | 714 | 3 | Timothy Mcguigan | United States | 21,075 |
| Brasilia | 714 | 4 | Eric Rodawig | United States | 16,000 |
| Brasilia | 714 | 5 | Frank Kassela | United States | 35,500 |
| Brasilia | 714 | 6 | Naoya Kihara | Japan | 60,550 |
| Brasilia | 714 | 7 | James Scott | United States | 37,200 |