Event #55: $1,000 Tag Team
Dias: 2
Event #55: $1,000 Tag Team
Dia 2 Iniciado
| Casino | Table | Seat | Team Captain | Country | Chips | Big Blinds |
| --- | --- | --- | --- | --- | --- | --- |
| Bally's | 641 | 1 | Blaise Poupore | United States | 116,500 | 47 |
| Bally's | 641 | 2 | Cord Garcia | United States | 143,000 | 57 |
| Bally's | 641 | 3 | Kyle George | United States | 98,500 | 39 |
| Bally's | 641 | 4 | Tom Steinbach | United States | 56,500 | 23 |
| Bally's | 641 | 6 | Gregory Muzzillo | United States | 45,500 | 18 |
| Bally's | 641 | 7 | Jean Gaspard | United States | 164,000 | 66 |
| Bally's | 641 | 8 | Darren Attebery | United States | 286,000 | 114 |
| Bally's | 641 | 9 | Connor Curtis | United States | 123,000 | 49 |
| | | | | | | |
| Bally's | 642 | 1 | Henrik Brun | Denmark | 262,000 | 105 |
| Bally's | 642 | 2 | Ying Wang | United States | 43,000 | 17 |
| Bally's | 642 | 3 | Christopher Freshour | United States | 171,500 | 69 |
| Bally's | 642 | 4 | Peter Phan | United States | 435,500 | 174 |
| Bally's | 642 | 5 | Katsuhiro Mori | Japan | 79,500 | 32 |
| Bally's | 642 | 6 | Stefan Lehner | Austria | 143,000 | 57 |
| Bally's | 642 | 7 | Zachary Fischer | United States | 50,000 | 20 |
| Bally's | 642 | 8 | Brittany Spain | United States | 77,000 | 31 |
| Bally's | 642 | 9 | Paul Cogliano | United States | 137,500 | 55 |
| | | | | | | |
| Bally's | 643 | 1 | Thomas Hould | United States | 118,000 | 47 |
| Bally's | 643 | 2 | Aoi Oyama | Japan | 24,500 | 10 |
| Bally's | 643 | 3 | Clement Cure | France | 87,000 | 35 |
| Bally's | 643 | 4 | Robert Burns | United States | 39,500 | 16 |
| Bally's | 643 | 5 | Natalie Bromley | United Kingdom | 21,000 | 8 |
| Bally's | 643 | 6 | Mads Retz | Denmark | 87,000 | 35 |
| Bally's | 643 | 7 | Justin Garcia | United States | 24,500 | 10 |
| Bally's | 643 | 8 | Chip Jett | United States | 123,000 | 49 |
| Bally's | 643 | 9 | Michael Savakinas | United States | 108,500 | 43 |
| | | | | | | |
| Bally's | 646 | 1 | Steve Trizis | United States | 58,000 | 23 |
| Bally's | 646 | 2 | Maxwell Curtis | United States | 58,000 | 23 |
| Bally's | 646 | 3 | Quentin Crutel | France | 170,000 | 68 |
| Bally's | 646 | 4 | Michael Lee | Canada | 25,500 | 10 |
| Bally's | 646 | 5 | Millard Sowers | United States | 60,000 | 24 |
| Bally's | 646 | 6 | Frank Fernholz | Germany | 162,500 | 65 |
| Bally's | 646 | 7 | Samuel Phillips | United States | 221,000 | 88 |
| Bally's | 646 | 8 | Masato Yokosawa | Japan | 96,500 | 39 |
| Bally's | 646 | 9 | David Valone | United States | 80,500 | 32 |
| | | | | | | |
| Bally's | 647 | 1 | Jason Scott | United States | 54,000 | 22 |
| Bally's | 647 | 2 | Christopher Dupuy | United States | 44,500 | 18 |
| Bally's | 647 | 3 | Sota Yamashita | Japan | 121,000 | 48 |
| Bally's | 647 | 5 | Victor Fey | United States | 29,500 | 12 |
| Bally's | 647 | 6 | Sonny Franco | France | 132,500 | 53 |
| Bally's | 647 | 7 | Gary Cordeiro | United States | 48,000 | 19 |
| Bally's | 647 | 8 | Charalampos Lappas | Greece | 121,500 | 49 |
| Bally's | 647 | 9 | Adam Kharman | United States | 197,000 | 79 |
| | | | | | | |
| Bally's | 648 | 1 | Davis Aalvik | United States | 94,500 | 38 |
| Bally's | 648 | 2 | Hwany Lee | South Korea | 240,000 | 96 |
| Bally's | 648 | 3 | Joseph Rogers | United States | 87,500 | 35 |
| Bally's | 648 | 4 | Seungyeol Kim | South Korea | 181,000 | 72 |
| Bally's | 648 | 5 | Punnat Punsri | Thailand | 56,500 | 23 |
| Bally's | 648 | 6 | Julian Rugna | Argentina | 100,000 | 40 |
| Bally's | 648 | 7 | Christoph Felber | Germany | 88,500 | 35 |
| Bally's | 648 | 8 | Brian Pinkus | United States | 46,500 | 19 |
| Bally's | 648 | 9 | Fernando Konishi | Brazil | 115,500 | 46 |
| | | | | | | |
| Bally's | 649 | 1 | Steven Plebanek | United States | 41,500 | 17 |
| Bally's | 649 | 2 | Adam Russell | United States | 45,500 | 18 |
| Bally's | 649 | 3 | Jerry Odeen | Sweden | 33,000 | 13 |
| Bally's | 649 | 4 | Tyler Patton | United States | 51,000 | 20 |
| Bally's | 649 | 5 | Nikita Luther | India | 20,500 | 8 |
| Bally's | 649 | 6 | Ben Gazzola | United States | 56,500 | 23 |
| Bally's | 649 | 7 | Helmut Roy | United States | 32,000 | 13 |
| Bally's | 649 | 8 | Richard Hilburn | United States | 22,000 | 9 |
| Bally's | 649 | 9 | Jonathan Diazbarriga | United States | 89,500 | 36 |
| | | | | | | |
| Bally's | 650 | 1 | Jerod Smith | United States | 33,000 | 13 |
| Bally's | 650 | 2 | Johnny Steven | United States | 131,500 | 53 |
| Bally's | 650 | 3 | John Paradise | United States | 138,000 | 55 |
| Bally's | 650 | 4 | Jacob Fullerton | United States | 90,500 | 36 |
| Bally's | 650 | 5 | Wesley Cotter | United States | 66,500 | 27 |
| Bally's | 650 | 6 | Benjamin Teng | United States | 186,500 | 75 |
| Bally's | 650 | 7 | Roneil Balani | United States | 104,500 | 42 |
| Bally's | 650 | 8 | Franco Spitale | Argentina | 70,500 | 28 |
| Bally's | 650 | 9 | Nicholas Gibson | United States | 84,000 | 34 |
| | | | | | | |
| Bally's | 654 | 1 | Alexander Popovic | United States | 33,500 | 13 |
| Bally's | 654 | 2 | Michael Cribier | United States | 71,000 | 28 |
| Bally's | 654 | 3 | Colin Robinson | United States | 127,000 | 51 |
| Bally's | 654 | 4 | Mikolaj Zawadzki | Poland | 139,500 | 56 |
| Bally's | 654 | 5 | Jean-Pierre Besancon | Australia | 162,500 | 65 |
| Bally's | 654 | 6 | Diane Cooley | United States | 149,000 | 60 |
| Bally's | 654 | 7 | Alain Medesan | Austria | 280,500 | 112 |
| Bally's | 654 | 8 | Yutaro Tsugaru | Japan | 43,000 | 17 |
| Bally's | 654 | 9 | Ashton Nikzad | United States | 34,500 | 14 |
| | | | | | | |
| Bally's | 655 | 1 | Alejandro Andion | Argentina | 138,500 | 55 |
| Bally's | 655 | 2 | Brad Sailor | United States | 90,000 | 36 |
| Bally's | 655 | 4 | Jason Lipiner | United States | 134,500 | 54 |
| Bally's | 655 | 5 | Renato Spahiu | United States | 169,000 | 68 |
| Bally's | 655 | 6 | Nathan Paytas | United States | 24,500 | 10 |
| Bally's | 655 | 7 | Yik Chiu | Hong Kong | 60,500 | 24 |
| Bally's | 655 | 8 | Yousuke Nakazawa | Japan | 103,000 | 41 |
| Bally's | 655 | 9 | Yuta Morikawa | Japan | 89,000 | 36 |
| | | | | | | |
| Bally's | 656 | 1 | Ronald Denapoli | United States | 66,000 | 26 |
| Bally's | 656 | 2 | Brom Tetrault | United States | 25,500 | 10 |
| Bally's | 656 | 3 | James Mcveigh | United States | 130,500 | 52 |
| Bally's | 656 | 4 | Curtis Knight | Canada | 61,000 | 24 |
| Bally's | 656 | 5 | Justin Barnum | United States | 80,000 | 32 |
| Bally's | 656 | 6 | Jay Yerby | United Kingdom | 43,000 | 17 |
| Bally's | 656 | 7 | Ren Lin | United States | 60,000 | 24 |
| Bally's | 656 | 8 | Zachary Vankeuren | United States | 232,000 | 93 |
| Bally's | 656 | 9 | Sean Mullaly | United States | 167,000 | 67 |
| | | | | | | |
| Bally's | 657 | 1 | Brandon Nguyen | United Kingdom | 152,000 | 61 |
| Bally's | 657 | 2 | Dylan Wilkerson | United States | 136,000 | 54 |
| Bally's | 657 | 3 | Jeffrey Kaplan | United States | 179,000 | 72 |
| Bally's | 657 | 4 | Kengo Tahara | Japan | 19,500 | 8 |
| Bally's | 657 | 5 | Steven Wolansky | United States | 150,000 | 60 |
| Bally's | 657 | 6 | Joseph Destefano | United States | 131,500 | 53 |
| Bally's | 657 | 7 | Shota Nakanishi | Japan | 43,000 | 17 |
| Bally's | 657 | 8 | Jeff Lennon | United States | 72,000 | 29 |
| Bally's | 657 | 9 | Jose Obadia Chocron | Melilla, ES | 52,000 | 21 |
| | | | | | | |
| Bally's | 658 | 1 | Dennis Toms | United States | 246,500 | 99 |
| Bally's | 658 | 2 | Esther Taylor-Brady | United States | 52,000 | 21 |
| Bally's | 658 | 3 | Michael Machalani | United States | 65,500 | 26 |
| Bally's | 658 | 4 | Uri Yochelman | Israel | 122,500 | 49 |
| Bally's | 658 | 5 | Peter Clark | United States | 31,500 | 13 |
| Bally's | 658 | 6 | Howard Canowitz | United States | 106,000 | 42 |
| Bally's | 658 | 7 | Anthony Mender | United States | 57,500 | 23 |
| Bally's | 658 | 8 | Gyeongbyeong Lee | South Korea | 154,500 | 62 |
| Bally's | 658 | 9 | Luigi Curcio | United States | 61,500 | 25 |
| | | | | | | |
| Bally's | 662 | 1 | Killian Braud | France | 116,500 | 47 |
| Bally's | 662 | 2 | Joseph Tutone | United States | 110,000 | 44 |
| Bally's | 662 | 3 | Ricardo Velasco | United States | 177,500 | 71 |
| Bally's | 662 | 4 | Joe Cada | United States | 167,500 | 67 |
| Bally's | 662 | 5 | Gabriel Tileff | United States | 37,500 | 15 |
| Bally's | 662 | 7 | Joey Senescu | United States | 96,000 | 38 |
| Bally's | 662 | 8 | Philippe Souki | United Kingdom | 97,500 | 39 |
| Bally's | 662 | 9 | Kenneth Cleeton | United States | 45,500 | 18 |
| | | | | | | |
| Bally's | 663 | 1 | Thomas Korecook | United States | 83,000 | 33 |
| Bally's | 663 | 2 | Tom Kearney | United States | 1 | 0 |
| Bally's | 663 | 4 | Rodrigo Semeghini | Brazil | 146,500 | 59 |
| Bally's | 663 | 5 | David Susigan | France | 133,500 | 53 |
| Bally's | 663 | 6 | Aubrey Maxie | United States | 37,000 | 15 |
| Bally's | 663 | 7 | Phil Hansen | United States | 72,000 | 29 |
| Bally's | 663 | 8 | Marcel Vonk | Netherlands | 61,500 | 25 |
| Bally's | 663 | 9 | Corey Paggeot | United States | 141,000 | 56 |
| | | | | | | |
| Bally's | 664 | 1 | Taylor Black | United States | 23,000 | 9 |
| Bally's | 664 | 2 | Jason Tompkins | Ireland | 51,000 | 20 |
| Bally's | 664 | 3 | Nathanael Kogel | United States | 91,000 | 36 |
| Bally's | 664 | 4 | Jason Sewart | United States | 44,500 | 18 |
| Bally's | 664 | 5 | Patrick Moore | United States | 46,500 | 19 |
| Bally's | 664 | 6 | Cheng Liu | China | 83,000 | 33 |
| Bally's | 664 | 7 | Patrick Leonard | United Kingdom | 202,000 | 81 |
| Bally's | 664 | 8 | Yuka Shirasaki | Japan | 35,000 | 14 |
| Bally's | 664 | 9 | Adam Zanoff | United States | 34,000 | 14 |
| | | | | | | |
| Bally's | 665 | 1 | Nicholas Verderamo | United States | 73,500 | 29 |
| Bally's | 665 | 2 | Polya Raykova | Bulgaria | 103,000 | 41 |
| Bally's | 665 | 3 | Adel Ben Messaoud | France | 65,500 | 26 |
| Bally's | 665 | 4 | Nick Yunis | United States | 268,000 | 107 |
| Bally's | 665 | 5 | Yi Wei Peng | Taiwan | 97,000 | 39 |
| Bally's | 665 | 6 | Barry Brown | United States | 41,500 | 17 |
| Bally's | 665 | 8 | Nolan Kido | United States | 72,000 | 29 |
| Bally's | 665 | 9 | Kevin Falk | Switzerland | 86,500 | 35 |
| | | | | | | |
| Bally's | 666 | 1 | Kenneth Rios | United States | 19,500 | 8 |
| Bally's | 666 | 2 | Pedro Arroyos | United States | 142,500 | 57 |
| Bally's | 666 | 3 | Nathan Estle | United States | 51,000 | 20 |
| Bally's | 666 | 4 | Joao Vieira | Portugal | 67,000 | 27 |
| Bally's | 666 | 5 | Ed Smith | United States | 138,000 | 55 |
| Bally's | 666 | 6 | Christopher Conrad | Mexico | 112,500 | 45 |
| Bally's | 666 | 7 | Michael Holtz | United States | 86,500 | 35 |
| Bally's | 666 | 8 | Darin Utley | United States | 34,000 | 14 |
| Bally's | 666 | 9 | Jeremy Becker | United States | 59,500 | 24 |
| | | | | | | |
| Bally's | 670 | 1 | Christian Schneider | Switzerland | 32,500 | 13 |
| Bally's | 670 | 2 | Lance Yuen | Canada | 94,000 | 38 |
| Bally's | 670 | 3 | Frederick Sliter | United States | 115,000 | 46 |
| Bally's | 670 | 4 | Michael Ziemba | United States | 83,000 | 33 |
| Bally's | 670 | 5 | Renato Labadan | United States | 46,500 | 19 |
| Bally's | 670 | 6 | Kevin MacPhee | United States | 60,500 | 24 |
| Bally's | 670 | 7 | Nathaniel Norman | United States | 52,500 | 21 |
| Bally's | 670 | 8 | Jose Severino | Panama | 69,500 | 28 |
| Bally's | 670 | 9 | Peter Asmuth | United States | 62,500 | 25 |
| | | | | | | |
| Bally's | 671 | 1 | Xingang Wang | United States | 131,500 | 53 |
| Bally's | 671 | 2 | Steve Yea | South Korea | 253,500 | 101 |
| Bally's | 671 | 3 | Paul Clotar | United States | 113,000 | 45 |
| Bally's | 671 | 4 | Brenton Gill | United States | 117,500 | 47 |
| Bally's | 671 | 5 | [Removed:393] | France | 98,000 | 39 |
| Bally's | 671 | 6 | Brandon Brown | United States | 135,500 | 54 |
| Bally's | 671 | 7 | Edgar Martinez | United States | 40,500 | 16 |
| Bally's | 671 | 8 | Wagner Ripper | Brazil | 155,000 | 62 |
| Bally's | 671 | 9 | Arthur Cole | United States | 164,500 | 66 |
| | | | | | | |
| Bally's | 672 | 1 | Elaine Murphy | United States | 45,000 | 18 |
| Bally's | 672 | 2 | Linda Mccabe | United States | 66,500 | 27 |
| Bally's | 672 | 3 | Brandon Paster | United States | 136,500 | 55 |
| Bally's | 672 | 4 | Masaya Hayami | Japan | 24,000 | 10 |
| Bally's | 672 | 5 | Hideki Takafuji | United States | 91,500 | 37 |
| Bally's | 672 | 6 | Samuel Whalin | United States | 376,500 | 151 |
| Bally's | 672 | 7 | Georgana Trumbullmiller | United States | 51,000 | 20 |
| Bally's | 672 | 8 | Bradley Knipping | United States | 189,000 | 76 |
| Bally's | 672 | 9 | Mackenzie Kraemer | United States | 179,000 | 72 |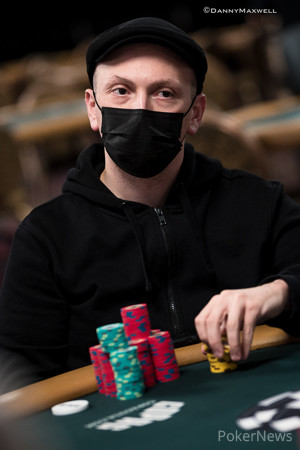 Welcome back to Day 2 of Event #55: $1,000 Tag Team No-Limit Hold'em which might be one of the few events which constantly has a huge rail on the sidelines. The tournament prompted 913 teams to sign up and play, 183 of them made it through the hurdles that Day 1 brought them.
Leading the relay is Team Phan with Peter Phan, and Jeffrey Trina coming in with a total of 435,500 chips. They are followed by Team Whalin (Luke Allen - Sam Whalin) who bagged a stack of 376,500.
Team Attebery (Darren "Beanz" Attebery /Genesis Sullivan) also bagged a healthy stack of 286,000. Followed by Team Medesan (Alain Medesan - Mihai Manole) with 280,500 and Team Yunis (NIck Yunis - Reynel Hernandez) with 268,000.
Other teams to watch for include, Team McCabe (Linda McCabe - Christian Soto), Team Luther (Nikita Luther - Dinesh Alt), Team Garcia (Cord Garcia - David "ODB" Baker) and Team Smith (Jerod Smith - Melissa Bryne).
When the players return to the Bally's and Paris Las Vegas, play will resume in the Bally's gold section at 12 p.m. with Level 12 which features a small blind of 1,000, big blind of 2,500, and a big blind ante of 2,500.
Another 11 levels of 60 minutes are scheduled with no downtime scheduled except for color-up breaks. The PokerNews live reporting team will be following along all day to bring you all the latest updates from the action on the floor.
Cards are in the air and play has officially started for Day 2 of Event #55 $1,000 Tag Team Event
Nível: 12
Blinds: 1,000/2,500
Ante: 2,500
Nível 12 : 1,000/2,500, 2,500 ante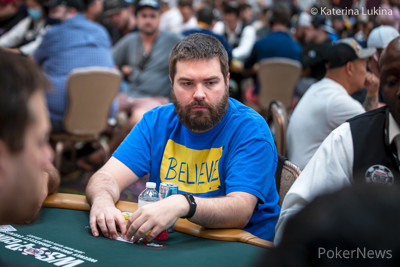 Jerod Smith of Team Smith shoved for 33,000 in early position and Team Balani called in the small blind.
Team Smith:

Team Balani:
Smith was dominated by the ace-queen of his opponent and the
flop was no help. The
hit the turn, giving Smith a straight a flush draw and the
on the river completed his flush, saving his team from elimination.
Jogador
Fichas
Oscilação

Jerod Smith - Melissa Bryne

71,000

38,000

Roneil Balani

64,000

-40,500

Nível 12 : 1,000/2,500, 2,500 ante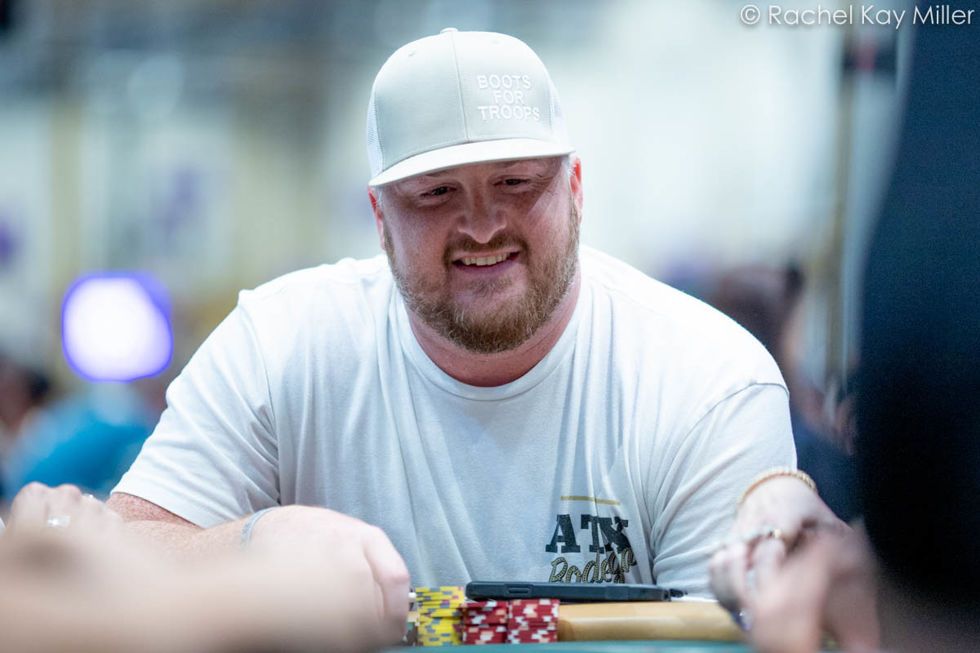 Texas native Jimmy Rogers is one of many military veterans competing in the charitable Salute to Warriors bracelet event at the 2022 World Series of Poker, and he's passionate about supporting the troops.
Poker pro Ray Henson, his friend, flew the US Navy vet out to Las Vegas to compete in the $500 buy-in no-limit hold'em tournament, which kicked off Sunday at Paris. PokerNews caught up with the amateur poker player on the Day 1 dinner break to discuss a charity he runs called Boots for Troops.
Nível 12 : 1,000/2,500, 2,500 ante
On a three-way turn board of
, Darren 'Beanz' Attebery of Team Attebery bet 11,000 and got one player to fold, but then Jean Gaspard of Team Gaspard raised to 33,000. Attebery quickly put in a three-bet to 66,000, which put Gaspard in a tough spot. Gaspard eventually folded and Attebery showed him the goods of
.
"I think we were both trying to do the same thing," Attebery said to Gaspard, who just shrugged and smiled.
Jogador
Fichas
Oscilação

Darren Attebery "Beanz"/Genesis Sullivan

355,000

-20,000

Jean Gaspard - David Kruger

148,000
Nível 12 : 1,000/2,500, 2,500 ante
Ran Ilani of Team Yochelman raised to 5,500 in early position and he was called in the hijack, Dennis Toms of Team Toms in small blind and Esther Taylor of Team Taylor in big blind.
The dealer spread a flop of
and both the blinds checked to Ilani who continued for 7,000. Only Taylor called.
The
hit the turn and Taylor check-called another bet from Ilani, this time for 10,500.
The
completed the board and both players knuckled the table. Taylor showed
for a busted straight draw and Ilani tabled
to take down the pot.
Jogador
Fichas
Oscilação

Dennis Toms - Jose Giordani

234,000

-78,000

Uri Yochelman - Ran Ilani

162,000

39,500

Esther Taylor - DJ MacKinnon

112,000

60,000
Nível 12 : 1,000/2,500, 2,500 ante
Brad Knipping of Team Knipping limped in early position and Sonny Franco of Team Franco raised to 8,000. The action quickly folded back around to Knipping as he made the call.
The dealer fanned a flop of
and Knipping check-folded to the continuation bet of 7,500 from Franco.
Jogador
Fichas
Oscilação

Sonny Franco - Sarah Chakouli

183,000

50,500

Bradley Knipping - Dave Knipping

141,500

-47,500