Event #47: $1,000 Seniors Championship
Dias: 2
Event #47: $1,000 Seniors Championship
Dia 2 Iniciado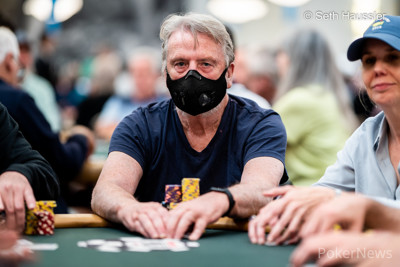 After an exciting two days of starting flights, Day 2 of Event #47: $1,000 Seniors No-Limit Hold'em Championship is slated for a 10 a.m. local time restart at the 2022 World Series of Poker at Bally's and Paris Las Vegas.
This year's tournament has set records for the senior event, with 7,188 total entries between the two flights, generating a prize pool of $6,397,320. The final senior standing will take home the first place cash of $694,909 and the precious WSOP gold bracelet. 1,079 seniors will make the money, taking home a minimum cash of $1,600.
Of those 7,188 entries, 1,439 managed to bag chips heading into Day 2. American James Kennedy leads the way with the biggest stack at 452,000. He'll hope to continue his success from Day 1a in pursuit of the first bracelet of his career. Fellow American Ken O'Malley came away with the largest stack of Day 1b participants, at 363,500. O'Malley is in pursuit of not just his first career bracelet, but his first career cash in a WSOP event.
There are plenty of notable names returning for Day 2 as well. Women in Poker Hall of Famer Allyn Shulman will start the day with the fourth-biggest stack (361,500). Fellow Women in Poker Hall of Famers Kathy Liebert (225,000) and JJ Liu (175,500) will be returning to play as well. Seven-time bracelet winner Men Nguyen (83,000), as will six-time bracelet holder Jeff Lisandro (144,000). The defending champion Robert McMillan failed to bag on Day 1a, but returned to play the second starting flight, where he bagged his end of day stack of 115,500.
Play today will consist of 10 60-minute levels. They will begin at Level 12, consisting of blinds of 1,000/2,500 with a 2,500 big blind ante. A 15-minute break is scheduled for after every second level, with a 60-minute dinner break to be held after Level 19, expected to be around 7 p.m. local time. Those fortunate enough to survive Day 2 will return for Day 3, which will follow the same structure.
Be sure to stay tuned into PokerNews for live coverage of this and all other bracelet events at the 2022 WSOP at Bally's and Paris Las Vegas.
Tournament directors have instructed dealers to shuffle up and deal. Cards are in the air!
Nível: 12
Blinds: 1,000/2,500
Ante: 2,500
Nível 12 : 1,000/2,500, 2,500 ante
Action was picked up following a jam and a call between Rick Whitesell and the cutoff. Whitesell had the big stack, and the two were off to the races.
Opponent:

Rick Whitesell:
With Whitesell ahead, the
runout did nothing to help his opponent's hand, and Whitesell collected the pot and a quick knockout early in Day 2, as his opponent headed for the rail.
"Ace-king's no good," he commented to the player to his right, "but I'm never folding there," before getting up and leaving the table.

Nível 12 : 1,000/2,500, 2,500 ante
The under-the-gun player opened to 6,000. An early position and middle position both called and Theo Jorgensen came along from the big blind.
The flop came
and all four players tapped the table.
On the
turn, the player under the gun put out a bet of 8,000 and only Jorgensen called.
The
river put a backdoor flush draw and another straight draw on the board, enough to slow both players down and have them check.
Jorgensen turned over
, much to the disgust of the original raiser, who scoffed as he tossed his cards into the muck.
Nível 12 : 1,000/2,500, 2,500 ante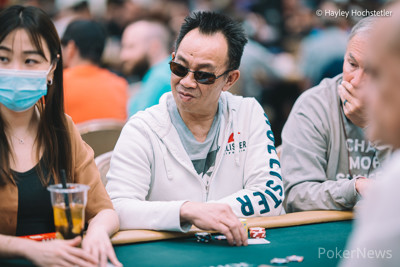 Action was caught on a
flop. Robert Johnson was in late position and checked to David Pham on the button. Pham took some chips and bet 11,500. Johnson called.
The
turn was also checked by Johnson and Pham bet once more, this time to 31,000. Johnson answered with a check-raise all-in for 58,000 total.
Pham went into the tank for about two minutes before eventually folding his hand.

Nível 12 : 1,000/2,500, 2,500 ante
Thomas Babiarz opened to 8,000 from the hijack and the big blind went all in for 35,500 total. Babiarz called.
Big Blind:

Thomas Babiarz:
The flop came
to give the big blind plenty of outs to counterfeit Babiarz's pair. The turn came the
and the
completed the board, missing his opponent and sending Babiarz's stack to 289,000 in chips.
Nível 12 : 1,000/2,500, 2,500 ante
The hijack opened to 10,000 and got calls from the small blind and Bob Bounahra in the big blind.
The trio checked through the
flop before the hijack continued for 20,000 on the
turn. The small blind got out of the way, leaving Bounahra with the action. He took a bit, counting out his chip stack, before moving all in. The dealer went to begin counting out the stack, before his opponent said "I have to call." and tossed chips in the middle, with Bounahra covered.
Bob Bounahra:

Opponent:
Bounahra had made a nine high straight on the turn, while his opponent had just ace high. The
river gave the opponent a pair, but it was not enough to stop Bounahra from collecting the pot and doubling up.
Nível 12 : 1,000/2,500, 2,500 ante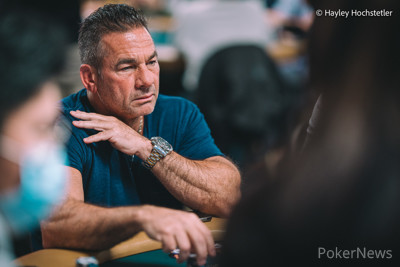 James Calderaro started with 48,500 today, but he was recently all in preflop for his last 20,000 chips, against Michael Hopkins.
James Calderaro:

Michael Hopkins:
The dealer produced a
board which gave Calderaro Broadway and the double up.