Event #15: $10,000 Omaha Hi-Lo 8 or Better Championship
Dias: 3
Event #15: $10,000 Omaha Hi-Lo 8 or Better Championship
Dia 3 Iniciado
| Casino | Table | Seat | Player | Country | Chips |
| --- | --- | --- | --- | --- | --- |
| Paris | 138 | 1 | Damjan Radanov | United States | 380,000 |
| Paris | 138 | 2 | Kosei Ichinose | Japan | 275,000 |
| Paris | 138 | 3 | Daniel Chio | United States | 480,000 |
| Paris | 138 | 4 | Todd Brunson | United States | 260,000 |
| Paris | 138 | 6 | Freddy Deeb | Lebanon | 840,000 |
| Paris | 138 | 7 | Bart O'Connell | United States | 505,000 |
| Paris | 138 | 8 | Jake Liebeskind | United States | 440,000 |
| Paris | 138 | 9 | Johannes Becker | Germany | 895,000 |
| | | | | | |
| Paris | 143 | 2 | Yuval Bronshtein | Israel | 595,000 |
| Paris | 143 | 3 | Bryce Yockey | United States | 605,000 |
| Paris | 143 | 4 | Matthew Woodward | United States | 345,000 |
| Paris | 143 | 5 | Daniel Zack | United States | 640,000 |
| Paris | 143 | 6 | Alex Livingston | Canada | 485,000 |
| Paris | 143 | 7 | Aditya Prasetyo | United States | 670,000 |
| Paris | 143 | 8 | Raymond Henson | United States | 600,000 |
| Paris | 143 | 9 | Connor Drinan | Canada | 675,000 |
| | | | | | |
| Paris | 144 | 1 | Jake Schwartz | United States | 315,000 |
| Paris | 144 | 2 | Jose Paz-Gutierrez | Bolivia | 125,000 |
| Paris | 144 | 3 | Roland Israelashvili | United States | 430,000 |
| Paris | 144 | 4 | Phillip Hui | United States | 370,000 |
| Paris | 144 | 5 | Ray Dehkharghani | United States | 420,000 |
| Paris | 144 | 6 | Dustin Dirksen | United States | 445,000 |
| Paris | 144 | 7 | Kane Kalas | United States | 490,000 |
| Paris | 144 | 8 | Matt Vengrin | United States | 255,000 |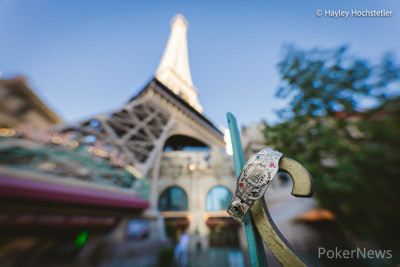 Action from the 2022 World Series of Poker (WSOP) at Bally's and Paris Las Vegas continues to roll on, with Day 3 of Event #15: $10,000 Omaha Hi-Lo 8 or Better Championship getting underway at 2 p.m. local time.
In case you missed what happened in the event yesterday, Day 2 saw the top 30 players make the money after Yarron Bendor exited on the bubble.
Tim Seidensticker, Mike Matusow, Patrice Biton, Ismael Bojang, Jesse Klein and Jeffrey Vaughn were the next players to bust but they would make a small detour to the payout desk before leaving the tournament area.
At the top of the Day 3 chip counts is Johannes Becker (895,000). The German poker player was victorious at the 2018 WSOP in Event #8: $2,500 Mixed Triple Draw Lowball, capturing his first bracelet and the $180,455 up top. Becker also has two runner-up finishes at the WSOP, with a notable silver medal coming in the 2017 $50,000 Poker Players Championship ($862,649).
Second in chips is poker legend and two-time bracelet winner Freddy Deeb (840,000). He was able to go one better than Becker in the prestigious Poker Players Championship and took down the event back in 2007 for $2,276,832. Following the bursting of the money bubbble yesterday, Deeb managed to notch his 55th cash under the WSOP umbrella. Wherever he finishes in this event, he will take his WSOP earnings alone over the $4 million mark.
Rounding out the top three chip stacks is five-time WSOP Circuit ring winner Ray Henson. The Texan was among the big hitters all throughout Day 2 and finished the day with a stack of 830,000.
The 24 remaining players have already locked up $17,680 in prize money, but as always, each player will be setting their sights on the $440,757 first-place prize and coveted gold bracelet.
Omaha Hi-Lo 8 or Better Championship Payouts
| Place | Prize | Place | Prize | Place | Prize |
| --- | --- | --- | --- | --- | --- |
| 1 | $440,757 | 6 | $80,250 | 12-13 | $26,986 |
| 2 | $272,408 | 7 | $61,991 | 14-17 | $23,098 |
| 3 | $195,203 | 8 | $48,839 | 18-20 | $20,206 |
| 4 | $142,456 | 9 | $39,258 | 21-25 | $17,680 |
| 5 | $105,913 | 10-11 | $32,209 | 26-30 | $16,165 |
Play resumes on Level 18 with the blinds at 10,000/20,000 and limits at 20,000/40,000. The plan is to play down until the final five players and once that milestone is achieved, play will close for the day.
Levels remain 90-minutes in length and players will receive a 10-15 minute break after the completion of each level. The 60-minute dinner break is scheduled to take place after Level 21 (≈ 8:30 p.m.).
Stick with PokerNews to keep up with all the action from Day 3 of this Championship event, and be sure to check out the WSOP live reporting hub in the meantime.
Nível: 18
Limites: 20,000/40,000
Ante: 0
Nível 18 : 20,000/40,000, 0 ante
The 24 remaining players have taken their seats and Day 3 has begun.
Nível 18 : 20,000/40,000, 0 ante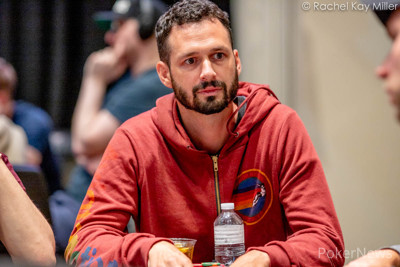 Matt Woodward opened to 40,000 from early position before Alex Livingston raised to 60,000 from the hijack. Connor Drinan four-bet to 80,000 from the small blind and both Woodward and livingston called.
Action checked to Livingston on the
flop and he bet 20,000. Both players called to see the
turn. Livingston bet again but only Woodward called.
Woodward gave up after his opponent bet the
river and Livingston raked in a sizeable pot in the openeing level of the day.
Nível 18 : 20,000/40,000, 0 ante
Johannes Becker did not get the best start today; his stack is already down to 525,000.
On an earlier hand, he raised in late position and got reraised by Damjan Radanov from the button. He called.
Then Becker check/called three times as the board came
.
Radanov showed
to scoop the pot thanks to Aces up and no possible low.
Nível 18 : 20,000/40,000, 0 ante
Jake Liebeskind raised it to 40,000 from late position and Johannes Becker reraised to 60,000. Liebeskind called.
Liebeskind check-called the flop and turn for a final board of
. Liebeskind then bet on the river.
Becker quickly called to discover the bad news. Liebeskind had the
making trips on the river as well as having the second-nut low to scoop.
Nível 18 : 20,000/40,000, 0 ante
With over 250,000 in the pot on the
board, Connor Drinan checked in the big blind.
Bryce Yockey bet 40,000 and Drinan let out a sigh before putting in calling chips.
"Nuts," said Yockey, as he rolled over his
to scoop the pot.
Jogador
Fichas
Oscilação

Bryce Yockey

900,000

295,000

Connor Drinan

325,000

-225,000
Nível 18 : 20,000/40,000, 0 ante
Damjan Radanov opened to 40,000 from the hijack and was only called by Daniel Chio from the button.
Chio called bets on the flop and turn for the board to show the
. Action checked through on the river and Radanov rolled over his
for a set of deuces and Chio mucked.