Event #11: $600 No-Limit Hold'em Deepstack
Dias: 2
Event #11: $600 No-Limit Hold'em Deepstack
Dia 2 Iniciado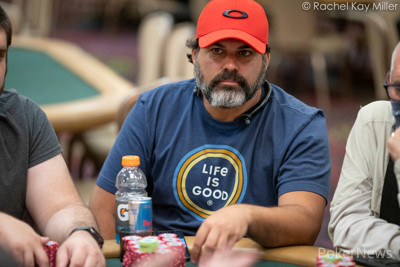 Just 289 players remain, from a starting field of 5,715 entries, heading into Day 2 of Event #11: $600 No-Limit Hold'em Deepstack at the Bally's and Paris Las Vegas.
One of the big names to watch will be the well-known Jimmy D'Ambrosio (1,170,000) from Chicago, Illinois. He used a combination of table talk and aggression to amass a big stack by night's end.
He has some tough competition, however, as WSOP bracelet winners Femi Fashakin (3,215,000), Georgios Sotiropoulos (1,125,000), Ankush Mandavia (605,000), Yuri Dzivielevski (540,000), Kevin MacPhee (510,000), Tristan Wade (490,000), Jeremy Wien (415,000), Men Nguyen (409,000), Dalibor Dula (320,000), Barny Boatman (210,000),
Robert Mcmillan (240,000) and Jim Collopy (130,000) are all lurking in the field.
The 5,715 players generated a prize pool of $2,914,650 and first place will earn $335,286. Remaining players will return to the Bally's red section at noon local time on Tuesday, June, 7, to play down to a winner. Levels remain 30-minutes long throughout this event, so cards and chips will be flying!
Keep up with all the action here on PokerNews as we crown a champion in this event and our continuing coverage of the 2022 WSOP in it's new home at Bally's and Paris Las Vegas.
Day 2 of Event #11: No-Limit Hold'em Deepstack has officillay begun with 289 players to battle it out for the grand prize of $335,286 and the gold bracelet.
Nível: 23
Blinds: 15,000/30,000
Ante: 30,000

Nível 23 : 15,000/30,000, 30,000 ante
With both of his opponents at 135,000 chips or less, Rene Wenzel moved all in from the button. Ayden Lu called and said "I came to play one hand." Jamie Cuevasgarcia said "Me too," and called.
Ayden Lu:

Jamie Cuevasgarcia

Rene Wenzel:
Lu went way out in front on the
flop but he was forced to feel maximum pain when the
came on the turn.
The
came on the river to give Cuevasgarcia a full house and he would go from 135,000 to 375,000 on the first hand of the second day.
Jogador
Fichas
Oscilação

Rene Wenzel

375,000

-135,000

Jamie Cuevasgarcia

370,000

370,000

Ayden Lu

Eliminado

Nível 23 : 15,000/30,000, 30,000 ante
Ryan Luckert was all in preflop for his last 250,000 against Luis Pinho.
Ryan Luckert:

Luis Pinho:
There was a dealer error on the flop as four cards came out of
, and the floor was called. The four cards were mixed up and a new burn was randomly selected which was the
.
So the flop was officially
to pair Pinho, and then the
turn and
river changed nothing and Luckert was eliminated.

Nível 23 : 15,000/30,000, 30,000 ante
In a four-way pot with 255,000 chips in the middle on a
flop, it checked around to Roberto Bendeck on the button, who made it 125,000. Shannon Boone, who was in the big blind, went all in for her last 315,000 chips. Bendeck called after the other two players folded.
Shannon Boone:

Roberto Bendeck:
Though Bendeck was a slight favorite on the flop with his flush draw, the board ran out
to give Boone more than a full double-up.
Nível: 24
Blinds: 20,000/40,000
Ante: 40,000
Nível 24 : 20,000/40,000, 40,000 ante
MIchael Helander was in late position and was faced with an all-in bet from a middle-position player for 450,000. Helander then decided to reshove all in for 675,000. The rest of the players quickly got out of their way and the cards were tabled.
Opponent:

Helander:
The board runout of
gave Helander top two pair and he took the pot, which gave him an almost complete double to break a million chips.

Nível 24 : 20,000/40,000, 40,000 ante
Despite starting the day with just 125,000 chips, the equivalent of just over four big blinds, Debi Loomer has managed to spin her way up to 850,000 in the first 20 minutes of play.