Nível 41 : 1,200,000/2,400,000, 2,400,000 ante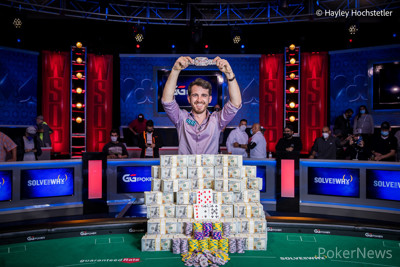 Koray Aldemir, 31, took the reins from defending champ Damian Salas Wednesday night as he became the 2021 World Series of Poker (WSOP) Main Event champion, topping a 6,550-player field to win $8 million and the coveted gold bracelet.
On the 223rd hand of the final table, Aldemir finished off his unrelenting heads-up opponent — George Holmes — and now sits atop the poker mountain until July 2022.
Aldemir's victory propelled him to fourth all-time among Germany's winningest live tournament players with just north of $20 million in cashes, $12 million shy of Fedor Holz. More importantly, he's the champion of the world and joins an exclusive club that includes legends of the game such as Phil Hellmuth, Doyle Brunson, Stu Ungar, and Johnny Chan.
"It's the one tournament family and friends know of basically. It does mean a lot to me to win it," Aldemir told media moments after shipping the bracelet.
2021 WSOP Main Event Final Table Results
| Place | Winner | Country | Prize (in USD) |
| --- | --- | --- | --- |
| 1 | Koray Aldemir | Germany | $8,000,000 |
| 2 | George Holmes | United States | $4,300,000 |
| 3 | Jack Oliver | United Kingdom | $3,000,000 |
| 4 | Joshua Remitio | United States | $2,300,000 |
| 5 | Ozgur Secilmis | Turkey | $1,800,000 |
| 6 | Hye Park | United States | $1,400,000 |
| 7 | Alejandro Lococo | Argentina | $1,225,000 |
| 8 | Jareth East | United Kingdom | $1,100,000 |
| 9 | Chase Bianchi | United States | $1,000,000 |
Aldemir, Holmes, and Jack Oliver were the lone remaining players with dreams of becoming poker's 2021 World Champion entering Wednesday's session. Clearly, Aldemir was the favorite entering Day 9, not only due to having a massive chip lead but also because he's more experienced in tournaments than his opponents.
But he'd quickly discover that his opposition was ready for battle. Holmes played masterfully all evening and pulled off a number of impressive bluffs that even shocked the PokerGO commentators. The gap in experience between Aldemir and the competition wasn't evident much on this day.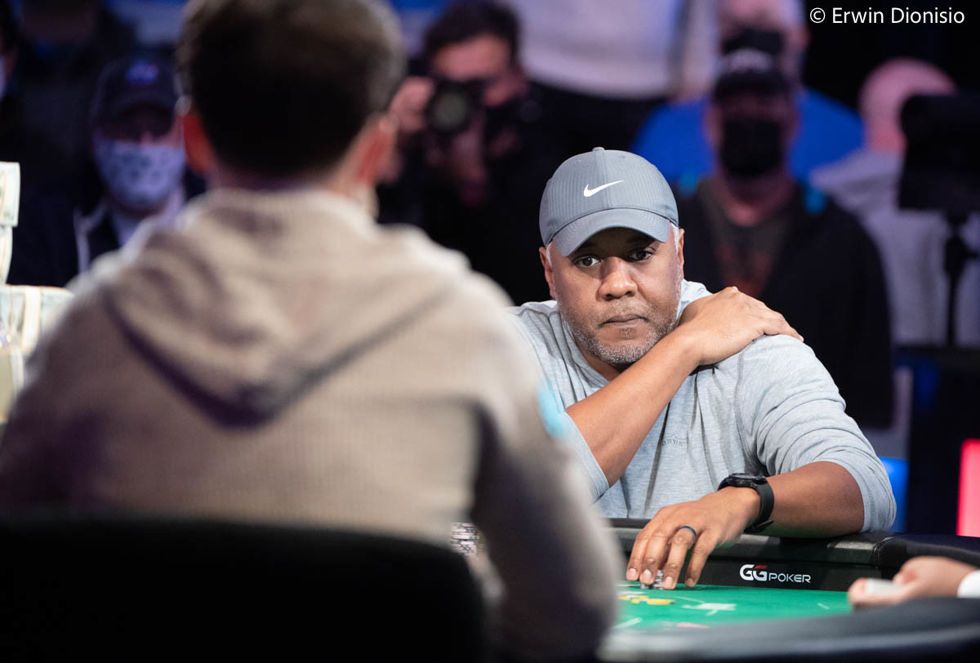 Holmes Shows Oliver the Lights
Three players returned to the Amazon room Wednesday for the ninth and final day of the tournament. Aldemir, who played big stack poker throughout the final table, returned with a massive chip lead over Oliver and Holmes but had to grind for every chip during the final session.
Early on, Holmes and Oliver battled each other to face Aldemir for the bracelet, but neither was willing to give in. Holmes would land a small jab, and then Oliver would punch back. In doing so, both struggled for quite some time to make up any ground on the chip leader.
Three hours into Day 9 and Holmes finally landed a haymaker. Or, as his rowdy fans in the attendance repeatedly shouted, he "showed him the lights" on Oliver. But it required a bit luck when he called a 35.7 million chip all-in bet preflop with queen-jack and was up against ace-eight.
The board would run out jack-high, giving Holmes top pair for the win while eliminating Oliver, who received $3 million for third place, in the process.
Underdog Here to Win It
Holmes finished 213th in the 2019 WSOP Main Event for $50,855, his only prior recorded live tournament cash. But if you thought the poker player from the "Dirty South" was satisfied just to make it heads-up in poker's most prestigious event, you'd be mistaken.
When the final two players returned to action following a brief break, Holmes sat down ready to tangle with the German poker superstar. Despite trailing by more than 2-1 in chips at the start of heads-up play, he battled his way back, pot by pot, and eventually grabbed a small lead.
"I was pretty stressed to be honest," Aldemir said of losing the chip lead during heads-up play. "After 10 days of poker, especially the last five or six days were all super stressful. Not a lot of sleep, like five hours a day. All those people watching me play. It's not easy. Respect to all the other players too who all played great. Crazy experience."
For the first time at the final table in two days, Aldemir wasn't well ahead of the competition. Would the setback cause the high-stakes pro to crumble? Not hardly. He's too experienced and composed to wilt under pressure. When the going got tough, the experienced player got going.
Aldemir jumped right back into the chip lead after winning a series of consecutive hands. That didn't deter Holmes from continuing to play solid poker. The inexperienced tournament player forced his seasoned opponent to earn every chip and kept the score close for a lengthy period of time.
In the end, however, overplaying top pair doomed the Atlanta resident. On the 223rd and final hand, with the blinds at 1,200,000/2,400,000 with a 2,400,000 big blind ante, Holmes raised to 6,000,000 with king-queen and his opponent, who held a slight chip lead, made the call with ten-seven suited.
The flop came out ten-seven-deuce and the preflop raiser made a continuation bet of 6,000,000. Aldemir, with top two, check-raised to 19,000,000, which didn't convince the underdog to dump king-high, and he made the call.
When a king hit on the turn, Aldemir led out big for 36,500,000 and when Holmes called, those watching began anticipating the end of the Main Event nearing. The river nine of clubs changed nothing and Aldemir decided on a check. Holmes paused for a bit before moving all in for 133,000,000.
With action back on the German poker great, he had a difficult decision to make given the circumstances. After much thought, he opted to call, then showed his winning hand, which put an end to the 2021 WSOP Main Event. Holmes walked away with $4.3 million and put on an overall impressive performance.
"On the flop, I kind of have the nuts almost all the time," the champ said of the final hand. "On the turn still happy. My plan was to check-call on the river because he showed he was capable, but I had to think about it because it's a big moment obviously. If I lose the hand I don't have much left. I'm glad I made the call."
Congratulations to Koray Aldemir, the 2021 WSOP Main Event champion!