Event #77: $5,000 No Limit Hold'em Main Event, $25M GTD
Dias: 3
Event #77: $5,000 No Limit Hold'em Main Event, $25M GTD
Dia 3 Iniciado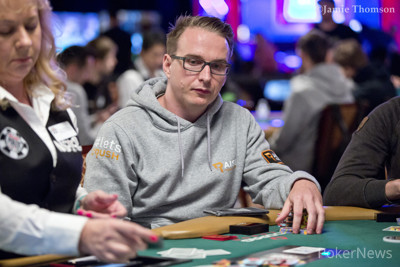 After a break of six days, the final 38 hopefuls out of field of 5,802 players in Event #77: $5,000 No Limit Hold'em Main Event return to their seats to play down to a champion. The flagship tournament of the 2020 GGPoker World Series of Poker Online Bracelet Events set several records such as the biggest guarantee, $27,550,500 as the biggest prize pool for an online poker tournament and a top prize of $3,904,685.63 as biggest individual prize to be awarded in online poker.
It is not uncommon to have a break prior to the grand showdown as the live event in Las Vegas used to do just that in the November Nine format for several years, however, the current September Thirty Eight will not be patched up in the spotlight of the TV cameras. Instead, all of them will be sitting in the location off their choice in front of a computer screen and the rail will be a virtual one for anyone with access to the GGNetwork.
Leading the field into the final day atop the leaderboard is American poker pro Bryan Piccioli with a stack of 18,417,484 and he knows well how to run deep in the WSOP Main Event after finishing 6th in 2017. Second in chips is British pro Michael Kane with 15,907,969 followed by Stoyan Madanzhiev with 15,299,783. Other notables in the top 10 include Swiss pro Dinesh Alt (11,681,173), online poker streamer and Raise Your Edge coaching platform founder Benjamin "bencb789" Rolle (10,789,181 and China's Wenling Gao (10,553,281).
The Top 10 Stacks at a Glance
| Place | Player | Country | Chip Count | Big Blinds |
| --- | --- | --- | --- | --- |
| 1 | Bryan Piccioli | United States | 18,417,494 | 92 |
| 2 | Michael Kane | United Kingdom | 15,907,969 | 80 |
| 3 | Stoyan Madanzhiev | Bulgaria | 15,299,783 | 76 |
| 4 | Kelly Wong | United Kingdom | 13,108,575 | 66 |
| 5 | Craig Timmis | United Kingdom | 12,809,181 | 64 |
| 6 | Dinesh Alt | Switzerland | 11,681,173 | 58 |
| 7 | Mariano Martiradonna | Luxembourg | 11,116,489 | 56 |
| 8 | Benjamin Rolle | United Kingdom | 10,789,181 | 54 |
| 9 | Wenling Gao | China | 10,553,281 | 53 |
| 10 | Joao Santos | Brazil | 10,433,786 | 52 |
Three WSOP bracelet winners will aim to double their tally including Jonas Lauck (6,118,751), Michael Lech (4,192,636) and Arkadiy Tsinis (2,394,386). Lauck and Tsinis earned their victory during the live festivals in previous years whereas Lech did so also on Nevada soil but during the WSOP.com online portion of this year's online competition.
Other notables still in contention include Dingxiang Ong (9,320,927), Samuel Taylor (8,635,342), Stefan Schillhabel (8,412,841), Joshua Mccully (7,906,110), Manuel Saavedra (5,847,283), the number one on Thailand's all-time money list Phachara Wongwichit (5,153,525), high stakes cash game player Chris Brewer (4,908,096), Samuel Vousden (4,241,694) and Julian Stuer (2,111,979) to name just a few.
Of the 38 survivors, 11 players qualified for the $5,000 Main Event through a satellite - eight of them invested $500 and three won their seat for just $250. They have already locked up a prize of $39,214.41 and the next pay jump awaits with 35 players remaining who will walk away with at least $55,789.64.
The action is slated to recommence at 6.30 p.m. GMT (8.30 p.m. CET, 2.30 p.m. EST) and the final day will be broadcasted with cards-up coverage on GGPoker.TV. The returning blinds will be 100,000/200,000 with a running ante of 25,000 and each level lasts 40 minutes until a winner has been crowned.
Stay tuned and check back often as the PokerNews live reporting team will provide all the action from start to finish as four players will walk away with more than $1 million for their efforts.
Nível: 17
Blinds: 100,000/200,000
Ante: 25,000

Nível 17 : 100,000/200,000, 25,000 ante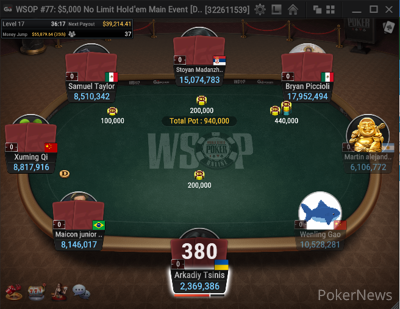 Cards are in the air but bracelet winner Arkadiy Tsinis seemingly isn't there at the start. His time bank of over seven minutes is currently running out.

Nível 17 : 100,000/200,000, 25,000 ante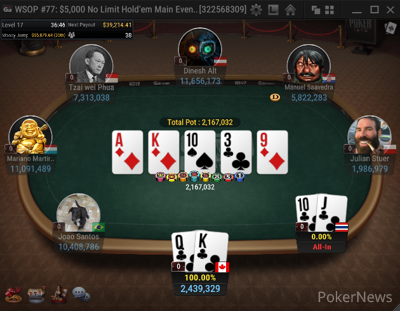 Ricky Tang opened to 412,000 from early position and was called by Evgeny Galakhov in the big blind. The flop brought
and Galakhov opted to check, then moved all in for 521,526 total when he faced a continuation bet of 230,000. Tang wasted no time in calling and the cards were turned over.
Evgeny Galakhov:

Ricky Tang:
Both players had flopped a pair and straight draw, and Tang's hand remained supreme on the
turn and
river. Galakhov has become the first elimination on the final day.
Jogador
Fichas
Oscilação

Dinesh Alt

11,656,173

-25,000

Mariano Martiradonna

11,091,489

-25,000

Joao Santos

10,408,786

-25,000

Tzai Wei Phua

7,313,038

-25,000

Manuel Saavedra

5,822,283

-25,000

Ricky Tang

4,606,361

1,208,516

Julian Stuer

1,986,979

-125,000

Evgeny Galakhov

Eliminado

Nível 17 : 100,000/200,000, 25,000 ante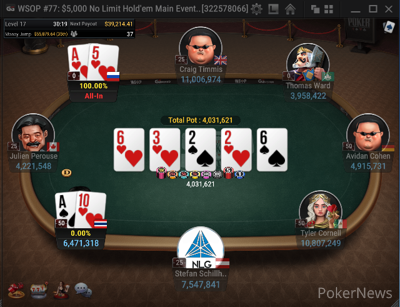 The action kicked off with a cutoff raise to 400,000 by Phachara Wongwichit and Aleksandr Trofimov moved all in for just 1,277,207 in the small blind. Craig Timmis made the call in the big blind and then let go when Wongwichit squeezed to 7,648.,525 with 100,000 behind.
Aleksandr Trofimov:

Phachara Wongwichit:
On a board of
, Trofimov turned a flush and more than tripled up.
Jogador
Fichas
Oscilação

Craig Timmis

11,006,974

-1,802,207

Tyler Cornell

10,807,249

655,000

Stefan Schillhabel

7,547,841

-865,000

Phachara Wongwichit

6,471,318

1,317,793

Avidan Cohen

4,915,731

-965,000

Julien Perouse

4,221,548

-645,000

Aleksandr Trofimov

4,031,621

2,429,414

Thomas Ward (NZ)

3,958,422

-125,000

Nível 17 : 100,000/200,000, 25,000 ante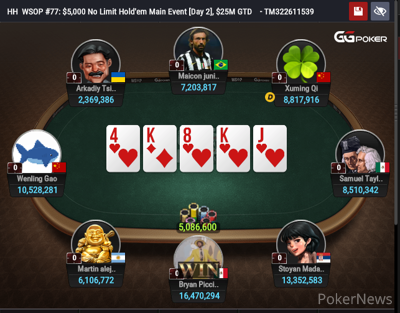 In the first hand of the day, chip leader Bryan Piccioli raised to 420,000 from under the gun. Arkadiy Tsinis was seemingly missing at the start and lost several minutes of time bank before returning and folding his hand. Maicon Gasperin called in the cutoff and Stoyan Madanzhiev defended the big blind.
The flop came
and Madanzhiev checked. Piccioli bet 502,200, Gasperin called, and Madanzhiev called as well.
On the
turn, Madanzhiev opted to lead out for 980,000. Piccioli called after some thought while Gasperin folded.
The river brought a fourth heart with the
. Madanzhiev checked and Piccioli opted for a huge bet of 5,276,208, slightly more than the size of the pot. Madanzhiev went deep in the tank before giving it up.
Jogador
Fichas
Oscilação

Bryan Piccioli

21,556,894

3,139,400

Stoyan Madanzhiev

13,352,583

-1,947,200

Maicon Gasperin

7,203,817

-967,200

Nível 17 : 100,000/200,000, 25,000 ante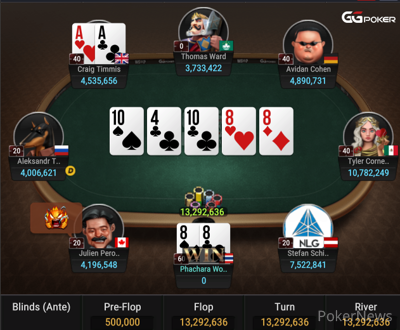 Phachara Wongwichit raised to 400,000 and Craig Timmis made it 1,200,000 to go. Wongwichit then reraised to 6,346,318 with 100,000 behind only for Timmis to move all in. Wongwichit used a portion of his time bank to see if anyone else would bust and then made the call.
Phachara Wongwichit:

Craig Timmis:
Nothing changed on the
flop but the miracle
turn and
river gave Wongwichit quads.

Nível 17 : 100,000/200,000, 25,000 ante
A preflop raising war saw Michael Kane open to 500,000 and Joshua McCully three-bet the button to 1,679,755. Kane moved all in with the superior stack and McCully called for the 7,380,330 on top.
Joshua McCully:

Michael Kane:
On a board of
, both chopped and Benjamin Rolle flashed the mucked
.
Jogador
Fichas
Oscilação

Michael Kane

15,145,469

-762,500

Dingxiang Ong

11,785,927

2,465,000

Benjamin Rolle

10,749,181

-40,000

Joshua Mccully

9,297,585

1,391,475

Tyler Rueger

4,673,963

-3,018,975

Mateusz Rypulak

4,544,246

465,000

Freek Scholten

1,748,788

-500,000

Nível 17 : 100,000/200,000, 25,000 ante
Jonas Lauck raised to 400,000 in middle position and Chris Brewer defended the big blind. The flop was
and Brewer check-called 600,000 from Lauck.
On the
turn, Brewer bet 568,750 and Lauck called. The river was the
and Brewer bet 1,126,125. Lauck folded to leave the pot to the American.
Jogador
Fichas
Oscilação

Kelly Wong

13,283,575

175,000

Satoshi Isomae

9,634,674

1,275,000

Chris Brewer

7,001,846

2,093,750

Lucas Tabarin

5,570,282

-125,000

Samuel Vousden

4,191,694

-50,000

Jonas Lauck

3,650,001

-2,468,750

Michael Lech

3,292,636

-900,000