Event #9: $600 No-Limit Hold'em Deepstack
Dias: 2
Event #9: $600 No-Limit Hold'em Deepstack
Dia 2 Iniciado

| Room | Table | Seat | Player | Country | Chip Count | Big Blinds |
| --- | --- | --- | --- | --- | --- | --- |
| Amazon | 481 | 1 | Christopher Tallman | Canada | 251,000 | 16 |
| Amazon | 481 | 2 | Michael Beattie | United States | 386,000 | 24 |
| Amazon | 481 | 3 | Georgene Farmer | United States | 141,000 | 9 |
| Amazon | 481 | 4 | Joshua Zapanta | United States | 439,000 | 27 |
| Amazon | 481 | 5 | Brian Jordan | United States | 355,000 | 22 |
| Amazon | 481 | 6 | Alexander Fernandez | United States | 488,000 | 31 |
| Amazon | 481 | 7 | Namasilvayam Karmeham | United States | 580,000 | 36 |
| Amazon | 481 | 8 | Alan Gendelman | United States | 372,000 | 23 |
| Amazon | 481 | 9 | Richard Hasnip | United Kingdom | 100,026 | 6 |
| | | | | | | |
| Amazon | 482 | 1 | Robert Brown | United States | 243,000 | 15 |
| Amazon | 482 | 2 | Michael Sarabi | United States | 210,000 | 13 |
| Amazon | 482 | 3 | Enjun Peng | China | 170,000 | 11 |
| Amazon | 482 | 4 | Jeremy Schoenberg | United States | 158,000 | 10 |
| Amazon | 482 | 5 | Blake Cahail | United States | 267,000 | 17 |
| Amazon | 482 | 6 | Ronald McGinnity | United States | 114,000 | 7 |
| Amazon | 482 | 7 | Mark Eddleman | United States | 522,000 | 33 |
| Amazon | 482 | 8 | Jonathan Horowitz | United States | 344,000 | 22 |
| Amazon | 482 | 9 | Austin Fowler | United States | 210,000 | 13 |
| | | | | | | |
| Amazon | 483 | 1 | Yosuke Takagi | United States | 432,000 | 27 |
| Amazon | 483 | 2 | Gilberto Taveras | United States | 601,000 | 38 |
| Amazon | 483 | 3 | Wim Ben Verhaegen | Bolivia | 640,000 | 40 |
| Amazon | 483 | 4 | Aaron Thomas | United States | 206,000 | 13 |
| Amazon | 483 | 5 | Johnykutty Sam | United States | 325,000 | 20 |
| Amazon | 483 | 6 | Paul Kelly | United States | 348,000 | 22 |
| Amazon | 483 | 7 | Keith Oakley | United States | 234,000 | 15 |
| Amazon | 483 | 8 | Thomas Tran | United States | 347,000 | 22 |
| Amazon | 483 | 9 | Scott Davies | Canada | 300,000 | 19 |
| | | | | | | |
| Amazon | 484 | 1 | Peng Cheng | United States | 147,000 | 9 |
| Amazon | 484 | 2 | Alan Schein | United States | 400,000 | 25 |
| Amazon | 484 | 3 | Cameron Lemmons | United States | 133,000 | 8 |
| Amazon | 484 | 4 | Jeffrey Keller | United States | 96,000 | 6 |
| Amazon | 484 | 5 | Steven Costa | United States | 186,000 | 12 |
| Amazon | 484 | 6 | Eric Ward | United States | 325,000 | 20 |
| Amazon | 484 | 7 | Joseph Alban | United States | 427,000 | 27 |
| Amazon | 484 | 8 | David Taylor | United States | 220,000 | 14 |
| Amazon | 484 | 9 | Sylvain Naets | Belgium | 186,000 | 12 |
| | | | | | | |
| Amazon | 485 | 1 | Yonatan Basin | Israel | 246,000 | 15 |
| Amazon | 485 | 2 | Pat Lyons | United States | 252,000 | 16 |
| Amazon | 485 | 3 | Joseph Piatek | United States | 465,000 | 29 |
| Amazon | 485 | 4 | Justin Hendrickson | United States | 78,000 | 5 |
| Amazon | 485 | 5 | Mark Romelli | United States | 310,000 | 19 |
| Amazon | 485 | 6 | Matthew Frank Sesso | United States | 742,000 | 46 |
| Amazon | 485 | 7 | David McHone | United States | 806,000 | 50 |
| Amazon | 485 | 8 | Rolando Quinones | United States | 437,000 | 27 |
| Amazon | 485 | 9 | Brendan Terrana | United States | 323,000 | 20 |
| | | | | | | |
| Amazon | 486 | 1 | Freddy Granados | Costa Rica | 178,000 | 11 |
| Amazon | 486 | 2 | Jeremy Sanders | United States | 105,000 | 7 |
| Amazon | 486 | 3 | Yoon Kim | United States | 167,000 | 10 |
| Amazon | 486 | 4 | Paul Kim | United States | 404,000 | 25 |
| Amazon | 486 | 5 | Kendall Gennick | United States | 227,000 | 14 |
| Amazon | 486 | 6 | Gregoire Boissenot | France | 462,000 | 29 |
| Amazon | 486 | 7 | Jason Scott | United States | 149,000 | 9 |
| Amazon | 486 | 8 | George Grabe | United States | 563,000 | 35 |
| Amazon | 486 | 9 | Kevin Chan | United States | 728,000 | 46 |
| | | | | | | |
| Amazon | 487 | 1 | Ning Janney | United States | 324,000 | 20 |
| Amazon | 487 | 2 | April Floyd | United States | 179,000 | 11 |
| Amazon | 487 | 3 | Barry Steinzaig | United States | 162,000 | 10 |
| Amazon | 487 | 4 | Craig Disalvo | United States | 634,000 | 40 |
| Amazon | 487 | 6 | Justin Liberto | United States | 588,000 | 37 |
| Amazon | 487 | 7 | Carlos Hey | Brazil | 372,000 | 23 |
| Amazon | 487 | 8 | Gina Bacon | United States | 38,000 | 2 |
| Amazon | 487 | 9 | James James | United States | 46,000 | 3 |
| | | | | | | |
| Amazon | 488 | 1 | Jan Jansma | Netherlands | 111,000 | 7 |
| Amazon | 488 | 2 | Curtis Cook | United States | 382,000 | 24 |
| Amazon | 488 | 3 | Pedro Fernandez | Mexico | 210,000 | 13 |
| Amazon | 488 | 4 | Lawrence Kiang | United States | 245,000 | 15 |
| Amazon | 488 | 5 | Nolan Wilson | United States | 164,000 | 10 |
| Amazon | 488 | 6 | Guy Mckay | United States | 438,000 | 27 |
| Amazon | 488 | 7 | Shawn Bowen | United States | 104,000 | 7 |
| Amazon | 488 | 8 | Scott Fawcett | United States | 565,000 | 35 |
| Amazon | 488 | 9 | Matthew Higgins | United States | 254,000 | 16 |
| | | | | | | |
| Amazon | 489 | 1 | Allan Cheng | Canada | 161,000 | 10 |
| Amazon | 489 | 2 | Walter Marinko | United States | 56,000 | 4 |
| Amazon | 489 | 3 | Brian Rainone | United States | 187,000 | 12 |
| Amazon | 489 | 4 | Eric Holt | United States | 622,000 | 39 |
| Amazon | 489 | 5 | Raghuram Jonnalagedda | United States | 339,000 | 21 |
| Amazon | 489 | 6 | Kevin McColgan | United States | 243,000 | 15 |
| Amazon | 489 | 7 | Mark Scacewater | United States | 160,000 | 10 |
| Amazon | 489 | 8 | Shane Appa | United States | 754,000 | 47 |
| Amazon | 489 | 9 | Chad Layne | United States | 432,000 | 27 |
| | | | | | | |
| Amazon | 490 | 1 | Ryan Belz | United States | 328,000 | 21 |
| Amazon | 490 | 2 | Hitesh Patel | United States | 380,000 | 24 |
| Amazon | 490 | 3 | Daniel Cristin | Mexico | 186,000 | 12 |
| Amazon | 490 | 4 | Chun Kwok | United States | 189,000 | 12 |
| Amazon | 490 | 5 | Audley Rainford | Canada | 439,000 | 27 |
| Amazon | 490 | 6 | David Peay | United States | 88,000 | 6 |
| Amazon | 490 | 7 | Vi Do | United States | 306,000 | 19 |
| Amazon | 490 | 8 | Sergio Martus | United States | 152,000 | 10 |
| Amazon | 490 | 9 | Richard Sheriff | Canada | 100,000 | 6 |
| | | | | | | |
| Amazon | 491 | 1 | Bryan Roeben | United States | 148,000 | 9 |
| Amazon | 491 | 2 | Anthony Denove | United States | 530,000 | 33 |
| Amazon | 491 | 3 | William Valladares | United States | 340,000 | 21 |
| Amazon | 491 | 4 | Nelson Chew | United States | 356,000 | 22 |
| Amazon | 491 | 5 | Chad Summers | United States | 376,000 | 24 |
| Amazon | 491 | 6 | Paawan Bansal | India | 464,000 | 29 |
| Amazon | 491 | 7 | John Skrovan | United States | 315,000 | 20 |
| Amazon | 491 | 8 | Buchan Love | Singapore | 310,000 | 19 |
| Amazon | 491 | 9 | DID NOT REPORT 2 | United States | 192,000 | 12 |
| | | | | | | |
| Amazon | 492 | 1 | Raphael Duval | Canada | 511,000 | 32 |
| Amazon | 492 | 2 | Young Shin | United States | 427,000 | 27 |
| Amazon | 492 | 3 | James Stilloe | United States | 297,000 | 19 |
| Amazon | 492 | 4 | Ramon Ramil | United States | 102,000 | 6 |
| Amazon | 492 | 5 | Constantine Vianos | United States | 158,000 | 10 |
| Amazon | 492 | 6 | Gregory Beckmann | United States | 346,000 | 22 |
| Amazon | 492 | 7 | Irina Gumennik | United States | 156,000 | 10 |
| Amazon | 492 | 8 | Julian Pineda | Colombia | 210,000 | 13 |
| Amazon | 492 | 9 | James St [Removed:361] | United States | 502,000 | 31 |
| | | | | | | |
| Amazon | 493 | 1 | Niel Mittelman | United States | 238,000 | 15 |
| Amazon | 493 | 2 | Jeffrey Fielder | United States | 230,000 | 14 |
| Amazon | 493 | 3 | Christopher Battenfield | United States | 1,190,000 | 74 |
| Amazon | 493 | 4 | Mandeep Sah | United States | 206,000 | 13 |
| Amazon | 493 | 5 | Eun Jun Jung | South Korea | 115,000 | 7 |
| Amazon | 493 | 6 | Kristopher Tate | United States | 445,000 | 28 |
| Amazon | 493 | 7 | Jason Oloughlin | United States | 139,000 | 9 |
| Amazon | 493 | 8 | Ryan Laplante | United States | 314,000 | 20 |
| Amazon | 493 | 9 | Tobias Peters | Netherlands | 357,000 | 22 |
| | | | | | | |
| Amazon | 494 | 1 | Ronald Matsuura | United States | 183,000 | 11 |
| Amazon | 494 | 2 | Thomas Gugerbauer | Austria | 125,000 | 8 |
| Amazon | 494 | 3 | Tony Dong | United States | 109,000 | 7 |
| Amazon | 494 | 4 | Michael Lane | United States | 497,000 | 31 |
| Amazon | 494 | 5 | Rocco Valdes | United States | 471,000 | 29 |
| Amazon | 494 | 6 | Michael Wong | United States | 336,000 | 21 |
| Amazon | 494 | 7 | Mike Depasquale | United States | 243,000 | 15 |
| Amazon | 494 | 8 | Edgar Contreras | United States | 138,000 | 9 |
| Amazon | 494 | 9 | Nicola Basile | Canada | 231,000 | 14 |
| | | | | | | |
| Amazon | 495 | 1 | Adam Kowalski | United States | 168,000 | 11 |
| Amazon | 495 | 2 | Hugo Meyer | Belgium | 115,000 | 7 |
| Amazon | 495 | 3 | Howard Mazer | United States | 183,000 | 11 |
| Amazon | 495 | 4 | Casey Campbell | United States | 853,000 | 53 |
| Amazon | 495 | 5 | Luis Tejada | Chili | 146,000 | 9 |
| Amazon | 495 | 6 | Thomas Joaquin | United States | 466,000 | 29 |
| Amazon | 495 | 7 | Christopher Grove | United States | 548,000 | 34 |
| Amazon | 495 | 8 | Megan Moore | United States | 478,000 | 30 |
| Amazon | 495 | 9 | Chen-Yu Hung | China | 159,000 | 10 |
| | | | | | | |
| Amazon | 496 | 1 | Mann Luk | United States | 344,000 | 22 |
| Amazon | 496 | 2 | Jason Dong | United States | 290,000 | 18 |
| Amazon | 496 | 3 | Behrooz Hadgimaleki | United States | 204,000 | 13 |
| Amazon | 496 | 4 | George Alex | United States | 120,000 | 8 |
| Amazon | 496 | 5 | David Chen | United States | 361,000 | 23 |
| Amazon | 496 | 6 | Francis Monaco | United States | 255,000 | 16 |
| Amazon | 496 | 7 | A,J, Allee | United States | 1 | 0 |
| Amazon | 496 | 8 | Troy Clavel | United States | 99,000 | 6 |
| Amazon | 496 | 9 | Sebastien Coq | France | 405,000 | 25 |
| | | | | | | |
| Amazon | 497 | 1 | Michael Clements | United States | 631,000 | 39 |
| Amazon | 497 | 2 | Shirey Szalay | United States | 395,000 | 25 |
| Amazon | 497 | 3 | Nikol Nikolaeva | Bulgaria | 231,000 | 14 |
| Amazon | 497 | 4 | Ricardo Barros | Portugal | 143,000 | 9 |
| Amazon | 497 | 5 | Chuang Chan | United States | 205,000 | 13 |
| Amazon | 497 | 6 | David Butler | United States | 90,000 | 6 |
| Amazon | 497 | 7 | Paulo Villena | United States | 480,000 | 30 |
| Amazon | 497 | 8 | David Kelley | Canada | 373,000 | 23 |
| Amazon | 497 | 9 | Nikhil Gera | United States | 367,000 | 23 |
| | | | | | | |
| Amazon | 498 | 1 | Erik Frew | United States | 135,000 | 8 |
| Amazon | 498 | 2 | Paolo Brumat | Italy | 99,000 | 6 |
| Amazon | 498 | 3 | Gigi Ghezea | Romania | 247,000 | 15 |
| Amazon | 498 | 4 | Arutyun Demirchyan | United States | 283,000 | 18 |
| Amazon | 498 | 5 | Weituoxin Wu | Canada | 132,000 | 8 |
| Amazon | 498 | 6 | Edgar Sanchez | United States | 377,000 | 24 |
| Amazon | 498 | 7 | Christopher May | United States | 237,000 | 15 |
| Amazon | 498 | 8 | Mike Le | United States | 170,000 | 11 |
| Amazon | 498 | 9 | Mike Chang | United States | 558,000 | 35 |
| | | | | | | |
| Amazon | 499 | 1 | Patrick Kelly | United States | 291,000 | 18 |
| Amazon | 499 | 2 | Kenneth Baime | United States | 412,000 | 26 |
| Amazon | 499 | 3 | Brian Jennings | United States | 316,000 | 20 |
| Amazon | 499 | 4 | Michael Loncar | United States | 178,000 | 11 |
| Amazon | 499 | 5 | Michael Brain | United States | 360 | 0 |
| Amazon | 499 | 6 | Vitaly Lunkin | Russia | 163,000 | 10 |
| Amazon | 499 | 7 | Earl Morris | United States | 402,000 | 25 |
| Amazon | 499 | 8 | Brandon Smith | United States | 278,000 | 17 |
| Amazon | 499 | 9 | Monty Berger | United States | 843,000 | 53 |
| | | | | | | |
| Amazon | 500 | 1 | Foo Yong Cheong | Singapore | 108,000 | 7 |
| Amazon | 500 | 2 | Martin Kuba | Russia | 279,000 | 17 |
| Amazon | 500 | 3 | Matheus Xavier | Brazil | 367,000 | 23 |
| Amazon | 500 | 4 | Aldo Longoria | United States | 231,000 | 14 |
| Amazon | 500 | 5 | DID NOT REPORT 1 | United States | 480,000 | 30 |
| Amazon | 500 | 6 | Willy Murgoloflora | United States | 173,000 | 11 |
| Amazon | 500 | 7 | Evgeny Urubkov | United States | 156,000 | 10 |
| Amazon | 500 | 8 | Peter Bozek | United States | 83,000 | 5 |
| Amazon | 500 | 9 | Daniel Enlow | United States | 260,000 | 16 |
| | | | | | | |
| Amazon | 501 | 1 | Uri Kadosh | United States | 305,000 | 19 |
| Amazon | 501 | 2 | Michael Fuchs | United States | 182,000 | 11 |
| Amazon | 501 | 3 | David Rafferty | United States | 321,000 | 20 |
| Amazon | 501 | 4 | Jiyoung Im | United States | 161,000 | 10 |
| Amazon | 501 | 5 | Jake Schwartz | United States | 712,000 | 45 |
| Amazon | 501 | 6 | Mark Scott | Canada | 174,000 | 11 |
| Amazon | 501 | 7 | Jared Jones | United States | 163,000 | 10 |
| Amazon | 501 | 8 | Zachary Hatcher | United States | 281,000 | 18 |
| Amazon | 501 | 9 | Dale Michael | United States | 84,000 | 5 |
| | | | | | | |
| Amazon | 502 | 1 | Steven Westberg | United States | 584,000 | 37 |
| Amazon | 502 | 2 | Caleb King | United States | 559,000 | 35 |
| Amazon | 502 | 3 | Daniel Negreanu | Canada | 601,000 | 38 |
| Amazon | 502 | 4 | Sebastien Chamorro | France | 318,000 | 20 |
| Amazon | 502 | 5 | Jaime Sanchez | United States | 326,000 | 20 |
| Amazon | 502 | 6 | Dang Toan Nguyen | Netherlands | 267,000 | 17 |
| Amazon | 502 | 7 | Marcus Laffen | United States | 471,000 | 29 |
| Amazon | 502 | 8 | Kenneth Tana | United States | 37,000 | 2 |
| Amazon | 502 | 9 | Antuan Bunkley | United States | 603,000 | 38 |
| | | | | | | |
| Amazon | 503 | 1 | Boulos Estafanous | United States | 420,000 | 26 |
| Amazon | 503 | 2 | Wael Ammori | United States | 249,000 | 16 |
| Amazon | 503 | 3 | Ryan Metcalfe | United States | 356,000 | 22 |
| Amazon | 503 | 4 | Dejan Ristovski | CanadaCanada | 161,000 | 10 |
| Amazon | 503 | 5 | Jason Morman | United States | 310,000 | 19 |
| Amazon | 503 | 6 | Michael Huber | Austria | 254,000 | 16 |
| Amazon | 503 | 7 | Robert Manley | United States | 121,000 | 8 |
| Amazon | 503 | 8 | Gabriel Jansen Falcao Bal | United States | 575,000 | 36 |
| Amazon | 503 | 9 | Frederico Dabus | Brazil | 291,000 | 18 |
| | | | | | | |
| Amazon | 504 | 1 | Leif Force | United States | 568,000 | 36 |
| Amazon | 504 | 2 | Vadim Yevdokimov | United States | 52,000 | 3 |
| Amazon | 504 | 3 | Joby Bragg | United States | 185,000 | 12 |
| Amazon | 504 | 4 | Eric Polirer | United States | 175,000 | 11 |
| Amazon | 504 | 5 | James Callanan | United States | 98,000 | 6 |
| Amazon | 504 | 6 | Giuseppe Beltrami | United States | 368,000 | 23 |
| Amazon | 504 | 7 | Alan Hager | United States | 182,000 | 11 |
| Amazon | 504 | 8 | Zachary Guerin | United States | 177,000 | 11 |
| Amazon | 504 | 9 | Ylon Schwartz | United States | 342,000 | 21 |
| | | | | | | |
| Amazon | 505 | 1 | Patrick Rabouin | Canada | 169,000 | 11 |
| Amazon | 505 | 2 | Peter Lynn | United States | 141,000 | 9 |
| Amazon | 505 | 3 | Lee Markholt | United States | 130,000 | 8 |
| Amazon | 505 | 4 | Shane Mog | United States | 249,000 | 16 |
| Amazon | 505 | 5 | Brian McKinney | United States | 126,000 | 8 |
| Amazon | 505 | 6 | Erik Gomez | Mexico | 268,000 | 17 |
| Amazon | 505 | 7 | Michael Santmyer | United States | 363,000 | 23 |
| Amazon | 505 | 8 | Karim Abuzar | United States | 262,000 | 16 |
| Amazon | 505 | 9 | Kiryl Radzivonau | Belarus | 175,000 | 11 |
| | | | | | | |
| Amazon | 506 | 1 | Jose Preciado | Mexico | 320,000 | 20 |
| Amazon | 506 | 2 | Daniel Orgil | United States | 113,000 | 7 |
| Amazon | 506 | 3 | Nathan Anderson | United States | 405,000 | 25 |
| Amazon | 506 | 4 | Dave Alfa | United States | 782,000 | 49 |
| Amazon | 506 | 5 | Jeffrey Thornhill | United States | 239,000 | 15 |
| Amazon | 506 | 6 | Kenji Saito | United States | 349,000 | 22 |
| Amazon | 506 | 7 | Robert Greeson | United States | 96,000 | 6 |
| Amazon | 506 | 8 | Ardit Bitincka | Canada | 104,000 | 7 |
| Amazon | 506 | 9 | Robert Logan | United States | 324,000 | 20 |
| | | | | | | |
| Amazon | 507 | 1 | Derrick Hansen | United States | 704,000 | 44 |
| Amazon | 507 | 2 | Nicholas Glassman | United States | 478,000 | 30 |
| Amazon | 507 | 3 | Beau Wansbrough | Canada | 225,000 | 14 |
| Amazon | 507 | 4 | Charles Wilt | United States | 318,000 | 20 |
| Amazon | 507 | 5 | Uwe Matthias | Germany | 151,000 | 9 |
| Amazon | 507 | 6 | Dale Garrett | United States | 412,000 | 26 |
| Amazon | 507 | 7 | Mark Junek | United States | 190,000 | 12 |
| Amazon | 507 | 8 | Joseph Giampietro | United States | 190,000 | 12 |
| Amazon | 507 | 9 | Henry Klitzner | Germany | 249,000 | 16 |
| | | | | | | |
| Amazon | 508 | 1 | Brendan Sheehan | United States | 142,000 | 9 |
| Amazon | 508 | 2 | Jaret Gordon | United States | 300,000 | 19 |
| Amazon | 508 | 3 | Todd Hoffman | United States | 438,000 | 27 |
| Amazon | 508 | 4 | Ryan Hunsinger | United States | 238,000 | 15 |
| Amazon | 508 | 5 | David Stearns | United States | 124,000 | 8 |
| Amazon | 508 | 6 | Craig Jones | United States | 424,000 | 27 |
| Amazon | 508 | 7 | Andrew Zhu | United States | 320,000 | 20 |
| Amazon | 508 | 8 | Karl Pirkopf | United States | 71,000 | 4 |
| Amazon | 508 | 9 | Arsenio Perez | United States | 163,000 | 10 |
| | | | | | | |
| Amazon | 509 | 1 | David Twible | United States | 192,000 | 12 |
| Amazon | 509 | 2 | Martin Lethuillier | United States | 188,000 | 12 |
| Amazon | 509 | 3 | Ke Chen | China | 321,000 | 20 |
| Amazon | 509 | 4 | Ryan Berndt | United States | 193,000 | 12 |
| Amazon | 509 | 5 | Byron Toth | United States | 212,000 | 13 |
| Amazon | 509 | 6 | Terry Wheeler | United States | 111,000 | 7 |
| Amazon | 509 | 8 | Zackahriah Jones | United States | 213,000 | 13 |
| Amazon | 509 | 9 | Ryan Messick | United States | 580,000 | 36 |
| | | | | | | |
| Amazon | 510 | 1 | Stephen Song | United States | 633,000 | 40 |
| Amazon | 510 | 2 | Fabien Blanc | France | 359,000 | 22 |
| Amazon | 510 | 3 | Kenneth Espinoza | United States | 187,000 | 12 |
| Amazon | 510 | 4 | Eric Waldron | United States | 142,000 | 9 |
| Amazon | 510 | 5 | Corey Ireland | United States | 129,000 | 8 |
| Amazon | 510 | 6 | James Henderson | United States | 842,000 | 53 |
| Amazon | 510 | 7 | Lifu Zhang | United States | 329,000 | 21 |
| Amazon | 510 | 8 | Todd Rosenthal | United States | 485,000 | 30 |
| Amazon | 510 | 9 | Robbie Betancourt | United States | 94,000 | 6 |
| | | | | | | |
| Amazon | 511 | 1 | Hung Truong | United States | 482,000 | 30 |
| Amazon | 511 | 2 | Paul Dhaliwal | Canada | 1,612,000 | 101 |
| Amazon | 511 | 3 | Gregory Seebach | United States | 1 | 0 |
| Amazon | 511 | 4 | Richard Smith | United States | 922,000 | 58 |
| Amazon | 511 | 5 | Adrian Turner | United States | 286,000 | 18 |
| Amazon | 511 | 6 | Christopher Mackenzie | United States | 402,000 | 25 |
| Amazon | 511 | 7 | Alfie Poetra | United States | 454,000 | 28 |
| Amazon | 511 | 8 | Tony Truong | United States | 84,000 | 5 |
| Amazon | 511 | 9 | Peter Mugar | United States | 258,000 | 16 |
| | | | | | | |
| Amazon | 512 | 1 | Daniel Fisher | United States | 50,000 | 3 |
| Amazon | 512 | 2 | Lawrence Hawkinson | United States | 185,000 | 12 |
| Amazon | 512 | 3 | Jason Sullivan | Canada | 229,000 | 14 |
| Amazon | 512 | 4 | Gerald Heath | United States | 326,000 | 20 |
| Amazon | 512 | 5 | Michael Morhaime | United States | 1,275,000 | 80 |
| Amazon | 512 | 6 | Gregory Orlick | United States | 415,000 | 26 |
| Amazon | 512 | 7 | Michael Marder | United States | 68,000 | 4 |
| Amazon | 512 | 8 | Yakaiah Bommishetti | United States | 306,000 | 19 |
| Amazon | 512 | 9 | Kyle Montgomery | United States | 207,000 | 13 |
| | | | | | | |
| Amazon | 513 | 1 | Ryan Kelley | United States | 432,000 | 27 |
| Amazon | 513 | 2 | Andrew Gilmore | United States | 574,000 | 36 |
| Amazon | 513 | 3 | Edward McAfoose | United States | 131,000 | 8 |
| Amazon | 513 | 4 | Dan Natarelli | United States | 178,000 | 11 |
| Amazon | 513 | 5 | Jon Letzkus | United States | 90,000 | 6 |
| Amazon | 513 | 6 | Addam Smith | United States | 514,000 | 32 |
| Amazon | 513 | 7 | Christopher Din | United States | 160,000 | 10 |
| Amazon | 513 | 8 | Andrew Hills | United Kingdom | 195,000 | 12 |
| Amazon | 513 | 9 | Philippe Culot | France | 168,000 | 11 |
| | | | | | | |
| Amazon | 514 | 1 | Jon Beadles | United States | 187,000 | 12 |
| Amazon | 514 | 2 | Christopher Brewington | United States | 537,000 | 34 |
| Amazon | 514 | 3 | Adam Croffut | United States | 417,000 | 26 |
| Amazon | 514 | 4 | Thomas Difrancesco | United States | 228,000 | 14 |
| Amazon | 514 | 5 | John Huening | United States | 194,000 | 12 |
| Amazon | 514 | 6 | Jan Van Dyk | United States | 674,000 | 42 |
| Amazon | 514 | 7 | Justin Zaki | United States | 185,000 | 12 |
| Amazon | 514 | 8 | Kfir Nahum | United States | 817,000 | 51 |
| Amazon | 514 | 9 | Jerry Lockwood | United States | 95,000 | 6 |
| | | | | | | |
| Amazon | 515 | 1 | Danny Elmore | United States | 403,000 | 25 |
| Amazon | 515 | 3 | David Sill | United States | 240,000 | 15 |
| Amazon | 515 | 4 | Lynnore Goldfarb | United States | 1 | 0 |
| Amazon | 515 | 5 | Jeremy Dresch | United States | 187,000 | 12 |
| Amazon | 515 | 6 | Francois Zayas | United States | 125,000 | 8 |
| Amazon | 515 | 7 | Ronnie Lamb | United States | 607,000 | 38 |
| Amazon | 515 | 8 | Matthew Zimmerman | United States | 86,000 | 5 |
| Amazon | 515 | 9 | Frank Marasco | United States | 265,000 | 17 |
| | | | | | | |
| Amazon | 516 | 1 | Sherrie Hathaway | United States | 246,000 | 15 |
| Amazon | 516 | 2 | Hunter Ritchie | United States | 198,000 | 12 |
| Amazon | 516 | 3 | Alireza Hajjafar | United States | 691,000 | 43 |
| Amazon | 516 | 4 | Cong Le | United States | 264,000 | 17 |
| Amazon | 516 | 5 | Christopher Brown | United States | 234,000 | 15 |
| Amazon | 516 | 6 | Ryan Anderson | United States | 284,000 | 18 |
| Amazon | 516 | 7 | Seymour Ogeare | United States | 771,000 | 48 |
| Amazon | 516 | 8 | Chenry Chan | United States | 144,000 | 9 |
| Amazon | 516 | 9 | Sylvain Solfrini | France | 315,000 | 20 |
| | | | | | | |
| Amazon | 517 | 1 | Brian Brenneke | United States | 213,000 | 13 |
| Amazon | 517 | 2 | Rene Nezhoda | United States | 264,000 | 17 |
| Amazon | 517 | 3 | Ilian Li | United States | 281,000 | 18 |
| Amazon | 517 | 4 | Smith Collins | United States | 418,000 | 26 |
| Amazon | 517 | 5 | Jesse Solano | United States | 312,000 | 20 |
| Amazon | 517 | 6 | Thomas Reynolds | United States | 237,000 | 15 |
| Amazon | 517 | 7 | Hamid Yasini | United States | 101,000 | 6 |
| Amazon | 517 | 8 | Ernest Bush | United States | 202,000 | 13 |
| Amazon | 517 | 9 | Cesar Torres | United States | 292,000 | 18 |
| | | | | | | |
| Amazon | 518 | 1 | Paul Snead | United States | 460,000 | 29 |
| Amazon | 518 | 2 | Andualem Mequnint | United States | 239,000 | 15 |
| Amazon | 518 | 3 | Adam Wloszek | United States | 182,000 | 11 |
| Amazon | 518 | 4 | Phillip Phan | United States | 266,000 | 17 |
| Amazon | 518 | 5 | Pierre Neuville | Belgium | 230,000 | 14 |
| Amazon | 518 | 6 | Justin Heilman | United States | 427,000 | 27 |
| Amazon | 518 | 7 | William Davis | United States | 189,000 | 12 |
| Amazon | 518 | 8 | Gab Kim | South Korea | 144,000 | 9 |
| Amazon | 518 | 9 | Tesh Sharma | United States | 175,000 | 11 |
| | | | | | | |
| Amazon | 519 | 1 | Craig Saunders | United States | 55,000 | 3 |
| Amazon | 519 | 2 | Darrell Busse | United States | 454,000 | 28 |
| Amazon | 519 | 3 | Daniel Le | Canada | 216,000 | 14 |
| Amazon | 519 | 4 | Paul Jain | United States | 343,000 | 21 |
| Amazon | 519 | 5 | James Mckinnon | United States | 345,000 | 22 |
| Amazon | 519 | 6 | Brian England | United States | 493,000 | 31 |
| Amazon | 519 | 7 | John Sons | United States | 46,000 | 3 |
| Amazon | 519 | 8 | Jonathan Look | United States | 228,000 | 14 |
| Amazon | 519 | 9 | Robert Peacock | United States | 316,000 | 20 |
| | | | | | | |
| Amazon | 520 | 1 | Phillip Hui | United States | 135,000 | 8 |
| Amazon | 520 | 2 | Alek Johnson Kandis | United States | 538,000 | 34 |
| Amazon | 520 | 3 | David Mann | United States | 393,000 | 25 |
| Amazon | 520 | 4 | Joseph Rothway | United States | 279,000 | 17 |
| Amazon | 520 | 5 | Maurice Hawkins | United States | 566,000 | 35 |
| Amazon | 520 | 6 | Derek Crooks | United States | 173,000 | 11 |
| Amazon | 520 | 7 | Ryan Brown | United States | 270,000 | 17 |
| Amazon | 520 | 8 | Paul Havens | United States | 172,000 | 11 |
| Amazon | 520 | 9 | Alain Thepault | France | 30,000 | 2 |
| | | | | | | |
| Amazon | 521 | 1 | Jean-Francoi Dion | Canada | 82,000 | 5 |
| Amazon | 521 | 2 | Edvinas Gruzdas | Ireland | 896,000 | 56 |
| Amazon | 521 | 3 | Nathan Blair | United States | 116,000 | 7 |
| Amazon | 521 | 4 | Mitch Merritt | United States | 107,000 | 7 |
| Amazon | 521 | 5 | Hector Martin | United States | 446,000 | 28 |
| Amazon | 521 | 6 | Mark Bloomberg | United States | 589,000 | 37 |
| Amazon | 521 | 7 | Charles Mitchell | United States | 92,000 | 6 |
| Amazon | 521 | 8 | Fabrizio Zucca | Italy | 144,000 | 9 |
| Amazon | 521 | 9 | Edwin Rustrian | United States | 158,000 | 10 |
| | | | | | | |
| Amazon | 522 | 1 | Nicholas Tamburo | United States | 232,000 | 15 |
| Amazon | 522 | 2 | Jesse Rivera | United States | 177,000 | 11 |
| Amazon | 522 | 3 | Michael Youngman | United States | 174,000 | 11 |
| Amazon | 522 | 4 | Robert Cowen | United Kingdom | 655,000 | 41 |
| Amazon | 522 | 5 | Daniel Nguyen | United States | 500,000 | 31 |
| Amazon | 522 | 6 | Kevin Berthelsen | United States | 427,000 | 27 |
| Amazon | 522 | 7 | Robert Difruscio | United States | 241,000 | 15 |
| Amazon | 522 | 8 | Gary Burrell | United States | 289,000 | 18 |
| Amazon | 522 | 9 | Joshua Thibodaux | United States | 563,000 | 35 |

| Room | Table | Seat | Player | Country | Chip Count | Big Blinds |
| --- | --- | --- | --- | --- | --- | --- |
| Amazon | 413 | 1 | Ryan Van Sanford | United States | 665,000 | 42 |
| Amazon | 413 | 2 | Sascha Seyler | Germany | 431,000 | 27 |
| Amazon | 413 | 3 | Phil Hernz | United States | 155,000 | 10 |
| Amazon | 413 | 4 | Catherine Jaffe | United States | 259,000 | 16 |
| Amazon | 413 | 5 | Christopher Tham | United States | 440,000 | 28 |
| Amazon | 413 | 6 | Nathan Daharsh | United States | 352,000 | 22 |
| Amazon | 413 | 7 | Moshe Kramer | United States | 821,000 | 51 |
| Amazon | 413 | 8 | James Barnett | United States | 406,000 | 25 |
| Amazon | 413 | 9 | John Taylor | United States | 132,000 | 8 |
| | | | | | | |
| Amazon | 414 | 1 | Steven Manllo | Mexico | 272,000 | 17 |
| Amazon | 414 | 2 | Chad Hanely | United States | 157,000 | 10 |
| Amazon | 414 | 3 | Alexander Haro | United States | 117,000 | 7 |
| Amazon | 414 | 4 | Zachary Vankeuren | United States | 1,032,000 | 65 |
| Amazon | 414 | 5 | Roman Kroupa | Germany | 893,000 | 56 |
| Amazon | 414 | 6 | David Mc Dermott | United States | 261,000 | 16 |
| Amazon | 414 | 7 | Anh Tran | United States | 299,000 | 19 |
| Amazon | 414 | 8 | Robert Kasawdish | United States | 471,000 | 29 |
| Amazon | 414 | 9 | Robert Mowrer | United States | 327,000 | 20 |
| | | | | | | |
| Amazon | 415 | 1 | Andrew Cha | United States | 188,000 | 12 |
| Amazon | 415 | 2 | Joshua Janis | United States | 192,000 | 12 |
| Amazon | 415 | 3 | Sergio Osorio | United States | 289,000 | 18 |
| Amazon | 415 | 4 | Jeremy Pekarek | United States | 286,000 | 18 |
| Amazon | 415 | 5 | Ryan Daneliuk | United States | 605,000 | 38 |
| Amazon | 415 | 6 | Jamil Jutha | Canada | 421,000 | 26 |
| Amazon | 415 | 7 | Bryden Baxter | United States | 119,000 | 7 |
| Amazon | 415 | 8 | Chris Johnson | United States | 180,000 | 11 |
| Amazon | 415 | 9 | Novica Miskovic | Canada | 494,000 | 31 |
| | | | | | | |
| Amazon | 416 | 1 | Jason Shinbaum | United States | 331,000 | 21 |
| Amazon | 416 | 2 | Eddie Blumenthal | United States | 190,000 | 12 |
| Amazon | 416 | 3 | Andy Lysene | United States | 185,000 | 12 |
| Amazon | 416 | 4 | Richard Behling | Germany | 146,000 | 9 |
| Amazon | 416 | 5 | Aditya Sushant | India | 679,000 | 42 |
| Amazon | 416 | 7 | Mark Ioli | United States | 335,000 | 21 |
| Amazon | 416 | 8 | Larry Thomson | United States | 140,000 | 9 |
| Amazon | 416 | 9 | Vitor Coelho | United States | 300,000 | 19 |
| | | | | | | |
| Amazon | 417 | 1 | Tiep Bui | United States | 330,000 | 21 |
| Amazon | 417 | 2 | Anton Perkovic | United States | 187,000 | 12 |
| Amazon | 417 | 3 | Antonio Ferreira | Portugal | 450,000 | 28 |
| Amazon | 417 | 4 | David Crenshaw | United States | 208,000 | 13 |
| Amazon | 417 | 5 | Michael Musella | United States | 197,000 | 12 |
| Amazon | 417 | 6 | Tim Farrelly | Ireland | 520,000 | 33 |
| Amazon | 417 | 7 | Jason Brauda | United States | 202,000 | 13 |
| Amazon | 417 | 8 | Kyle Dover | United States | 951,000 | 59 |
| Amazon | 417 | 9 | John Ohradzansky | United States | 132,000 | 8 |
| | | | | | | |
| Amazon | 418 | 1 | Javier Figueroa | United States | 246,000 | 15 |
| Amazon | 418 | 2 | Sachin Joshi | United States | 361,000 | 23 |
| Amazon | 418 | 3 | Jesus Capuz | United States | 390,000 | 24 |
| Amazon | 418 | 4 | Nicholas Gomez | United States | 251,000 | 16 |
| Amazon | 418 | 5 | Brian Gorman | United States | 258,000 | 16 |
| Amazon | 418 | 6 | David Shmuel | United States | 474,000 | 30 |
| Amazon | 418 | 7 | Dawn Mougel | United States | 345,000 | 22 |
| Amazon | 418 | 8 | Marek Jaros | United States | 135,000 | 8 |
| Amazon | 418 | 9 | Kelt Davies | Canada | 226,000 | 14 |
| | | | | | | |
| Amazon | 419 | 1 | Richard Thomas | United States | 322,000 | 20 |
| Amazon | 419 | 2 | Joshua Meenach | United States | 221,000 | 14 |
| Amazon | 419 | 3 | Bart Lybaert | Belgium | 680,000 | 43 |
| Amazon | 419 | 4 | Jacob Naumann | United States | 517,000 | 32 |
| Amazon | 419 | 5 | David Kimbrell | United States | 225,000 | 14 |
| Amazon | 419 | 6 | Ryan Mccormick | United States | 223,000 | 14 |
| Amazon | 419 | 7 | Weiyi Mo | United States | 288,000 | 18 |
| Amazon | 419 | 8 | Sarkis Karapetian | United States | 359,000 | 22 |
| Amazon | 419 | 9 | James J Villas | United States | 615,000 | 38 |
| | | | | | | |
| Amazon | 421 | 1 | Marlon Pagharion | United States | 219,000 | 14 |
| Amazon | 421 | 2 | Alicia Mora | United States | 351,000 | 22 |
| Amazon | 421 | 3 | Thomas Wall | United States | 197,000 | 12 |
| Amazon | 421 | 4 | David Marlow | United States | 354,000 | 22 |
| Amazon | 421 | 5 | Daniel Lacey | United States | 192,000 | 12 |
| Amazon | 421 | 6 | Nathan Russler | United States | 116,000 | 7 |
| Amazon | 421 | 7 | Noomis Jones | United States | 520,000 | 33 |
| Amazon | 421 | 8 | Calin Trif | United Kingdom | 313,000 | 20 |
| Amazon | 421 | 9 | Craig Chait | United States | 850,000 | 53 |
| | | | | | | |
| Amazon | 422 | 1 | Erik Seidel | United States | 290,000 | 18 |
| Amazon | 422 | 2 | Matthew Graham | United States | 156,000 | 10 |
| Amazon | 422 | 3 | Salim Majlaton | United States | 26,000 | 2 |
| Amazon | 422 | 4 | Jamie Geraghty | United Kingdom | 158,000 | 10 |
| Amazon | 422 | 5 | Navil Desai | United States | 203,000 | 13 |
| Amazon | 422 | 6 | Jordan Holt | United States | 402,000 | 25 |
| Amazon | 422 | 7 | Jerry Moore | United States | 228,000 | 14 |
| Amazon | 422 | 8 | Nathaen Blankenship | United States | 584,000 | 37 |
| Amazon | 422 | 9 | Tarun Ravi | United States | 296,000 | 19 |
| | | | | | | |
| Amazon | 423 | 1 | Nizar Anafal | France | 351,000 | 22 |
| Amazon | 423 | 2 | Tomy Simoniankordolia | Canada | 156,000 | 10 |
| Amazon | 423 | 3 | Robert Galbraith | United States | 192,000 | 12 |
| Amazon | 423 | 4 | Wayne Whittinghill | United States | 230,000 | 14 |
| Amazon | 423 | 5 | John Hernandez | United States | 252,000 | 16 |
| Amazon | 423 | 6 | Alexander Greenblatt | United States | 257,000 | 16 |
| Amazon | 423 | 7 | Arash Asadabadi | United States | 509,000 | 32 |
| Amazon | 423 | 8 | Michael Kaczmarek | United States | 145,000 | 9 |
| Amazon | 423 | 9 | Bobby Keohavong | United States | 335,000 | 21 |
| | | | | | | |
| Amazon | 424 | 1 | Hugh Bartlett | United States | 263,000 | 16 |
| Amazon | 424 | 2 | Alexander Ziskin | United States | 598,000 | 37 |
| Amazon | 424 | 3 | Aaron Ang | United States | 669,000 | 42 |
| Amazon | 424 | 4 | Michael Capener | United States | 230,000 | 14 |
| Amazon | 424 | 5 | Joshua Sepulveda | United States | 97,000 | 6 |
| Amazon | 424 | 6 | Jay Weil | United States | 174,000 | 11 |
| Amazon | 424 | 7 | Kenny Nguyen | United States | 662,000 | 41 |
| Amazon | 424 | 8 | Mark Sanchez | United States | 131,000 | 8 |
| Amazon | 424 | 9 | Nam Le | United States | 164,000 | 10 |
| | | | | | | |
| Amazon | 425 | 1 | Jen-Yue Chiang | United States | 173,000 | 11 |
| Amazon | 425 | 2 | Thanh Vu | China | 415,000 | 26 |
| Amazon | 425 | 3 | Walter Treccarichi | Italy | 558,000 | 35 |
| Amazon | 425 | 4 | Timothy Chung | United States | 192,000 | 12 |
| Amazon | 425 | 5 | Uriel Remi Levy | United States | 271,000 | 17 |
| Amazon | 425 | 6 | James Mackey | United States | 530,000 | 33 |
| Amazon | 425 | 7 | James Neville | United States | 215,000 | 13 |
| Amazon | 425 | 8 | Tan Nguyen | United States | 137,000 | 9 |
| Amazon | 425 | 9 | Keith Correll | United States | 129,000 | 8 |
| | | | | | | |
| Amazon | 426 | 1 | Diego Soto Martin | Cuba | 207,000 | 13 |
| Amazon | 426 | 2 | Nicolas Atchinak | United States | 174,000 | 11 |
| Amazon | 426 | 3 | Le Guan | United States | 488,000 | 31 |
| Amazon | 426 | 4 | Brett Mcnary | United States | 505,000 | 32 |
| Amazon | 426 | 5 | Richard Moss | United States | 353,000 | 22 |
| Amazon | 426 | 6 | Nasser Lahouti | United States | 284,000 | 18 |
| Amazon | 426 | 7 | Myung Kil | United States | 350,000 | 22 |
| Amazon | 426 | 8 | David Byer | United States | 356,000 | 22 |
| Amazon | 426 | 9 | Justin Harvell | United States | 130,000 | 8 |
| | | | | | | |
| Amazon | 427 | 1 | Cache Bouren | United States | 271,000 | 17 |
| Amazon | 427 | 2 | David Elet | United States | 1,255,000 | 78 |
| Amazon | 427 | 3 | Alejandro Pachecos-Rojas | United States | 377,000 | 24 |
| Amazon | 427 | 4 | Charles Odenz | United States | 246,000 | 15 |
| Amazon | 427 | 5 | Serj Markarian | United States | 99,000 | 6 |
| Amazon | 427 | 6 | Alexander Jagodik | United States | 295,000 | 18 |
| Amazon | 427 | 7 | Nicholas Lanzi | United States | 156,000 | 10 |
| Amazon | 427 | 8 | Benjamin Underwood | Canada | 723,000 | 45 |
| Amazon | 427 | 9 | Stephen Schornstein | United States | 100,000 | 6 |
| | | | | | | |
| Amazon | 430 | 1 | Gregory Nerenberg | United States | 280,000 | 18 |
| Amazon | 430 | 2 | Brad Sailor | United States | 235,000 | 15 |
| Amazon | 430 | 3 | Greg Himmelbrand | United States | 402,000 | 25 |
| Amazon | 430 | 4 | Blaz Zerjav | Slovenia | 567,000 | 35 |
| Amazon | 430 | 5 | Damon Musgrave | Argentina | 322,000 | 20 |
| Amazon | 430 | 6 | Philip Barrett | United States | 218,000 | 14 |
| Amazon | 430 | 7 | Paul Gutierrez | United States | 68,000 | 4 |
| Amazon | 430 | 8 | Richard Rossi | United States | 125,000 | 8 |
| Amazon | 430 | 9 | Michael Oldfather | United States | 305,000 | 19 |
| | | | | | | |
| Amazon | 431 | 1 | Daniel Sauve | Canada | 315,000 | 20 |
| Amazon | 431 | 2 | Christian Ahl | Germany | 154,000 | 10 |
| Amazon | 431 | 3 | Michael Shelton | United States | 411,000 | 26 |
| Amazon | 431 | 4 | James Romero | United States | 325,000 | 20 |
| Amazon | 431 | 5 | Mark Dufner | United States | 114,000 | 7 |
| Amazon | 431 | 6 | Babken Vardanyan | United States | 110,000 | 7 |
| Amazon | 431 | 7 | John Allan Hinds | United States | 266,000 | 17 |
| Amazon | 431 | 8 | Marcus Newbury | United States | 182,000 | 11 |
| Amazon | 431 | 9 | Knute Lentz | United States | 333,000 | 21 |
| | | | | | | |
| Amazon | 432 | 1 | Nissim Gozlan | United States | 119,000 | 7 |
| Amazon | 432 | 2 | Michael Nichols | United States | 658,000 | 41 |
| Amazon | 432 | 3 | Miguel Hernandez | United States | 388,000 | 24 |
| Amazon | 432 | 4 | [Removed:321] Saadeghvazri | United States | 1,215,000 | 76 |
| Amazon | 432 | 5 | Andrew Komanetsky | United States | 216,000 | 14 |
| Amazon | 432 | 6 | Matt Stout | United States | 524,000 | 33 |
| Amazon | 432 | 7 | Dan Kuntzman | United States | 750,000 | 47 |
| Amazon | 432 | 8 | Larry Latham | United States | 531,000 | 33 |
| Amazon | 432 | 9 | Mearl Wisehart | United States | 76,000 | 5 |
| | | | | | | |
| Amazon | 433 | 1 | John Larose | United States | 18,000 | 1 |
| Amazon | 433 | 2 | Cobi Cobian | United States | 255,000 | 16 |
| Amazon | 433 | 3 | Jose Burgues | Argentina | 648,000 | 41 |
| Amazon | 433 | 4 | Weston Broad | United States | 235,000 | 15 |
| Amazon | 433 | 5 | Jason Mirza | United States | 522,000 | 33 |
| Amazon | 433 | 6 | John Newmerzhycky | United States | 215,000 | 13 |
| Amazon | 433 | 7 | Juan Magana | Mexico | 434,000 | 27 |
| Amazon | 433 | 8 | Giancarlo Santolin | Canada | 316,000 | 20 |
| Amazon | 433 | 9 | Henrieto Acain | United States | 451,000 | 28 |
| | | | | | | |
| Amazon | 434 | 1 | Joseph Parys | United States | 183,000 | 11 |
| Amazon | 434 | 2 | Victor Suarez | Mexico | 415,000 | 26 |
| Amazon | 434 | 3 | Florian Duta | United Kingdom | 222,000 | 14 |
| Amazon | 434 | 4 | Hana Cho | United States | 331,000 | 21 |
| Amazon | 434 | 5 | Tanya Kirk | United States | 306,000 | 19 |
| Amazon | 434 | 6 | Michael Aparicio | United States | 200,000 | 13 |
| Amazon | 434 | 7 | Nicholas Gerrity | United States | 868,000 | 54 |
| Amazon | 434 | 8 | Norman Rodriguez | United States | 501,000 | 31 |
| Amazon | 434 | 9 | Dominick Giovanniello | United States | 185,000 | 12 |
| | | | | | | |
| Amazon | 435 | 1 | Jeffrey Ostrom | United States | 205,000 | 13 |
| Amazon | 435 | 2 | Omar Diaz | United States | 78,000 | 5 |
| Amazon | 435 | 3 | X Surapaneni | United States | 700,000 | 44 |
| Amazon | 435 | 4 | Kyle Rosenkrance | United States | 224,000 | 14 |
| Amazon | 435 | 5 | Joey Weissman | United States | 120,000 | 8 |
| Amazon | 435 | 6 | Austin Ogden | United States | 219,000 | 14 |
| Amazon | 435 | 7 | Reben Rivera Aguilar | United States | 127,000 | 8 |
| Amazon | 435 | 8 | William Derrick | United States | 121,000 | 8 |
| Amazon | 435 | 9 | James Sievers | United States | 331,000 | 21 |
| | | | | | | |
| Amazon | 478 | 1 | Louis Defalco | United States | 110,000 | 7 |
| Amazon | 478 | 2 | Nissar Quraishi | United States | 332,000 | 21 |
| Amazon | 478 | 3 | Sean Yu | United States | 335,000 | 21 |
| Amazon | 478 | 4 | Eric Christensen | United States | 254,000 | 16 |
| Amazon | 478 | 5 | Brandon Bergin | United States | 350,000 | 22 |
| Amazon | 478 | 6 | Michael Schoen | United States | 328,000 | 21 |
| Amazon | 478 | 7 | Daniel Jones | United States | 267,000 | 17 |
| Amazon | 478 | 8 | Ryan Chamberlain | United States | 440,000 | 28 |
| Amazon | 478 | 9 | Janelle Rettig | United States | 48,000 | 3 |
| | | | | | | |
| Amazon | 479 | 1 | Kary Richardson | United States | 825,000 | 52 |
| Amazon | 479 | 2 | Kum Dollison | United States | 222,000 | 14 |
| Amazon | 479 | 3 | Xiaochun Chen | Hong Kong | 164,000 | 10 |
| Amazon | 479 | 4 | Anthony Dalpra | CanadaCanada | 138,000 | 9 |
| Amazon | 479 | 5 | Orion Gallagher | United States | 274,000 | 17 |
| Amazon | 479 | 6 | Alan Carty | United States | 512,000 | 32 |
| Amazon | 479 | 7 | Kaied Barkho | United States | 528,000 | 33 |
| Amazon | 479 | 8 | Jeffrey Plattner | United States | 208,000 | 13 |
| Amazon | 479 | 9 | Sebastian Dornbracht | Germany | 138,000 | 9 |
| | | | | | | |
| Amazon | 480 | 1 | Neal Corcoran | United States | 547,000 | 34 |
| Amazon | 480 | 2 | Corey Hochman | United States | 146,000 | 9 |
| Amazon | 480 | 3 | Michael Miller | United States | 245,000 | 15 |
| Amazon | 480 | 4 | Ronit Chamami | South Africa | 289,000 | 18 |
| Amazon | 480 | 5 | Gregory Geller | United States | 879,000 | 55 |
| Amazon | 480 | 6 | Casey Cavanaugh | United States | 134,000 | 8 |
| Amazon | 480 | 7 | Daniel Colby | United States | 307,000 | 19 |
| Amazon | 480 | 8 | Aaron Campbell | United States | 229,000 | 14 |
| Amazon | 480 | 9 | Nina Tran | United States | 398,000 | 25 |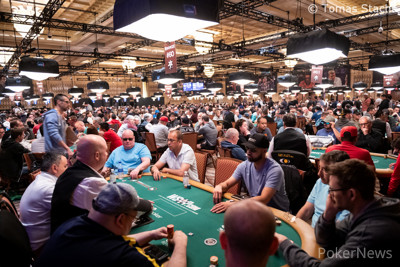 Welcome back to Event #9: $600 No-Limit Hold'em Deepstack. Today was originally scheduled to award a WSOP bracelet to one of the 582 players who made it through yesterday's 20 levels of play, but due to the huge turnout, a third and final day has been scheduled for tomorrow, June 5th. The eventual winner will receive $398,281 in prize money – a huge return on a $600 investment.
All players return in the money but face a long run to the finish line ahead of them. In pole position chip-wise is experienced Canadian player Paul Dhaliwal whose 1,612,000 chips provide considerable room to maneuver as the starting blinds will be 8,000/16,000 with a 16,000 big blind ante.
Still in the field with slightly more modest stacks are the likes of Daniel Negreanu, Scott Davies, and Erik Seidel, mixed in with a competitive and international field of pros and amateurs – survivors from the bumper 6,150-strong starting field.
Live reporting commences with today's "shuffle up and deal" at noon.
Millions of chips are currently being unbagged, stacked, re-counted, riffled and twiddled as every player large Day 2 field is ID verified and settled. We expect to be under way shortly.
Nível: 21
Blinds: 8,000/16,000
Ante: 16,000
Nível 21 : 8,000/16,000, 16,000 ante
Shuffle up and deal, cards are in the air.
Nível 21 : 8,000/16,000, 16,000 ante
Short stacks are taking the plunge all over the Amazon Room at the moment - so fast is the rate of elimination that play has been briefly paused to make sure all payouts can be dealt with.
Just before this pause, a remarkable hand brought Walter Marinko back from the brink of the felt and brought a beat for Chad Layne at the same time. Preflop, button Layne opened to 35,000 and small blind Allan Cheng moved all in for 135,000. Big Blind Walter Marinko then moved all-in too - but for just 40,000. Layne thought for a while and threw in a call.
"Good call," said Cheng, as he turned over
, as Layne had called with
. Meanwhile Marinko said, "I went all in blind!" He turned over
and looked very surprised indeed.
The flop and turn ran out
with Cheng alternately calling for a three and saying he could now go and register another event. The river answered his prayer:
.
"Holy cow," said Marinko, and mentioned that one had to gamble in tournaments.
"I wouldn't call your hand gambling," said Cheng, "I would call mine gambling!"
Jogador
Fichas
Oscilação

Chad Layne

266,000

-166,000

Allan Cheng

245,000

84,000

Walter Marinko

160,000

104,000
Nível 21 : 8,000/16,000, 16,000 ante
On a board of
a player in middle position bet 120,000 into a pot of already 250,000 and Wim Ben Verhaegen reraised all in from the small blind putting the player in middle position all in, but he snapped called.
Wim Ben Verhaegen:

Opponent:
Verhaegen now in a good spot early in today's event with 860,000 chips.
Nível 21 : 8,000/16,000, 16,000 ante
Ricardo Barros is one of many players not to emerge from Level 1 with chips still at the felt. His last hand was
, all in preflop as a short stack with <5bb. His eliminator: Shirey Szalay who made the call with
, staying ahead with her pair through the river.