Event #57: $1,000 Tag Team No-Limit Hold'em
Dias: 2
Event #57: $1,000 Tag Team No-Limit Hold'em
Dia 2 Iniciado

| Room | Table | Seat | Team | Chip Count | Big Blinds |
| --- | --- | --- | --- | --- | --- |
| Pavilion | 100 | 1 | Yosuke Sekiya - Takashi Ogura | 118,300 | 74 |
| Pavilion | 100 | 2 | Adam Lippert - Kyle Bowker | 51,500 | 32 |
| Pavilion | 100 | 3 | Paul Kehoe - Brenton Assing - David Dean - Eric Moffett | 78,200 | 49 |
| Pavilion | 100 | 4 | Johnny Sanchez - David Cecil - Michael Kennedy | 13,200 | 8 |
| Pavilion | 100 | 5 | Reginald Austin - Naomi Austin - Priscilla Austin | 31,300 | 20 |
| Pavilion | 100 | 6 | Bradley Owen - Andrew Neeme - Derek Gomez | 33,000 | 21 |
| Pavilion | 100 | 7 | James Graham - Stephen White | 109,400 | 68 |
| Pavilion | 100 | 8 | Andrew Brown - Max Elisman - Richard Tuhrim | 172,500 | 108 |
| Pavilion | 100 | 9 | Jason Koon - Sosia Jiang | 111,200 | 70 |
| | | | | | |
| Pavilion | 101 | 1 | Fernando Gutierrez - Johann Ibanez | 60,700 | 38 |
| Pavilion | 101 | 2 | Sylvain Naets - Bart Lybaert | 67,800 | 42 |
| Pavilion | 101 | 3 | Steven Jones - Zachary Erdwurm | 67,300 | 42 |
| Pavilion | 101 | 4 | Tao Fan - Hui Fang Zhang - Quan Zhou | 63,700 | 40 |
| Pavilion | 101 | 5 | Matthew Boyd - Eric Wasserson - Damien Leforbes - Matthew Gonzales | 68,300 | 43 |
| Pavilion | 101 | 6 | Justin Brown - Eli Loewenthal | 57,700 | 36 |
| Pavilion | 101 | 7 | Jason Wheeler - Matt Iles | 73,400 | 46 |
| Pavilion | 101 | 8 | Andrew Jeong - Dongwon Kim | 93,900 | 59 |
| Pavilion | 101 | 9 | Emmi Juutilainen - Henri Juutilainen - Kasper Mellanen - Linda Lahdenpaa | 44,500 | 28 |
| | | | | | |
| Pavilion | 102 | 1 | Mihai Manole - Dan Murariu | 37,300 | 23 |
| Pavilion | 102 | 2 | Ken Giberson - Joel Saltos | 63,400 | 40 |
| Pavilion | 102 | 3 | Aladin Reskallah - Yassino El Fouladi | 53,700 | 34 |
| Pavilion | 102 | 4 | Josh Weiss - [Removed:342] | 126,900 | 79 |
| Pavilion | 102 | 5 | Venkata Tayi - Jagannath Tayi | 5,200 | 3 |
| Pavilion | 102 | 6 | Daniel Saralegui - Richard Schenzdavis | 37,600 | 24 |
| Pavilion | 102 | 7 | David Levi - David Levy | 59,300 | 37 |
| Pavilion | 102 | 8 | Jeff Blenkarn - Barry Brown | 55,800 | 35 |
| Pavilion | 102 | 9 | Cuong Tran - Chad Layne | 53,800 | 34 |
| | | | | | |
| Pavilion | 103 | 1 | Michael Wang - Dan Zack, - Ajay Chabra | 197,000 | 123 |
| Pavilion | 103 | 2 | Aleks Dimitrov - Nikol Nikolaeva - Stoyan Obreshkov | 170,400 | 107 |
| Pavilion | 103 | 3 | Yuliyan Kolev - Michael Lerner - David Shober - Emil Gramatikov | 21,400 | 13 |
| Pavilion | 103 | 4 | Toko Luu - Chung Ho | 44,400 | 28 |
| Pavilion | 103 | 5 | Moshe Gabay - Matan Gabay | 103,000 | 64 |
| Pavilion | 103 | 6 | Trey Robinson - Brady Helpert - Robert Mathieu | 40,800 | 26 |
| Pavilion | 103 | 7 | Anatoly Korochensky - Vitaly Lunkin | 20,600 | 13 |
| Pavilion | 103 | 8 | Warren Sheaves - Bryan Schultz - Vincent Moscati | 21,000 | 13 |
| Pavilion | 103 | 9 | Christopher Curran - Richard Nossek - Michael Nossek | 48,100 | 30 |
| | | | | | |
| Pavilion | 104 | 1 | Andy Bloch - David Kluchman - Chris Ferguson | 36,400 | 23 |
| Pavilion | 104 | 2 | Shawn Rice - Corey Bradford - Dean Kilmer | 25,400 | 16 |
| Pavilion | 104 | 3 | Phong Nguyen (WA) | 84,800 | 53 |
| Pavilion | 104 | 4 | Lukasz Jankowski - Mateusz Rypulak - Jacek Pustula | 27,900 | 17 |
| Pavilion | 104 | 5 | Dragos Trofimov - Mihai Niste - Alexandru Papazian - Florian Duta | 123,200 | 77 |
| Pavilion | 104 | 6 | Yosef Lider - Moshe Kramer - Mark Mazza - Albert Ng | 14,400 | 9 |
| Pavilion | 104 | 7 | Jason James - Dylan Wilkerson | 28,300 | 18 |
| Pavilion | 104 | 8 | Jeffrey Butler | 37,200 | 23 |
| Pavilion | 104 | 9 | Edward Kershaw - Troy Takasaki - Neil Kershaw | 59,400 | 37 |
| | | | | | |
| Pavilion | 105 | 1 | Dohyung Kim - Sungsik Eum | 10,200 | 6 |
| Pavilion | 105 | 2 | Skylar Stillwagon - James Browning | 205,000 | 128 |
| Pavilion | 105 | 3 | Akshay Nasa - Sajal Gupta | 144,800 | 91 |
| Pavilion | 105 | 4 | Cheryl Svenson - Antonio Gutierrez | 115,400 | 72 |
| Pavilion | 105 | 5 | Parker Drew - William Drew | 44,600 | 28 |
| Pavilion | 105 | 6 | John Weirich - Eddie Alexander - Jason Yeager | 64,700 | 40 |
| Pavilion | 105 | 7 | Kristofer Kneale - Lawrence Ma - Blaise Hom | 49,700 | 31 |
| Pavilion | 105 | 8 | Jorge Espinoza - Ricardo Martinez - Guillermo Vilchez | 70,200 | 44 |
| Pavilion | 105 | 9 | Young Phan - Qui Nguyen | 45,800 | 29 |
| | | | | | |
| Pavilion | 106 | 1 | Stefan Fabian - Neculai Macovei | 124,800 | 78 |
| Pavilion | 106 | 2 | Karin Kraemer - Mark Kantor - Lexter Drozario | 1 | 0 |
| Pavilion | 106 | 3 | Trevor-Jon Carter - Jerrimie Pacheco | 26,700 | 17 |
| Pavilion | 106 | 4 | Barry Shulman - Allyn Shulman - Jessica Horan | 45,600 | 29 |
| Pavilion | 106 | 5 | Sven Reichardt - Max Kruse | 77,100 | 48 |
| Pavilion | 106 | 6 | Michael Elbilia - Juan Endara | 43,400 | 27 |
| Pavilion | 106 | 7 | Pedro Arroyos - Christian Vaca | 128,500 | 80 |
| Pavilion | 106 | 8 | Carlo Rodriguez - Frank Duque | 65,700 | 41 |
| Pavilion | 106 | 9 | Erick Rodriguez - Walter Rodriguez | 50,800 | 32 |
| | | | | | |
| Pavilion | 107 | 1 | Dana Muse - Logan Hatch | 77,600 | 49 |
| Pavilion | 107 | 2 | Michael Marder - Daniel Marder | 48,100 | 30 |
| Pavilion | 107 | 3 | Cosmin Joldis - Andrei Moldovan | 18,500 | 12 |
| Pavilion | 107 | 4 | Eric Arreca - Hugo Meija - Evangelina Sevilla - Graciele Meija | 80,300 | 50 |
| Pavilion | 107 | 5 | Jacob Thibodeau - Matthew Jewett | 17,800 | 11 |
| Pavilion | 107 | 6 | Jeremy Atkinson - Darell Dochterman - Adam Perfect | 20,000 | 13 |
| Pavilion | 107 | 7 | Brett Murray - Bobby Poe - Richard Wasinky | 110,700 | 69 |
| Pavilion | 107 | 8 | Erick Vasconcelos - Marcelo Giordano - Marcello Azevedo - Paulo Villena | 68,300 | 43 |
| Pavilion | 107 | 9 | David Petrus - Suzanne Petrus | 171,700 | 107 |
| | | | | | |
| Pavilion | 108 | 1 | Ryan Dodson - Justin Nagai | 59,900 | 37 |
| Pavilion | 108 | 2 | Jaques Zaicik - Bertrand Grospellier | 98,800 | 62 |
| Pavilion | 108 | 3 | Peter Traply - Zsolt Juhasz | 72,700 | 45 |
| Pavilion | 108 | 4 | Marcel Scherrer - Andre Rauch | 87,300 | 55 |
| Pavilion | 108 | 5 | James Petzing - Robert March | 45,900 | 29 |
| Pavilion | 108 | 6 | Tamas Lendvai - Arman Kilavuz - Gueirgui Gantchev - Michal Manda | 79,000 | 49 |
| Pavilion | 108 | 7 | Marle Cordeiro - Matt Berkey - Christian Soto - Matthew Hunt | 70,100 | 44 |
| Pavilion | 108 | 8 | Gennadiy Dvosis - Jonathan Williams | 84,800 | 53 |
| Pavilion | 108 | 9 | Mel Judah - Marsha Waggoner - Soner Osman - Peter Costa | 65,000 | 41 |
| | | | | | |
| Pavilion | 109 | 2 | Nicolas Betbese - Leandro Bianchini - Martin Pineiro | 148,500 | 93 |
| Pavilion | 109 | 3 | DID NOT REPORT 1 | 89,400 | 56 |
| Pavilion | 109 | 4 | David Miklos - Istvan Briski | 25,800 | 16 |
| Pavilion | 109 | 5 | Alexander Kuzmin - Konstantin Puchkov | 99,900 | 62 |
| Pavilion | 109 | 6 | James Farrington - Esther Smith - Carol Harmon | 35,200 | 22 |
| Pavilion | 109 | 7 | Yueqi Zhu - Yake Wu - Xi Yang - Haisheng Ma | 57,400 | 36 |
| Pavilion | 109 | 8 | Anthony Gaglione - Michael Gordon - Parag Segan - Bradford Jensen | 81,100 | 51 |
| Pavilion | 109 | 9 | Steven McNally - Jon Turner - Daniel Eichhorn | 61,800 | 39 |
| | | | | | |
| Pavilion | 110 | 1 | Justin Knutson - Ethan Brandenburg - Tyler Hancock | 160,800 | 101 |
| Pavilion | 110 | 2 | Dante Magtoto - Christian Nofal - Daniel Onat | 139,000 | 87 |
| Pavilion | 110 | 3 | Anna Antimony - Alex Jim | 93,200 | 58 |
| Pavilion | 110 | 4 | Lynn Lozier - Terik Brown - Kenna James | 70,400 | 44 |
| Pavilion | 110 | 5 | Andrew Hetzler - Scott Hetzler - Thomas Watts - John Hucke | 67,300 | 42 |
| Pavilion | 110 | 6 | Michael Lerner - David Shober - Matthew Stohlman | 1 | 0 |
| Pavilion | 110 | 7 | Michael Cohen - Eric Starker - Joseph Starker | 30,000 | 19 |
| Pavilion | 110 | 8 | Gerald Cohen - Drew Friedman | 59,200 | 37 |
| Pavilion | 110 | 9 | Ao Chen - Kenny Nguyen | 80,000 | 50 |
| | | | | | |
| Pavilion | 111 | 1 | Jason Spector - Phillip Spector | 22,400 | 14 |
| Pavilion | 111 | 2 | Phil Galfond - Farah Galfond - Erik Seidel - Maria Konnikova | 33,600 | 21 |
| Pavilion | 111 | 3 | John Perry - Mai Ha | 35,200 | 22 |
| Pavilion | 111 | 4 | Gary Blackwood - Ranjeet Pawar | 44,800 | 28 |
| Pavilion | 111 | 5 | Joseph Kalisek - Clayton Kalisek - Charles Lineberry | 71,200 | 45 |
| Pavilion | 111 | 6 | Linh Le - David Mzareulov | 80,500 | 50 |
| Pavilion | 111 | 7 | Men Nguyen - Le Banh | 132,000 | 83 |
| Pavilion | 111 | 8 | Maximo Martinez - Orlando Barrera | 89,200 | 56 |
| Pavilion | 111 | 9 | Karen Becker - Krista Gifford | 50,100 | 31 |
| | | | | | |
| Pavilion | 112 | 1 | William Carlton - George Kalfayan | 162,600 | 102 |
| Pavilion | 112 | 2 | Ryan Riess - Phil Hui | 93,200 | 58 |
| Pavilion | 112 | 3 | Casey Watrous - Jon Michelson | 57,200 | 36 |
| Pavilion | 112 | 4 | Marcelo Delgado - Jonathan Rosa | 36,300 | 23 |
| Pavilion | 112 | 5 | Yueqi Wang - Alan Spotts | 129,100 | 81 |
| Pavilion | 112 | 6 | Andrew Jernigan - Jason Morman | 69,000 | 43 |
| Pavilion | 112 | 7 | Jeffrey Lutes - Eric Garma | 186,100 | 116 |
| Pavilion | 112 | 8 | Kevin Andriamahefa - He Ming Huang - Alexander Ziskin | 65,800 | 41 |
| Pavilion | 112 | 9 | Loic Bovey - Jonathan Markus - Pierre Vo - Raphael Kull | 53,600 | 34 |
| | | | | | |
| Pavilion | 113 | 1 | Joon Park - Thi Ngo | 93,900 | 59 |
| Pavilion | 113 | 2 | Paul Avezzie - Christopher Sutton - Gregory Hall | 148,100 | 93 |
| Pavilion | 113 | 3 | Faisal Al Qutub - Michael Noor | 90,400 | 57 |
| Pavilion | 113 | 4 | Louis Sunshine - David Fedorko | 28,300 | 18 |
| Pavilion | 113 | 5 | Frank Kunz - Richard Giacomo | 119,600 | 75 |
| Pavilion | 113 | 6 | Martijn Gerrits - Preston Lee - Kane Kalas | 236,100 | 148 |
| Pavilion | 113 | 7 | Julien Sitbon - [Removed:393] | 57,600 | 36 |
| Pavilion | 113 | 8 | Matthew Wantman - Sam Taylor | 62,300 | 39 |
| Pavilion | 113 | 9 | Lance Cusumano - Timothy Hart | 105,600 | 66 |
| | | | | | |
| Pavilion | 114 | 1 | Antonio Gutierrez - Hien Tran - Justin Tran - Quan Tran | 37,700 | 24 |
| Pavilion | 114 | 2 | Romain Nussmann - Julien Stropoli | 149,700 | 94 |
| Pavilion | 114 | 3 | Ryan Leng - Lisa Leng - Nikki Grandt - Ilana Grandt | 105,600 | 66 |
| Pavilion | 114 | 4 | Julio Belluscio - Andres Korn | 68,600 | 43 |
| Pavilion | 114 | 5 | Kao Saetern - Maxwell Young | 98,800 | 62 |
| Pavilion | 114 | 6 | Mac Verstandig - Molly Mossey | 26,500 | 17 |
| Pavilion | 114 | 7 | Alex Whitenstall | 30,400 | 19 |
| Pavilion | 114 | 8 | Harry Lodge - Leo Worthington-Leese - Andy Wilson - Brandon Sheils | 32,300 | 20 |
| Pavilion | 114 | 9 | Wojciech Barzantny - Javier Korhasanoglu - Christopher Ahrens | 33,200 | 21 |
| | | | | | |
| Pavilion | 115 | 1 | Jimmy D'Ambrosio - Jan Lakota - Andrei Spitsyn | 56,400 | 35 |
| Pavilion | 115 | 3 | Keith Brennan - Alex Kulev | 145,400 | 91 |
| Pavilion | 115 | 4 | Thomas Newman - Gregory Thompson | 85,000 | 53 |
| Pavilion | 115 | 5 | Mikhail Semin - Valeria Kobakhidze - Arsenii Karmatckii | 66,900 | 42 |
| Pavilion | 115 | 6 | Lisa Kincaid - Paul Nickens | 50,300 | 31 |
| Pavilion | 115 | 7 | Onur Unsal - Murat Kilic | 44,000 | 28 |
| Pavilion | 115 | 8 | Xiaoqiong Liu - Stephen Song - Adam Hendrix - Brock Wilson | 32,200 | 20 |
| Pavilion | 115 | 9 | John Harth - David Harth | 155,700 | 97 |
| | | | | | |
| Pavilion | 116 | 1 | Jerod Smith - Matthew Moreno - Lawrence Chan | 88,800 | 56 |
| Pavilion | 116 | 2 | Martin Zamani - Adam Bord | 48,100 | 30 |
| Pavilion | 116 | 3 | Fraser MacIntyre - Barny Boatman - Ross Boatman - Yiannis Liperis | 67,600 | 42 |
| Pavilion | 116 | 4 | Kota Nakano - Takami Kunishima - Tetsuya Tsuchikawa - Jun Saito | 35,800 | 22 |
| Pavilion | 116 | 5 | Morris Bonazza - Antonio Barbato | 61,100 | 38 |
| Pavilion | 116 | 6 | Dean Schultz - Richard Sharpe | 13,600 | 9 |
| Pavilion | 116 | 7 | Maxime Chillaud - Matthieu Rodriguez | 24,800 | 16 |
| Pavilion | 116 | 8 | Linda Anderson - Tuan Mai - Joon Kim | 95,700 | 60 |
| Pavilion | 116 | 9 | Mark Ioli - Daniel Trett | 1 | 0 |
| | | | | | |
| Pavilion | 117 | 1 | Marshall White - Irene Carey - Denise Pratt | 78,000 | 49 |
| Pavilion | 117 | 3 | Richard Washinsky - Fabio Coppola | 80,900 | 51 |
| Pavilion | 117 | 4 | Gregory Sanchez - Joseph Deluca - Mikiyo Aoki | 159,400 | 100 |
| Pavilion | 117 | 5 | Aaron Soulliere - Eric Longpre | 181,800 | 114 |
| Pavilion | 117 | 6 | Yah Loon Lim - Bao Qiang Ho | 23,000 | 14 |
| Pavilion | 117 | 7 | Thomas Merighi - Matthew Walko - Emedio Bassetti | 47,700 | 30 |
| Pavilion | 117 | 8 | Elliott Peterman - Daniel Kent | 160,000 | 100 |
| Pavilion | 117 | 9 | Joshua Abady - Jacob Miller | 48,700 | 30 |
| | | | | | |
| Pavilion | 118 | 1 | Gregory Caubet - Yoann Casanovas - Olivier Decamps - Alexandre Castells | 74,600 | 47 |
| Pavilion | 118 | 2 | Kenneth Buck - Gregory Mahoney - Deanna Buck | 83,200 | 52 |
| Pavilion | 118 | 3 | Filipe Goncalves - Giovani Torre | 25,800 | 16 |
| Pavilion | 118 | 4 | Anthony Golodner - Jonathan Kramer - Michel Azzaro - Christopher Leong | 75,500 | 47 |
| Pavilion | 118 | 5 | Yoav Amit - Omri Shaked | 34,900 | 22 |
| Pavilion | 118 | 6 | Lyndon Webster - Natalia Rozova | 39,800 | 25 |
| Pavilion | 118 | 7 | Chris Wright - Ronald Wright | 30,600 | 19 |
| Pavilion | 118 | 9 | Michael Stabnick - Rodney Grifka - Anna Kelly - Brian Kelly | 75,700 | 47 |
| | | | | | |
| Pavilion | 119 | 1 | Silvio Costa - Renato Ribeiro - Pedro Renca Da Cruz | 78,200 | 49 |
| Pavilion | 119 | 2 | Wayne Dutch - Patrick Quirk | 31,800 | 20 |
| Pavilion | 119 | 3 | Michele Guerrini - Marco Bognanni - Luigi Shehadeh | 146,800 | 92 |
| Pavilion | 119 | 4 | Timothy Jurkiewicz - Zachary Gruneberg | 134,200 | 84 |
| Pavilion | 119 | 5 | Collin Mcavoy - James Dunnam - Bradley Svoboda | 89,800 | 56 |
| Pavilion | 119 | 6 | Jorge De Oliveira - Jose Ferro | 38,900 | 24 |
| Pavilion | 119 | 7 | Jun Zhou - Zhe Li - Xilian Liu | 19,200 | 12 |
| Pavilion | 119 | 9 | Gaelle Baumann - Kevin Noblat | 17,200 | 11 |
| | | | | | |
| Pavilion | 120 | 1 | Domenico Gala - Potito Martire | 64,900 | 41 |
| Pavilion | 120 | 2 | Kiryl Radzivonau - Anatolii Zyrin - Beka Iordanishvili | 135,000 | 84 |
| Pavilion | 120 | 3 | Kellina Sanders - Jodie Sanders | 92,100 | 58 |
| Pavilion | 120 | 4 | Erika Weinstein - Michael Wasserman | 37,400 | 23 |
| Pavilion | 120 | 5 | Christoph Felber - Ralph Seewald | 54,600 | 34 |
| Pavilion | 120 | 6 | Jacqueline Burkhart - George Wolff - Angela Jordison - Mason Barrell | 62,000 | 39 |
| Pavilion | 120 | 7 | Aaron Weeks - Richard Kaufmann - Judson Tigerman - Jason Balaban | 33,500 | 21 |
| Pavilion | 120 | 8 | Cathal Shine - Andy Black | 68,400 | 43 |
| Pavilion | 120 | 9 | Leigh Nothrop - Donna Moore - Scott Hicks | 61,500 | 38 |
| | | | | | |
| Pavilion | 121 | 1 | Flaminio Malaguti - Walter Treccarichi - Dario Sammartino - Federico Anselmi | 62,200 | 39 |
| Pavilion | 121 | 2 | Nicholas Sayer - Evan Sayer | 27,300 | 17 |
| Pavilion | 121 | 3 | Boris Shusterman - Michael Crane | 59,200 | 37 |
| Pavilion | 121 | 5 | Gary Hart - Vincent Lepore | 81,300 | 51 |
| Pavilion | 121 | 6 | Kimberly Moore - Jennifer Kersey | 22,700 | 14 |
| Pavilion | 121 | 7 | Wenhao Ying - Nan Li - Yicheng Xu | 74,800 | 47 |
| Pavilion | 121 | 8 | Ann Rees - Blaine Rees | 119,400 | 75 |
| Pavilion | 121 | 9 | Sam Cosby - Mario Hofler | 70,400 | 44 |
| | | | | | |
| Pavilion | 122 | 2 | Harold Lilie - Stephen Zolotow | 26,700 | 17 |
| Pavilion | 122 | 3 | Robin Conte - Sven Rixen | 17,900 | 11 |
| Pavilion | 122 | 4 | Joseph Dicken - Bradley Rhodes - Elliott Kampen - Aaron Steury | 113,700 | 71 |
| Pavilion | 122 | 5 | Jose Canseco - Donya Monroe - Evan Trinh | 86,900 | 54 |
| Pavilion | 122 | 6 | Tuan Le - Thanh Tran | 106,100 | 66 |
| Pavilion | 122 | 7 | Andre Clarke - Hayden Liotta | 22,800 | 14 |
| Pavilion | 122 | 8 | Phillip Echalar - Ty Wilding - David Bualat | 28,300 | 18 |
| Pavilion | 122 | 9 | Mateus Pimenta - Rafael Caiaffa - Joao Simao | 124,600 | 78 |
| | | | | | |
| Pavilion | 123 | 1 | Baptiste Chavaillaz - Ming Zhu | 21,300 | 13 |
| Pavilion | 123 | 2 | Sam Jaddi - Robert Tannenbaum | 47,600 | 30 |
| Pavilion | 123 | 3 | Chris Jenkins - Michael Lasorte | 23,400 | 15 |
| Pavilion | 123 | 4 | Jordan Cristos - Jeffrey Cristos - Catherine Cristos | 82,900 | 52 |
| Pavilion | 123 | 5 | Gerald Ranger - Rainer Kempe | 69,900 | 44 |
| Pavilion | 123 | 6 | James Piccolo - Jared Strauss | 133,600 | 84 |
| Pavilion | 123 | 7 | Scott Schiesser - Melissa Lancour | 25,100 | 16 |
| Pavilion | 123 | 8 | Robert Peacock - Casey Coughlan - David Ormsby | 67,300 | 42 |
| Pavilion | 123 | 9 | Doug Polk - Kaitlin Karges - Bryce Daifuku - Chris Digirolamo | 54,300 | 34 |
| | | | | | |
| Pavilion | 124 | 1 | Jared Jaffee - Ralph Massey - Aaron Massey | 255,000 | 159 |
| Pavilion | 124 | 2 | Douglas Holcomb - Andre Luster | 1 | 0 |
| Pavilion | 124 | 3 | Michael O'Grady - Diego Cordovez - Jeff Shulman | 97,200 | 61 |
| Pavilion | 124 | 4 | Viliyan Petleshkov - Boryana Simeonova | 53,500 | 33 |
| Pavilion | 124 | 5 | Quinn Bruno - Brett Maistri - Michael Vo | 23,000 | 14 |
| Pavilion | 124 | 6 | John Green - Larissa Plotsky -Jake Abdalla | 50,600 | 32 |
| Pavilion | 124 | 8 | Michael Katz - Shannon Shorr - Ryan Buchardt | 50,700 | 32 |
| Pavilion | 124 | 9 | Timothy Ulrich - Garrett Crites | 50,900 | 32 |
| | | | | | |
| Pavilion | 125 | 1 | Maciej Kaminski - Dzmitry Urbanovich | 22,900 | 14 |
| Pavilion | 125 | 2 | Nathan Estle - Mark Thompson - Robert Monday | 45,500 | 28 |
| Pavilion | 125 | 3 | Chahn Jung - Danny Wong - Steve Sung - Aaron Motoyama | 140,000 | 88 |
| Pavilion | 125 | 4 | Dimitar Danchev - Ivan Uzunov | 65,300 | 41 |
| Pavilion | 125 | 5 | Dang Phung - Robert Sanz | 75,100 | 47 |
| Pavilion | 125 | 6 | Shawn Coomer - Clayton Schmeisser | 52,400 | 33 |
| Pavilion | 125 | 7 | Paul Hudspeth - Randall Morris | 63,900 | 40 |
| Pavilion | 125 | 8 | Kaitlyn Faaland - Carlos Figuero | 17,100 | 11 |
| | | | | | |
| Pavilion | 126 | 1 | Marvin Rettenmaier - Niels Herregodts | 34,400 | 22 |
| Pavilion | 126 | 2 | Christopher Frank - Melissa Wang | 43,400 | 27 |
| Pavilion | 126 | 3 | Kazuki Ikeuchi - Naoya Hikara Tamon Nakamura | 56,200 | 35 |
| Pavilion | 126 | 4 | Ohad Gieger - Daniel Dayan | 1 | 0 |
| Pavilion | 126 | 5 | William Blais - Ian Modder | 63,100 | 39 |
| Pavilion | 126 | 6 | Ian Schechter - Todd Lepow | 30,600 | 19 |
| Pavilion | 126 | 7 | Gregory Wallow - Adam Bondy | 23,000 | 14 |
| Pavilion | 126 | 9 | Jason Nablo - Blake Napierala | 33,700 | 21 |
| | | | | | |
| Pavilion | 127 | 1 | Richard Marquez - Santos Marquez - Chris Gomez | 121,400 | 76 |
| Pavilion | 127 | 2 | John Hinds - Anthony Zinno | 141,800 | 89 |
| Pavilion | 127 | 3 | Tony Dunst - Ben Yu - Scott Baumstein | 120,400 | 75 |
| Pavilion | 127 | 4 | Scott Dortch - Arash Ghaneian - Alan Weisman | 26,700 | 17 |
| Pavilion | 127 | 5 | Daria Feshchenko - Manig Loeser - Aylar Lie | 52,000 | 33 |
| Pavilion | 127 | 6 | Kevin MacPhee - Dhaval Mudgal - Abhinav Iyer - Siddarth Karia | 125,100 | 78 |
| Pavilion | 127 | 7 | Kyle Carson - Andrew Moser | 96,000 | 60 |
| Pavilion | 127 | 8 | Dominykas Mikolaitis - Michael Lech | 108,400 | 68 |
| Pavilion | 127 | 9 | Thu Tran - Luther Tran - Dustin Stewart | 115,000 | 72 |
| | | | | | |
| Pavilion | 128 | 1 | Kyle Miholich - Jeff Madsen - Michael Cribier | 46,200 | 29 |
| Pavilion | 128 | 2 | Nataliya Iakovleva - Ekaterina Iakovleva - Sergei Nikiforov - Roman Shaposhnikov | 64,800 | 41 |
| Pavilion | 128 | 3 | James Rasmussen - Christopher Rasmussen - Robert Neal | 122,200 | 76 |
| Pavilion | 128 | 4 | Nikhil Gera - Craig Chait - Jared Griener - Adam Swan | 121,700 | 76 |
| Pavilion | 128 | 5 | David Larson - Ross Ward | 150,700 | 94 |
| Pavilion | 128 | 6 | Aditya Agarwal - Madhav Gupta - Kartik Ved | 12,500 | 8 |
| Pavilion | 128 | 7 | James George - Jonathan Walker | 154,600 | 97 |
| Pavilion | 128 | 8 | Brian Valentine - Alberto Calderon | 95,200 | 60 |
| Pavilion | 128 | 9 | Kenny Hallaert - Steven van Zadelhoff | 44,300 | 28 |
| | | | | | |
| Pavilion | 129 | 1 | Felipe Ramos - Natalie Hof | 64,700 | 40 |
| Pavilion | 129 | 2 | Stephen Nussrallah - Scott Dobbs | 30,600 | 19 |
| Pavilion | 129 | 3 | Duy Tran - Jeffrey Bryant | 25,500 | 16 |
| Pavilion | 129 | 4 | Nelson Bernal - Brendan Terrana | 30,900 | 19 |
| Pavilion | 129 | 5 | Daniel Young - Michael Hatfield | 114,000 | 71 |
| Pavilion | 129 | 6 | Bryce Yockey - Avi Kraiem - Joshua Gottesman | 45,500 | 28 |
| Pavilion | 129 | 7 | Matthias Hofling - Perica Josic | 65,400 | 41 |
| Pavilion | 129 | 8 | Jesse Sylvia - Ashley Sleeth - Jennifer Miller - Ricardo Alvarado | 46,500 | 29 |
| Pavilion | 129 | 9 | Calin Trif - Radu Bindean | 112,700 | 70 |
| | | | | | |
| Pavilion | 130 | 1 | Thomas Cabot - Shane Doyle | 34,100 | 21 |
| Pavilion | 130 | 2 | Regino Lopez - Reymundo Moreno | 32,700 | 20 |
| Pavilion | 130 | 3 | Dara O'Kearney - Daiva Byrne | 27,300 | 17 |
| Pavilion | 130 | 4 | Benjamin Auner - Dario Nalis | 28,800 | 18 |
| Pavilion | 130 | 5 | Christopher Staats - Takao Shimizu | 26,500 | 17 |
| Pavilion | 130 | 6 | Steven McCartney - Moshe Rosenfeld | 25,400 | 16 |
| Pavilion | 130 | 7 | Paul Dhaliwal - Harsukhpaul Sangha - Shane Foulds | 100,700 | 63 |
| Pavilion | 130 | 8 | Timothy Smith - Dallas Johnson | 30,200 | 19 |
| Pavilion | 130 | 9 | James Battaglia - Anthony Guerrera - Kathryn Kelly - Nader Isahac | 39,500 | 25 |
| | | | | | |
| Pavilion | 131 | 1 | Shaotong Chang - Jie Xu | 165,700 | 104 |
| Pavilion | 131 | 2 | Matthew James - John Romero - Kenneth Lewis | 39,100 | 24 |
| Pavilion | 131 | 3 | Michael Schultz - John Thompson | 151,600 | 95 |
| Pavilion | 131 | 4 | Ryan Depaulo - Joseph Straub - Thomas McLaughlin | 77,600 | 49 |
| Pavilion | 131 | 5 | Larry Vincent - Carl Landrum | 42,200 | 26 |
| Pavilion | 131 | 6 | Blake Carriere - James McAbee - Daryl Ellis - Dylan Ellis | 31,400 | 20 |
| Pavilion | 131 | 7 | Luis Pinho - Joao Rodrigues | 105,200 | 66 |
| Pavilion | 131 | 8 | Eduard Sansosti - Robert Wido - Matthew Litt | 93,900 | 59 |
| Pavilion | 131 | 9 | Michael Sortino | 15,500 | 10 |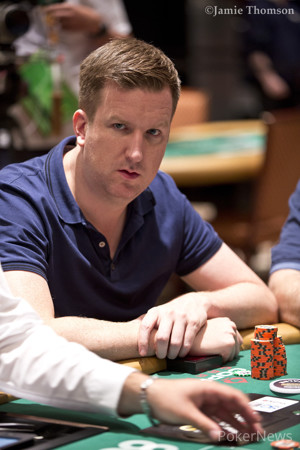 Welcome back to Day 2 of Event #57: $1,000 Tag Team No-Limit Hold'em which might be one of the few events which constantly has a huge rail on the sidelines. The tournament prompted 976 teams to sign up and play, 278 of them made it through the hurdles that Day 1 brought them.
When they return at 1 p.m. local time, they will be racing against each other to claim their share of the $878,400 prize pool. Just under half of them will be doing so as 147 teams will be getting paid in this event for at least $1,498 while the winning team will walk away with $168,395.
Leading the relay is Team Jaffee with Jared Jaffee, Ralph Massey, and Aaron Massey with 255,000 chips. They are followed by Team Gerrits (Martijn Gerrits - Preston Lee - Kane Kalas) who bagged 236,100 chips and Team Stillwagon (Skylar Stillwagon – James Browning) with 205,000 in chips.
Other teams to keep an eye on as they bagged and tagged an above average stack include Team Wang (Michael Wang – Dan Zack – Ajay Chabra), Team Hinds (John Hinds – Anthony Zinno), Team Trofimov (Dragos Trofimov – Mihai Niste – Alexandru Papazian – Florian Duta), Team Gera (Nikhil Gera – Craig Chait – Jared Griener – Adam Swan), Team Dunst (Tony Dunst – Ben Yu – Scott Baumstein), Team Koon (Jason Koon – Sosia Jiang), Team Riess (Ryan Riess – Phil Hui), Team Wheeler (Jason Wheeler – Matt Iles), and many more.
Each team consist of at least two players and has four at a maximum, every player has to have played at least a small blind and big blind at one point during the tournament before it's over. Not everyone has done this yet as some of the teammates could have been playing other events here at the 50th Annual World Series of Poker. Players can tag each other out and in whenever they're not in an active hand and the payouts will be distributed evenly amongst the teammates once the tournament gets down to the money stage.
When the players return to the Rio All-Suite Hotel & Casino, they will continue with Level 11 which features a small blind of 800, big blind of 1,600, and a big blind ante of 1,600. Another ten levels of 60 minutes each are scheduled with a color-up break after Level 14 and 18. The PokerNews live reporting team will be following along all day to bring you all the latest updates from the action on the floor.
Nível: 11
Blinds: 800/1,600
Ante: 1,600

Nível 11 : 800/1,600, 1,600 ante
The tournament director has welcomed the teams back to the tables and instructed the dealers to shuffle up and deal.
Nível 11 : 800/1,600, 1,600 ante
Dragos Trofimov raised from under the gun, and when the action folded around to Team Bloch on the button, one member moved all in for around 35,000.
The player in the big blind had a think for 30 seconds but opted to fold, and Trofimov called.
Team Trofimov:

Team Bloch:
Board:
The queen on the turn was an interesting card as Team Trofimov picked up a set while Team Bloch saw outs to the straight. However, the river bricked for Team Bloch and the members Andy Bloch - David Kluchman - Chris Ferguson was eliminated.

Nível 11 : 800/1,600, 1,600 ante
Team Rasmussen raised to 3,600 from under the gun and action folded to Kenny Hallaert on the button who shoved for 12,700 in total. The blinds folded and Team Rasmussen quickly called with the bigger stack.
Kenny Hallaert:

Team Rasmussen:
The board ran out
for Hallaert to hit the river to keep his team in the running.

Nível 11 : 800/1,600, 1,600 ante
Team Auner shoved from the early position for 32,300 and so did Team De Oliveira in the cutoff with the bigger stack while the rest of the table folded to let them battle it out.
Team Auner:

Team De Oliveira:
The board ran out
for Team De Oliveira to hold and eliminate another opponent.
Jogador
Fichas
Oscilação

Jorge De Oliveira - Jose Ferro

111,700

72,800

Gaelle Baumann - Kevin Noblat

Eliminado

Wayne Dutch - Patrick Quirk

Eliminado

Benjamin Auner - Dario Nalis

Eliminado
Nível 11 : 800/1,600, 1,600 ante
Team Reskallah moves all in for 22,000 from middle position after a limp from a player in early position. The action folds around to the player on the button, and he needs a minute to think before he folds.
Team Tran in the big blind asks how much the initial limper is playing and sees a 28,000 stack. After 30 seconds of pondering pass, Team Tran folds, and Team Reskallah picks up the pot after seeing the last player opt to fold.
Jogador
Fichas
Oscilação

Cuong Tran - Chad Layne

55,000

1,200

Aladin Reskallah - Yassine El Fouladi

27,000

-26,700

Nível 11 : 800/1,600, 1,600 ante
The board read
when Team Gabay shoved and Team Robinson called for their last 32,000 or so.
Team Robinson:

Team Gabay:
Team Gabay had flopped a pair of eights and improved to trips on the turn. Team Robinson was hoping for a seven on the river to double up but they bricked the river as the
was dealt.