Nível 25 : 10,000/20,000, 20,000 ante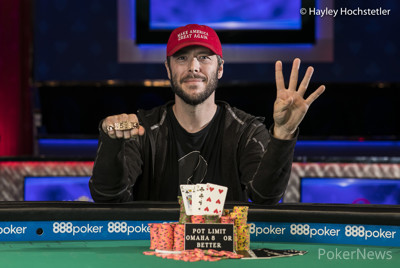 Bill Boyd and Doyle Brunson had been the only players in World Series of Poker (WSOP) history who had won bracelets in four consecutive years. Loren Klein has now joined the two legends, adding number four to his résumé as he prevailed in the 2019 WSOP Event #43: $2,500 Mixed Big Bet.
Klein came back from the shortest stack at the final table to conquer a 218-entry contest for $127,808 and his fourth bracelet, following previous wins over the past three years.
While Boyd and Brunson accomplished their streaks back in the 1970s, Klein is the first player to make it four-in-a-row in the modern era with large attendances. The 218-entry field in the Mixed Big Bet is, in fact, the smallest player field among his triumphant runs.
That, however, didn't make it any easier for him. Sitting at the bottom of the standings ahead of the final day, Klein knew that the only way to bounce back would lead by risking elimination.
He made his first move only minutes into play, drawing with a one-pair hand against Phil Hui's two pair in no-limit five-card draw. Klein peeled a higher two pair, survived, and took off from there.
Final table Results
| Place | Player | Country | Prize |
| --- | --- | --- | --- |
| 1 | Loren Klein | United States | $127,808 |
| 2 | Ryan Hughes | United States | $78,985 |
| 3 | Phil Hui | United States | $51,346 |
| 4 | Arthur Morris | United States | $34,328 |
| 5 | Joey Couden | United States | $23,622 |
| 6 | Jonathan Depa | United States | $16,746 |
| 7 | Mike Sexton | United States | $12,240 |
While Ryan Hughes held onto a commanding lead, Klein was the other star at the table. He kept grinding his stack up, assuring the remaining players that they couldn't dismiss his bid for the title. After all, he was the only one who had emerged victorious three times, more than any other player at the table.
But it was Hughes pulling the strings before the first break, magnetizing two-thirds of the chips in play with five players left. The first break, however, was a turning point. Even Hughes could suddenly be wounded, and Hui and Klein both bit into his stack.
The three started to profile as the contenders for the bracelet, and the eliminations of Joey Couden and Arthur Morris confirmed that it would be Hughes, Klein, and Hui who'd battle it out.
The chances were fairly even, but a key hand in pot-limit deuce propelled Klein to the chip lead. Hui was again on the unlucky side, having his pat nine outdrawn by Klein's one-card draw in a predraw all-in clash.
Hui soon busted to Hughes, paving the way for the heads-up match. Again, the chip-spread was relatively fair, and a reasonably deep-stacked play offered room for a potentially strenuous encounter.
There wouldn't be one, though as Klein showed a decisive dominance and dragged the majority of the pots, quickly seizing a 2-to-1 advantage.
The final strike came in pot-limit Omaha hi-lo, and Klein was as tough an opponent as anyone in the four-card flop game. He made a second-nut flush while Hughes held the nut blocker. Hughes showed multiple times during this tournament—and in many previous ones—that he isn't scared to put his chips into the middle, and he went for it. He raised all in, Klein picked him off, and that was it. Hughes had to settle for second place, just like he did in the same tournament in 2018.
This year's WSOP is virtually at its halfway point, so there are still dozens of bracelets up for grabs. While Klein has already met his yearly quota, he would undoubtedly prefer to snag his fifth by the end of the summer. Keep following the PokerNews live coverage to find out whether he'll double down or if he'll have to wait until 2020.