Event #17: $1,500 No-Limit Hold'em Shootout
Dias: 3
Event #17: $1,500 No-Limit Hold'em Shootout
Dia 3 Iniciado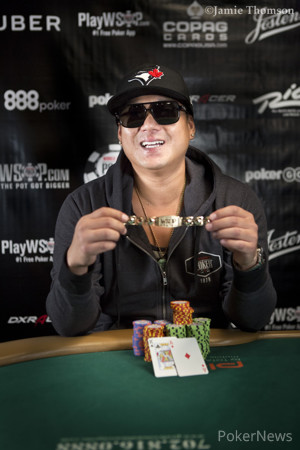 It looks so deceptively simple. Win your table and you advance to the next round. Win it again? You've made it to a World Series of Poker final table. Win that one? Congratulations, you're a WSOP gold bracelet winner! Three wins in a row, that's all it takes to win Event #17: $1,500 No-Limit Hold'em Shootout, and ten players have accomplished the first two goals. They each have at least $15,331 locked up for making it this far, but their sights are set on the first place prize of $238,824 that awaits the winner at the end of the night.
The beauty of the Shootout format is in its equality, as every single one of the ten final table players starts with more or less the same amount in chips. It's a level playing field — no chip leaders, no short stacks — and after what's likely to be a very long day, one of them will be able to call himself a WSOP champion.
As winning to advance twice was requisite to make it to the final table, it comes to no surprise that a table chock-full of talent will be duking it out on the Amazon Secondary feature table throughout the day. 2018 Monster Stack winner Tommy Nguyen, Cary Katz, Anatolii Zyrin, Manuel Ruivo, Kenna James, and Brett Apter are some of the familiar faces to take a seat. For Katz, the man behind PokerGO, a win here would be the perfect addition to s mouth-watering poker resumé consisting of nearly $20 million in lifetime winnings.
For Marko Maher and Shintaro Baba, however, this is their first taste of WSOP-success and they're looking to make a big splash right away. Rounding out the top ten are Adrian Scarpa and Michael O'Grady, who also conquered their two first tables to advance to the final ten.
Final Table Lineup
| Seat | Player | Country | Chip Count | Big Blinds |
| --- | --- | --- | --- | --- |
| 1 | Brett Apter | United States | 2,258,000 | 226 bb |
| 2 | Anatolii Zyrin | Russia | 2,306,000 | 231 bb |
| 3 | Marko Maher | Slovenia | 2,240,000 | 224 bb |
| 4 | Shintaro Baba | Japan | 2,237,000 | 224 bb |
| 5 | Adrian Scarpa | United States | 2,286,000 | 229 bb |
| 6 | Michael O'Grady | United States | 2,298,000 | 230 bb |
| 7 | Kenna James | United States | 2,203,000 | 220 bb |
| 8 | Cary Katz | United States | 2,266,000 | 227 bb |
| 9 | Manuel Ruivo | Portugal | 2,245,000 | 225 bb |
| 10 | Tommy Nguyen | Canada | 2,213,000 | 221 bb |
The blinds will kick off with 5,000/10,000 and a 10,000 big blind ante, giving players plenty of room to play as the day progresses. Levels will be 40 minutes throughout the final table and play will continue until the winner has been crowned. Follow along with PokerNews in the Rio All-Suite Hotel & Casino throughout the day as a new champion is crowned at the 2019 World Series of Poker.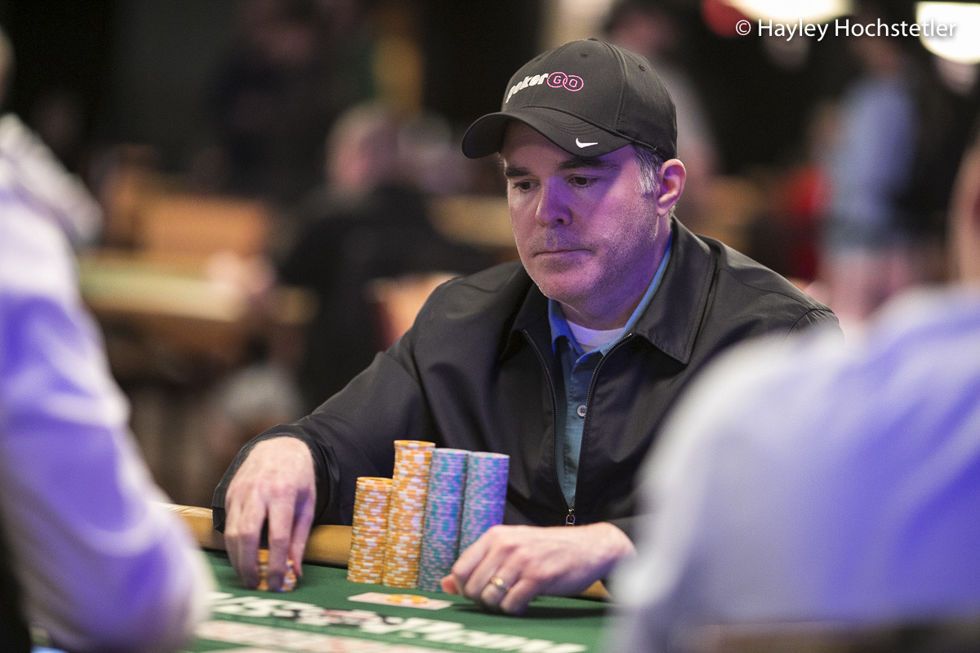 Nível: 31
Blinds: 5,000/10,000
Ante: 10,000
Nível 31 : 5,000/10,000, 10,000 ante
Cary Katz opened to 22,000 from early position and Tommy Nguyen, in mid-position, called. Anatolii Zyrin, on the cutoff, three-bet to 85,000. Katz folded and Nguyen added the remainder to call.
The dealer spread a flop of
and Nguyen check-called a bet of 65,000 from Zyrin.
The turn brought the
and Nguyen checked once more. Zyrin fired another bet of 155,000, that was enough for him to claim the pot.

Nível 31 : 5,000/10,000, 10,000 ante
Marko Maher raised to 25,000 from middle position and got calls from Kenna James and Cary Katz in the blinds. James led out 30,000 on a
flop and both Katz and Maher called.
On the
turn, James checked, Katz bet 104,000, Maher folded, and James folded as well.
Nível 31 : 5,000/10,000, 10,000 ante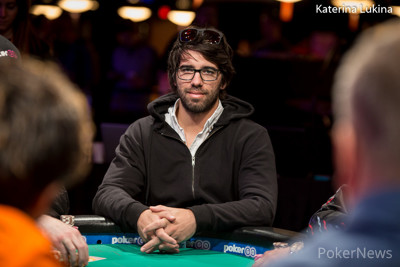 Kenna James opened to 23,000 from early position. Manuel Ruivo, in middle position, three-bet to 75,000. Action folded back to James who four-bet to 223,000. Ruivo stuck around with a call.
A flop reading
was dealt. James threw in a bet of 300,000 and Ruivo called.
The turn came the
, and James continued with another bet of 500,000 that Ruivo called once more.
The
filled up the board and this time, James opted to check. Ruivo fired 500,000. James went deep into the tank for a few minutes, but eventually let it go.

Nível 31 : 5,000/10,000, 10,000 ante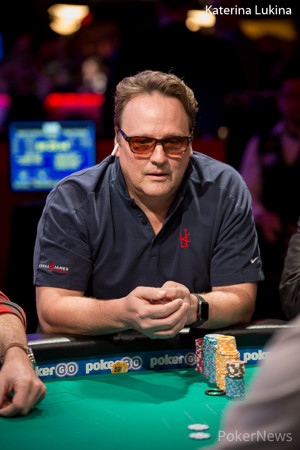 Anatolii Zyrin raised to 25,000 and Adrian Scarpa called. Kenna James made it 70,000 on the button, Zyrin called, and Scarpa called as well. On the
flop, Zyrin and Scarpa checked to James who bet 80,000. The Russian folded, Scarpa called.
On the
turn, Scarpa checked, James bet 275,000 and Scarpa check-raised to 700,000. James chuckled, took around twenty seconds, then stacked all his chips and slid them forward for a total shove of 1,003,000. Scarpa quickly flicked in a calling chip.
Kenna James:

Adrian Scarpa:
There was only one out in the deck left for Scarpa to knock James out but the
wasn't the case trey. Just like that, James got his earlier lost chips back.
"What happened?" James' rail inquired.
"I got lucky with set over set," he explained.
"Wooo!" the rail cheered.
Nível: 32
Blinds: 6,000/12,000
Ante: 12,000
Nível 32 : 6,000/12,000, 12,000 ante
Marko Maher opened to 28,000 from early position. Adrian Scarpa, in middle position, three-bet to 88,000, and Cary Katz, on the cutoff called. Action folded back to Maher who added the remainder to call as well.
The flop came
, and Maher checked it to Scarpa who fired 90,000. Catz folded, and Maher check-raised to 275,000. Scarpa stuck around with a call.
The
filled up the river and Maher threw in a bet of 325,000. Scarpa thought for a long while, but opted to give up his hand.

Nível 32 : 6,000/12,000, 12,000 ante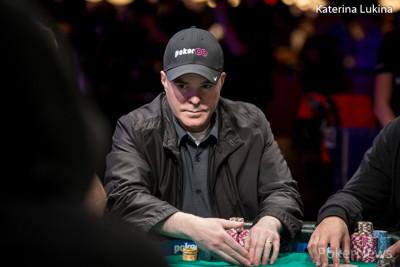 The atmosphere at the final table is relaxed, with almost all of the players settled in and comfortable with their deep stacks in front of them. Cary Katz is one of the players making small talk at the table and also raised to 25,000, with Marko Maher being the one to defend the big blind.
Katz kept the casual conversation going on a
flop while betting 35,000 and Maher called. On the
turn, Katz flung in 100,000, but Maher countered with a check-raise to 330,000. Katz quickly called and yelled "Go diamond!"
The river was indeed one, the
, and both players quickly checked. Katz rolled over the
for two pair and Maher mucked. After the hand, the players kept their casual conversation going and inquired about Maher's whereabouts, who hails from Slovenia, one of the successor states of the former Yugoslavia.