Event #10: $1,500 Dealers Choice
Dias: 3
Event #10: $1,500 Dealers Choice
Dia 3 Iniciado
| Room | Table | Seat | Player | County | Count |
| --- | --- | --- | --- | --- | --- |
| Amazon | 402 | 1 | Mike Watson | Canada | 126,500 |
| Amazon | 402 | 3 | John Monnette | United States | 149,500 |
| Amazon | 402 | 4 | John Cernuto | United States | 300,000 |
| Amazon | 402 | 5 | Wes Self | United States | 324,000 |
| Amazon | 402 | 6 | Naoya Kihara | Japan | 202,000 |
| | | | | | |
| Amazon | 403 | 1 | Robert Mizrachi | United States | 140,500 |
| Amazon | 403 | 3 | Benny Glaser | United Kingdom | 489,500 |
| Amazon | 403 | 4 | Michael Chow | United States | 443,000 |
| Amazon | 403 | 5 | James Pritchard | United States | 154,000 |
| Amazon | 403 | 6 | Josh Arieh | United States | 134,500 |
| | | | | | |
| Amazon | 406 | 1 | Tamon Nakamura | Japan | 63,000 |
| Amazon | 406 | 2 | Scott Clements | United States | 270,500 |
| Amazon | 406 | 4 | Jesse Martin | United States | 153,000 |
| Amazon | 406 | 5 | Timothy McDermott | United States | 289,500 |
| Amazon | 406 | 6 | Frankie O'Dell | United States | 342,000 |
| | | | | | |
| Amazon | 407 | 1 | Michael Ross | United States | 194,000 |
| Amazon | 407 | 2 | Jim Collopy | United States | 203,500 |
| Amazon | 407 | 3 | Jack Rice | United States | 35,000 |
| Amazon | 407 | 4 | Andrey Zhigalov | Russia | 114,500 |
| Amazon | 407 | 5 | Scott Horowitz | United States | 141,000 |
| Amazon | 407 | 6 | Robert Campbell | Australia | 454,000 |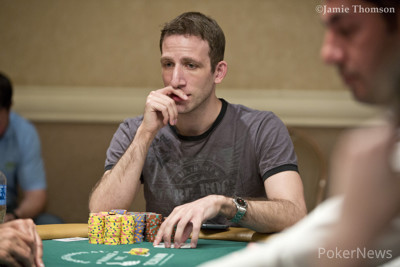 Welcome back to the Rio All-Suites Hotel and Casino and the 2019 World Series of Poker for Day 3 of Event #10: $1,500 Dealers Choice.
This event started with 470 entrants just two days ago as a prize pool of $634,500 was created. Once Sergey Altbregin was eliminated on the bubble by Mike Ross during a Pot-Limit Omaha orbit, the likes of Patrick Leonard (68th), Valentin Vornicu (66th), Ryan Hughes (64th), Ian Johns (63rd), Alex Kuzmin (55th), Andrey Zaichenko (53rd), Ben Yu (50th), Quinn Do (48th), David "ODB" Baker (41st), Frank Kassela (35th), Greg Mueller (32nd), and Joey Couden (26th), all fell short of a Day 3 berth.
Heading into the scheduled final day of play, just 21 players remain. These players are currently guaranteed $4,754, but all eyes are set on the $144,957 first-place prize along with the coveted WSOP gold bracelet.
The United Kingdom's Benny Glaser is the overnight chip leader after bagging 489,500 in chips. Glaser holds WSOP bracelets in 2-7 Triple Draw (2015) and two in Omaha Hi-Lo (2016 twice), and is best positioned to add a fourth in Event #10. Australian Rob Campbell sits in second place with 454,500 and is known as one of the best mixed game players - both cash game and tournament format - from his country. In third place - and the only other player above 400,000 in chips - is Hawaiian Michael Chow who sits with 443,000 and will be looking to add to his WSOP bracelet collection that features a 2010 WSOP bracelet in Omaha Hi-Lo.
Also still in contention include WSOP bracelet winners Frankie O'Dell, "Miami" John Cernuto, Scott Clements, Naoya Kihara, Jesse Martin, John Monnette, Robert Mizrachi, Josh Arieh, and Andrey Zhigalov.
Play resumes for Day 3 action at 2 p.m. (PDT) with the PokerNews Live Reporting Team providing continuous live updates of all the action from Event #10: $1,500 Dealers Choice. So stay tuned to PokerNews.com for the updates from Event #10, and every event from the 2019 World Series of Poker.
Nível: 21
Limit Flop / Draw: 5,000/10,000
Stud Games: 2,000-ante, 3,000 bring-in, 10,000 completion
No-Limit & Pot-Limit: 2,500/5,000/5,000-big blind ante/ 7,500-ante
Nível 21 : 10,000/20,000, 0 ante
The cards are now in the air for Day 3 of Event #10: $1,500 Dealers Choice.
Nível 21 : 10,000/20,000, 0 ante
Big O
Jack Rice got it all in right away for his 35,000 in Big O holding
. Mike Ross had
and was in good shape with a pair and the same two lowest cards. The
flop was great for him, as was the
turn to bring a Broadway straight. He got the
river to boot to end with a flush.
Nível 21 : 10,000/20,000, 0 ante
Razz
Mike Watson was the bring in, and Naoya Kihara completed to 10,000. Watson called, and on fourth street, Kihara checked and Watson bet.
Kihara called, and on fifth, he folded to Watson's bet of 20,000.
Watson:
/

Kihara:
/
Nível 21 : 10,000/20,000, 0 ante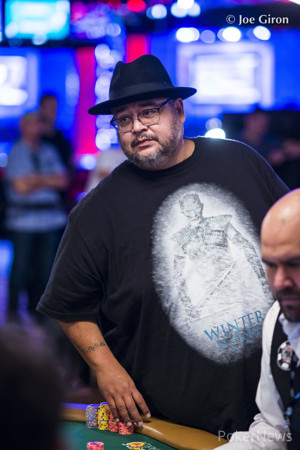 Big O
Scott Clements raised to 15,000 before Frankie O'Dell re-raised to 50,000. Clements called, and on the
flop, O'Dell saw the last of his chips enter the pot as Clements called.
O'Dell:

Clements:
The turn and river landed
and
, and O'Dell was eliminated in 19th place.
On the hand previous, Jesse Martin was eliminated, and with 18 players remaining, a three table re-draw is upcoming.
Jogador
Fichas
Oscilação

Scott Clements

700,000

429,500

Jesse Martin

Eliminado

Frankie O'Dell

Eliminado
Nível 21 : 10,000/20,000, 0 ante
| Seat | Table 402 | Table 403 | Table 407 |
| --- | --- | --- | --- |
| 1 | Josh Arieh | Mike Watson | Wes Self |
| 2 | Tamon Nakamura | Scott Horowitz | Scott Clements |
| 3 | John Monnette | John Cernuto | James Pritchard |
| 4 | Benny Glaser | Robert Mizrachi | Jim Collopy |
| 5 | Andrey Zhigalov | Naoya Kihara | Mike Ross |
| 6 | Tim McDermott | Rob Campbell | Michael Chow |
Nível 21 : 10,000/20,000, 0 ante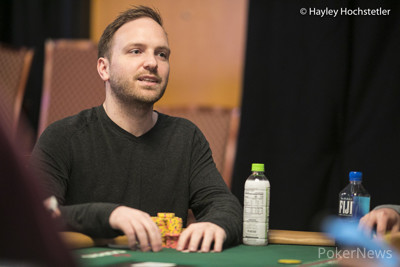 Stud Hi-Lo Regular
Scott Horowitz was the bring-in, and Robert Mizrachi completed to 10,000. Naoya Kihara called, as did Mike Watson, and Horowitz.
On fourth street, Watson bet 10,000 and Horowitz and Kihara called, as Mizrachi folded.
On fifth street, Watson bet 20,000, and now Horowitz and Kihara folded.
Horowtiz:
/

Mizrachi:
/
(folded on fourth)
Kihara:
/

Watson:
/
As Watson collected the pot, he showed his
in the hole for a seven-low and a draw to the wheel.