Event #74: Big Blind Antes $10,000 No-Limit Hold'em 6-Handed Championship
Dias: 2
Event #74: Big Blind Antes $10,000 No-Limit Hold'em 6-Handed Championship
Dia 2 Iniciado
| Room | Table | Seat | Player Name | Country | Chip Count |
| --- | --- | --- | --- | --- | --- |
| Amazon | 424 | 2 | Johan Guilbert | France | 15,500 |
| Amazon | 424 | 3 | Preben Stokkan | United States | 109,400 |
| Amazon | 424 | 4 | Maria Ho | United States | 71,900 |
| Amazon | 424 | 5 | Jennifer Tilly | United States | 118,300 |
| Amazon | 424 | 6 | Martin Jacobson | Sweden | 138,700 |
| | | | | | |
| Amazon | 425 | 1 | Timothy Adams | Canada | 110,800 |
| Amazon | 425 | 2 | Aliaksei Boika | Belarus | 120,300 |
| Amazon | 425 | 4 | Ryan Riess | United States | 120,600 |
| Amazon | 425 | 6 | Vicent Bosca Ramon | Spain | 92,600 |
| | | | | | |
| Amazon | 426 | 1 | Jason Koon | United States | 156,000 |
| Amazon | 426 | 2 | Greg Merson | United States | 118,500 |
| Amazon | 426 | 3 | Juha Helppi | Finland | 74,500 |
| Amazon | 426 | 5 | Nick Petrangelo | United States | 43,000 |
| Amazon | 426 | 6 | Ryan Drossel | United States | 162,200 |
| | | | | | |
| Amazon | 427 | 1 | Jeremy Saderne | France | 232,000 |
| Amazon | 427 | 2 | Christian Iacobellis | United States | 157,900 |
| Amazon | 427 | 3 | Jordan Cristos | United States | 155,200 |
| Amazon | 427 | 4 | Nadar Kakhmazov | Russia | 128,800 |
| Amazon | 427 | 5 | Jan Eric Schwippert | Germany | 245,000 |
| | | | | | |
| Amazon | 428 | 1 | Joseph Cheong | United States | 150,300 |
| Amazon | 428 | 2 | Mike Watson | Canada | 102,400 |
| Amazon | 428 | 3 | Bryan Piccioli | United States | 50,100 |
| Amazon | 428 | 5 | Will Givens | United States | 250,000 |
| Amazon | 428 | 6 | Jonathan Kamhazi | Venezuela | 135,000 |
| | | | | | |
| Amazon | 429 | 1 | Chris Johnson | United States | 120,000 |
| Amazon | 429 | 2 | Jason Mangold | United States | 350,100 |
| Amazon | 429 | 4 | Matthijs Aerts | Bolivia | 188,600 |
| Amazon | 429 | 5 | Matthew Klapstein | Canada | 255,300 |
| Amazon | 429 | 6 | Claas Segebrecht | Hungary | 86,900 |
| | | | | | |
| Amazon | 430 | 1 | Jonathan Concepcion | Spain | 70,300 |
| Amazon | 430 | 2 | John Andress | United States | 52,000 |
| Amazon | 430 | 3 | Michael Gagliano | United States | 172,000 |
| Amazon | 430 | 4 | Kacper Pyzara | Poland | 57,500 |
| Amazon | 430 | 5 | Marc Macdonnell | Ireland | 30,500 |
| | | | | | |
| Amazon | 431 | 1 | David Peters | United States | 27,600 |
| Amazon | 431 | 2 | Lawrence Greenberg | United States | 144,500 |
| Amazon | 431 | 3 | Daniel Smith | United States | 168,000 |
| Amazon | 431 | 4 | Conor Beresford | United Kingdom | 238,000 |
| Amazon | 431 | 6 | Liv Boeree | United Kingdom | 30,000 |
| | | | | | |
| Amazon | 432 | 1 | Stefan Huber | Switzerland | 58,300 |
| Amazon | 432 | 2 | Javier Icaza | United States | 56,400 |
| Amazon | 432 | 4 | Ryan Goindoo | Trinidad & Tobago | 259,000 |
| Amazon | 432 | 5 | Markus Gonsalves | United States | 76,900 |
| Amazon | 432 | 6 | Dominik Nitsche | Germany | 285,400 |
| | | | | | |
| Amazon | 433 | 1 | Philip Sternheimer | United States | 131,100 |
| Amazon | 433 | 2 | Mazin Khoury | United States | 111,300 |
| Amazon | 433 | 4 | James Chen | Taiwan | 225,600 |
| Amazon | 433 | 5 | Sam Soverel | United States | 183,100 |
| Amazon | 433 | 6 | Anthony Zinno | United States | 131,700 |
| | | | | | |
| Amazon | 434 | 2 | Sergio Espina Aido | United Kingdom | 75,100 |
| Amazon | 434 | 4 | Stephen Chidwick | United Kingdom | 53,400 |
| Amazon | 434 | 5 | Scott Eskenazi | United States | 87,900 |
| Amazon | 434 | 6 | Felix Bleiker | Switzerland | 38,300 |
| | | | | | |
| Amazon | 435 | 1 | Elio Fox | United States | 130,500 |
| Amazon | 435 | 2 | Ivan Luca | Argentina | 117,700 |
| Amazon | 435 | 3 | Jeremy Dresch | United States | 143,000 |
| Amazon | 435 | 4 | Ankush Mandavia | United States | 145,000 |
| Amazon | 435 | 6 | Joseph Marchal | United States | 56,150 |
| | | | | | |
| Amazon | 436 | 2 | Oliver Price | United Kingdom | 81,100 |
| Amazon | 436 | 3 | [Removed:172] | Austria | 115,200 |
| Amazon | 436 | 4 | Tobias Ziegler | Germany | 280,000 |
| Amazon | 436 | 5 | Romain Lewis | France | 64,100 |
| Amazon | 436 | 6 | Loni Harwood | United States | 154,600 |
| | | | | | |
| Amazon | 437 | 1 | Sergi Reixach | United Kingdom | 122,200 |
| Amazon | 437 | 2 | Pascal Hartmann | Germany | 257,000 |
| Amazon | 437 | 3 | Alexandru Papazian | Romania | 194,900 |
| Amazon | 437 | 4 | Peter Weinand | Canada | 358,900 |
| Amazon | 437 | 5 | Lander Lijo | Spain | 81,700 |
| | | | | | |
| Amazon | 438 | 1 | Dan Abouaf | France | 204,400 |
| Amazon | 438 | 2 | Jeff Rodriguez | United States | 30,800 |
| Amazon | 438 | 3 | Nick Maimone | United States | 111,300 |
| Amazon | 438 | 4 | Byron Kaverman | United States | 72,400 |
| Amazon | 438 | 5 | Julien Sitbon | France | 258,500 |
| | | | | | |
| Amazon | 439 | 1 | Alex Rocha | United States | 55,600 |
| Amazon | 439 | 2 | [Removed:16] | United Kingdom | 34,800 |
| Amazon | 439 | 4 | Mark Teltscher | United Kingdom | 314,500 |
| Amazon | 439 | 5 | Jeff Gross | United States | 147,100 |
| Amazon | 439 | 6 | Loc Nguyen | United States | 134,500 |
| | | | | | |
| Amazon | 440 | 1 | Daniel Negreanu | Canada | 37,300 |
| Amazon | 440 | 2 | Rainer Kempe | Germany | 215,100 |
| Amazon | 440 | 3 | Kenneth Smaron | United States | 178,000 |
| Amazon | 440 | 4 | Eli Berg | United States | 75,300 |
| Amazon | 440 | 6 | Govert Metaal | Netherlands | 75,500 |
| | | | | | |
| Amazon | 441 | 1 | Ben Keeline | United States | 41,400 |
| Amazon | 441 | 3 | Patrick Mahoney | United States | 80,300 |
| Amazon | 441 | 4 | Michael Beziz | United States | 99,700 |
| Amazon | 441 | 5 | Elliott Peterman | United Kingdom | 73,000 |
| Amazon | 441 | 6 | Sam Greenwood | Canada | 99,100 |
| | | | | | |
| Amazon | 442 | 1 | Ray Qartomy | United States | 196,400 |
| Amazon | 442 | 2 | Ivan Deyra | France | 235,600 |
| Amazon | 442 | 3 | Faraz Jaka | United States | 234,700 |
| Amazon | 442 | 4 | Davidi Kitai | Belgium | 90,000 |
| Amazon | 442 | 5 | Phil Galfond | United States | 54,900 |
| | | | | | |
| Amazon | 443 | 3 | Andrew Lichtenberger | United States | 107,200 |
| Amazon | 443 | 4 | Shaun Deeb | United States | 182,700 |
| Amazon | 443 | 5 | Todd Ivens | United States | 124,300 |
| Amazon | 443 | 6 | Dantonio Brown | United States | 170,000 |
| | | | | | |
| Amazon | 444 | 1 | Eric Blair | United States | 148,000 |
| Amazon | 444 | 2 | Michael Gathy | Belgium | 345,000 |
| Amazon | 444 | 5 | Bin Duan | United States | 142,600 |
| Amazon | 444 | 6 | Paul Volpe | United States | 171,300 |
| | | | | | |
| Amazon | 445 | 1 | Norbert Szecsi | Hungary | 189,600 |
| Amazon | 445 | 3 | Harrison Gimbel | United States | 203,900 |
| Amazon | 445 | 4 | Scott Margereson | United Kingdom | 212,800 |
| Amazon | 445 | 5 | Robert Mizrachi | United States | 364,100 |
| Amazon | 445 | 6 | Scott Seiver | United States | 72,500 |
| | | | | | |
| Amazon | 446 | 1 | Jake Schindler | United States | 136,400 |
| Amazon | 446 | 2 | Daniel Demicki | Bulgaria | 23,200 |
| Amazon | 446 | 3 | Lucas Reeves | United Kingdom | 247,700 |
| Amazon | 446 | 4 | Diogo Veiga | Portugal | 176,300 |
| | | | | | |
| Amazon | 447 | 1 | Christian Rudolph | Germany | 294,000 |
| Amazon | 447 | 3 | Laurent Polito | France | 138,300 |
| Amazon | 447 | 4 | Michael Addamo | Australia | 289,800 |
| Amazon | 447 | 5 | Ben Lamb | United States | 203,400 |
| Amazon | 447 | 6 | Goran Mandic | Croatia | 158,700 |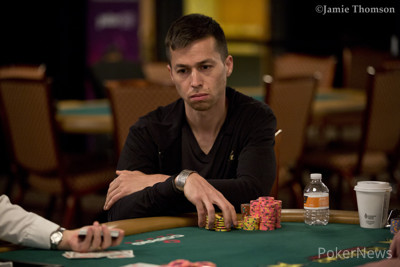 Welcome to Day 2 of Event #74: Big Blind Antes $10,000 No-Limit Hold'em 6-Handed Championship at the World Series of Poker where the play is set to get underway at 2 pm.
The brand new 'big blind ante' format was introduced to this event for the first time this year and yesterday's Day 1 saw 327 entrants take part. Of that number, 120 players will return. However, they may be joined by some new faces with registration open until the start of play today.
Robert Mizrachi (364,100) has the chip lead but is closely followed by Peter Weinand (358,900), Jason Mangold (350,100), Michael Gathy (345,000) and Mark Teltscher (314,500).
A host of bracelet winners entered the fray yesterday and some of the names set to do battle on Day 2 include Michael Addamo (289,800), Dominik Nitsche (285,400), Will Givens (250,000), Harrison Gimbel (203,900), Ben Lamb (203,400), Loni Harwood (154,600), Sam Greenwood (99,100), Daniel Negreanu (37,300) and Liv Boeree (30,000).
Player of the year contender Shaun Deeb also bagged chips and will sit down with 182,700, but one player who will not return is his closest rival to the title John Hennegan, who entered the action late in the day but was unable to spin up a stack.
Former Main Event champions Martin Jacobson (138,700), Ryan Riess (120,600) and Greg Merson (118,500) will also be in action.
Ten 60-minute levels will be played out with 15-minute breaks coming every two hours and a 60-minute dinner break at the end of level six.
Blinds will resume at 1,000/2000/2000 big blind ante.
PokerNews has activated the My Stack App for this event, allowing you to directly adjust your chip counts in our live reporting blog using your iPhone or Android phone.
You can download the app for iPhone or Android now to get started. Then, create a new PokerNews account or update your current one to start updating your status immediately. Your followers can see all the live action that you're involved in.
Click here to download the My Stack app for iPhone, or click here to download the My Stack app for Android.
Check back in with PokerNews from 2 pm today when all the action begins as the remaining faces try to build a stack for the final day!
Nível: 11
Blinds: 1,000/2,000
Ante: 2,000
Nível 11 : 1,000/2,000, 2,000 ante
Registration is now officially closed as the players take their seats and the floor staff announced the ceremonial shuffle up and deal.
Nível 11 : 1,000/2,000, 2,000 ante
Registration was still open until the start of today and 27 players used that opportunity to buy in with 25 big blinds. Among these late entrants are Erik Seidel, Michael Mizrachi, and Chris Ferguson.
Jogador
Fichas
Oscilação

Michael Mizrachi

50,000

Chris Ferguson

50,000

Erik Seidel

50,000
Nível 11 : 1,000/2,000, 2,000 ante
Dan Zack took advantage of the registration period being open until the start of Day 2 and sat down with a fresh 50,000 stack. But unfortunately for him, his participation lasted a matter of minutes.
Zack was all in with pocket eights preflop and up against Stephen Chidwick's pocket aces. The board brought no luck for Zack, and he was eliminated.
Nível 11 : 1,000/2,000, 2,000 ante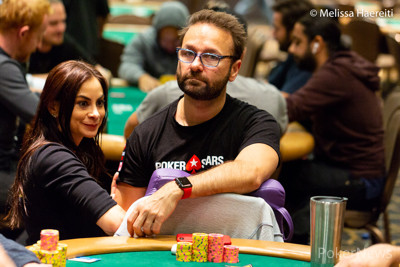 What is a great start for Daniel Negreanu is a bad start for Govert Metaal.
With 6,000 in the pot, Metaal checked to Negreanu on the
board. Negreanu checked behind.
The turn was the
and Metaal lead out with a bet of 2,500. Negreanu decided to raise it up to 7,500 and that made Metaal think about his decision. The eventual outcome of Metaal's thinking was a three-bet to 22,500. Negreanu pushed all in for a total of 44,800 and Metaal called.
Govert Metaal:

Daniel Negreanu:
The river card was the
and that didn't give Metaal the flush to eliminate Negreanu and the leader on the all time money list doubled up in one of the first hands of the day.
Nível 11 : 1,000/2,000, 2,000 ante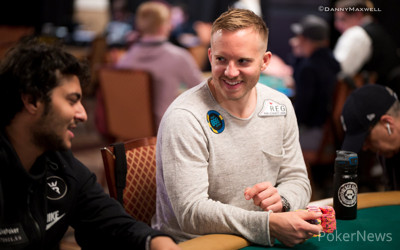 Jennifer Tilly raised to 4,900 from the cutoff and saw Martin Jacobson call on the button. The flop came down
, and Tilly check-called a 5,000 bet from Jacobson. The turn was the
, and Tilly checked again before Jacobson continued for 17,000. Tilly made the call, and they saw the
river.
Tilly checked for the third time, and Jacobson bet on the third-street for 22,000.
"Do you have a straight?" asked Tilly, but former Main Event champion Jacobson remained silent.
Tilly thought through her decision for another minute before she called. Jacobson turned over
for a set and Tilly mucked.
Jogador
Fichas
Oscilação

Martin Jacobson

190,000

51,300

Jennifer Tilly

40,000

-78,300
Nível 11 : 1,000/2,000, 2,000 ante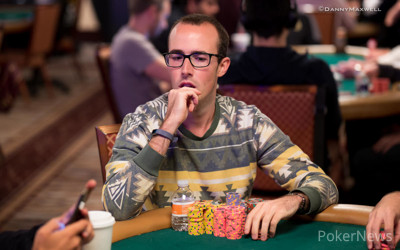 It folded around to Nadar Kakhmazov in the small blind and he limped to Jan-Eric Schwippert in the big blind. Schwippert decided to raise to 6,500 and Kakhmazov called.
The flop came down
and Kakhmazov checked to Schwippert. Schwippert put in a continuation bet to 5,000 and Kakhmazov called again.
Both players checked when the
came down on the turn and the dealer opened up the
river. Kakhmazov lead out with a bet of 13,500 and that was enough to make Schwippert fold.