Nível 34 : 100,000/200,000, 30,000 ante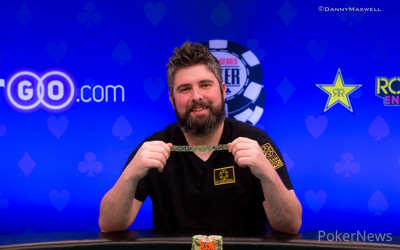 Before winner photos even began, Ryan Leng looked to his rail and shouted to Chance Kornuth, "Hey Chance, what are the blinds in the $5K?"
He wasn't joking.
Leng is one of the hardest workers in the game and being a coach for Chip Leader Coaching has only sharpened his poker prowess.
"It's forced me to analyze my own game as well as other players' games all the time. I'm constantly questioning my own play. I still get coaching from Chance [Kornuth], I get coaching from Nick Petrangelo, I get coaching from Joe McKeehen, I mean, it's invaluable talking poker with these brilliant players."
He learns not only from his coaches but also from his own poker students from the questions that they sometimes ask that challenge his thinking, or creative ways they play some hands that he can incorporate into his own game.
"As much as I'm coaching them, I'm still learning from them a lot too. It's awesome, probably the best thing for my poker game – becoming a coach."
Road to Bracelet No. 1
His path to victory wasn't without resistance, as Leng's stack spiked and dipped drastically during the final couple tables of play, basically as soon as he sat with Sootla on Day 3.
"This is so much fun. Yesterday and today, it's been such a whirlwind, I was chip leader, then I was short stack, then I was chip leader again. I played against some very tough opponents."
Leng embraces a challenge and enjoyed the high-level competition he faced in the tournament. The toughness of his heads-up opponent, the lone Estonian Ranno Sootla, made the victory all the more validating for Leng.
"Sootla is one of the toughest players I've ever played against; he's so good. So, it was just a lot of fun to have to go through someone that good to get my first bracelet."
Leng was very appreciative to have some of his best friends, his girlfriend and his family there on his rail to witness his first bracelet win, his mom even finding a way to book a last-minute flight after play ended with four the previous night.
"I'm really happy that [my mom] got to see it. It's pretty awesome. She gets all my poker trophies, all my rings, Circuit rings or whatever, any trophy – they're hanging up at her house. So I'm going to give her this."
Both his parents have always not only just supported his career in poker, but have encouraged him to work hard at it, treat it like a business and be the best he can be. He seems to have taken the encouragement to heart.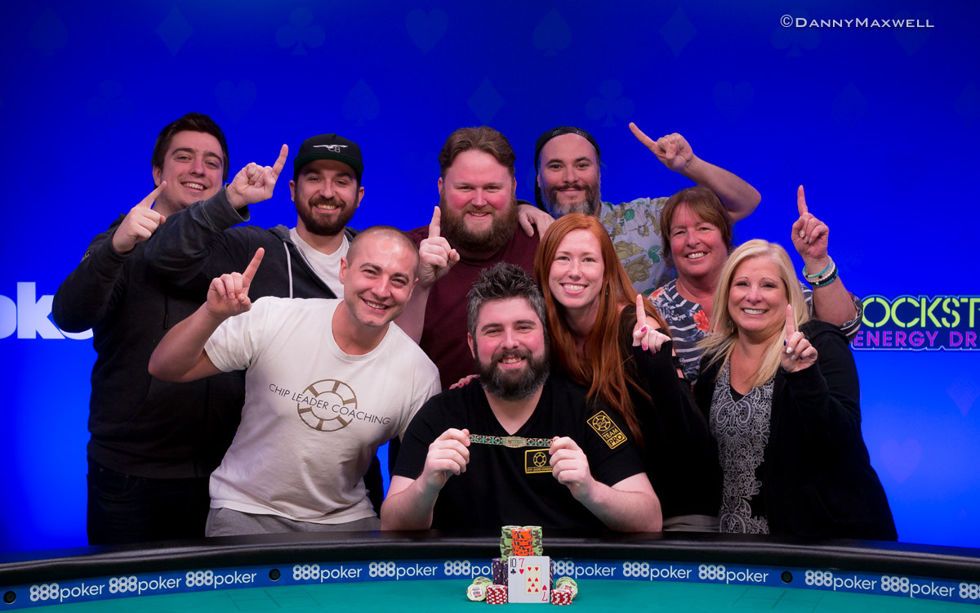 Event #51 Official Final Table Result
| Player | Country | Payout |
| --- | --- | --- |
| Ryan Leng | United States | $272,765 |
| Ranno Sootla | Estonia | $168,464 |
| Jay Farber | United States | $121,932 |
| Christian Nolte | Austria | $89,151 |
| Javier Gomez | Spain | $65,851 |
| Russell Rosenblum | United States | $49,146 |
| John Gulino | United States | $37,063 |
| Mark Mazza | United States | $28,247 |
| Mikhail Semin | Russia | $21,759 |
Event Highlights
Event #51: $1,500 No-Limit Hold'em BOUNTY drew a field of 1,982 to generate a total prize pool of $2,675,700. Each player had the added incentive to send opponents to the rail with a $500 bounty on every head.
The field played down to the final 298 players on the first day, with all returners guaranteed at least $1,415 plus any bounties collected along the way. Sootla bagged one of the biggest stacks of the day and continued that momentum on Day 2, where he finished with the chip lead of the final 29 heading into the scheduled final day of play, Leng right on his heels.
By the time they got down to the unofficial final table of ten, Sootla was in the top three stacks along with Russell Rosenblum and Mark Mazza, Leng in the middle of the pack with 24 big blinds.
With Quyen Hoang's tenth-place elimination, ace-five falling to Leng's ace-eight all-in pre-flop, the official final table was set. Leng promptly took over the chip lead with well-timed aggression, and Sootla took a big hit doubling up Jay Farber when Farber's ace-queen made top two pair after getting all the chips in pre-flop against Sootla's ace-king.
Sootla got most of that back when he eliminated Mikhail Semin in ninth place, finding pocket jacks after Semin shoved with sevens. Sootla flopped jacks full and Semin rivered sevens full, too little too late.
Leng was responsible for the next elimination, that of Mazza in eighth place. Leng smooth-called Mazza's raise with pocket aces and the two got all the chips in on the queen-high flop, Mazza way behind and unable to catch up with ace-queen. That put Leng well out in front with seven remaining.
John Gulino was the next victim of these two, falling at the hands of Sootla who bet and called Gulino's shove with
on
, needing help against Gulino's
. Another spade on the river secured the bounty for Sootla, who chipped up toward the top of the counts once again.
Austria's Christian Nolte claimed the next bounty, sending Rosenblum home when his ace-king held up against Rosenblum's king-jack, after both players found a pair on the ace-jack-three flop.
Nolte continued to climb while Leng's stack once again took a dip, but grinded back up and sent home Javier Gomez in fifth place to claw his way back up top. In that hand, Leng flatted an open with ace-queen and then snapped off Gomez's three-bet jam, then proceeded to hold up against the ace-jack suited of Gomez, neither player finding a pair besides the pair of eights on the board.
Play was halted after that, Leng and Sootla back in the top two spots where they started the day, only this time Leng with out front.
Final Day's Action
In the 13th hand of the unscheduled fourth day, Nolte got his remaining 25 big blinds in, flipping against Sootla after limp-calling a shove from the small blind. Nolte held ace-queen, up against the sixes of Sootla. An ace in the window had Nolte's rail celebrating, but it would be premature, as the ace was followed by a six to give Sootla a set.
With Nolte out in fourth place, the lone Estonian held half the chips in play with Farber being the shortest stack with 24 big blinds. Leng promptly got to work, building chips by getting some folds, and winning a big pot against Sootla with pocket kings on a queen-high paired board.
Leng extended his lead in another confrontation with Sootla that saw Leng bet big on the river and get a tank-fold. Then, Leng raised the button and quickly called Farber's small-blind shove when it was back to him.
Leng was in good shape with ace-ten suited against Farber's ace-nine and no help for Farber meant a third-place finish for the 2013 WSOP Main Event runner-up. His first WSOP final table since that big one five years ago was worth a payday of $121,329.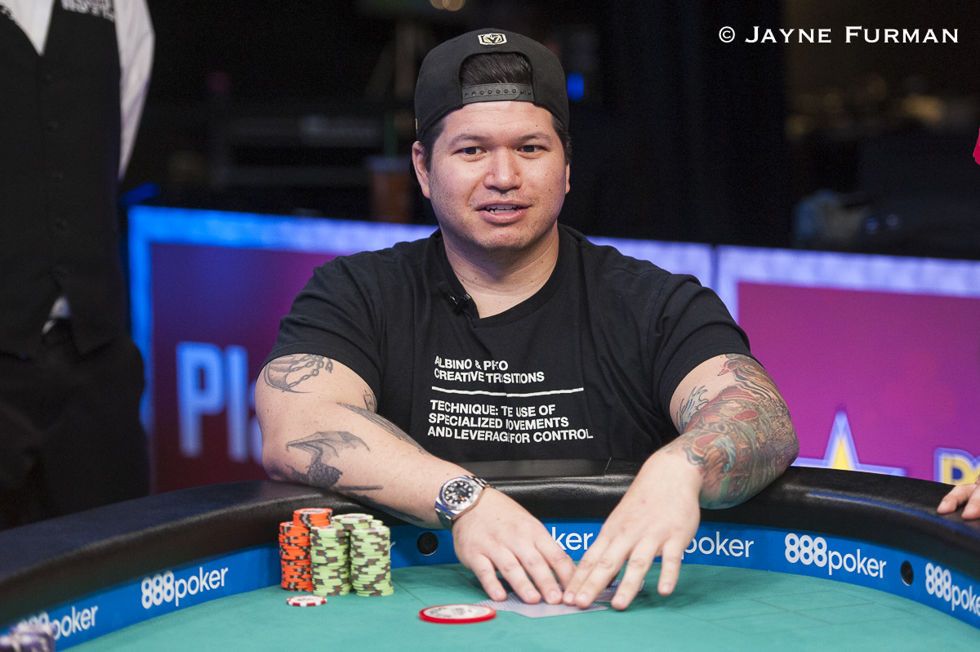 Lengthy Heads-Up
Leng went into heads-up with nearly a 2-1 chip lead over Sootla, but they were deep with over 120 big blinds in play. Leng kept the pressure on with plenty of aggression and they clashed for stacks when Leng limped then three-bet the button, only to have Sootla move in. Leng snap-called with ace-king and was flipping against the pocket threes of Sootla.
The
flop was safe for Sootla, who had migrated to his rail and linked with his friends to watch the cards roll out on the monitor. The
turn meant more outs for Leng, who needed an ace, king, nine or five to lock up the bracelet, but the
river was safe and Sootla doubled into the lead.
From there, it was back and forth some more, Leng closing the gap and then getting Sootla down more than 2-1 in chips, Sootla gaining ground once again, and it looked like the match could go on for some time.
The final hand was a dramatic set-up though, and all the chips went in on a flop of
, Leng holding
for the nut-straight and Sootla with
for top set. Sootla linked with his rail once again, hoping for the board to pair, but the
turn and the
river secured the victory for Leng.
Sootla's bid to become Estonia's first WSOP bracelet winner fell just short, but his very first recorded cash on U.S. soil was worth $168,464, more than twice as much as his previous largest tournament cash, and from his performance in this one, it's likely this is not the last the WSOP has seen of him.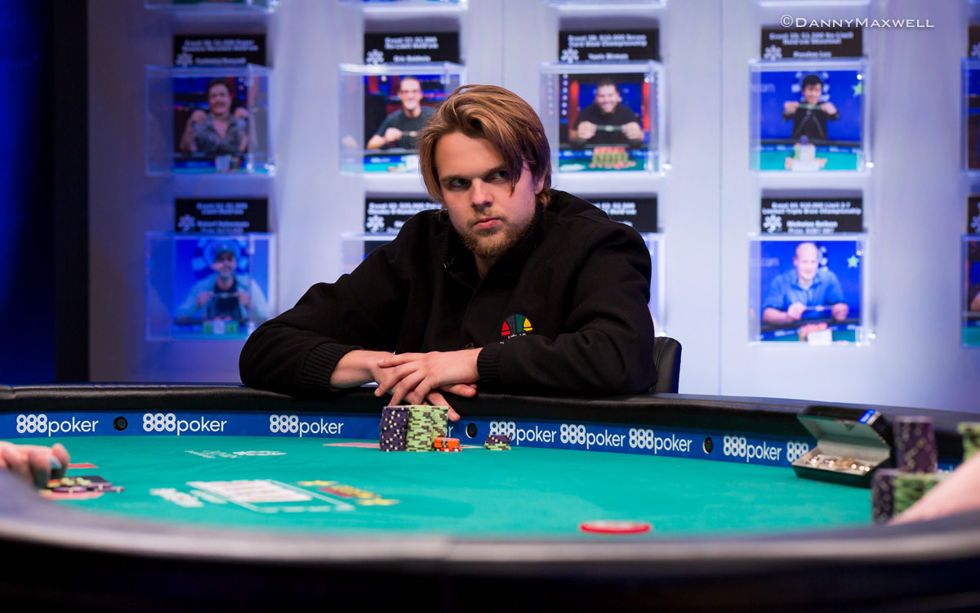 After 81 Day 4 hands and 16 total bounties, Leng lifted his first WSOP bracelet after second-place and fourth-place finishes the last two years. The win put his career earnings over the $1 million-mark. After photos and interviews, Leng's rail had the drinks ready and they all lifted their glasses to the toast, "All the chips!"
As far as future poker plans, Leng hopes to just keep at it.
"I hope this isn't my first and only bracelet," Leng said. "I'm just going to keep working hard, keep studying; as long as I'm in poker, I'm going to have to just keep working so hard because everyone is getting so good."
One change we can expect in the not-too-distant future for Leng is his branching out from no-limit hold'em a bit.
"I do want to start studying mixed games more so I can become competitive in a lot of the small-field bracelet events so I can give myself a chance at Player of the Year: that's always been a long-term goal of mine."
The day is still early for the new bracelet winner as he has a friend at the PLO/8 final table to sweat before hopping into Event #58: $5,000 No-Limit Hold'em 6-Handed. For a player like Leng, the grind never ends.
"There's more poker to be played… The summer's not over yet."