Nível 32 : 150,000/300,000, 0 ante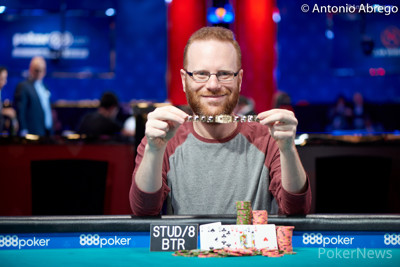 One of the more prestigious events on the 2018 World Series of Poker (WSOP) schedule needed an extra day to see Adam Friedman collect his second career WSOP bracelet in the Event #18: $10,000 Dealer's Choice.
Dealer's Choice tournaments gives players a unique opportunity to play some games at a high-stakes level that are never ordinarily present in tournament poker. The format appears to have a solid following as this very event has flirted between 118 and 102 players over the four years it's been on the WSOP schedule. This year saw a small twist as players were allowed to register all the way up until the start of Day 2 and consequently, a field size of 111 players was set. That marked the second highest attendance overall.
Day 1 saw the field cut down to 41 players before eight more took a seat on Day 2. Just 13 players entered the planned final day of play all eyeing the WSOP bracelet that awaited the last man standing. Immediately Aditya Prasetyo fell in 13th place and a re-draw of the final two tables would occur. Once play resumed, players were a little concerned over the fast paced structure, and although a vote to slow things down was planned, it was quickly vetoed by WSOP Tournament Director Jack Effel. On the main feature table Joey Couden (12th), Dylan Linde (11th), Jesse Martin (10th), Ryan Miller (9th), and Anthony Zinno (8th) were all eliminated before the unofficial final table of seven was set.
Fairly quickly the tournament was down to six when Nikolai Yakovenko was the 7th place finisher when his top pair and low draw was beaten by Friedman's set and low-wrap during Big O. With the final table now officially set, Marco Johnson exited in 6th place just a few minutes later when his aces couldn't survive Friedman's wrap and low draw.
Five-handed play continued for several hours before David "ODB" Baker exited in 5th place during Stud Hi-Lo. Baker held a low draw and a pair, but was up against Friedman's trip sevens and never managed to improve. Chris Klodnicki was the most adventurous player at the final table when considering game options, but his demise would occur during 2-7 Triple draw when he wrapped pat with a queen. Friedman had a draw to an eight, and ripped the jack to end Klodnicki's run in 4th place.
Now down to three-handed play, play would continue for another 30 minutes before the clock was paused and the players bagged and tagged for the night. Friedman had sat in second place on the leaderboard on both Day 1 and 2, but at the end of Day 3, he was the top dog with over half the chips in play and roughly 12.5 big bets. Russia's Alexey Makarov held a slight advantage over the United Kingdom's Stuart Rutter with 5.5 big bets to Rutter's 5 big bets heading into Day 4 on Sunday.
Once play on Day 4 resumed, it was Rutter roaring out of the gate finding a double through Makarov, before he took the chip lead off Friedman. For Makarov, he was unable to climb off the short stack and was eliminated in his game choice of Pot-Limit 2-7 Triple Draw when he ran head first into Rutter's pat
to be eliminated in 3rd place.
Rutter held a slight chip advantage entering heads-up play, but with big betting limits, anything was likely. Immediately, Friedman scooped Rutter in a Stud Hi-Lo Regular hand before continually applying pressure before the final hand of the tournament occurred in Stud Hi-Lo. Rutter found himself all in on sixth holding a pair and a low draw against Friedman's queens-up. Rutter was unable to find a low card for a chop, or trips for a scoop, and the Brit was eliminated in 2nd place.
Event #18: $10,000 Dealer's Choice Final Table Results
| Place | Winner | Country | Prize (in USD) |
| --- | --- | --- | --- |
| 1st | Adam Friedman | United States | $293,275 |
| 2nd | Stuart Rutter | United Kingdom | $181,258 |
| 3rd | Alexey Makarov | Russia | $127,487 |
| 4th | Chris Klodnicki | United States | $90,713 |
| 5th | David "ODB" Baker | United States | $65,308 |
| 6th | Marco Johnson | United States | $47,579 |
For Friedman, this was his second career WSOP bracelet after he won the $5,000 Seven Card Stud Hi-Lo back in 2012 for $269,037. The win in this Dealer's Choice event was true validation for Friedman among his peers as this event is one of the most prestigious mixed game tournament outside of the Poker Player's Championship.
"In terms of the $10K, this one is right up there. You need to know how to play 20 games. How many people are at least competent in at least 20 games. Not many. I think this takes as much skill as any other event." stated Friedman when discussing the toughness of this tournament. With game choices being a key skill in a tournament such as this, Friedman added, "To be honest, I don't want to give too much away because I think a good amount of people don't pick the games right and it's as much of a key as anything else. I will say this. You need to pick games not strictly based on, not your ability, and not even necessarily your opponents ability and what they are good or bad at. You need to think about chip sizes and certain ICM considerations. I've probably put more thought into game choice than anybody else in this field. I really have. From early stages to middle stages, all the way to the end."
When discussing poker as his career, Friedman stated, "The whole point of doing this for a living is to be able to put yourself in a better standing. To be able to provide for yourself and the people around you. And eventually accumulate wealth."
$10,000 Dealers Choice 6-Handed Past Results
| Year | Champion | Country | Players | Prize Pool | First Prize |
| --- | --- | --- | --- | --- | --- |
| 2018 | Adam Friedman | United States | 111 | $1,043,400 | $293,275 |
| 2017 | John Racener | United States | 102 | $930,600 | $273,962 |
| 2016 | Jean Gaspard | United States | 118 | $1,109,200 | $306,621 |
| 2015 | Quinn Do | United States | 108 | $1,015,200 | $319,792 |
Congratulations to Adam Friedman for winning the Event #18: $10,000 Dealer's Choice bracelet. He joins an elusive list of mixed game tournament winners, while also joining the two-time WSOP bracelet winners club.
For continued updates of the 2018 WSOP, stay tuned right here to PokerNews.com as the team continues to provide live updates of all the action live from the Rio All-Suite Hotel & Casino.