Event #63: $1,500 Six-Handed 10-Game Mix
Dias: 2
Event #63: $1,500 Six-Handed 10-Game Mix
Dia 2 Iniciado
| Table | Seat | Player | Chips |
| --- | --- | --- | --- |
| 347 | 1 | Carol Fuchs | 3,075 |
| 347 | 2 | Denis Ethier | 36,375 |
| 347 | 3 | James Van Alstyne | 20,325 |
| 347 | 4 | Tyson Marks | 11,575 |
| 347 | 5 | Colin Burton | 12,100 |
| 347 | 6 | Mikal Blomlie | 27,100 |
| | | | |
| 348 | 1 | David Schnettler | 4,650 |
| 348 | 2 | Steve Cowley | 2,300 |
| 348 | 3 | Paul Bong | 21,575 |
| 348 | 4 | Gregory Jamison | 19,350 |
| 348 | 5 | Michael Mixer | 17,475 |
| 348 | 6 | David Blatte | 11,500 |
| | | | |
| 349 | 1 | Martin Staszko | 2,050 |
| 349 | 2 | Devon Ballard | 27,975 |
| 349 | 3 | Randy Ohel | 35,925 |
| 349 | 4 | Dan Matsuzuki | 14,550 |
| 349 | 5 | Brandon Shack-Harris | 35,950 |
| 349 | 6 | James Carroll | 50,850 |
| | | | |
| 350 | 1 | Sergey Rybachenko | 45,250 |
| 350 | 2 | Robert Lauria | 32,450 |
| 350 | 3 | Chris Klodnicki | 9,775 |
| 350 | 4 | David White | 21,300 |
| 350 | 5 | Mel Judah | 11,550 |
| 350 | 6 | Peter Levine | 11,300 |
| | | | |
| 351 | 1 | Roland Israelashvili | 36,725 |
| 351 | 2 | Eric Wasserson | 45,000 |
| 351 | 3 | Daniel Zack | 30,850 |
| 351 | 4 | Jordan Siegel | 11,125 |
| 351 | 5 | Jonas Mackoff | 17,450 |
| 351 | 6 | Justin Bonomo | 49,050 |
| | | | |
| 353 | 1 | Marcel Luske | 20,200 |
| 353 | 2 | Benton Blakeman | 33,925 |
| 353 | 4 | Daniel Negreanu | 30,150 |
| 353 | 5 | Pablo Melogno | 31,150 |
| 353 | 6 | Jan Suchanek | 38,925 |
| | | | |
| 354 | 1 | Tom Koral | 32,225 |
| 354 | 3 | Chris Wallace | 13,575 |
| 354 | 4 | Bruce Levitt | 17,975 |
| 354 | 5 | Scott Clements | 55,825 |
| 354 | 6 | Phil Laak | 8,925 |
| | | | |
| 355 | 2 | Alan Emerson | 7,475 |
| 355 | 3 | Samuel Gorr | 8,475 |
| 355 | 4 | Steven Wolansky | 29,250 |
| 355 | 5 | Andrei Kaigorodtcev | 11,375 |
| 355 | 6 | Paul Sokoloff | 38,050 |
| | | | |
| 356 | 1 | Andrey Zaichenko | 46,300 |
| 356 | 2 | Shawn Buchanan | 32,600 |
| 356 | 3 | Christoph Haller | 35,025 |
| 356 | 4 | Stuart Rutter | 13,125 |
| 356 | 5 | Ro Park | 3,000 |
| 356 | 6 | Troy Lozano | 12,550 |
| | | | |
| 357 | 1 | Victor Ramdin | 37,125 |
| 357 | 2 | --Did Not Report-- | 12,075 |
| 357 | 3 | Brett Jungblut | 11,825 |
| 357 | 4 | Chris Moneymaker | 15,100 |
| 357 | 5 | Brian Brubaker | 44,000 |
| 357 | 6 | Bryn Kenney | 67,000 |
| | | | |
| 359 | 1 | Anton Smirnov | 13,725 |
| 359 | 2 | Alexander Golik | 4,950 |
| 359 | 3 | Berry Johnston | 8,800 |
| 359 | 4 | Shai Elyahou | 29,525 |
| 359 | 5 | John D'Agostino | 13,175 |
| 359 | 6 | Matthew Schultz | 19,975 |
| | | | |
| 360 | 1 | Alex Rocha | 22,600 |
| 360 | 2 | Allen Cunningham | 35,075 |
| 360 | 3 | Andreas Hoivold | 10,075 |
| 360 | 4 | Jose-Luis Velador | 41,700 |
| 360 | 5 | Mike Leah | 37,625 |
| 360 | 6 | Michael Trivett | 18,700 |
| | | | |
| 361 | 1 | Lori Berumen | 36,350 |
| 361 | 2 | Dutch Boyd | 17,225 |
| 361 | 3 | Orjan Skommo | 46,475 |
| 361 | 4 | Aaron Steury | 24,625 |
| 361 | 5 | Brandon Lee | 19,450 |
| 361 | 6 | Tyler Short | 4,750 |
| | | | |
| 362 | 1 | Bruno Fitoussi | 12,450 |
| 362 | 2 | Jesse Klein | 28,450 |
| 362 | 3 | John Bunch | 19,525 |
| 362 | 5 | Haresh Thaker | 29,350 |
| 362 | 6 | Brant Hale | 13,925 |
| | | | |
| 363 | 1 | Jeremy Ausmus | 23,675 |
| 363 | 2 | Matt Szymaszek | 32,550 |
| 363 | 4 | Matthew Wood | 5,425 |
| 363 | 5 | Mark Gregorich | 23,875 |
| 363 | 6 | Fabio Coppola | 39,875 |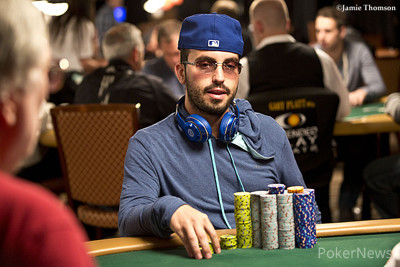 Welcome to PokerNews' Day 2 coverage of Event #63: $1,500 Six-Handed 10-Game Mix.
After 10 one-hour levels on Day 1, the starting field of 445 entrants is down to just 85 players. What are they playing for? A coveted World Series of Poker gold bracelet and a first-place prize of $153,220.
On top of this chip counts is Bryn Kenney with 67,000. Already with two final tables under his belt this summer, Kenney would no doubt love to make a third WSOP final table in 2014 and capture his first gold bracelet. He is followed by Scott Clements (55,825), James Carroll (50,850) and Justin Bonomo (49,050). Also still in the field are Mike Leah (37,625), Brandon Shack-Harris (35,950), Daniel Negreanu (30,150), Chris Moneymaker (15,100), and Phil Laak (8,925).
The plan on Day 2 is to play another 10 levels, with the hope of reaching the final table. Play is set to resume at 2 p.m. so be sure to keep it here at PokerNews for live updates on all of the exciting action!
Nível: 11
LIMIT FLOP/DRAW GAMES - 400 800 800-1,600
STUD GAMES 200 200 800 800-1,600
NO-LIMIT (2-7/HOLDEM) AND POT-LIMIT GAMES 100 200 400
Tournament staff has drawn pot-limit Omaha as today's starting game. Cards are officially in the air for Day 2 of Event #63: $1,500 Six-Handed 10-Game Mix!
Pot-Limit Omaha
Andreas Hoivold opened with a raise to 1,000 and Jose-Luis Velador flatted from the next seat over. Mike Leah called from the button, Michael Trivett came along from the small blind, and Alex Rocha also called from the big blind.
The five players saw a flop of
fall and there were four checks over to Leah. He fired 3,600 only to have Trivett announce "pot", for a raise to 15,800. Rocha was next to act and moved all in over the top. Action folded back to Leah who folded as well. Trivett called all in for his own tournament life of 19,300.
Rocha:

Trivett:
The turn and river brought the
and the
to the felt, giving Trivett a winning Broadway straight with his queen-ten. Rocha shipped most of his chips across the table, leaving him with just about 2,500. He was eliminated from play soon after.
No-Limit Hold'em
Denis Ethier opened to 3,400 from early position only to have Tyson Marks three-bet ship all in over the top from middle position. Action folded back to Ethier and he called for 14,375.
Ethier:

Marks:
Marks was dominated heading to the community cards and did not improve with a run out of
. Ethier scored the elimination and now has about 48,500 in chips.
Razz
Gorr:
/
/

Wolansky:
/
/
We picked up with the action on sixth street to see Samuel Gorr fire out a bet. Steven Wolansky cut out a raise and Gorr called to see his final card. Wolansky moved all in on seventh for his last 75 and Gorr called, showing
for a ninety five. Wolansky mucked and was eliminated from play. Gorr, on the other hand, is now up to about 13,800 in chips.