Event #42: $5,000 Six-Handed Pot-Limit Omaha
Dias: 2
Event #42: $5,000 Six-Handed Pot-Limit Omaha
Dia 2 Iniciado
| Table | Seat | Player | Chips |
| --- | --- | --- | --- |
| 430 | 1 | Calvin Anderson | 48,900 |
| 430 | 2 | John Patgorski | 123,400 |
| 430 | 3 | Eli Elezra | 17,100 |
| 430 | 4 | Stewart Newman | 36,100 |
| 430 | 5 | Kevin O'Donnell | 51,500 |
| 430 | 6 | Ryan Schmidt | 89,000 |
| | | | |
| 431 | 1 | Hans Winzeler | 23,000 |
| 431 | 2 | Michael Mizrachi | 119,200 |
| 431 | 3 | Jeffrey Schweickert | 51,900 |
| 431 | 4 | Darius Studdard | 46,100 |
| 431 | 5 | Joshua Tieman | 54,300 |
| 431 | 6 | Kyle Julius | 34,000 |
| | | | |
| 432 | 1 | David Boyciyan | 37,300 |
| 432 | 2 | Benjamin Keiley | 24,000 |
| 432 | 3 | Michael Tabarelli | 25,100 |
| 432 | 4 | Jason Horne | 66,100 |
| 432 | 5 | Matthew Mendez | 118,400 |
| 432 | 6 | Alexander Condon | 29,600 |
| | | | |
| 433 | 1 | JC Tran | 66,000 |
| 433 | 2 | Wayne Lewis | 66,600 |
| 433 | 3 | Jose Obadia | 146,300 |
| 433 | 4 | Jim Collopy | 25,500 |
| 433 | 5 | Eoghan O'Dea | 32,700 |
| 433 | 6 | Craig Hartman | 71,000 |
| | | | |
| 434 | 1 | Ismael Bojang | 5,700 |
| 434 | 2 | Heather Sue Mercer | 45,300 |
| 434 | 3 | Jason Somerville | 36,500 |
| 434 | 4 | Christian Harder | 35,300 |
| 434 | 5 | Andy Frankenberger | 27,600 |
| 434 | 6 | Scott Bohlman | 171,500 |
| | | | |
| 435 | 1 | Philip Long | 60,000 |
| 435 | 2 | Adithya Lanka | 43,300 |
| 435 | 3 | Richard Ashby | 42,700 |
| 435 | 4 | Michael Drummond | 104,000 |
| 435 | 5 | Jay Houston | 58,900 |
| 435 | 6 | Steven Loube | 79,900 |
| | | | |
| 436 | 1 | Jon Hoellein | 35,400 |
| 436 | 2 | Mike Gorodinsky | 186,600 |
| 436 | 3 | Harrison Kaczka | 59,500 |
| 436 | 4 | Brian Kelley | 21,000 |
| 436 | 5 | Dmytro Nemyrovskyi | 55,700 |
| 436 | 6 | Cary Katz | 25,200 |
| | | | |
| 437 | 1 | Phil Laak | 84,500 |
| 437 | 2 | Benjamin Zamani | 35,000 |
| 437 | 3 | Phil Hellmuth | 52,900 |
| 437 | 4 | David "Bakes" Baker | 108,200 |
| 437 | 5 | Andrey Zaichenko | 41,300 |
| 437 | 6 | Sam Feinberg | 90,400 |
| | | | |
| 438 | 1 | Ilan Boujenah | 59,000 |
| 438 | 2 | Brian Rast | 147,900 |
| 438 | 3 | Connor Drinan | 7,500 |
| 438 | 4 | Numit Agrawal | 95,000 |
| 438 | 5 | Brant Hale | 189,200 |
| 438 | 6 | Mel Randolph | 59,400 |
| | | | |
| 439 | 1 | Phil Galfond | 72,100 |
| 439 | 2 | Robert Williamson III | 40,400 |
| 439 | 3 | Fernando Brunca | 55,100 |
| 439 | 4 | Jason Mercier | 62,900 |
| 439 | 5 | Leonardo Martins | 68,000 |
| 439 | 6 | Ashton Griffin | 103,400 |
| | | | |
| 440 | 1 | Demis Hassabis | 58,700 |
| 440 | 2 | Khiem Nguyen | 109,700 |
| 440 | 3 | Scotty Nguyen | 108,500 |
| 440 | 4 | Michael Zuniga | 76,500 |
| 440 | 5 | Sandeep Pulusani | 48,100 |
| 440 | 6 | Edmund Chan | 26,900 |
| | | | |
| 441 | 1 | Kiran Srinivas | 30,100 |
| 441 | 2 | Rory Rees Brennan | 16,500 |
| 441 | 3 | Jose-Luis Velador | 49,000 |
| 441 | 4 | Mohsin Charania | 32,900 |
| 441 | 5 | Sorel Mizzi | 44,300 |
| 441 | 6 | Joseph Leung | 72,900 |
| | | | |
| 442 | 1 | Andrew Holland | 107,400 |
| 442 | 2 | Brandon Crawford | 202,900 |
| 442 | 3 | Iddo Feinberg | 32,600 |
| 442 | 4 | Yevgeniy Timoshenko | 36,500 |
| 442 | 5 | Roger Sippl | 70,500 |
| 442 | 6 | Senh Ung | 27,000 |
| | | | |
| 443 | 1 | Galen Hall | 67,700 |
| 443 | 2 | Jose Garcia | 61,400 |
| 443 | 3 | Mathieu Jacqmin | 139,100 |
| 443 | 4 | Kory Kilpatrick | 202,000 |
| 443 | 5 | Attilio Donato | 149,100 |
| 443 | 6 | Michael Shklover | 100,900 |
| | | | |
| 444 | 1 | Davidi Kitai | 308,300 |
| 444 | 2 | Alex Venovski | 49,000 |
| 444 | 3 | Jonathan Little | 74,200 |
| 444 | 4 | Timothy West | 36,000 |
| 444 | 5 | Matthew Greenwood | 150,000 |
| 444 | 6 | Mike Watson | 135,700 |
| | | | |
| 445 | 1 | Nick Grippo | 46,500 |
| 445 | 2 | Joshua Ladines | 98,700 |
| 445 | 3 | Tony Cousineau | 32,000 |
| 445 | 4 | Martin Kozlov | 27,700 |
| 445 | 5 | Jeremy Ausmus | 43,500 |
| 445 | 6 | Jascha Levy | 32,500 |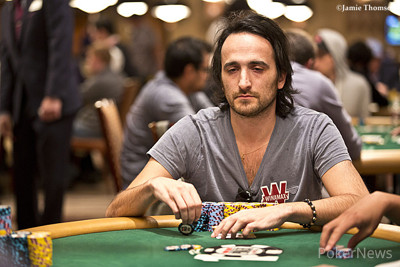 Welcome back to the Rio All-Suite Hotel & Casino and the 2014 World Series of Poker for Day 2 of Event #42: $5,000 Six-Handed Pot-Limit Omaha!
Yesterday saw 452 players take to the felt to create a $2,124,400 prizepool that would leave $541,747 reserved for the victor after crushing the mark this event set last year when Steve Gross topped a 400-player field. Gross would unfortunately find himself on the rail along with second place finisher Salman Behbehani before the likes of Philipp Gruissem, Sammy Farha, Paul Volpe, Antonio Esfandiari, Noach Schwartz, Stephen Chidwick and Greg Merson would also find themselves watching from behind the rail.
Once the call to bag and tag was made, 96 players would survive as Belgium's Davidi Kitai bagged an impressive 308,300 to be in line to make a run at his fourth WSOP gold bracelet and second for the series. Nipping at Kitai's heels include Brandon Crawford (202,900), Kory Kilpatrick (202,000) and Brant Hale (189,200).
Mike Gorodinsky, Scott Bohlman, Brian Rast, Mike Watson, Michael Mizrachi, Scotty Nguyen, David "Bakes" Baker and Ashton Griffin all posses six-figure chip stacks while a plethora of notables still remain as they firstly eye the money-paying top 48 before making a run at that elusive WSOP final table.
The PokerNews Live Reporting Team will be providing extensive live coverage once play commences at 1:00 p.m. (PDT) as we look to write the victory path of the future Event #42 Champion.
Nível: 11
Blinds: 600/1,200
Ante: 0
Nível 11 : 600/1,200, 0 ante
The cards are now in the air for Day of Event #42!
Nível 11 : 600/1,200, 0 ante
Kyle Julius begins the day on the short side, but with Michael Mizrachi at his table he's confident opportunities will present themselves. He also explains why he hasn't been included in the basketball prop bets here at the Rio.
Nível 11 : 600/1,200, 0 ante
Tony Cousineau and Eli Elezra are two of the early casualties along with Brian Kelley.
Nível 11 : 600/1,200, 0 ante
Leonardo Martins opened for 2,500 under the gun and was met by a three-bet to 5,200 by Phil "OMGClayAiken" Galfond in the cutoff. Action folded back to Martins, he called, and it was heads-up action to the
flop. Martins checked, Galfond bet 3,600, and Martins made the call.
Both players proceeded to check the
turn and then Martins led out for 6,100 on the
river. Galfond paused for a moment for sliding out a tower of chips, which constituted a raise to 19,400, and Martins thought long and hard before tossing in a single chip to signify a call.
Galfond rolled over the
for a rivered full house, and it was good as Martins sent his cards to the muck.
Nível 11 : 600/1,200, 0 ante
Tim West limped under the gun and the action folded round to Davidi Kitai on the button and he raised to 5,400. The blinds passed but West cut out a stack of chips amounting to a raise of 18,000.
Close to two minutes went by before West chirped, "You have all those nice orange chips to play with!"
"I think you have Kings," responded Kitai.
"I have Queens so I have to fold" the Belgian then added before folding.
Nível 11 : 600/1,200, 0 ante
On a flop of
, Hans Winzeler checked from the small blind and Michael "The Grinder" Mizrachi bet 3,100 from the big. Jeffrey Schweickert folded from the under-the-gun position, and then Kyle Julius raised the pot to 14,100. Winzeler folded and then Mizrachi did the same.
Not much of a hand, but it gave us a good chance to update you on their stacks. As you can see, despite losing that hand, Mizrachi has gotten off to a good start here on Day 2.