Nível 8 : 200/400, 50 ante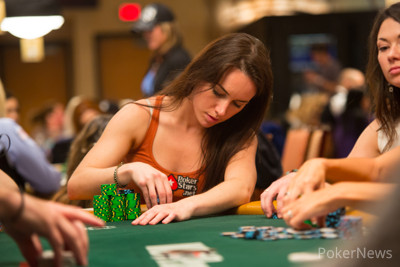 On a recent scouting party sent to search the Brasilia Room for chip leaders, we came across the lovely Liv Boeree trying her best to stack a truly enormous pile of chips.
"Just a million," one of her tablemates announced. "Put her at a million even."
Although Boeree is a tad shy of that mark, her stack of 70,500 puts her in the chip lead by a wide margin as Day 1A comes to a close.
According to an extremely helpful player at the table who regaled us with the exact action on the hand, Boeree opened for 900 from early position, a player in the big blind three-bet to 1,800, and the small blind flatted. With the action back on her, Boeree made it 5,000 to play, the small blind called the reraise, and the big blind then shipped his stack into the middle.
Boeree made the quick call, as did the small blind player, and the three were all in for a massive pot.
Showdown:
Boeree:

Small Blind:

Big Blind:
In the mother of all coolers, each of the three players woke up with a premium pocket pair, but Boeree's aces put her in command of the hand, when the flop came ace-high, her unfortunate opponents were showered in short order.
Pretty sure I'm chip leader of the one drop... 70,500. Holy crap.
Follow @Liv_Boeree