Event #58: $1,111 Little One for One Drop No-Limit Hold'em
Dias: 1a
Event #58: $1,111 Little One for One Drop No-Limit Hold'em
Dia 1a Iniciado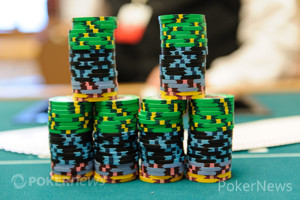 The day is here, the day 'The Little One for One Drop' kicks off. Members of the poker community have been talking about this event for quite some time and all things point towards this tournament being massive.
It's not just another $1,111 No-Limit Hold'em tournament; it's different in many aspects. The main difference from most tournaments played this summer is the charity aspect. $111 from every entry goes to One Drop, Guy Laliberté's non-profit organization which strives to ensure that water is accessible to all, today and forever.
In the 'every entry' part we find another twist, since during the first four levels of play on Day 1A and 1B people can choose to re-enter if and when they bust. Players can even enter both flights, although it will cost them $1,111 each time of course. Also different than any other tournament is that the starting stack isn't the standard three times the buy-in. Instead, players receive 4,000 in chips every time they enter.
There will be no dinner break on Day 1A and 1B. Instead, there will be a 20 minute break after every two levels played. The plan is to play eight 60-minute levels on both Day 1A and 1B, making the structure look like this:
| Level | Small blind | Big blind | Ante | Duration | Re-entry possible? |
| --- | --- | --- | --- | --- | --- |
| 1 | 25 | 25 | - | 60 minutes | yes |
| 2 | 25 | 50 | - | 60 minutes | yes |
| | | | | 20 minute break | |
| 3 | 50 | 100 | - | 60 minutes | yes |
| 4 | 75 | 150 | - | 60 minutes | yes |
| | | | | 20 minute break | |
| 5 | 100 | 200 | - | 60 minutes | no |
| 6 | 100 | 200 | 25 | 60 minutes | no |
| | | | | 20 minute break | |
| 7 | 150 | 300 | 25 | 60 minutes | no |
| 8 | 200 | 400 | 50 | 60 minutes | no |
The tournament starts at noon and we expect a lot of players to register. We are ready for a full day of updates with hand descriptions, photos and interviews from this special World Series of Poker tournament. Take a look at the PokerNews Daily Update video to get ready for the action, and then keep it here throughout the day for continuous coverage live from the floor of the Rio.
Nível: 1
Blinds: 25/25
Ante:

Nível 1 : 25/25, 0 ante
Besides the Brasilia Room, play is also underway in the Pavilion Room. The white section of that gigantic room is packed with players.
Jogador
Fichas
Oscilação

Garry Gates

4,000

Jeff Sarwer

4,000

Ray Henson

4,000

Jesper Onrust

4,000

Maya Geller

4,000

Ryan Laplante

4,000

Heinz Kamutzki

4,000

Dan Murariu

4,000

Scott Montgomery

4,000

Jeff Madsen

4,000

Ramzi Jelassi

4,000
The following familiar faces have been spotted in the Brasilia Room's Gold and Silver sections, but with players streaming in through every entrance, there are sure to be more pros making their way to the tables as the first level progresses.
Jogador
Fichas
Oscilação

T.J. Cloutier

4,000

Carlos Mortensen

4,000

Tony Dunst

4,000

Amanda Musumeci

4,000
Nível 1 : 25/25, 0 ante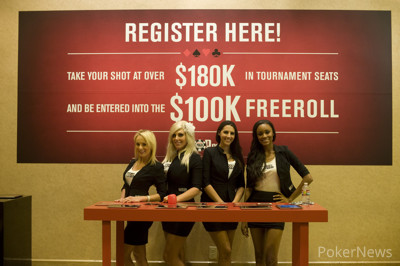 The buzz inside the walls of the Rio extends beyond just the tournaments on the 2013 World Series of Poker schedule. Online poker in Nevada is a very, very hot topic right now, and WSOP.com is making a lot of noise.
While the site has yet to launch, you can head to the Lambada Room of the Rio or look for one of the beautiful and friendly WSOP.com ladies walking the hallways to sign up for a free, personal WSOP.com online poker account. This is a great way to get a jump on the site's registration, and plenty of people have already taken this opportunity.
What's more is that the WSOP will be hosting daily raffles for everyone that has taken the time to register for WSOP.com at the Rio. What can you win? Plenty of fantastic prizes including 36 WSOP seats!
Players 21 years of age and older who sign up for a WSOP.com account will automatically be entered into the "36-Seat Giveaway" where a randomly-selected winner will win a seat into the next day's first WSOP gold bracelet event. One of the events eligible in this promotion is the $111,111 One Drop High Roller No-Limit Hold'em tournament that is expected to feature a $10,000,000 prize pool and allow you to play poker with the biggest names in the game. In total, $182,333 in WSOP seats, including a seat to the WSOP Main Event, are being given away during this one-of-a-kind WSOP.com promotion.
In addition to the 36-Seat Giveaway, a "Hot Seat" promotion will allow any player who signs up for a WSOP.com online account and wears their WSOP.com patch on their chest at the table while playing an event to be randomly selected to receive 500 bonus dollars deposited directly into their WSOP.com online account once the site has received all regulatory approvals and launches.
With 62 WSOP gold bracelet events and three winners promised for the Main Event, this promotion includes $32,000 worth of value to those participating.

Nível 1 : 25/25, 0 ante
People keep on entering the Brasilia Room and the clock has the amount of entries going up constantly. Here's some of the players we recognized in the bronze and red section of the Brasilia Room:
Jogador
Fichas
Oscilação

Steven van Zadelhoff

4,000

4,000

Andrew Lichtenberger

4,000

4,000

Bryan Micon

4,000

4,000

Jennifer Tilly

4,000

4,000

Andreas Høivold

4,000

4,000

Jason Duval

4,000

4,000

Josh Field

4,000

4,000

Gaelle Baumann

4,000

4,000

Team Pro

Erica Schoenberg

4,000

4,000

Todd Terry

4,000

4,000

Gabriel Nassif

4,000

4,000

Team Online

Trishelle Cannatella

4,000

Nível 1 : 25/25, 0 ante
Amanda Baker walked up to her seat in the Brasilia Silver section, only to find somebody already sitting there. They both had a receipt for the same seat so a floor was called over. Turned out, the gentleman already sitting there had received a ticket for Day 1B, not for 1A and was thus seating in the wrong seat. It was not his fault though, he had received the wrong ticket at the cage this morning. The dealer hadn't noticed the wrong day on the ticket and he had already played several hands. The organization is going to solve the problem, but as of now Amanda Baker isn't playing yet.

Nível 1 : 25/25, 0 ante
After making her name by appearing on MTV's hit series The Real World, Trishelle Cannatella has tried to transition her on-screen skills to the felt, with a 3rd place finish at the 2010 WPT Invitational Tournament to her credit.
Cannatella is in the house here this morning, just a short walk from the Palms Casino where her debut season of The Real World: Las Vegas was filmed, but the Rio has not proven to be as hospitable.
We saw Cannatella drop an early pot to cut her starting stack in half, after she fired two barrels with second pair. The board read
by the turn, and Cannatella led out for a bet of 800. Her opponent studied the board for a moment before tossing out a call, and the
completed the board on the river.
Cannatella bet it again, this time for 1,100, and the other player quickly called with
. With just
, Cannatella's hand was second best, and she was forced to start the day from a short-stacked position.