Event #21: $3,000 No-Limit Hold'em (Six Handed)
Dias: 3
Event #21: $3,000 No-Limit Hold'em (Six Handed)
Dia 3 Iniciado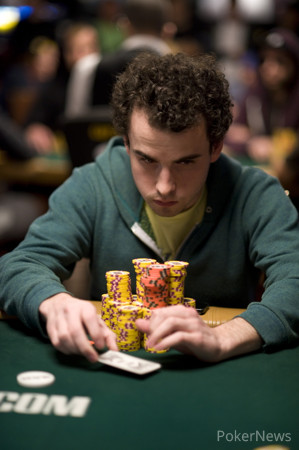 We're less than one hour away from the start of the day here in Event #21: $3,000 No-Limit Hold'em (Six Handed). There is only 13 players left in the field, but astonishingly there are four bracelet winners left in the still alive.
Leading the way is Matt Stout who is still looking to claim his first bracelet. He comes into the day with more than 1.2 million chips, while no one else in the field is over a million. The action is sure to be plenty with the likes of David "The Dragon" Pham, Erik Seidel, and Nick Schulman, all of whom are looking to add another bracelet to their collection. Dan "djk123" Kelly is the fourth member of the bracelet club but looks to add another impressive finish to his extremely hot run here at the 2013 World Series of Poker with a third final table. Kelly's first bracelet came in 2010 when he won the $25,000 No Limit Hold'em - Six Handed event, so he has a good shot to add another six handed bracelet to his accomplishments.
The rest of the field is looking for their first bracelet, as there is plenty of young blood still alive. Jamie Rosen and Matt Berkey are both still looking for that first WSOP Bracelet and this could be the day they add it to their poker resumes.
Action will begin in just under and hour and players will play until there is only one man standing. It's a battle royale to the finish and PokerNews.com will be here will day to let you know who comes out on top.
Nível: 21
Blinds: 5,000/10,000
Ante: 1,000
Nível 21 : 5,000/10,000, 1,000 ante
We are live for the the final day of Event #21: $3,000 No-Limit Hold'em (Six Handed)!
Nível 21 : 5,000/10,000, 1,000 ante
David Pham is getting started early here today and he's continuing his run from last night of huge pots.
On a flop od
Andrew Dean checked to Pham who bet 27,000. Dean called.
The turn was the
and Dean checked again. Pham decided to continue with a bet of 47,000. It was at this point that Dean woke up with a check raise to 110,000. Pham didn't think too long before making the call.
On the
river, Dean led for 180,000. Pham went into the tank and thought about it his decision. He counted out the chips for a call then said, "If you got Queen-Jack you win," before pushing his chips into the pot.
Dean opened his
and said "Good Call." Pham showed
for two pair and it was enough to scoop the huge pot early here on day three.
Nível 21 : 5,000/10,000, 1,000 ante
Picking up with the action on a complete board of
, we found Jamie Rosen fire a bet of 57,000 into a pot that looked to be just over 100,000. Schulman announced a raise all in and shipped his stack of roughly 330,000 into the middle.
Rosen went into the tank for quite some time before finally opting to release his hand. Schulman dragged in the pot and now has around 480,000.
Nível 21 : 5,000/10,000, 1,000 ante
Action folded to Matt Berkey who raised on the button. From the small blind Dan Kelly reraised leading to a fold from Chanracy Khun in the big blind. With action back on Berkey he moved all in and Kelly snap called.
Berkey:

Kelly:
The flop came down
giving Berkey tons of outs. The
on the turn ended it, leaving Kelly drawing dead. The river was the
but Berkey already had the flush and Kelly was forced to send some of his chips over.
Nível 21 : 5,000/10,000, 1,000 ante
Nick Schulman raised to 20,000 from under the gun and Andrew Dean flat called from the button. David Pham moved out a three-bet to 70,000 from the small blind and action came back to Schulman who let it go. Dean flat called once more and the two took a flop.
The dealer fanned
on the felt and Pham fired 60,000. Dean called and fourth street was the
. Pham thought for a moment before announcing that he was all in. Dean snapped him off.
Dean:

Pham:
Pham needed to catch a queen, six, or an eight on the river to knock out Dean. In the end, it was the
that hit the final card and Dean was able to double up.
Nível 21 : 5,000/10,000, 1,000 ante
Right after Andrew Dean doubled through David Pham, Dean doubled up Jamie Rosen.
We missed the action but we do know that Dean was holding
on board of
for top set. Rosen however held
for a runner runner straight and he earned a double up.
Nível 21 : 5,000/10,000, 1,000 ante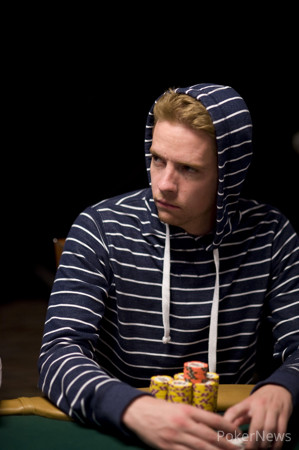 Picking up with the action on a completed board of
, we found Danny Illingworth lead with a bet of an unknown amount. Chanracy Khun plopped out a stack of enough chips to put Illingworth all in. Illingworth called and Khun showed
for the nut straight.
Illingworth flashed a
for a smaller straight before tossing his hand into the muck.
Illingworth's elimination has prompted a total redraw for the final two tables.