$5,000 Pot-Limit Omaha
Dias: 1
$5,000 Pot-Limit Omaha
Dia 1 Iniciado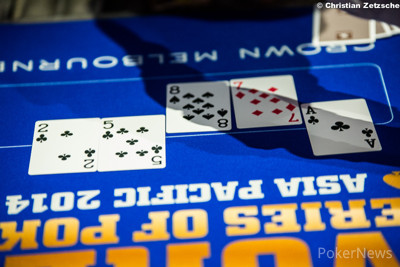 While one pot-limit Omaha tournament — Event #3 $1,650 PLO — will crown a winner today, another will be kicking off with Event #5 AUD$5,000 PLO, which is a new event on the World Series of Poker Asia-Pacific schedule.
The tournament is expected to draw a field of top pros included 13-time WSOP bracelet winner Phil Hellmuth, who will be seeking his first PLO bracelet; 2013 WSOP Main Event champ Ryan Riess, who bubbledEvent $4 $1,650 No-Limit Hold'em Terminator late last night; WSOP Player of the Year contender George Danzer; 2010 WSOP Main Event winner Jonathan Duhamel; and reigning WSOP APAC Main Event champ Daniel Negreanu.
We'll also likely see some players who fared well in the aforementioned PLO event such as Mike Watson (14th - AUD$3,002), Scott Davies (12th - AUD$3,633), Ismael Bojang (11th - AUD$3,633), and Mel Judah (10th - AUD$4,472). Finally, there's a good chance Australian Hall of Famers Gary Benson, Jeff Lisandro and Jason Gray will make an appearance once they're done with the Event #3 final table.
Players will start the tournament with 15,000 in chips, and the plan for the day is to play 10 one-hour levels with a 15-minute break every two levels. There will also be a one-hour dinner break after Level 6. Late registration will remain open through Level 8. Cards will be in the air in a little over an hour, so stay tuned as the PokerNews Live Reporting brings you all the PLO action you can handle from the Crown Casino in Melbourne, Australia.
Nível: 1
Blinds: 25/50
Ante: 0
Players are still filtering in, but here's a list of some players currently in action.
Jogador
Fichas
Oscilação

Jonathan Little

15,000

Van Marcus

15,000

Dylan Hortin

15,000

Sam Ngai

15,000

Michael Wang

15,000

Mike Leah

15,000

Bruno Portaro

15,000

Gary Benson

15,000

Jan Suchanek

15,000

Jonathan Duhamel

15,000

Tony Kambouroglou

15,000
Jogador
Fichas
Oscilação

Kyle Montgomery

15,000

Mohsin Charania

15,000

Jeff Madsen

15,000

David Wang

15,000

Frank Kassela

15,000

[Removed:3]

15,000

Paul Elliott

15,000

Richard Johnston

15,000

George Danzer

15,000

Scott Davies

15,000

Geoffrey Mooney

15,000

Mike Goodman

15,000

Edward Hatzakortzian

15,000

Daniel Negreanu

15,000
Daniel Negreanu commented on the number of players listed on the clock, which currently reads 26. That's a low number no doubt, but as Tournament Director Jack Effel pointed out: "This is more players than the first two World Series combined."
Indeed, those two events drew six players apiece, so we're already more than double that. Effel was clearly joking knowing full well that the number in this high buy-in event is sure to grow as players continue to filter in and late registration remains open through Level 8.
We happened upon a big pot over at Table 25 between Paul Elliott and Frank Kassela. The former had checked the turn on a board reading
, and the latter moved all in for 6,900. There was already 18,150 in the pot, so it was a big decision to Elliott.
We would learn after the hand that Elliott had limped preflop and Kassela raised to 300 from the button. Jeff Madsen called, and then Elliott three-bet to 1,500. Kassela called and then bet the size of the pot when Elliott checked the flop. Elliott check-called and that brought the hand up to speed.
Elliott contemplated Kassela's shove for several minutes, but eventually he decided to release his hand.
"It was close," he said after the hand.
Nível: 2
Blinds: 50/100
Ante: 0
With 3,150 in the pot, action exploded on a
flop between Jonathan Little and Mike Goodman that resulted in the former getting his stack of 8,850 all in.
Little:

Goodman:
Little had flopped two pair, but Goodman was drawing strong with aces and an open-ended straight draw. Fortunately for Little, the turn and river came the
and
respectively allowing his two pair to hold for the double.
Jogador
Fichas
Oscilação

Jonathan Little

20,000

10,000

Mike Goodman

5,600

-9,400