$2,200 No-Limit Hold'em
Dias: 1
$2,200 No-Limit Hold'em
Dia 1 Iniciado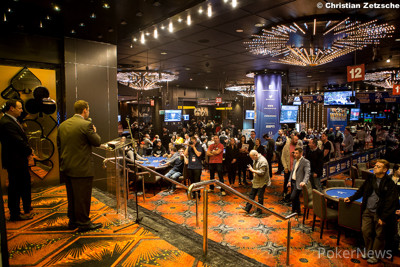 In 2013, the World Series of Poker Asia-Pacific debuted with five gold bracelet events. This year, that number has been doubled, and one of the new tournaments is today's Event #2 $2,200 No-Limit Hold'em. While Day 2 of Event #1 $1,100 No-Limit Hold'em Accumulator is playing out across the room, hundreds of poker hopefuls will take their shot at the second gold bracelet of the series.
One man who will be in attendance is the most decorated player in WSOP history — Phil Hellmuth. The "Poker Brat" is seeking his 14th gold bracelet, and he's come all the way from California to chase it. Likewise, some of poker's biggest names are expected to take a shot in Event #2 including reigning WSOP Main Event champ Ryan Riess; 2010 WSOP Main Event champ Jonathan Duhamel; "Professional Best Friend" Jeff Gross; and Daniel Negreanu, who won the 2013 WSOP APAC Main Event on his way to capturing the WSOP Player of the Year title for a second time.
Amazingly, Negreanu is in contention to capture the title again. He currently sits in third place on the POY leaderboard behind Brandon Shack-Harris and George Danzer. Both of those players are currently in Event #1 and looking to amass some more points, but if they fall short of the money they'll no doubt jump over to this event.
Players will begin this tournament with 6,000 in tournament chips, and the plan for the day is to play 10 one-hour levels. There will be a 15-minute break every two levels, with a one-hour dinner break at the end of Level 6. Late registration is open for six levels, and reentries are not an option.
Cards will be in the air in a little over an hour, so stay tuned for all the latest and greatest from the 2014 WSOP APAC!
Nível: 1
Blinds: 25/50
Ante: 0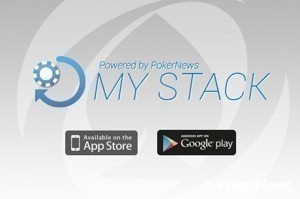 The PokerNews MyStack App is available for players here in the World Series of Poker APAC, allowing players to directly update their chip count on the PokerNews Live Reporting page for their friends and family to see.
You can download the app for iPhone or Android now to get started. Then, create a new PokerNews account or update your current one to start updating your status immediately. Your followers can see all the live action that you're involved in.
Be forewarned, however, any abuse of the app will result in account suspension or termination.
Everett Carlton is usually spotted on the WSOP Circuit, but the Minnesota native is in the land down under looking to capture a gold bracelet. What inspired him to come around the world for the WSOP APAC? Simple... airline miles!
Jogador
Fichas
Oscilação

Jonathan Duhamel

6,000

6,000

Leo Boxell

6,000

6,000

Mike Leah

6,000

6,000

Bruno Politano

6,000

6,000

Bruno Kawauti

6,000

6,000

Russell Thomas

6,000

6,000

Everett Carlton

6,000

6,000

Jonathan Little

6,000

6,000

Dennis Huntly

6,000

6,000

Ryan Riess

6,000

6,000

Graeme Putt

6,000

6,000

Oliver Gill

6,000

6,000

Vanessa Rousso

6,000

6,000

Jonathan Karamalikis

6,000

6,000

Heinz Kamutzki

6,000

6,000

Jan Suchanek

6,000

6,000

Jonathan Dimmig

6,000

6,000

Winfred Yu

6,000

6,000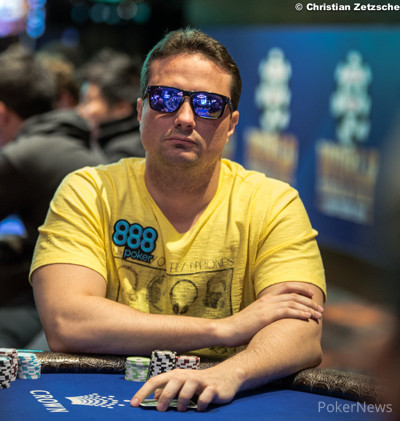 Before the start of the 2014 World Series of Poker Asia-Pacific, PokerNews reached out to this year's crop of November Niners to see who would be making the trip to the land down under. Much to our surprise, Jorryt van Hoof, Felix Stephensen, Martin Jacobson, Billy Pappas, William Tonking, and Daniel Sindelar all confirmed that they were going to pass. Neither Andoni Larrabe nor Mark Newhouse, responded, while the sole finalist to confirm their participation was Brazil's Bruno Politano.
Despite being the shortest stack of this year's November Nine — albeit the biggest short stack since the creation of the November Nine — Politano is clearly excited to embrace the opportunities and experiences that come with making the game's most prestigious final table.
Along with fellow Brazilian Bruno Kawauti — who was the "Last Brazilian Standing" at the 2013 WSOP when he finished 15th — the 31-year-old Politano is in today's field looking for some practice and hopefully a gold bracelet.
Before the start of the WSOP APAC, Politano spoke with PokerNews about the November Nine, his celebrity in Brazil, and of course the upcoming WSOP APAC.
PokerNews: What has inspired you to travel all the way to Australia for the WSOP APAC?
Politano: First of all, because I think I'll be playing a high-level of poker with the best in the world. Second, I love everything the WSOP does and of course I've always wanted to travel to Australia. This time I get to take my girlfriend with me, so we'll enjoy ourselves a little bit.
Do you plan to do anything else aside from poker while you're there?
This is my first trip there and of course I will take some time to get to know the place, the people, and the culture. I'm very excited.
Since making the November Nine, what's the reaction been like among Brazilians?
The reaction was incredible, something I've never experienced before. The entire country does not speak of anything else. The poker exploded in a way that even I didn't expect with television, newspapers, magazines, and all the social media talking about it daily. We are all looking forward to the big time, Brazil world champion (laughs).
Poker is huge in Brazil. Have you become a celebrity of sorts in your home country?
Yes, poker is huge now in Brazil. After this achievement, I kind of became a reference. I think the word celebrity is very strong, but I became a reference in the Brazilian poker world and I'm taking this very seriously.
What's been the craziest thing to happen to you since making the November Nine?
I played the High Roller during EPT Barcelona — €10,300 out of my pocket (laughs). That was the craziest thing I've ever done so far, but I loved playing.
You had a huge and loud rail on the last day of the Main Event. What can we expect at the November Nine?
At least four times what you saw in July. My family is coming over, my sister who lives in Philly is flying over with some friends, and the entire Brazilian poker nation is coming down. Vegas will be turn green and yellow in November.
What sort of things have you been doing to prepare for the November Nine?
Studying my opponents. I'm being coached by my friend Ariel Bahia, traveling all over Brazil and outside Brazil playing, training to the max.
It sounds like you may be the only November Niner at the WSOP APAC. Do you think that will give you some practice and maybe a small advantage over your opponents?
I think so. Playing at such a high level always gives you more practice and experience. I wouldn't pass this opportunity for anything in the world. I love that I get to go play in Australia and be part of one more WSOP.
Jogador
Fichas
Oscilação

Michael Kanaan

6,000

6,000

Ashley Warner

6,000

6,000

Patrick Healy

6,000

6,000

Jack Salter

6,000

6,000

Mike Krstanoski

6,000

6,000

Kitty Kuo

6,000

6,000

Mohsin Charania

6,000

6,000

[Removed:17]

6,000

6,000

Dylan Honeyman

6,000

6,000

Simon Watt

6,000

6,000

Victor Teng

6,000

6,000
Things haven't been going well for the 2013 World Series of Poker Main Event champ Ryan Riess thus far at the 2014 WSOP APAC. Riess played all three flights of Event #1 $1,100 Accumulator, and despite running his stack up to 10,000 in each, he busted each of those flights in Level 6.
Riess was back in action today, but his luck didn't get any better in Event #2; in fact, he was one of the first eliminations of the day. We missed the hand, but Riess was kind enough to inform us that he ran kings into aces — poker's primary cooler.
"I'll get them," Riess said optimistically about the eight remaining gold bracelet events. "I'll be back tomorrow."
Jogador
Fichas
Oscilação

Ryan Riess

Eliminado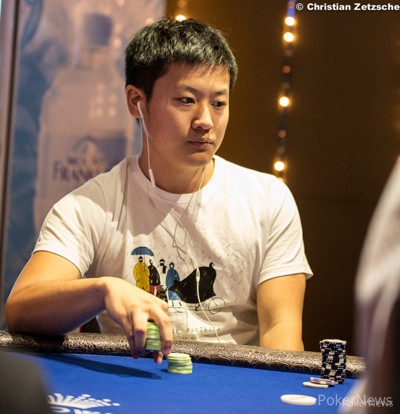 New Zealand's David "MissOracle" Yan, who finished sixth in the 2013 Aussie Millions, saw his Event #2 come to an early end. We're not sure how it happened, but Yan, who was previously featured in PokerNews' popular Online Chat series, was down to his last 375 when he committed from late position.
Action folded around to Bob Sova in the big blind, and he opted to call the additional 325 to him.
Sova:

Yan:
Yan was in need of some help, and while he paired his jack on the
flop, Sova maintained the lead with a flopped pair of aces. Neither the
turn nor
river helped Yan, and he shook hands with Sova before wishing him good luck and then exiting the tournament area.