Nível 20 : 10,000/15,000, 15,000 ante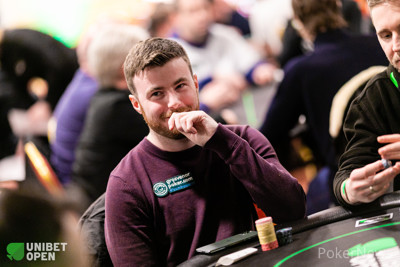 Day 2 is now officially in the books. Out of the 107 players who managed to find a seat in Day 2, just 12 players remained at the end of the day.
Day 3 will be highlighted by Ciaran Burke, who leads the field with 1,200,000 chips. Also among the final day field will be Niall Farrell, Jack Hardcastle, Espen Jorstad and Jamie Nixon.
Day 2 Recap
Originally, the plan was to play down to an unofficial final table of nine, and early in the day, it looked like that might happen as they played down to the money bubble in just over 5 hours of play. Then it all came to a screeching halt.
For the next three and a half hours, including a dinner break, they played hand for hand, waiting for the final player to bust before the money. It wasn't as if they weren't trying to get into the money ... before the bubble finally burst, there were more than a dozen all-ins where the short stack either had the best of it and held, or got there for the double up.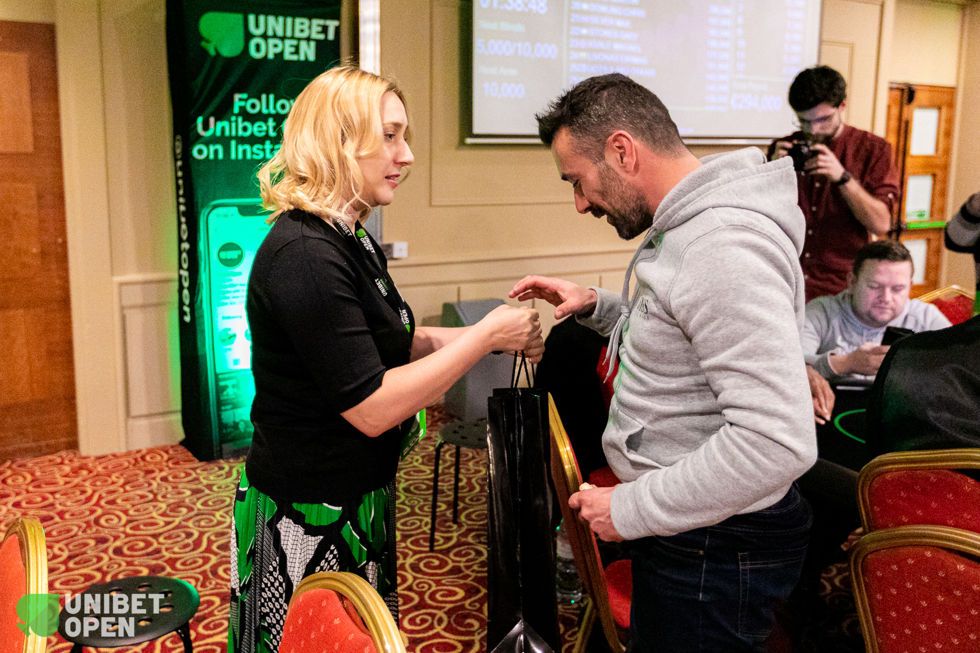 Because of the hand for hand, they broke for dinner about an hour late, and still had to return to hand for hand play. Once they returned from dinner it still took another half an hour until Cedric Freling was the unfortunate bubble spot, though he got a bottle of champagne from Unibet Poker Live Events Manager Kasia Scanlon as a consolation prize.
Things sped up again after the bubble burst, and in less than an hour, they were doing the redraw for the final three tables. It took about 90 more minutes to redraw to two tables during the second last level of the night. Action slowed down at that point, and by the time Level 20 ended there were still 12 stacks in play.
Niall "Firaldo" Farrell and Jack Hardcastle both came into Day 2 with very short stacks, but both managed to run them up during the day, and they'll both still be back in action on Sunday's final day. Hardcastle comes back with the second shortest stack again, but Niall Farrell is right in the middle of the pack with 755,000. Jamie Nixon bagged up the second biggest stack at the end of Day 2, with just under 1 million chips. Unibet Ambassador Espen Jorstad bagged a little bit more than Farrell, and will play 785,000 to start Day 3.
Along the way to the end of the day, Max Silver managed to score a cash of €3,630, and online qualifier Henrik Tellving turned his ticket into a cash worth €3,630 as well. Finnish Unibet Ambassador Jorma Vuoksenmaa managed 21st place for €2,900 and local Irish player Chris Dowling added to his $800,000+ in cashes with a 26th place finish worth €2,590. Norwegian player Ylva Thorsrud was short stacked through most of the day, and was in danger of bubbling when she was the shortest stack in the room through much of hand for hand play, but she played her short stack superbly and managed to turn it into a 33rd place minimum cash.
There's still a lot of money to be won on Day 3, with the next cash worth €4,680. All the surviving eyes are on that first place prize of €64,110 though, but everyone who makes the unofficial final table of nine will take home at least €6,190.
Action on Day 3 kicks off at noon on Sunday with the remaining 12 players playing down to a winner before they stop. Stay tuned to PokerNews for action throughout the day as they crown the next Unibet Open Champion.
Jogador
Fichas
Oscilação

Ciaran Burke

1,200,000

280,000

Alex Hendriks

1,200,000

770,000

Jamie Nixon

980,000

843,000

Steven Vollers

895,000

-305,000

Martin Olali

810,000

609,500

Espen Uhlen Jorstad

785,000

305,000

Niall Farrell

755,000

510,000

Weijie Zheng

660,000

220,000

Wim Anne Wesselink

650,000

259,000

Samuel Baneham

385,000

135,000

Jason Tompkins

295,000

-315,000

Jack Hardcastle

215,000

-205,000