November Niner Ryan Riess Calls His Shot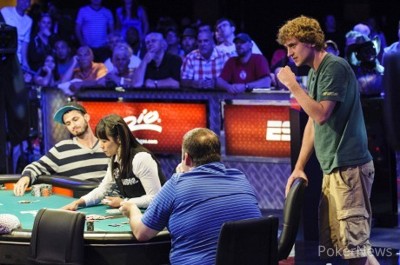 Ryan Riess is a 23-year old professional poker player from East Lansing, Michigan. He also happens to be fifth in chips heading into the World Series of Poker Main Event final table, which is set to resume on Nov. 4 in the Penn & Teller Theater at the Rio Hotel All-Suit & Casino. The youngest of the November Nine was kind enough to sit down with us at the Seminole Hard Rock Poker Open $10 Million Guarantee Championship Event to talk about life after making the final table, prepping for the big day, and more.
PokerNews: What have the last few weeks been like after becoming a member of the November Nine?
Ryan Riess: I'm just been relaxing a lot, and I'm getting into the swing of playing now. I hung with family and friends. Did a lot of interviews [laughs].
How have you coped with the media? Are you embracing the exposure?
It's not really hard, but it takes a lot of time. Bernard Lee is waiting on an hour-long interview that he wanted to do today, but I didn't have time. It takes a lot of time, but I embrace it. I enjoy it.
Do you like the concept of the November Nine, or would you have liked to finish it the next day?
Personally, I would've rather played right after we finished because I'm not going to do as much studying as others people are going to do. So I would rather them not have the chance to study considering I'm not going to do it that much. So I would've rather played it out at the time, but I also like it because it gives family and friends a chance to come out that would've never been able to see it otherwise. There's (sic) pros and cons.
Both professionals and amateurs alike have had coaching during the break. It doesn't sound like you are going to seek any?
Well, I have a couple of coaches. We haven't done anything yet, but I think I'm going to run a couple of simulations with Loni [Harwood], [Bryan] Campanello, Jarod Ludemann, Jon Taylor, Phil [Hui], and Danny Illingsworth. We're going to run a couple of simulations with a couple of other people, but I'm not going to do it as much as others because I'm traveling so much. I think it's really big if I can run deep right now, it would be huge before the November Nine.
Yeah, it's much better to be in the chair and deal with real ICM situations, right?
Exactly. I know [Mark] Newhouse is doing a full simulation with a whole bunch of people. Jay Farber has Ben Lamb and Chance Kornuth and a whole bunch of other people that he's having coach him. I know that Jay Farber is going to be coached a lot. We'll see, I guess.
At what point in the Main Event did you look around and come to the realization that you could win?
It probably wasn't until Day 5 — five or six. I won a huge pot to take the chip lead with 58 left, and that's when it really hit me. Before that I was obviously playing the tournament to win, but once I took the chip lead with 58 left, that's when it kinda hit me. I don't remember what day it was, but the cameras missed the pot. It was a big one [laughs].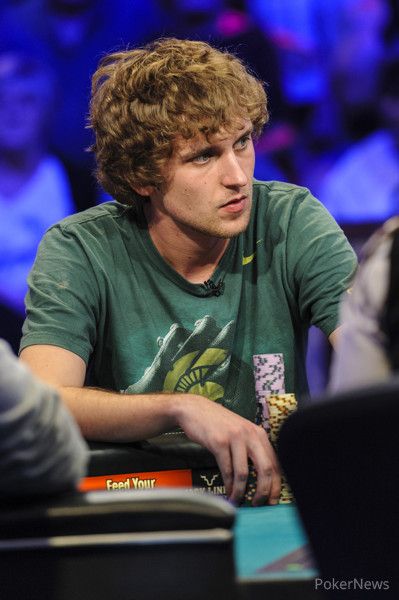 When you guys redrew to the unofficial final table of 10, what was your reaction to your placement at the table?
I actually liked the table draw. I still do. A lot of media and other people have said that I don't have a really good spot considering the big stacks are to my left, but I personally like it. Most of the hands I'm going to play, I'm going to be in position, because if I raise in late position the big stacks will have to play from out of position. Then Newhouse is to my right, which I don't mind because he's short stacked and if someone opens, he's going to be three-bet ripping and I have a chance to wake up. So I really like my table draw.
Who is the toughest player among the remaining nine?
Marc McLaughlin. Hands down. The Canadian. He played really good and he had my number in a couple hands with three tables left. He got me in a couple big ones, but he played really well. He was really active and played really solid.
Did those hands go to showdown or are you waiting for the broadcast?
No, they both went to showdown and I lost them both. He four-flushed me twice [laughs]. The first time, he turned the flush and the fourth spade in the river was meaningless. I like how I played against him, but it was kind of unfortunate.
How much would the title of Main Event champion mean to you, or is the money more important?
The title means everything. The money's great, but being a professional poker player money comes and goes. You can go on $100,000 downswings or upswings every month if you're playing big enough.
The title is everything. I would not be happy with second place.
What are you plans for after Florida?
I'm going to the Legends of Poker for the WPT, then I'm going to Puerto Rico for a couple of days to party, and then to Borgata for the WPT, and then to Europe for all of October.
Is there anything else you would like to add?
I'm gunna win it. That's about it.
Get all the latest PokerNews updates on your social media outlets. Follow us on Twitter and find us on both Facebook and Google+!